World Champion Maya Nakanishi: Her Dream for Her Fourth Paralympic Games
Maya Nakanishi
literally became Japan's top athlete after winning the Dubai 2019 World Para Athletics Championships—the prelude to the Tokyo 2020 Paralympic Games. While her training-toned body and dynamic jumps are eye-catching, a lot of focus has also been placed on her athletic career, which has been full of ups and downs. "I'm not tall and I don't come from a family that excels at sports," she says. "But I've pulled ahead through hard work and ambition. I'm finally in a place where I can dream with confidence." We asked the world champion what she wants to accomplish this summer at Tokyo 2020, which will be her fourth Paralympic Games.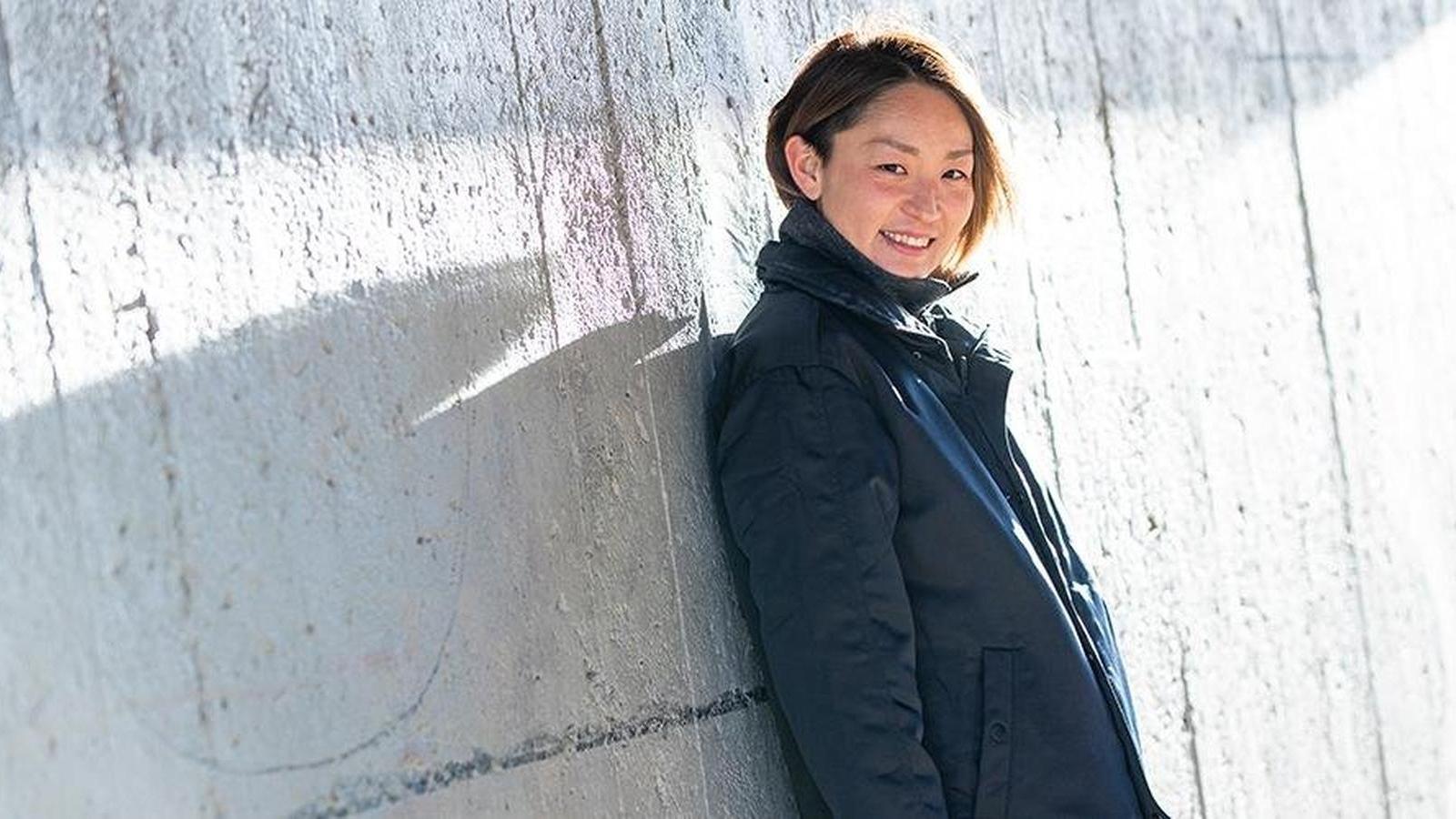 Nakanishi first competed in the Paralympic Games when she was 23 years old. It was the Beijing 2008 Paralympic Games. Many people probably still remember the Beijing National Stadium, which was dubbed the "Bird's Nest." That was where athletics events took place. Nakanishi participated in the 100 m and 200 m races and, despite it being her first time, she made it all the way to the finals in both events.
Maya Nakanishi (hereafter "Nakanishi"): I competed in the Japan Para Athletics Championships for the first time in 2007 and set a new Japanese record. That took me to Beijing 2008, but I felt really conflicted back then. Before my work accident, which led to amputating my right leg, I used to play soft tennis. I was training to compete in the National Sports Festival, which was going to be hosted in my home prefecture of Oita in 2008. Since I had been living in the highly competitive world of sports, the small population competing in parasports tournaments in Japan felt lacking to me. At the same time, I was struggling to adapt to the sports prosthetic. Since it wasn't long after the amputation, the end of my limb still hurt. Financially, I also emptied out my savings to compete in Beijing 2008. I didn't want anyone to think it was easy to get good results at the Paralympic Games. I wanted everyone to know that this is competitive sports!
In the end, going head-to-head against the world's top athletes in the finals spurred Nakanishi to aim for even greater heights. She later traveled to the US on her own and became a professional athlete in 2009. Yet she faced many difficulties. She had to give up on participating in the World Para Athletics Championships due to financial struggles and she faced criticism for selling a semi-nude calendar. In spite of all that, she entered the London 2012 Paralympic Games, where many predicted she would win a medal in the long jump event. Unfortunately, she caved under the intense pressure and was unable to produce results. She announced her retirement. But her journey didn't end there. A conversation with triple jump gold medalist Al Joyner, who she had trained under between 2009 and 2012 drew Nakanishi back to the track.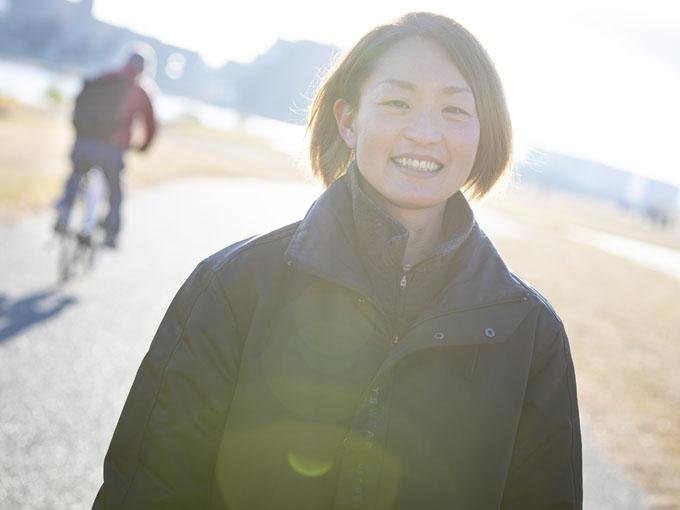 Nakanishi: Back then, international coaches weren't welcome in Japan. More than anything, I didn't have the money to return to the US, so I felt I had no choice but to give up since I couldn't receive Al's training. And to be honest, I didn't see the appeal of competing in parasports in Japan. So I was thinking of getting back into tennis when I video-called Al one day. After listening to my thoughts, he said, "Then why is it that you don't compete against able-bodied athletes? It's because you don't want to lose. Am I wrong?" Since I hadn't fulfilled my goal of jumping 6 m yet, Al's words made me want to see how far I could go among able-bodied athletes.
Nakanishi returned to athletics in the spring of 2013, and she continued to train in her hometown under the motto "from Oita to the world." She won fourth place at the Rio 2016 Paralympic Games and, continuing to evolve with the goal of participating in Tokyo 2020, she won the bronze medal at the London 2017 World Para Athletics Championships. Then finally, in 2019, she rose to become world champion and won a ticket to Tokyo 2020.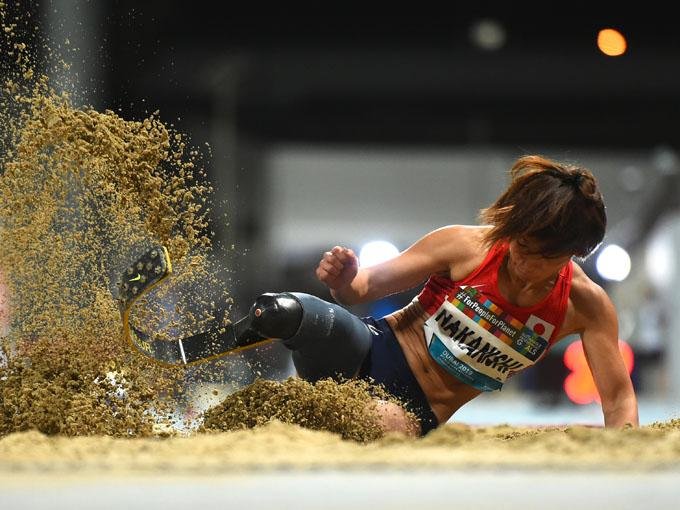 Nakanishi: I was happy to become world champion, which I had been aiming to become for over ten years, but I'm not satisfied with my record of 5.37 m. I want to jump 6 m at Tokyo 2020. I've been training with Daisuke Arakawa (former long jump champion in Japan) since 2019, and he's the second person after Al who has said I can jump 6 m. We think alike, so I'm excited to see how far I can improve my record with him.
The Paralympic Games, initially scheduled for 2020, was postponed by a year due to the COVID-19 pandemic. Having already faced and overcome so many obstacles in her athletic career, however, Nakanishi was more than prepared to deal with this unexpected setback. She continued training without being dragged down by the pandemic and upheld her strong aspirations.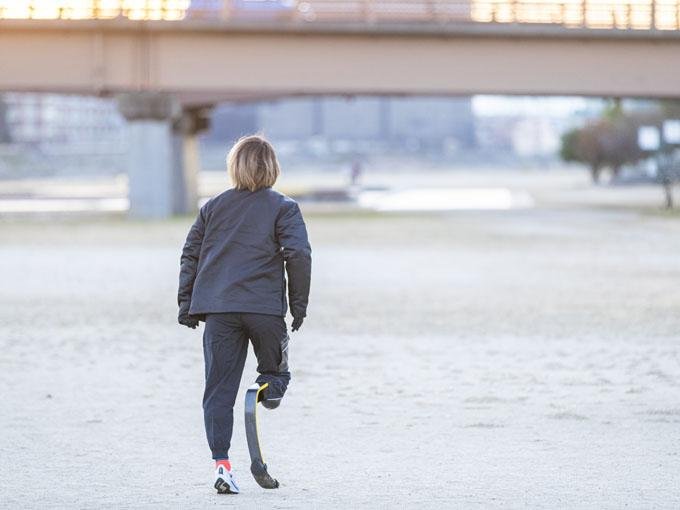 Nakanishi: Since I couldn't use the track field, I looked for other places to train, like in parks and along riversides. I also moved to Osaka, where my coach is, which allowed me to continue receiving high-quality training. So even though the Games have been postponed a year, we're still planning to peak according to our original Tokyo 2020 schedule.
In September 2020, the Japan Para Athletics Championships marked the return of parasports amid COVID-19. There, Nakanishi rewrote her own Asian record by jumping 5.7 m. It was a manifestation of her strong resolve to do what she must and keep moving forward no matter the circumstances.
Nakanishi: I hope we'll be able to compete in front of spectators in the summer of 2021. I want to be an athlete who people will say they want to see perform no matter what. I also want to put on a performance that will broadcast my existence in the Paralympic Games to the world. That aspiration hasn't changed at all even with COVID-19 going on. I believe this goes for all athletes, but when you look at their hard work and even small details like their expressions and gestures during tournaments, you can tell what sort of path they've walked to get there. In the time that's remaining until Tokyo 2020, I intend to keep working hard before standing on the grand stage, and I hope the people watching will see the path I've walked.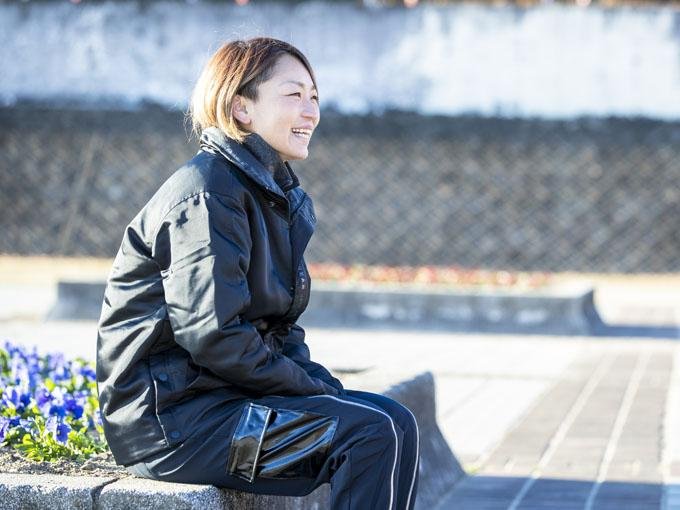 Text: Asuka Senaga, Photo: Hiroaki Yoda