BnA_WALL—an Art Hotel with a Large-scale Mural
The hotel BnA_WALL opened in Tokyo's Nihonbashi area in April 2021. Its most distinctive feature is that all 26 of its guestrooms are works of art. Moreover, the common space that houses the café bar features a huge 6-meter square wall extending from the basement, from which the hotel takes its name. We interviewed Yu Tazawa, the co-founder and CEO of BnA Co., Ltd., which operates BnA_WALL. He explained that BnA_WALL is not just a hotel with art, but also a place that continues to support artists in its own unique way.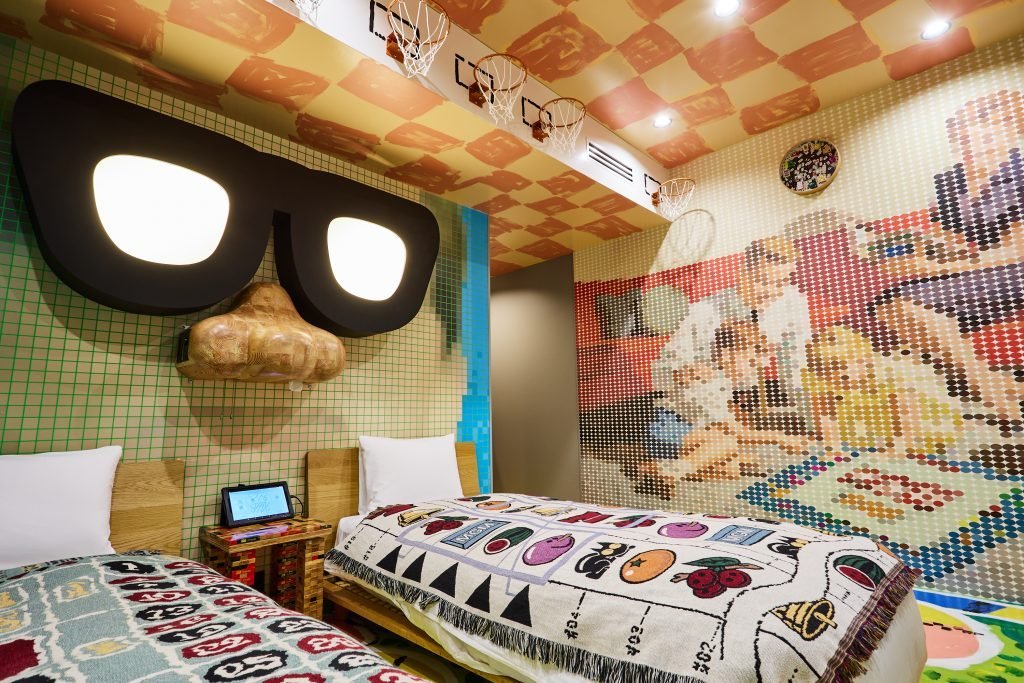 The Experience of Living in Artworks
BnA_WALL, which can be described as a unique art space initiative, is a hotel where visitors can actually stay overnight inside a work of art. The guest rooms have been decorated by 23 up-and-coming artists and art directors, including YOSHIROTTEN, SIDE CORE, and Mako Watanabe a.k.a. Mako Principal. When you open up a door bearing the title of an artwork and the name of the artist, you will find yourself in the world of the artwork. From the walls to the furniture, lighting and fixtures, the room itself becomes art, drawing you into an unprecedented accommodation experience.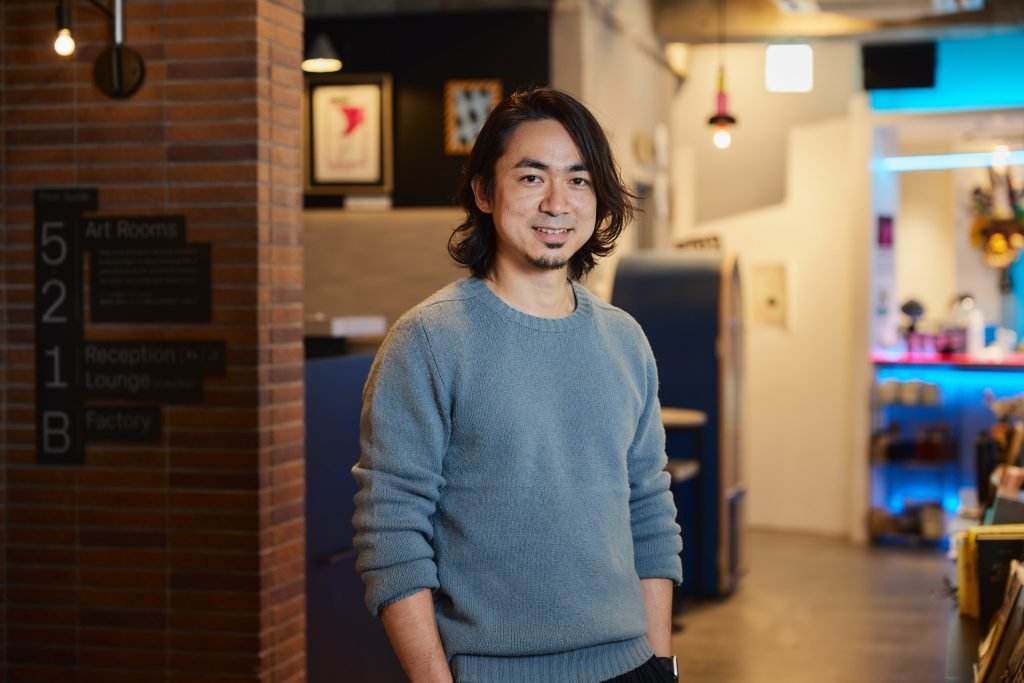 "We want to increase the opportunities available for people to encounter art," said Yu Tazawa, CEO of BnA Co., Ltd., which started the project.
"I don't think it is very often that we have the experience of spending a night inside a work of art. Our psychological state changes during the course of our lives, such as when we come home after dinner, during the quiet minutes before bedtime, or the moment we wake up in the morning. How do we see a work of art at that moment? BnA's project seeks to give people the opportunity to enjoy many different aspects of a work of art in addition to the impression it makes upon them when they first encounter it."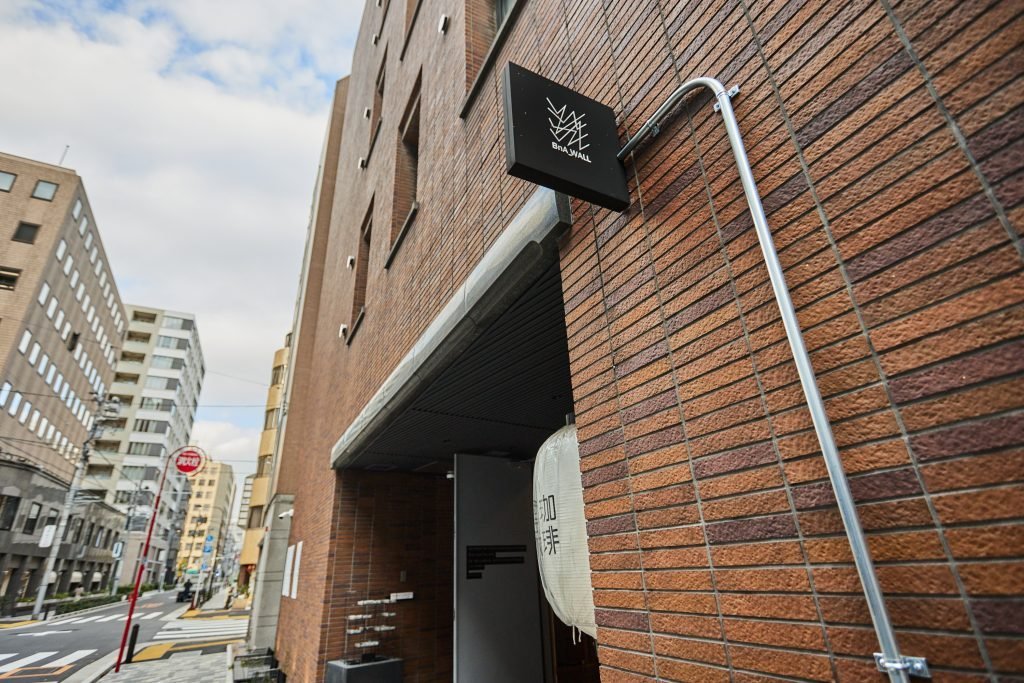 The idea of the project concept came when Mr. Tazawa met the architect Kengo Fukugaki, who is the co-founder of BnA_WALL.
"At the time, he was working on a design for an office interior featuring the work of a street artist. I was working in a private accommodation business at the time, and when I heard about what he was doing, I thought it would be interesting to incorporate collaboration with artists into accommodation projects. Then in 2015, we renovated a private accommodation room in Ikebukuro as an experimental project."
That project was so well received that they went on to open art hotels bearing the name "BnA" in Koenji, Tokyo in 2016, Akihabara, Tokyo in 2018, and Kawaramachi, Kyoto in 2019. BnA_WALL in Nihonbashi (Tokyo) is their fourth hotel project.
As an Artist's Workplace
With regard to collaboration with artists, they have also adopted an unusual system. Under this system, a portion of the accommodation fees is returned to the artists.
"We came up with this system because we wanted to give something back to artists while continuing the hotel project. We also want artists to remain involved in the project on an ongoing basis, rather than stopping with the delivery of their work."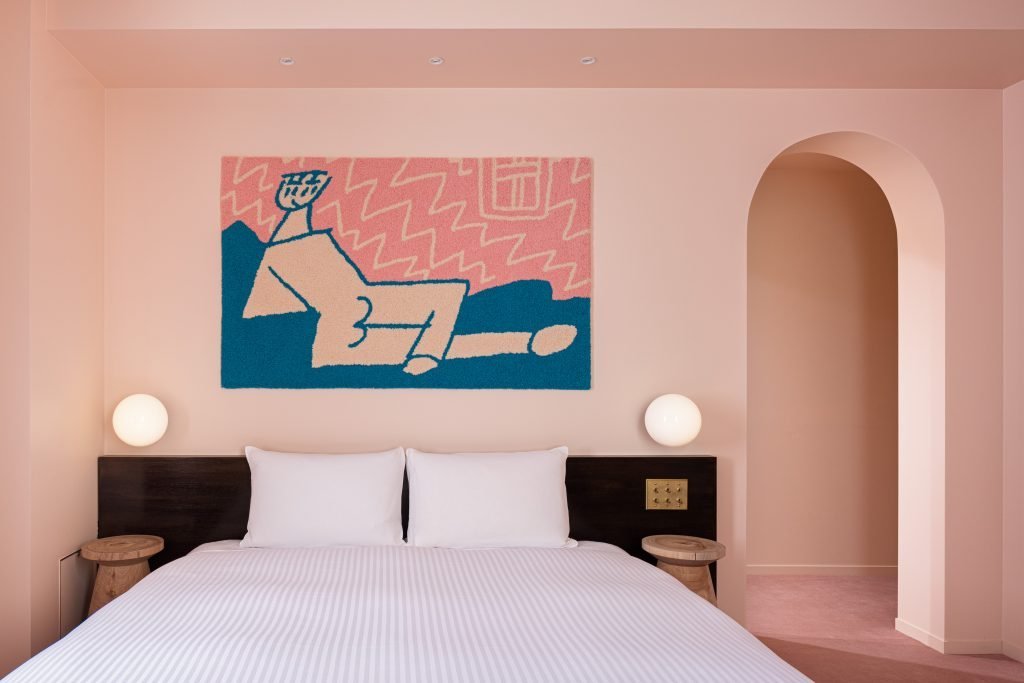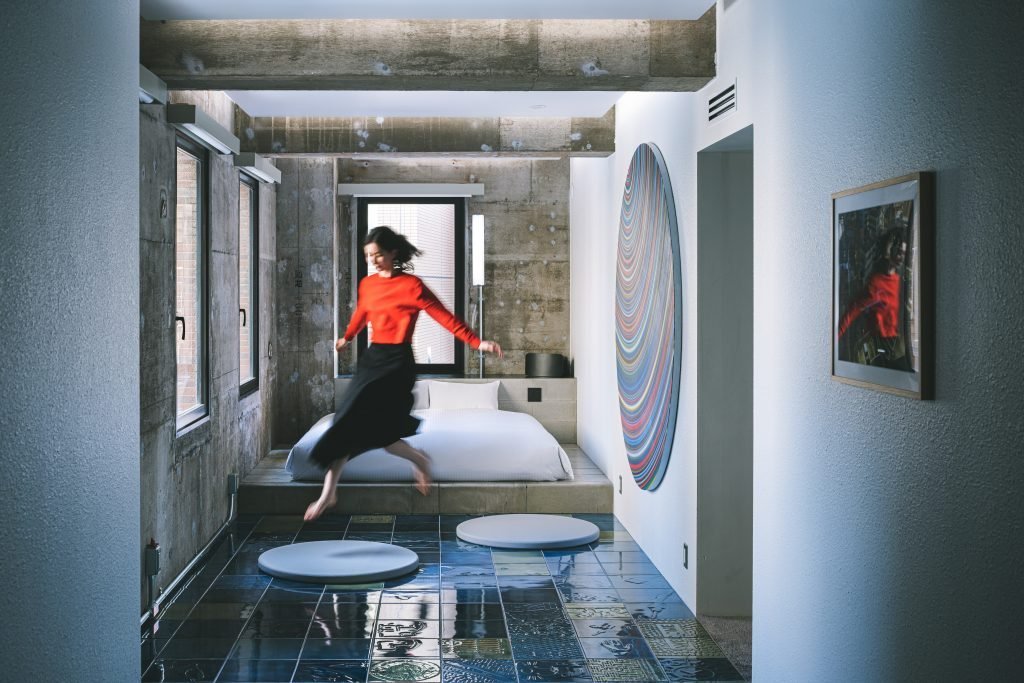 BnA's attitude toward supporting artists doesn't end with the completion of the artworks. It is also reflected in the common spaces. BnA_WALL was born out of the renovation of a building formerly used by a trading company specializing in nishijin brocade. The floor of the first floor was partially removed to accommodate a wall extending upwards from the basement, which created a space for exhibiting large murals ranging up to approximately 6 x 6 meters in size. A studio is located in the basement for the purpose of creating these murals, and the exhibit is changed every two to three months.
"The common area is one of the points of contact between the artists and the guests. For example, in Koenji, which has traditionally been home to a community of artists, we created a bar on the first floor where people could gather. In Kyoto, a culturally important tourist destination, we added a gallery to the concept of a museum. We are considering functions based on the characteristics of each town. As for Nihonbashi, it is more of a town for working people. So, with 'work' as the keyword, we created a studio and a huge wall to allow artists to interact with the place and the hotel guests through their work. The artists are also aware that this wall is a showcase for the work they create."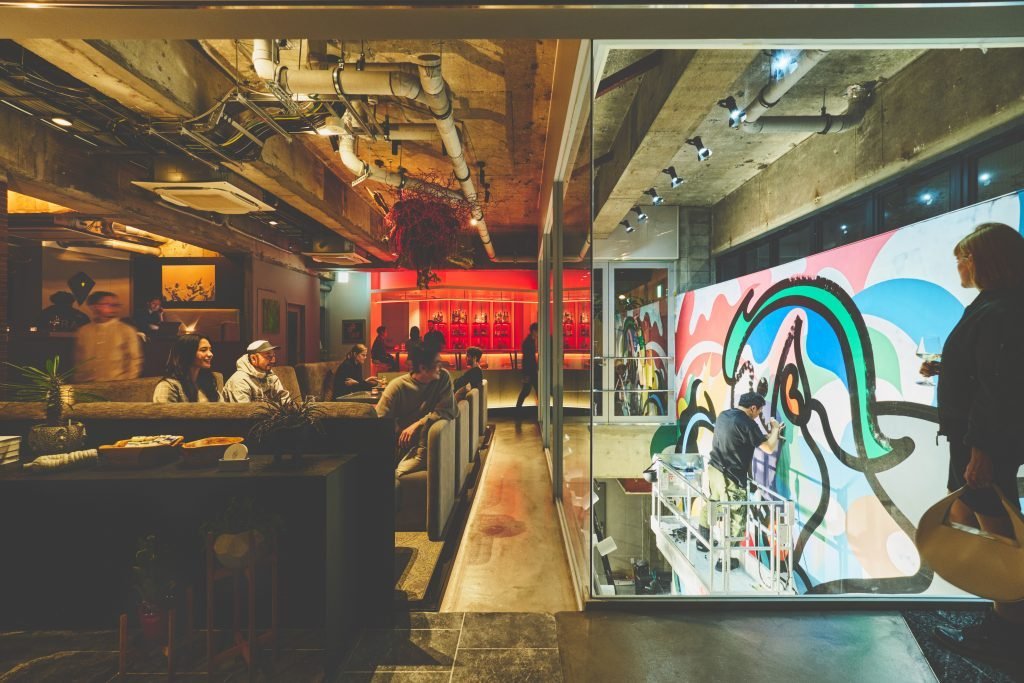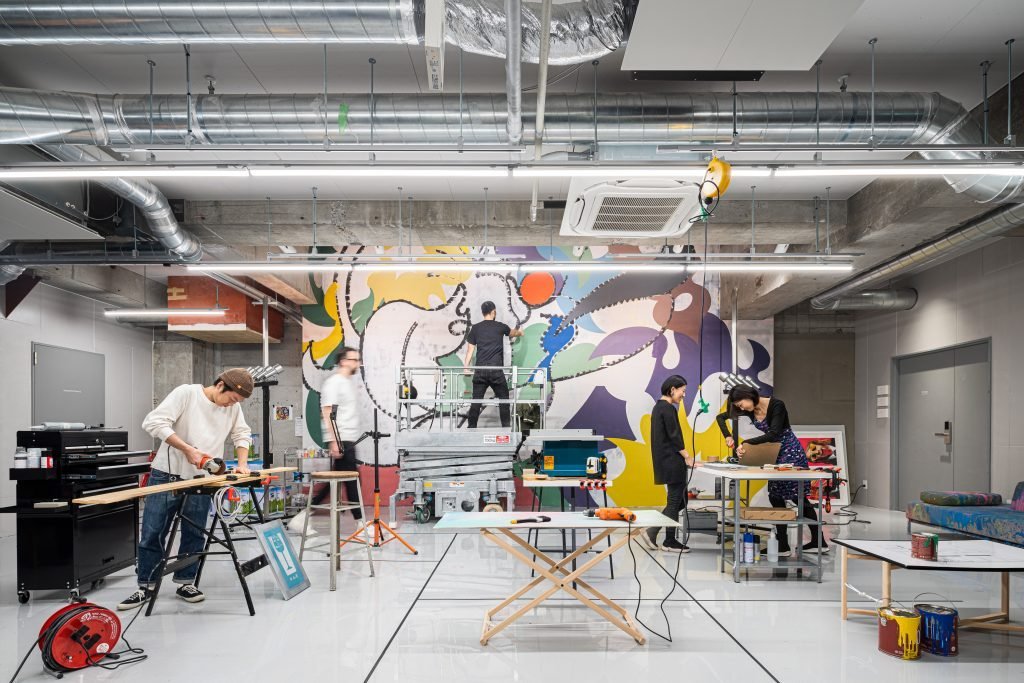 Nurturing Artists to be Active Worldwide
The idea of a giant mural was also inspired by the current situation in Japan, where it is difficult to cultivate street art.
"Mural painting is an art form that has existed since prehistoric times, dating back to the caves of Lascaux and Altamira. It is a site-specific art that is created by taking into account the environment and the characteristics of the wall. Nowadays, it also has a strong guerrilla context, similar to street art, and it has produced a number of famous artists such as Banksy and Kaws. However, in Japan, where laws and regulations are stricter than in Europe or the United States, there are few places where artists can take up the challenge of creating large murals."
For this reason, Mr. Tazawa hopes to use the walls of BnA_WALL as a place where young artists can sharpen their skills. For the first year or so following its opening, BnA recruited artists already known to us through our existing contacts, but since January 2023, artists selected through an open call have painting murals on the wall. The name of the project, which we are implementing in collaboration with TokyoDex, is the BnA_WALL Mural Rookies Project. With the objective of producing artists who can be active on the world stage, Mr. Tazawa has invited Tadaomi Shibuya, an artist who works in Japan and internationally, to act as a mentor in order to nurture artists who have no previous experience in mural drawing.
BnA_WALL is open not only to artists and guests staying overnight, but also as a place where people living in the neighborhood can come to relax. At BnA_PlayArt, an event for parents and children that is held each time a mural is replaced, the entire basement studio space becomes a campus, and workshops take place where participants can freely draw to music. In addition, the Wednesday Drawing Session is open to a wide range of participants from beginners to professionals.
BnA_WALL is a new hotel designed to support artistic creation and promote diverse ways of becoming involved in art, beginning with its function as an accommodation facility. BnA_WALL is an art spot where you can encounter different art and different people every time you visit.
Interview and writing by Emi Sato
Photos by Yuta Hinohara (excluding ★)
*This article was originally published on "
Tokyo Art Navigation
" (May 30, 2023).(Some modifications have been made for use on this site.)