Next Generation Talent:
Student's Love of Japanese Leads to Intercultural Creativity at Aoyama Gakuin University
Students in the School of Cultural and Creative Studies at Aoyama Gakuin University (AGU) create art and media, discovering new interests and strengths in the process. This environment has proved an ideal match for fourth-year student Tee Kai Lun, who hopes to become an advocate for intercultural understanding.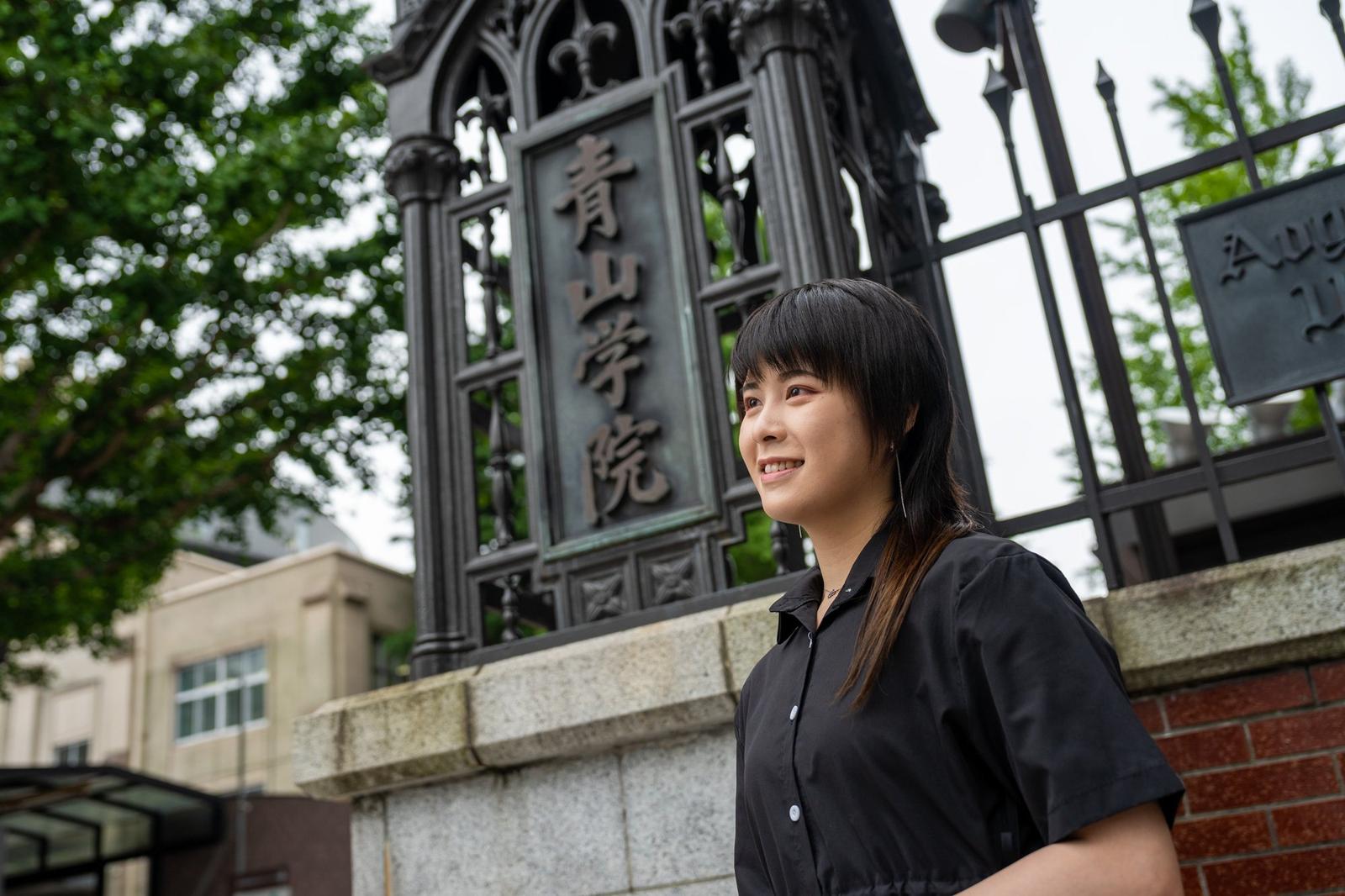 Fascinated with Japanese culture and language from a young age, Tee Kai Lun had her sights firmly set on eventually studying in Japan. The Malaysian national spent her formative years in Shanghai, China, on account of her parents' work, and she credits them with encouraging her interest in intercultural matters. She grew up watching Japanese anime and cites the adventure series HUNTER×HUNTER, based on a manga by Togashi Yoshihiro, as a particular childhood favorite. "When I heard Japanese for the first time, I was taken with the beautiful sounds," she recalls with a smile. "I learned to sing the anime songs and taught myself hiragana long before I could understand all the words."
Kai Lun attended a high school in Shanghai that offered study-abroad opportunities at a sister school in Sapporo, Hokkaido. After 18 months as a high-school student in Sapporo, she entered AGU's School of Cultural and Creative Studies in 2020. Kai Lun had seen the campus on previous visits to Tokyo and was excited at the prospect of studying in one of the city's main hubs for creativity and informational exchange. 
"When I looked into the classes curriculum offered by this department, I found that it not only focused on English, but also had many classes where I could study both traditional and popular Japanese culture," she says. "I think this department is appealing for people like me who want to be exposed to a variety of fields and discover their own interests within them."
Kai Lun has clearly made the most of her studies, as she was honored as one of AGU's most outstanding students for the 2022 academic year.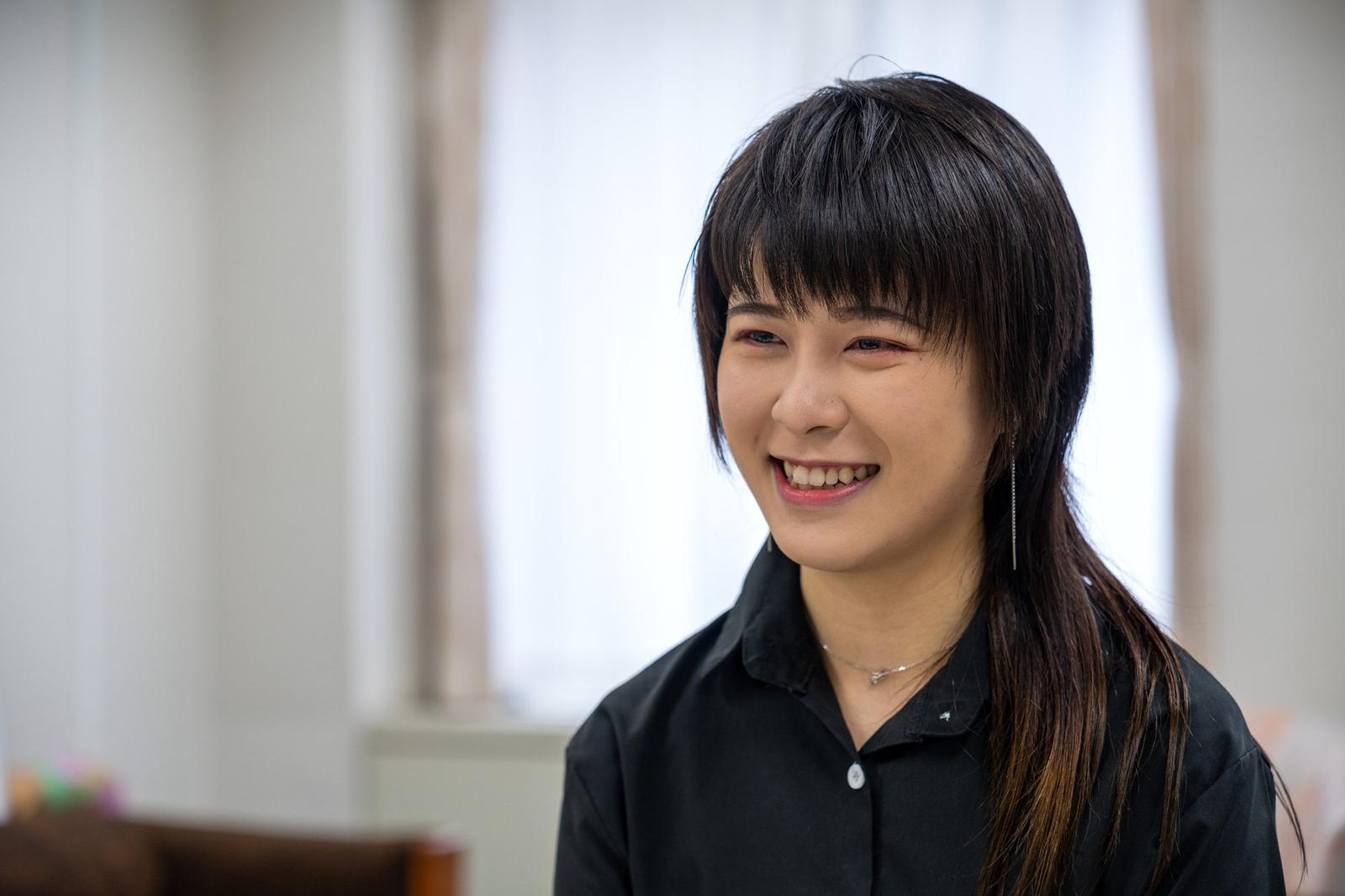 Cultural Collaboration Brings Growth
Kai Lun has been able to pursue her passion for words during her time in the School of Cultural and Creative Studies, writing a short novel in Japanese and researching the development of tanka poetry. "In my seminar, we discovered the structure of Japanese society through folktales, and presented and discussed them," she says. "I learned the importance of not seeking only the 'right' answer, but rather to have my own opinion while absorbing the ideas of others and working together to arrive at a better solution."
In an era of rapid globalization, Kai Lun believes in the value of getting to know other cultures in a spirit of mutual respect. "In my case, for example, I am proud of my Malaysian and Chinese cultural background and would like others to know about it, but I also believe that I should learn and respect Japanese culture," she explains. "In short, I think it is important to know about each other's culture, not 'one-sidedly' but 'mutually.' The Japanese language skills I developed through presentations and papers at AGU—as well as the ability to think about culture itself and the social issues that originate from culture—have been very helpful."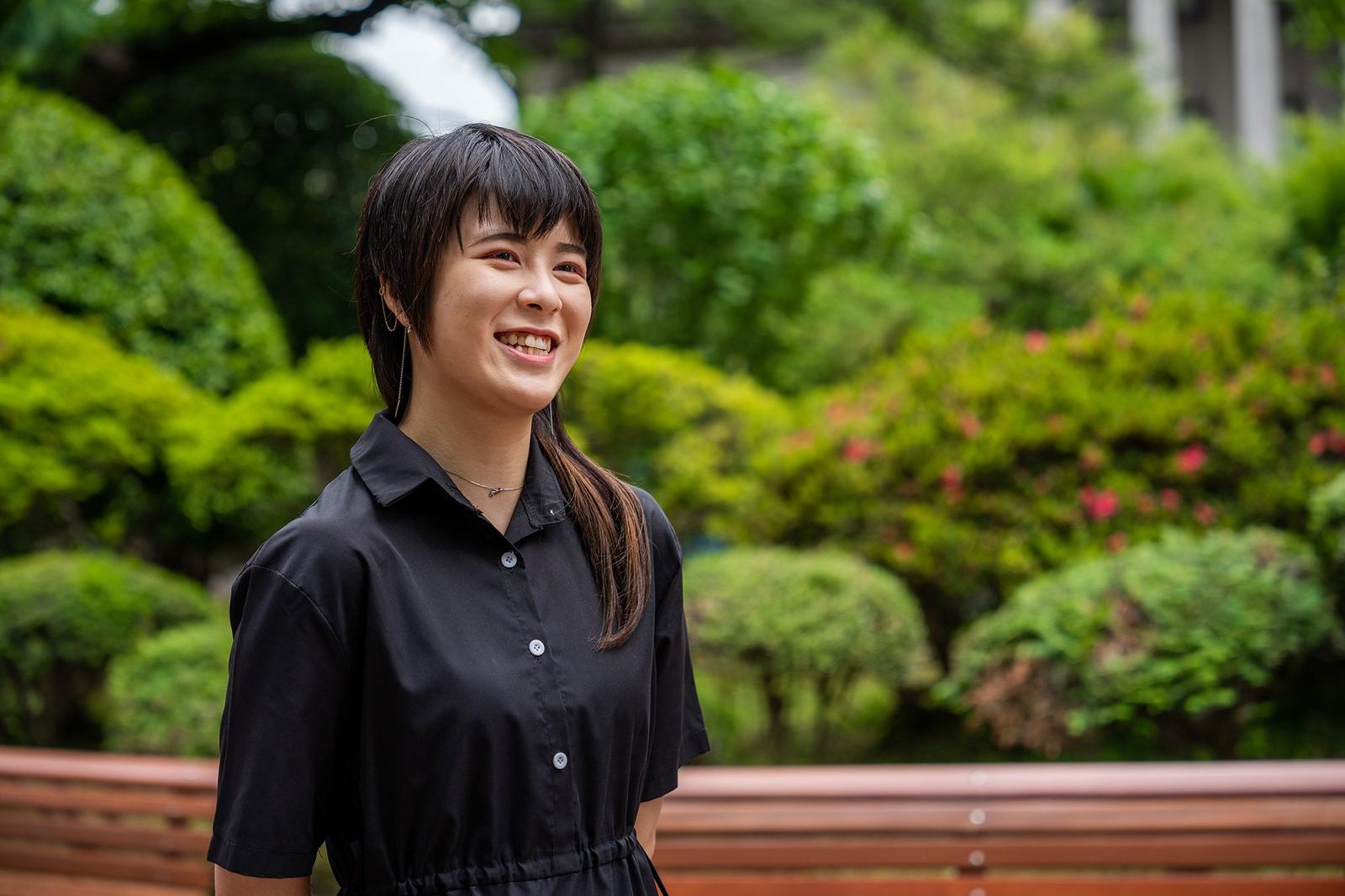 Proactively Pursuing Opportunities
Studying in the multicultural environment at AGU has also brought chances for Kai Lun to expand her knowledge beyond the classroom. At the invitation of fellow students, she has been able to participate in extracurricular activities that connect art with social issues, leading to self-reflection. "These have been valuable opportunities and I want to continue thinking about these connections between art and social issues, such as gender and nationality, and the potential of the individual in Japanese society," she says.
Kai Lun's proactive outlook extends to practical matters, too. She points out that the relatively high cost of rent and daily life in Tokyo can be a challenge for international students and suggests the use of scholarships as one way to mitigate this. Kai Lun applied for and was subsequently awarded a public interest incorporated foundation program which supports outstanding self-financed international students from Southeast Asia who are studying at Japanese universities. 
The Power of Words
With graduation on the horizon next April, Kai Lun has already secured a job in Tokyo in the inbound media sector—an ideal match for someone with a love of both language and culture. "In this age of online information overload, my voice may be small, but I hope I can facilitate opportunities for others to learn about Japan, as well about other cultures, and encourage them to delve into things they didn't know about," she says.
According to Kai Lun, being able to share her words with an online audience is both a privilege and a responsibility, and she is keenly aware of the weight that words can hold. Standing at the threshold of her career, one thing seems certain—this well-spoken, empathetic student will use her voice to make a positive difference in society.
Tee Kai Lun
School of Cultural and Creative Studies
The School of Cultural and Creative Studies fosters 21st-century cultural innovators, merging social sciences, art, culture, and policy studies. Unique experiences prepare students for future careers with a global outlook, including creative collaborations centered on the Aoyama Community Laboratory (ACL), a research and education organization which connects the students with creators and groups  in the local community.
www.aoyama.ac.jp/en/academic/undergraduate/sccs
Interview and writing by Louise George Kittaka
Photos by Julio Kohji Shiiki