19-year-old Agricultural University Student Launches a Grass Straw Brand
Natsuto Okubo, a sophomore at the Tokyo University of Agriculture, launched the grass straw brand "HAYAMI." The brand imports and sells straws made in Vietnam from Lepironia (grey sedge).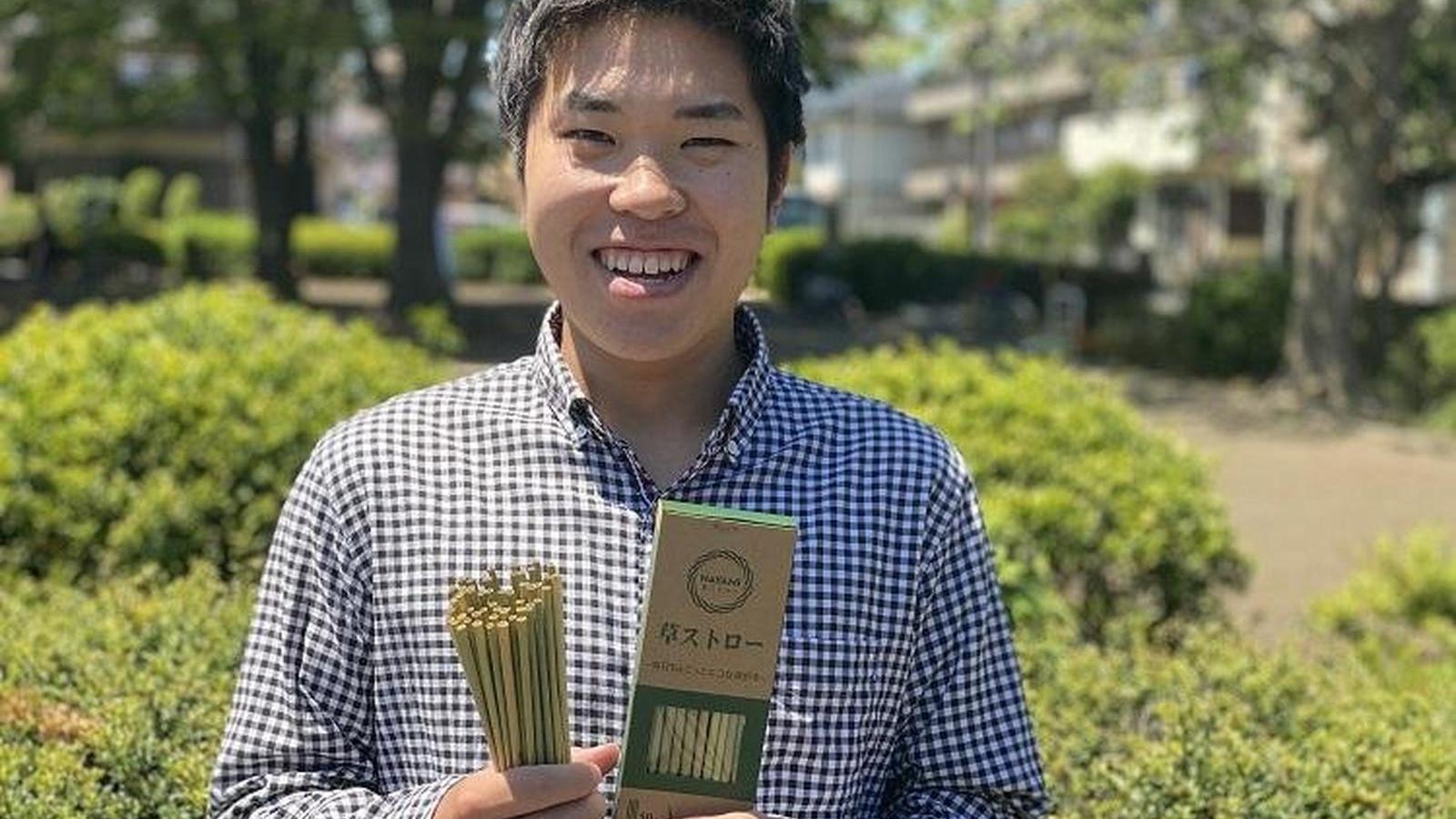 Currently in his second-year at the Department of International Agricultural Development of the Tokyo University of Agriculture, Natsuto Okubo, a 19-year-old student, launched "HAYAMI," a grass straw brand, in the spring of 2020 just as the COVID-19 pandemic was sweeping the world. HAYAMI imports and sells Vietnam-made straw from Lepironia (grey sedge), a plant in the Cyperaceae family. In addition to being more durable and heat-resistant than paper straws, these grass straws are extremely safe as no chemical substances are used in the cultivation of their raw materials and during their manufacturing process. The company is seeking to gradually expand its business operations by sending samples of the straws to cafés across Japan. "Japan ranks second in the world in terms of the amount of disposable plastic waste generated per capita. We hope to create opportunities for people to make eco-friendly choices in the course of their everyday life, no matter how small they may seem." Okubo speaks of his motivation behind this project.

Many university students in Japan are becoming increasingly attracted to the idea of tackling social issues through businesses. Particularly those who are around the same age as Okubo, born in the late 1990s and after, commonly referred to as "Generation Z." Common traits among the people in this age group include their familiarity with digital technology, global perspectives, strong interest in social issues, and their entrepreneurial spirit. According to a survey released in January 2020 by First Insight, a U.S. research firm specializing in the retail industry, 62% of Generation Z indicated that they prefer to purchase products of sustainable brands. As reported by the Ministry of Economy, Trade and Industry, the number of ventures launched by universities in Japan has also been rising year after year, hitting 2,566 in 2019, an increase of 288 from the previous year.
Okubo started selling straws made of grass in the summer of his first year in university. His spark of inspiration was when he came across a post shared by his friend on social media and learned that Japan generates a massive amount of disposable plastic waste per capita compared to global standards. "I found out that there was a growing movement to eliminate the use of plastic around the world, and thought that it would be great if Japan could be part of this global effort." he recounted.
At that time, Okubo's brother, who is three years older than him, learned about the existence of grass straws in Vietnam during his backpacking trip and shared the finding with Okubo. This prompted Okubo's decision to import and sell these grass straws in Japan. With the help of his brother and a Vietnamese in his 20s, whom he had met in Vietnam, Okubo moved ahead with his business plan. The three of them polled together the necessary funds for kicking-off their business. Okubo attributes his energy to the unwavering support from his parents, who have never objected to anything the 19-year-old had wanted to attempt.
Lepironia, the plant from which the grass straws are made, is grown in the suburbs of Ho Chi Minh City, Vietnam, with organic fertilizers, then it is dried to be manufactured into straws. The Lepironia straws are as robust as plastic straws and do not become soft even after absorbing water. Instead, the grass straws "become more flexible after absorbing water, making them more durable and less likely to snap." Okubo explained.
Okubo had to ensure that their manufacturing process strictly complies with the health and safety standards of Japan. He encountered these challenges when liaising with the local manufacturers and retailers. To prove that their products meet the safety standards of Japan, they had to undergo health and safety inspection at the Japan Food Research Laboratories. The inspection prove their straws are clear of any arsenic, formaldehyde, or coliform bacteria.
"These straws are safe and reliable as they are entirely plant-based. We hope that the used straws can later be incorporated into livestock feed or agricultural fertilizers, creating a sustainable cycle. Some of our customers have even used them to feed their pet rabbits."
In February 2020, the company sent samples to around 100 stores across Japan, including farm-affiliated stores and organic cafés that are operated with an emphasis on sustainability. According to Okubo, "one challenge that remains is the higher cost of the grass straws compared to plastic. We are trying out various ways to convince business owners to adopt the use of grass straws."
Around 10,000 grass straws arrived at the port of Yokohama in early April 2020. This was the moment when Okubo felt the responsibility that comes with launching a business. For better or worse, the COVID-19 pandemic had postponed the start of his university classes, which gave him more time to plan his sales strategy. He has also actively promoted his brand on social media platforms such as Instagram and Twitter. So far, around 20 stores have placed purchase order with Okubo after trying out the samples, and Okubo hopes that this figure will rise to at least 100 stores by the end of the year.
"The environmental issues we face today are the result of the accumulation of seemingly innocuous choices that we make in our everyday life. However, I believe that if each and every one of us can change our mindset just a little, we can definitely make a positive impact. I hope we can create a sustainable society through our effort to eliminate the use of plastic."
Okubo's company is also planning to sell other products besides grass straws in the future. "Before that, however, I hope to take advantage of the resources I have as a student at the Tokyo University of Agriculture to launch projects in collaboration with other universities and companies." he told us emphatically.
Haruka Komatsu
Member of the Sustainable Brands Japan Editorial Desk. Komatsu studied conflict resolution and development studies in the United States and Spain. While reporting on issues centered on the themes of sustainability and business, she has put her insights into practice by launching "Kochi-Shokudo Nichi Nichi Kore Ko Jitsu," a weekend diner in Nishi-Nippori, Tokyo, that served dishes using ingredients from her hometown Kochi, in July 2018 and operating it for a year.

Translation: Vincent Gan