Motivated by Her Brother's E-mail, 2020 Will be an Year to Aim for Perfection - Aki Yazawa, Canoeist
Coached by her father, she grew following her brother's footsteps. After missing out on a brother-sister appearance at the London Olympics, her brother now cheers her as she aims for the top.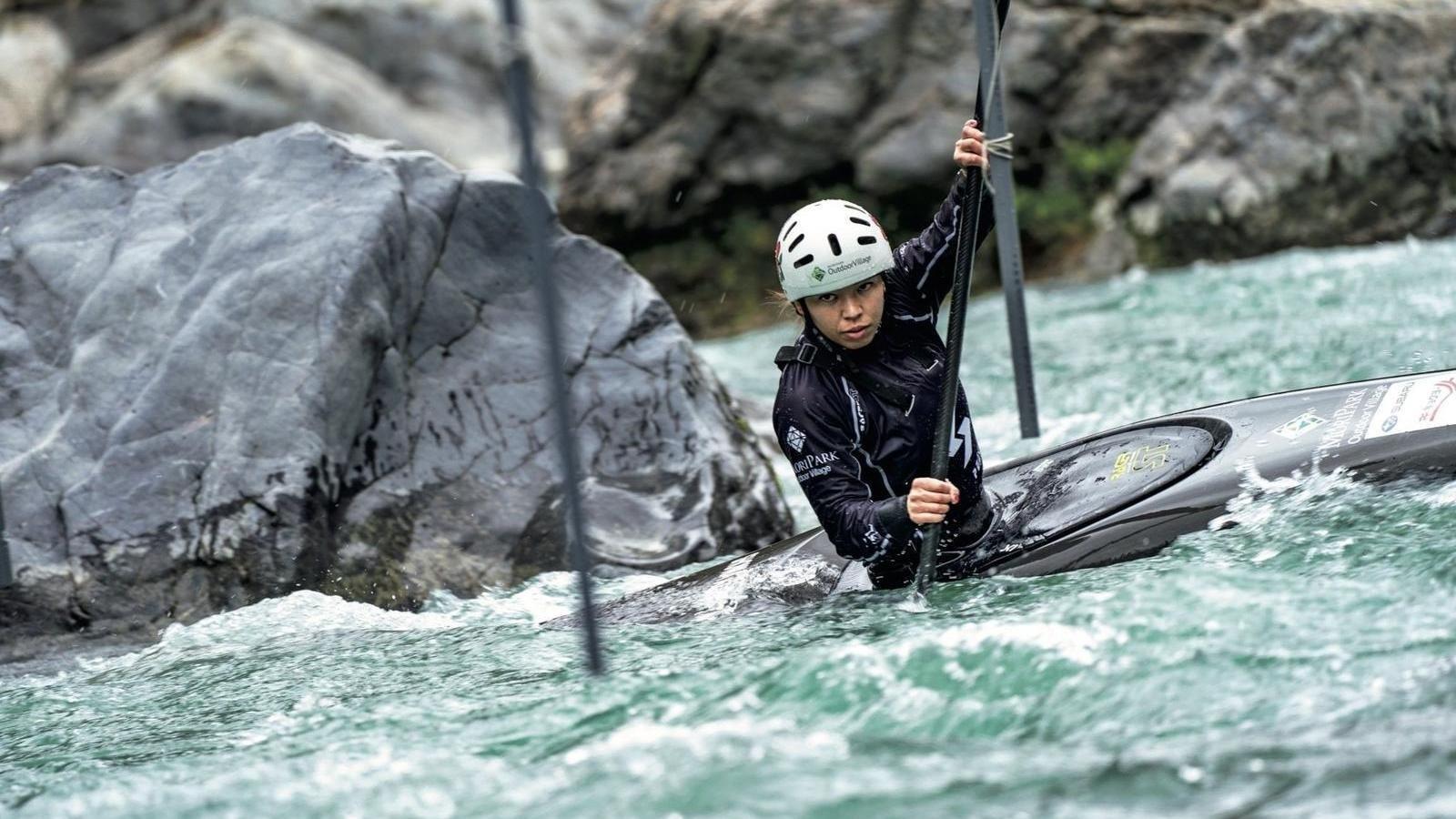 Feelings about the postponement of the Tokyo Olympics
At the 2018 Asian Games in Jakarta, Aki Yazawa became the first Japanese woman to win a gold medal in the canoeing category.
Last year, she won the Japan Championships for the sixth time, earning the right to appear in her second consecutive Olympics Games after her debut at the Rio De Janeiro Olympics. However, the Tokyo Olympics were delayed by one year due to the influence of COVID-19. We interviewed Yazawa for her current state of mind.
"I don't have any negative thoughts. There is nothing I can do myself, and I am sure they decided after considering various things. I just need to prepare well and compete. I am currently training with my coach Shuji Yamanaka (Japan Canoe Federation full-time coach) so that I can perform well at the games."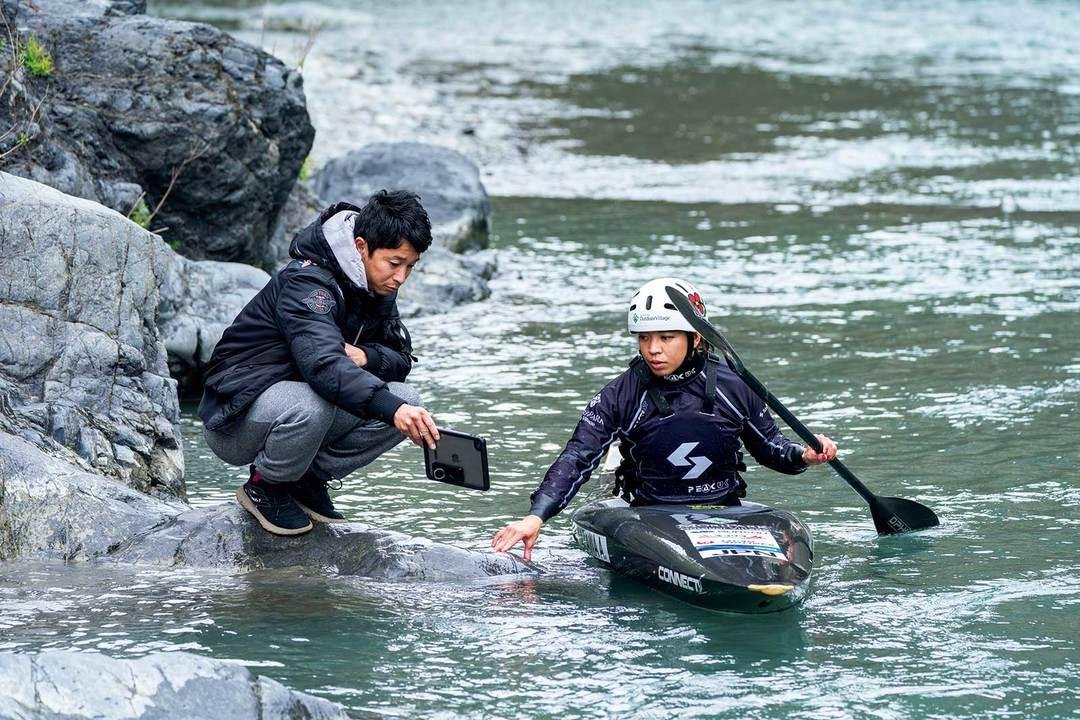 Yazawa is training for the kayak slalom. In this event, competitors travel down a river or artificial course, navigating through specified gates in the fastest time possible.
The sight of a canoe rushing through churning waters, at times majestic and at other times delicate, is an impressive sight. The athlete's strength and sense of balance are immediately apparent.
"Of course, there is much that is appealing about the sport. One appeal of the canoe is that it lets you experience nature and the four seasons. In spring, you can enjoy cherry blossoms. In fall, you can enjoy the autumn foliage. Canoeing brings you into contact with such scenery. Rivers with currents would be quite difficult for the beginner, but in places, without currents, anyone can do it. There are also canoeing classes. So, I want for many people to enjoy canoeing."
A vivid part of Yazawa's childhood memories is the Tenryu River. Originating in Nagano Prefecture and flowing south the Aichi and Shizuoka prefectures to the Pacific Ocean, this great river flows through many nature-rich regions of Japan. However, the river possesses more than just beauty. As indicated in its nickname "Rampageous Tenryu," the river waters flow quickly and with great force. It has here that Yazawa, coached by her father and following in her brother's footsteps, was introduced to the sport of canoeing.
Shocked by the level of foreign athletes
Yazawa's brother Kazuki began the sport before her. He competed in three consecutive Olympic games, from Beijing to Rio de Janeiro. He is also a Buddhist monk. This uncommon pairing of monk and athlete has surely ingrained itself in the memories of many.
Seeing her brother paddling a canoe, Yazawa wanted to try as well. At that time, she was in the third grade of elementary school.
"I began at a place where there was no current. It was completely different from being on land. I could ride a canoe alone, paddle, and go where I wished. It was a new experience for me and a strange one. You float and bob in the water. Some people may think water is scary, but as you become familiar with the water, the fun outgrows the fear."
At the time, Yazawa also learned various other things: swimming, tea, and Nishikawa-ryu classical Japanese dance. She began training in Japanese dance at the age of three and was obsessed with it. "You use your legs and waist, and it trains your core. Those supple movements translate to the canoe," said Yazawa.
However, as time passed, more and more of her time became devoted to the canoe. In addition to weekends, she also began to practice on three weekdays each week. An impressive and dedicated figure during this time was Yazawa's father. After coming home from work around 6 o'clock, he would drive her to various practice locations.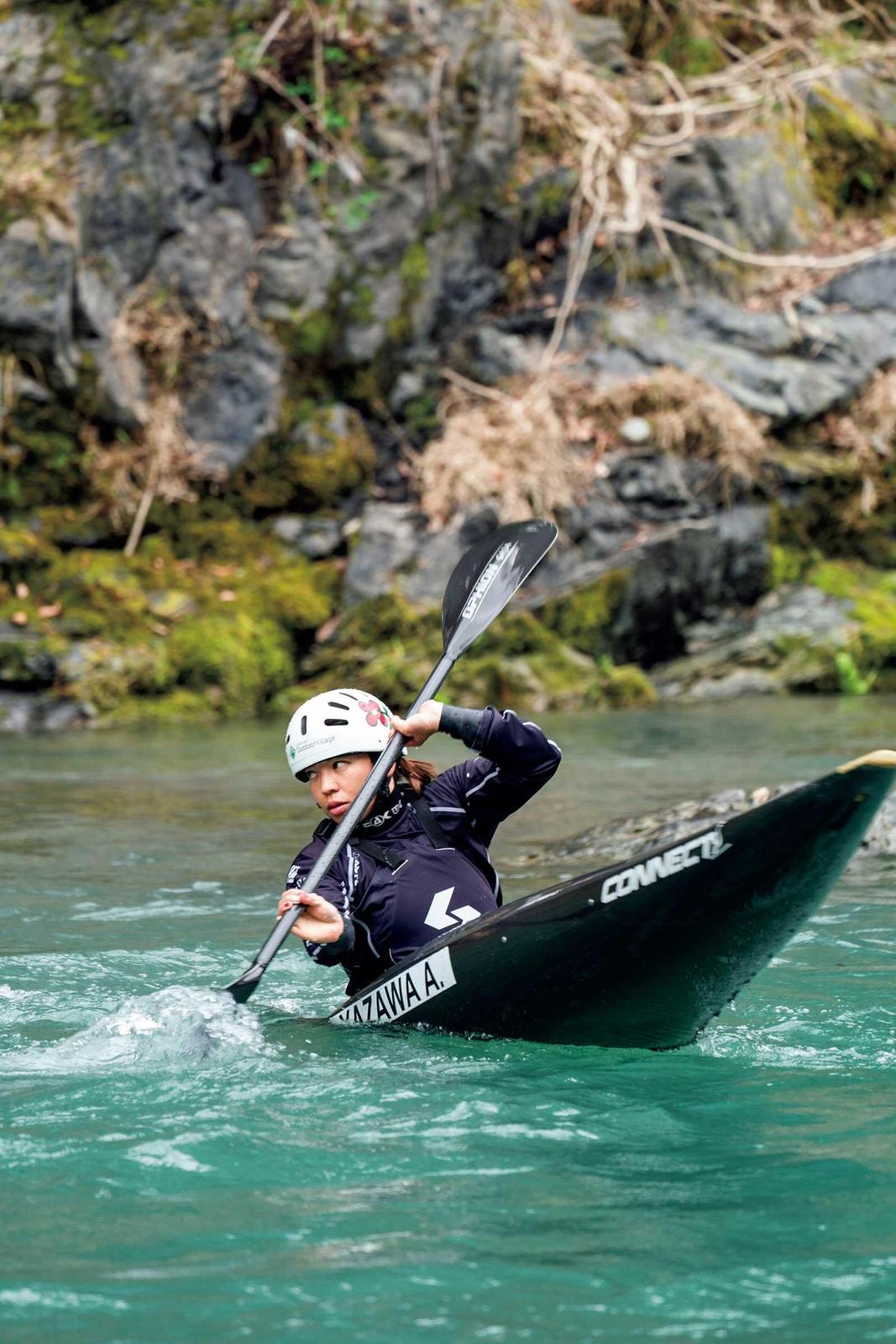 "He had a generator, and he would illuminate the river with lights and set up gates. Of course, it was nighttime, so we could not do it in places with strong currents. But my father found several points on the main course of the Tenryu River that were ideal for practice. My brother and I are who we are today because of the efforts of our father."
At that time, however, Yazawa did not learn canoeing in preparation for competition. It was just fun. However, Kazuki continued to improve. As she attempted to keep up with him, the path towards the kayak slalom revealed itself.
"My brother is three years older than me. In junior high, he began training to become a top athlete. He liked canoeing more than I did. So, I thought I had to do it too... Practice would revolve around my dad and brother, so I had to keep up. Then, in my second year of junior high, I won the Japan Juniors and decided to compete in the World Juniors. From that time on, I started to think about aiming for the Olympics."
However, at the World Juniors, Yazawa was astonished by the ability of foreign athletes. Many were training on artificial courses, which provide a splendid practice environment. There were not any in Japan at the time. Construction only began when the Tokyo Olympic Games were decided, with construction finally complete in the summer of 2019.
Yazawa later moved her training base to Slovenia. This, she says, was also done in pursuit of a better training environment. In Japan, rivers were the only place she could practice.
"There are many artificial courses overseas. The current is strong, and you can always practice with the same conditions. With natural rivers, weather affects the amount of water, and there are days when you cannot train. The foreign athletes were on a different level. I would try hard to control my canoe, but I would be swept away and fail to pass through the gates smoothly. I was eliminated in the qualifiers. It was a shock."
However, Yazawa had an advantage. She had practiced in the powerful waters of the Tenryu River and was not afraid of violent currents.
Through junior high, she trained hard with her father and brother. From high school, she moved to Ome, Tokyo, where her brother lives. From that time, the Tama River became her new training location. The river has strong currents and permanent slalom gates. It was the best possible training location in Japan.
In her third year of high school, Yazawa won the All Japan Championship and went on to study at Surugadai University. In 2011, she won the NHK Cup. With this momentum, she set her sights on the London Olympics to be held the following year.
"It was the first time in my career that I set my sights on the Olympics. My desire was too strong. I failed in the Asian Games, which are also qualifying events. I was at the top in the qualifiers and semifinals but came in last in the finals. I thought about quitting it all."
Her brother had a strong influence on her, then. He sent her a long message urging her to continue competing. Kazuki always encourages his sister at every opportunity. At the time, Yazawa had just become an employee of Showa Aircraft Industry. After her disappointing competition results, her brother sent her a message.
"He said something like, 'Your work achievements are also your canoeing achievements. If you cannot achieve anything there, you will not be able to contribute to your company. You have to become someone that people believe they need.' It was harsh, but his messages always encourage me, and I am grateful."
She decided to aim for the next Olympics. She began to take steps forward. Encouraged by her brother, coaches, and supporters and through her own hard work, Yazawa was able to join her brother four years later for a brother-sister appearance at the Rio Olympics.
The situation is tough, but one does what one can
The athletes are now struggling because they cannot train. Yazawa too has not been able to train to her satisfaction.
"I am still currently based in Slovenia. It is encouraging to have some of the best players in the world around you and see them up close. In Japan, you can only watch them on video. However, as The Olympic Games were scheduled to be held in July of this year, I returned to Japan early. I was to be allowed to practice once a month on the artificial course (the above-mentioned course in Edogawa-ku, Tokyo). However, due to this situation, the course was closed (as of May 20). It is a difficult situation because I cannot go to Slovenia. However, I believe that I can only try to do whatever is possible."
"Because everyone is under the same conditions," says Yazawa, laughing. This may be so, but the true mental state of athletes who will appear in the Olympics is something immeasurable.
Still, fast or slow, the athletes have no choice but to aim for their goal. What hopes and dreams, one wonders, does Yazawa hold for next year's Tokyo Olympics?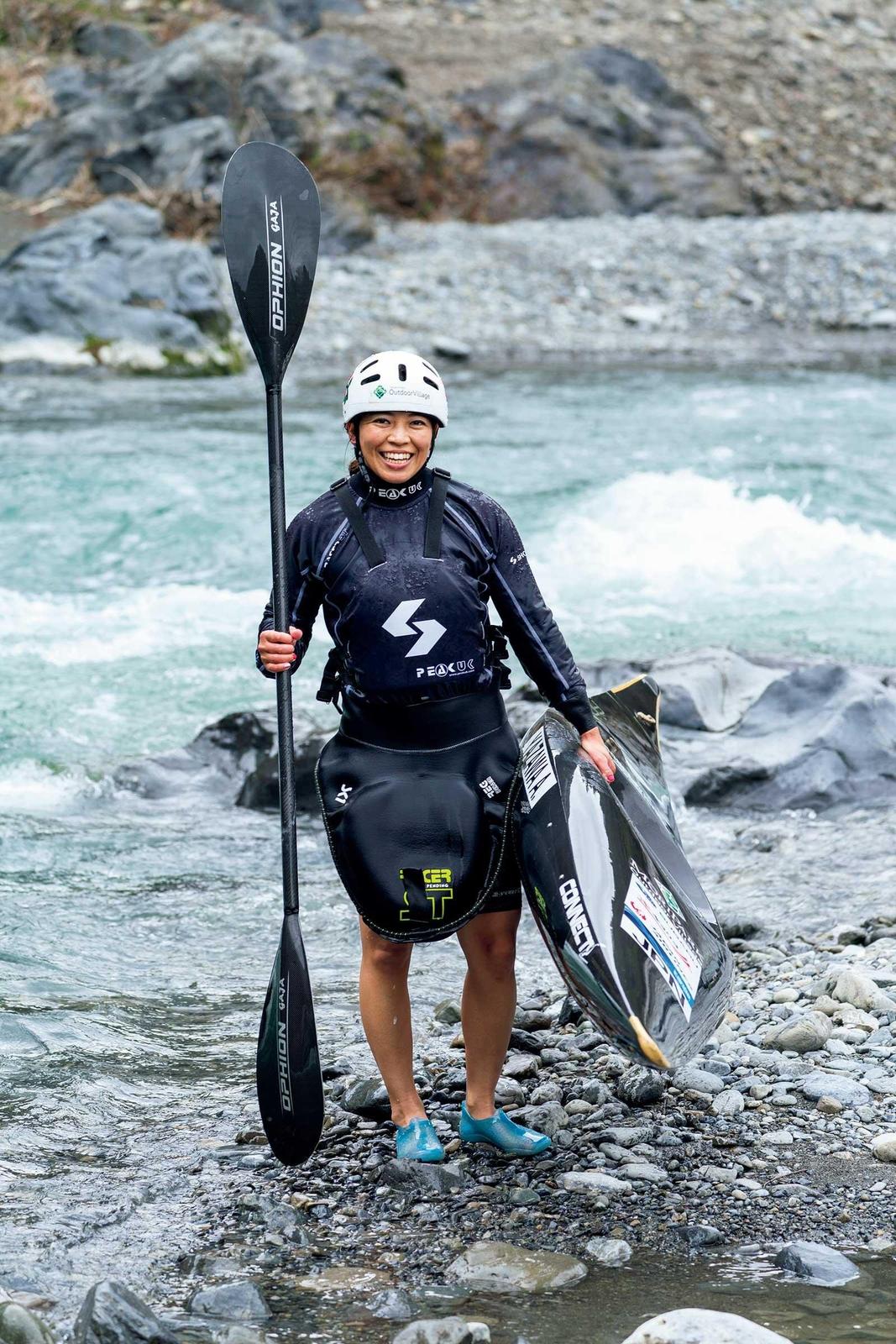 "Normally, I would compete in the World Cup and build up experience at various competitions, but I do not know what will happen now. However, I have always wanted to compete with my friends from around the world in the best possible condition. I will do my best to prepare. I need to improve my endurance and strength. Progress is gradual, but both attributes are almost on par with the world's best. With another year, I think I can improve even more. Also, for my sport, being able to practice on the artificial course at the Olympic venue will give me a big advantage over foreign athletes. I hope it reopens. Anyway, I intend to avoid thinking negatively about this one-year delay and see it as a new opportunity for growth. I think this will connect to an Olympic medal."
Interviewed and written by Ichiro Suzuki, Photography: Kazufumi Shimoyashiki
First appearance in "Tarzan" No. 789, June 11, 2020