"Pride House," Home for the LGBTQ Community, Opens in Shinjuku, Tokyo
"We hope to offer a place close to the hearts of LGBTQ individuals."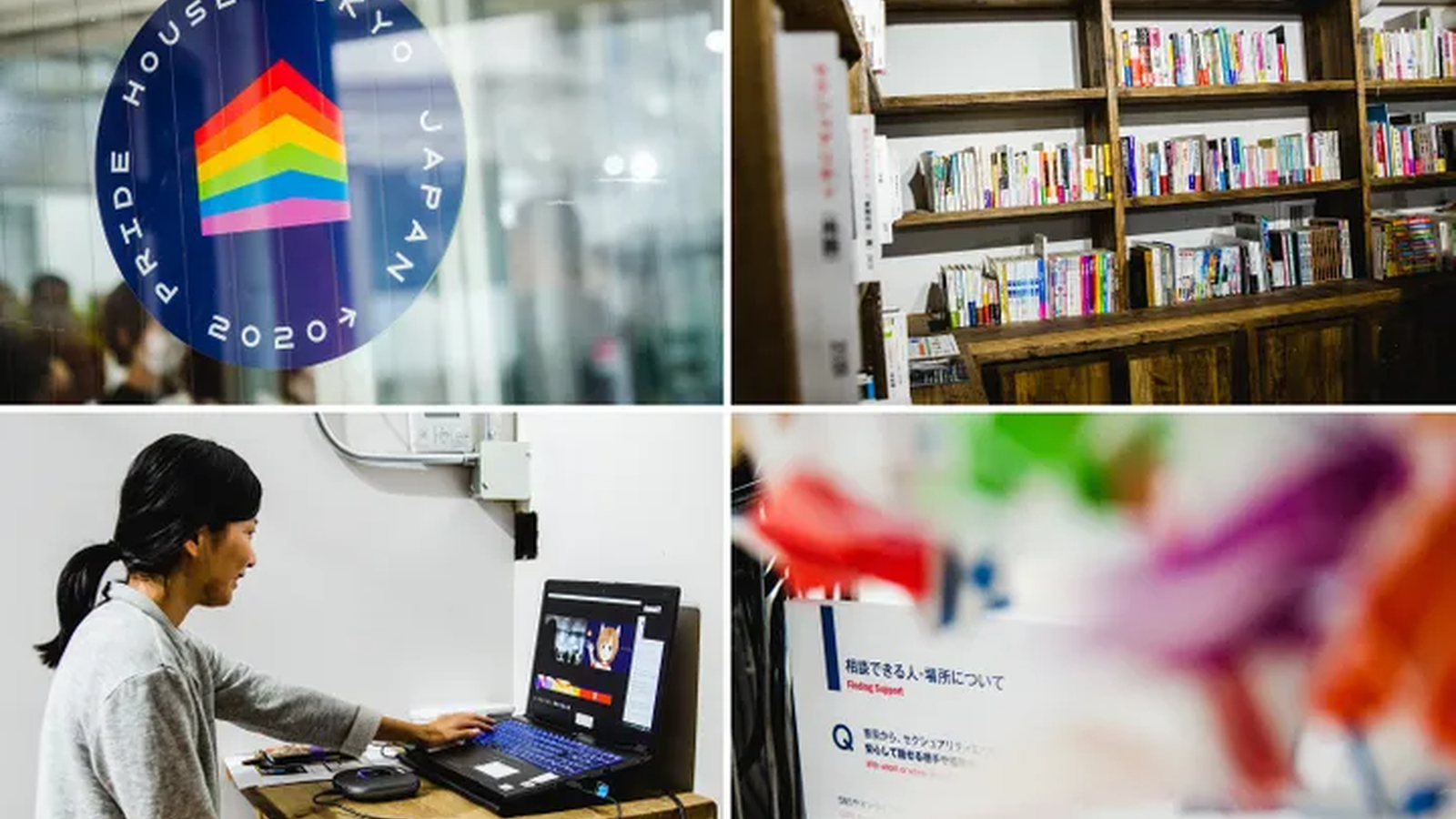 "Pride House Tokyo Legacy" is a permanent LGBTQ support center that has opened in Shinjuku, Tokyo, in October 2020. Equipped with a counseling booth, its primary goal is to serve as a hub where LGBTQ individuals can feel safe and at home. It will also disseminate news and information on LGBTQ issues.
Let's take a look inside Pride House.
What is "Pride House"?
"Pride House" is modeled after its counterparts in Canada, Brazil, and other Olympic host countries.
Unfortunately, sexual discrimination and prejudices remain deeply entrenched in the world of sports today, and there is still hardly any place where LGBTQ individuals can feel totally at home. In response to this situation, Pride House was set up as a hub where they can gather freely without second thoughts and where information on LGBTQ issues can be readily available.
As the host country for the upcoming Tokyo Olympic and Paralympic Games, Japan had launched an initiative to establish Pride House as a permanent support center in Tokyo.
Although Pride House had existed previously on a temporary basis, this is the first time it was unveiled as a permanent establishment.
Pride House Tokyo Legacy has been authorized as part of the Tokyo 2020 Official Program by the Tokyo Organising Committee of the Olympic and Paralympic Games, making it the first Pride House around the globe to achieve this milestone.
The official launch of Pride House has also involved many different sectors, including LGBTQ support groups, LGBTQ-friendly companies, sports organizations, and embassies of countries all around the world.
"We wanted to create a place where anyone can just drop by and hang out."
While Pride House Tokyo Legacy was established to send a powerful message on the ideals of "diversity and inclusion" articulated by the Tokyo Olympic and Paralympic Games, the members of its management team stress that their priority lies with creating a place where LGBTQ individuals can feel at ease.
Gon Matsunaka, President of the Pride House Tokyo Consortium, points out that "it is essential for there to be a place for LGBTQ individuals and youths to approach in times of need."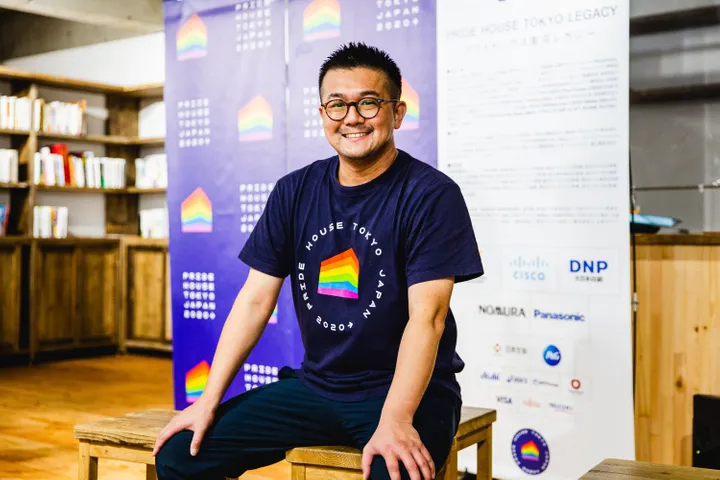 Setting up a kids' area and remote counseling desks
What kind of ideas and concepts have gone into designing such a place?
Pride House is located on the second floor of a building located a short distance away from Shinjuku-2-chome, an area typically regarded as the largest gay district in Asia.
It is open on Mondays, Tuesdays, Fridays, Saturdays, and Sundays from 1:00 PM to 7:00 PM and closed on other days of the week. Admission is free and all visitors are welcome.
The center has a library where visitors can browse around 600 LGBTQ-related books, as well as a separate area for counseling.
It even has a counter where visitors can do their work, which encourages people to freely drop by whenever they wish. Future plans for Pride House include a café and kitchen where visitors can enjoy a cup of coffee, as well as a kids' area.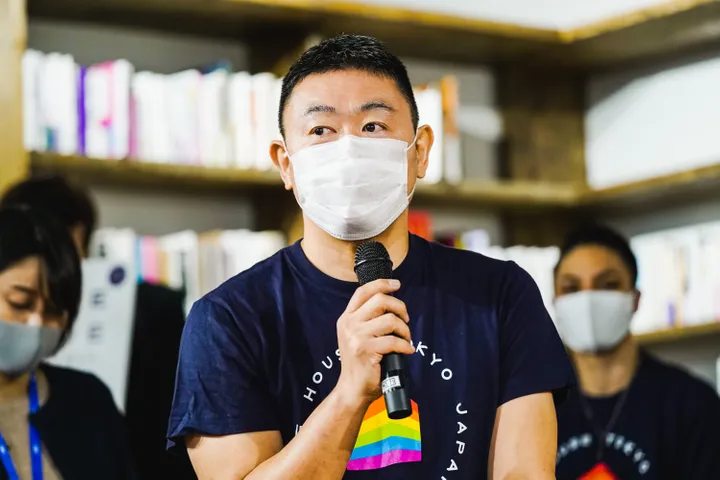 Kunihiro Maeda, a member of the management team who is involved in community-building at Pride House, tells us, "Our staff members don't approach visitors out of the blue and talk to them. Our whole idea is to simply create a place where people can feel at ease by just being here."
While there is currently a counseling booth at Pride House, there are also plans to launch remote counseling desks that would allow people to get in touch via email or phone without having to visit the center in person.
"Some of our staff members are also part of the LGBTQ community, so we believe that we can help others feel like they belong and that they are not alone. We hope to make Pride House a place where everyone can connect with others and where LGBTQ individuals can feel at home." (Maeda)
The 7 teams behind Pride House's operations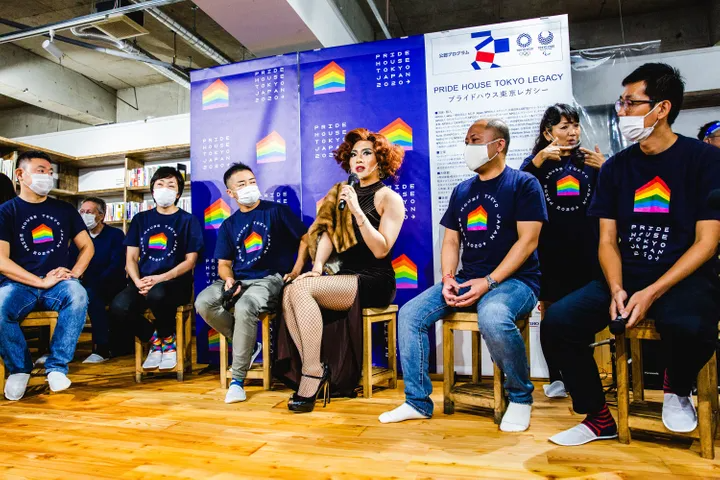 The management of Pride House Tokyo Legacy is divided into seven teams that take charge of everything from overseeing the physical establishment to its outreach efforts.
Culture, history, and archives team: This team creates and disseminates archive materials and content related to LGBT history and culture. At the time of its launch, Pride House's library contains around 600 books and materials related to sexual minorities, all of which visitors can browse freely.
Education and diversity team: This team organizes various educational events that are suitable for everyone, including children, to participate in, such as picture book storytelling sessions and movie screenings, in order to expand the public's understanding of the diverse nature of sexuality and family structures.
Wellness support team: This team launched a training program in October 2020 for participants who wish to support LGBTQ individuals with the ultimate goal of increasing the number of LGBT supporters across Japan. It also plans to launch remote counseling desks to assist LGBTQ individuals who are facing issues but do not have anyone to seek help from.
Community-building team: This team works on creating an environment that would make Pride House a safe place for people, and especially for LGBT youths, to gather and feel at home. In addition to improving the center's physical environment, the team is also responsible for disseminating information at universities and other places.
Festivals, sports events, and volunteers team: This team organizes events such as the Rainbow Marathon that welcomes all interested participants regardless of their sexual orientation or gender identity.
Athlete outreach team: This team focuses on fostering a greater understanding of LGBT issues within the sporting arena, promoting positive messaging, and increasing the number of allies on this front.
Organizational planning team: This team works on creating an organizational framework for fundraising and joint collaboration with local governments and companies that can make Pride House Tokyo Legacy a sustainable organization.
As a place that aims to promote a greater understanding of the LGBTQ community and serve as a hub for members of this community to feel at home, Pride House has been made possible with the efforts of many people.
Feel free to drop by Pride House at any time.
▼Location of Pride House Tokyo Legacy
2F JF Shinjuku Gyoen Building 1-2-9, Shinjuku, Shinjuku-ku, Tokyo
▼Operating Hours
Mondays, Tuesdays, Fridays, Saturdays, and Sundays
1:00 PM to 7:00 PM
Reporter/writer: Aya Ikuta (Huffington Post Japanese edition)
Photography: Jun Tsuboike