Zero Emission Tokyo: The Importance of Action by Cities | TMC Talks Vol.5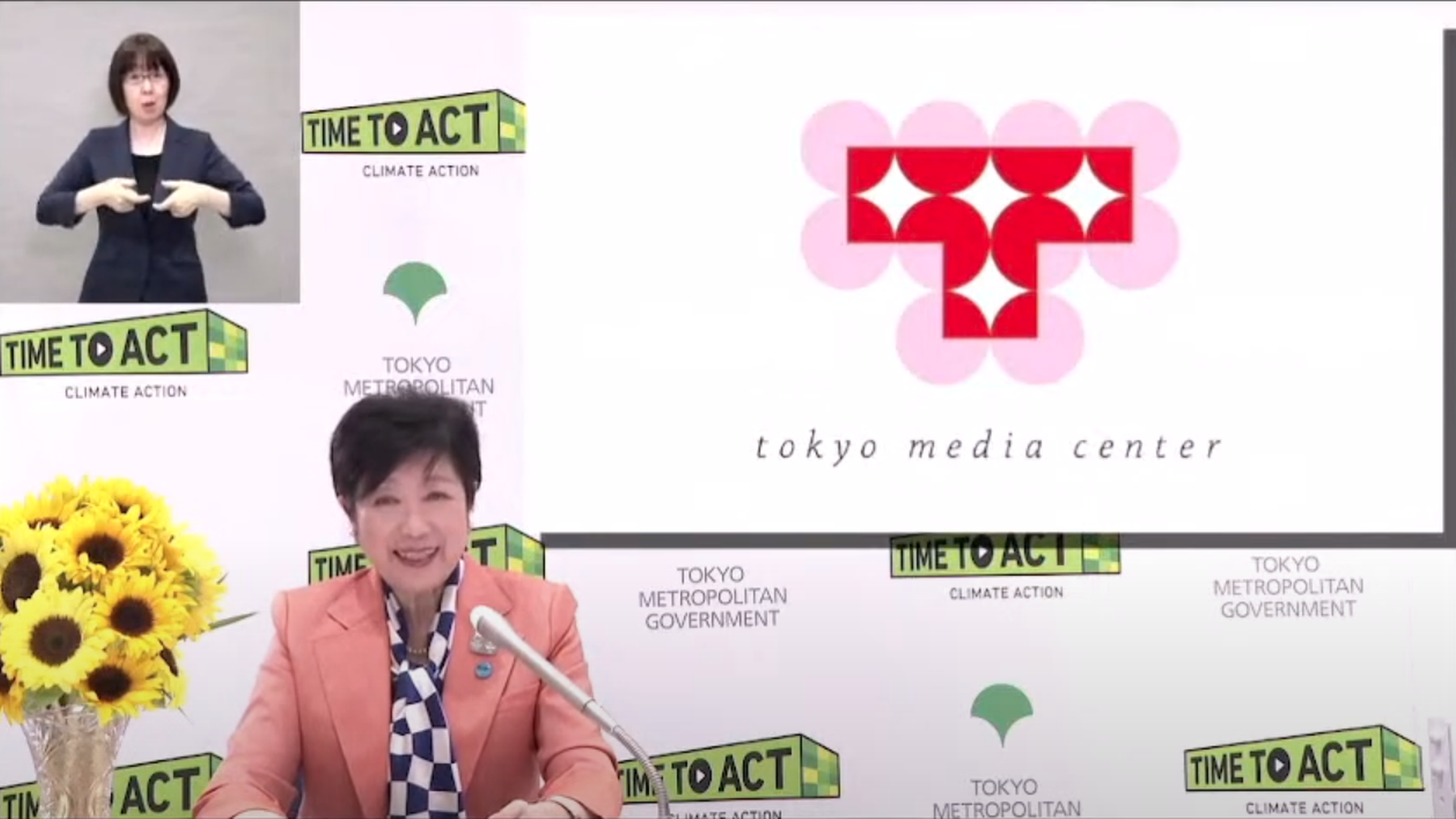 Hello everyone, I'm Koike Yuriko, Governor of Tokyo. Today, I would like to explain how Tokyo, as one of the world's largest cities with a population of 14 million, is taking on the responsibility to tackle climate change.
First, please take a look at the Tokyo 2020 Games' medals.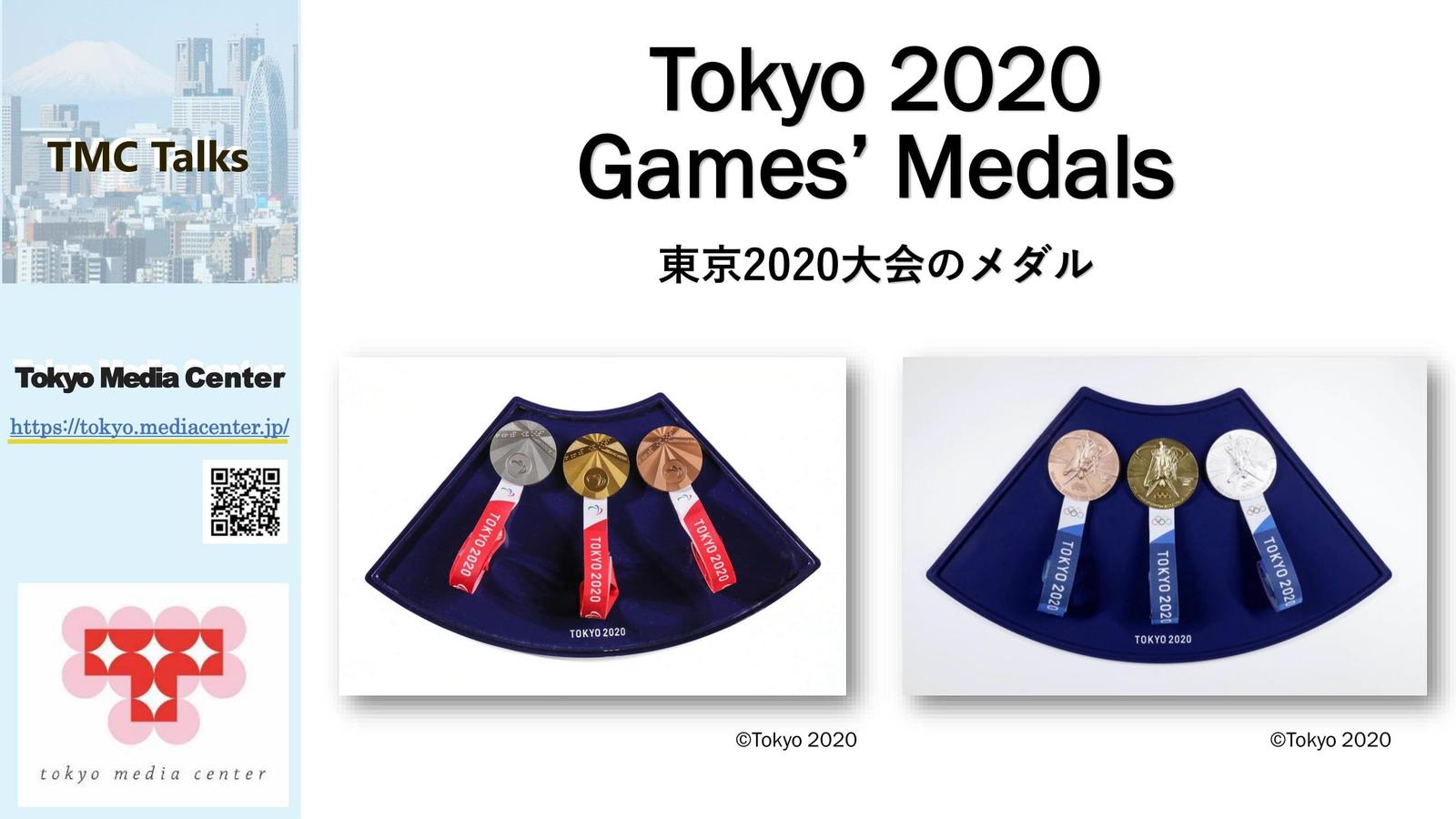 Do you know what these are made of? Of course, they are gold, silver and bronze, but not any ordinary gold, silver and bronze. Over the course of 2 years starting from 2017, we collected devices such as used mobile phones and small household appliances and extracted metals in a so-called "urban mining" effort. These collected items were then used to make about 5,000 medals to be awarded at the Games. In addition to cooperation from the people of Japan, we also received contributions from many people overseas, look at Mr. Johnson, for our initiative. We can say that the medals themselves are truly filled with support from the people of the world for the Olympic and Paralympic athletes.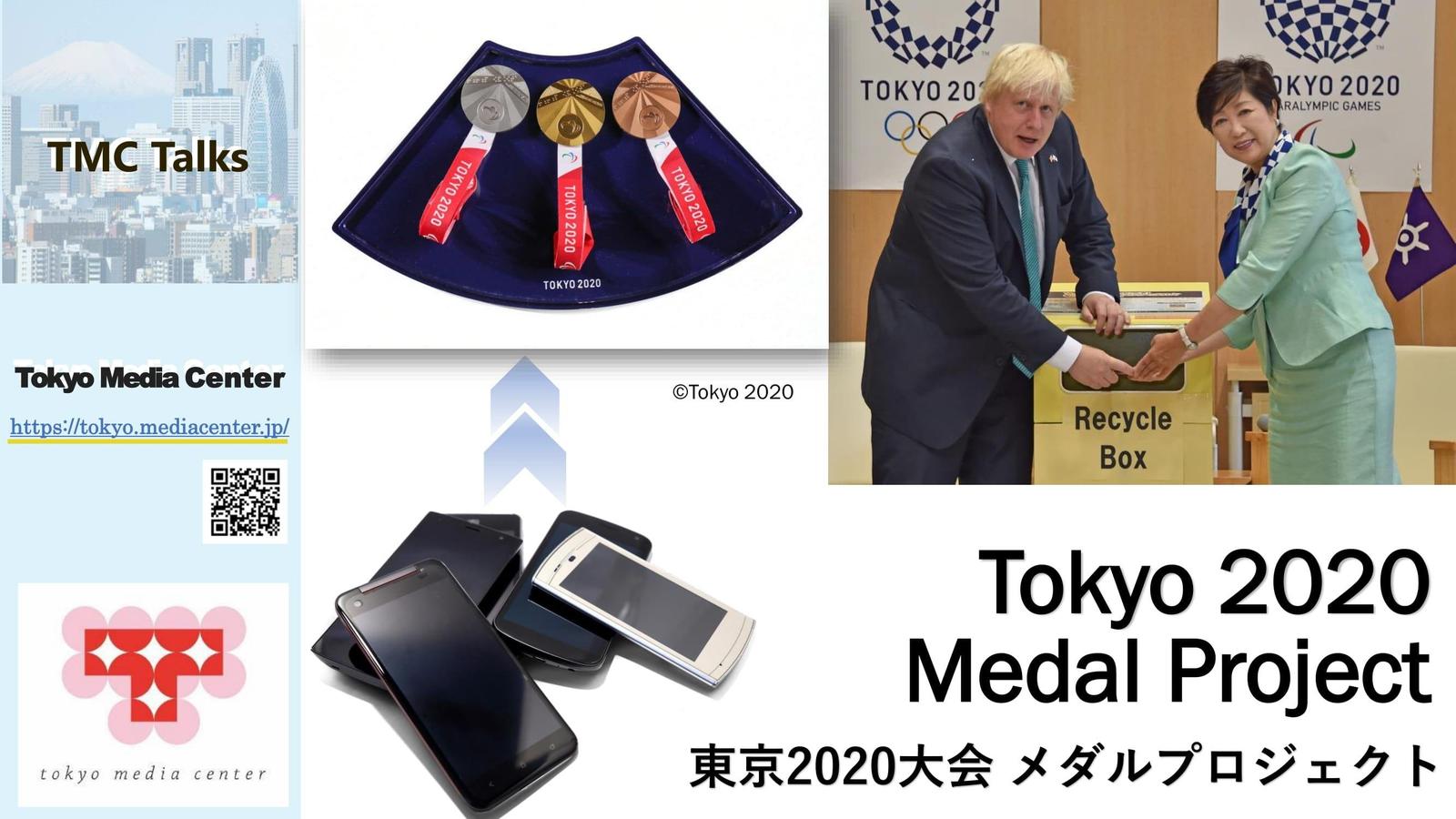 The medal podiums where the athletes are awarded their medals have been constructed from used plastic material collected by many individuals. This plastic, which would normally be discarded has been reborn in the form of a bright stage. Now, whenever I see a medal awards ceremony during the Games, I can't help but think how disposable culture is "mottainai", in Japanese, or such a waste. I hope everyone watching will realize this.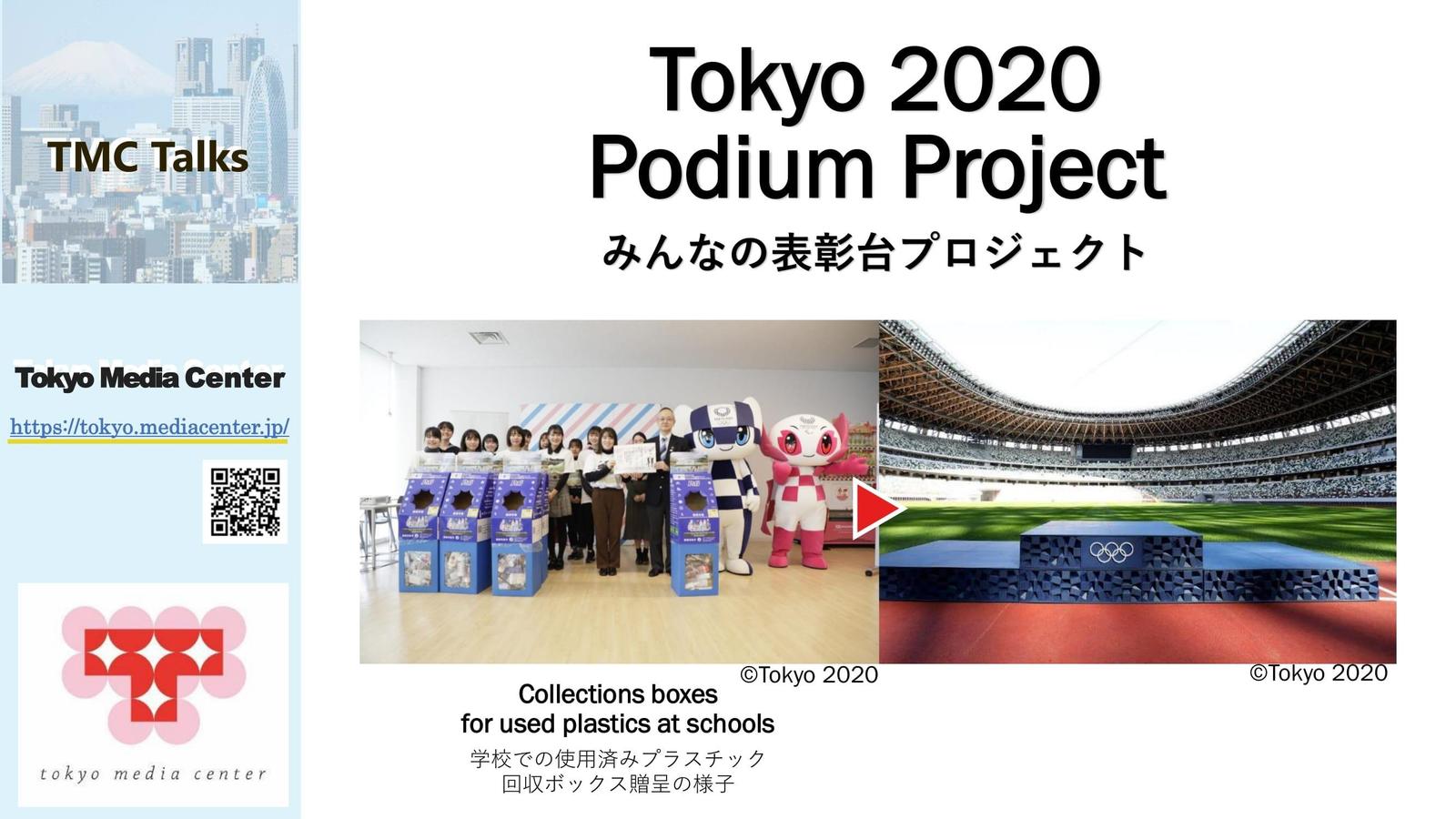 Tokyo has declared that we will achieve "Zero Emission Tokyo", an effort to reduce greenhouse gas emissions to zero by 2050. In particular, I think that the 10 years leading up to 2030 are very important.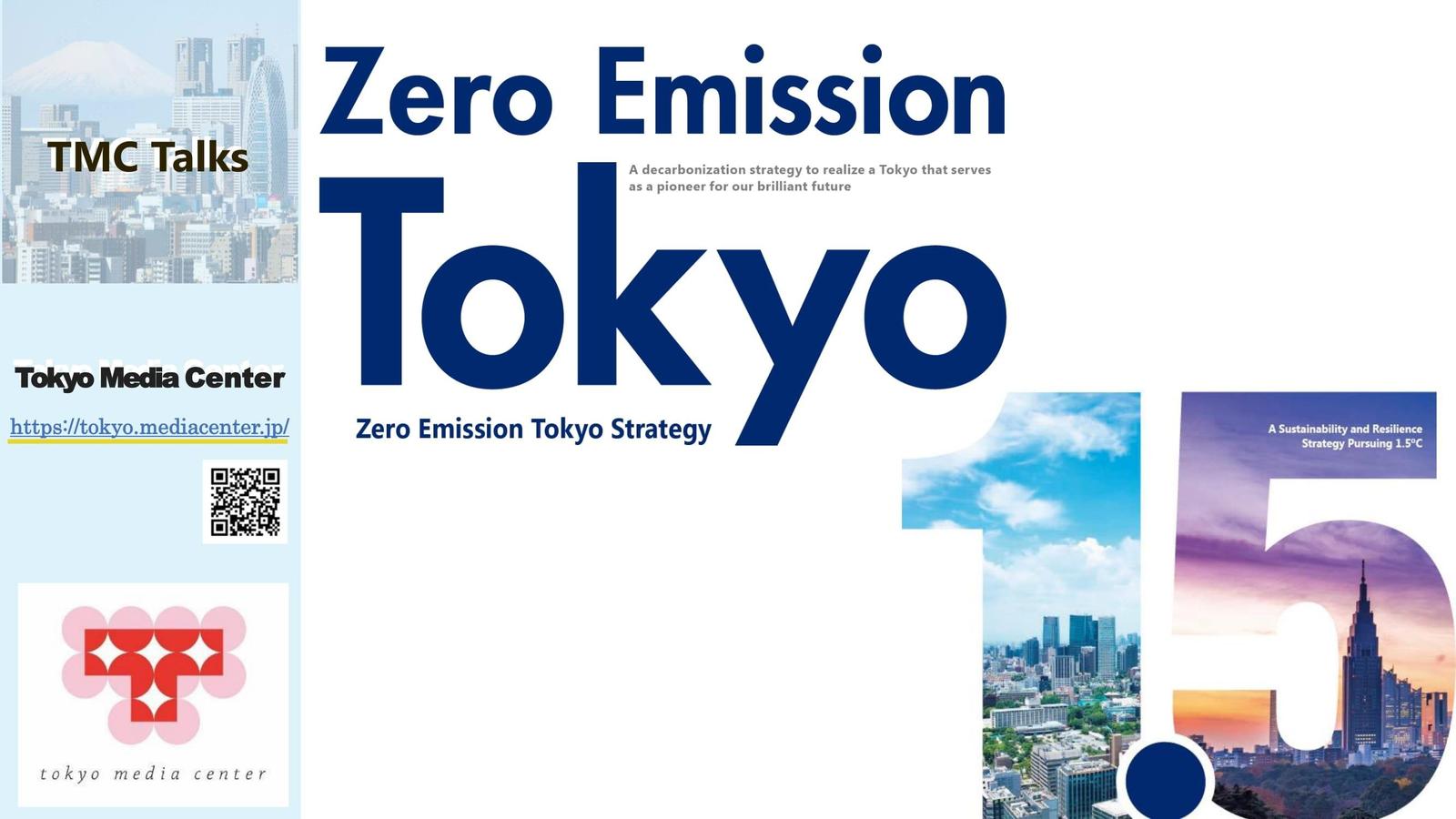 By 2030, we will reduce greenhouse gas emissions in Tokyo by 50% from year 2000 levels. In order to realize this "carbon half", we will reduce energy consumption by 50% and increase the ratio of electricity generated by renewable energy to 50%.
The Tokyo 2020 Games are also incorporating symbolic efforts. Of particular note is the use of hydrogen. The Olympic Torch, which traveled all over Japan, used hydrogen in certain areas as its fuel source for the first time in the history of the Olympic Games. In addition, hydrogen produced using renewable energy in Fukushima Prefecture is used at some of the facilities in the Olympic and Paralympic Village.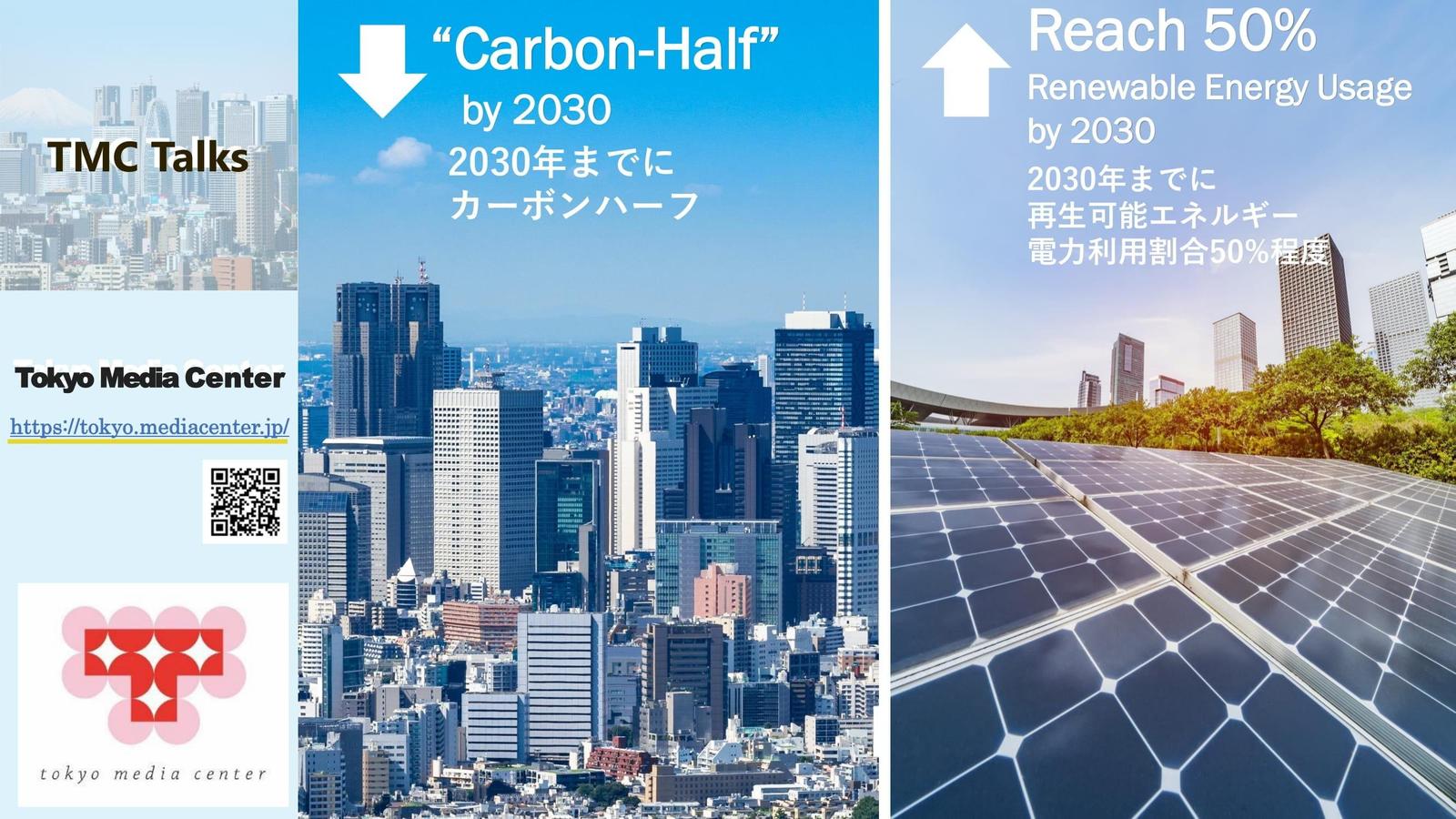 Next, I would like to talk about "zero emission buildings". Around 70 percent of Tokyo's CO2 emissions come from buildings. Ahead of the rest of the world, we introduced an Urban Cap and Trade Program in 2010. This is an unprecedented initiative that requires existing large-scale offices and other buildings to reduce emissions. In 2019, we achieved a significant reduction of 27 percent from base-year emissions. We have been providing this carbon-cutting know-how to New York City since 2019.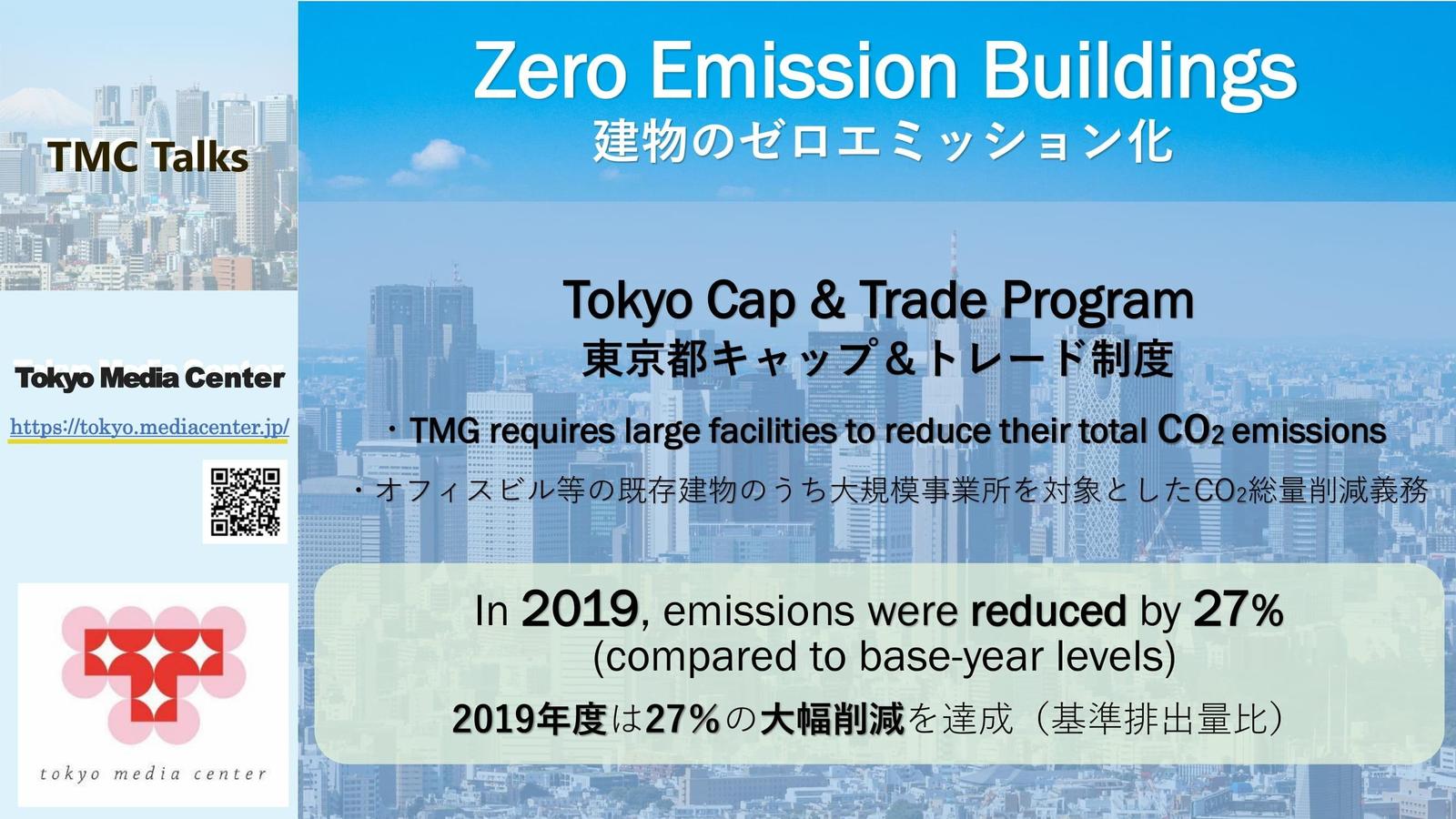 As the host city for the Tokyo 2020 Games, Tokyo is promoting CO2 reduction through cooperation with our "carbon offset" program. The Metropolitan Government has been encouraging businesses subject to the Tokyo Cap and Trade Program to cooperate in carbon offsetting measures. A total of 4.18 million tons of CO2 reduction credits were donated by 153 businesses. This result greatly exceeded our initial target of 3.65 million tons of carbon credits. We handed over 3.46 million tons of credits to the Tokyo 2020 Games and used 720,000 tons to reduce CO2 emissions in Tokyo to zero for the four days of the Games opening and closing ceremonies. After the Games, Tokyo would like to pass on our measures to the next host city, Paris. These include efforts such as collaboration with residents and businesses for carbon offsets as well as utilization of recycled resources, all of which are part of the Games' legacy.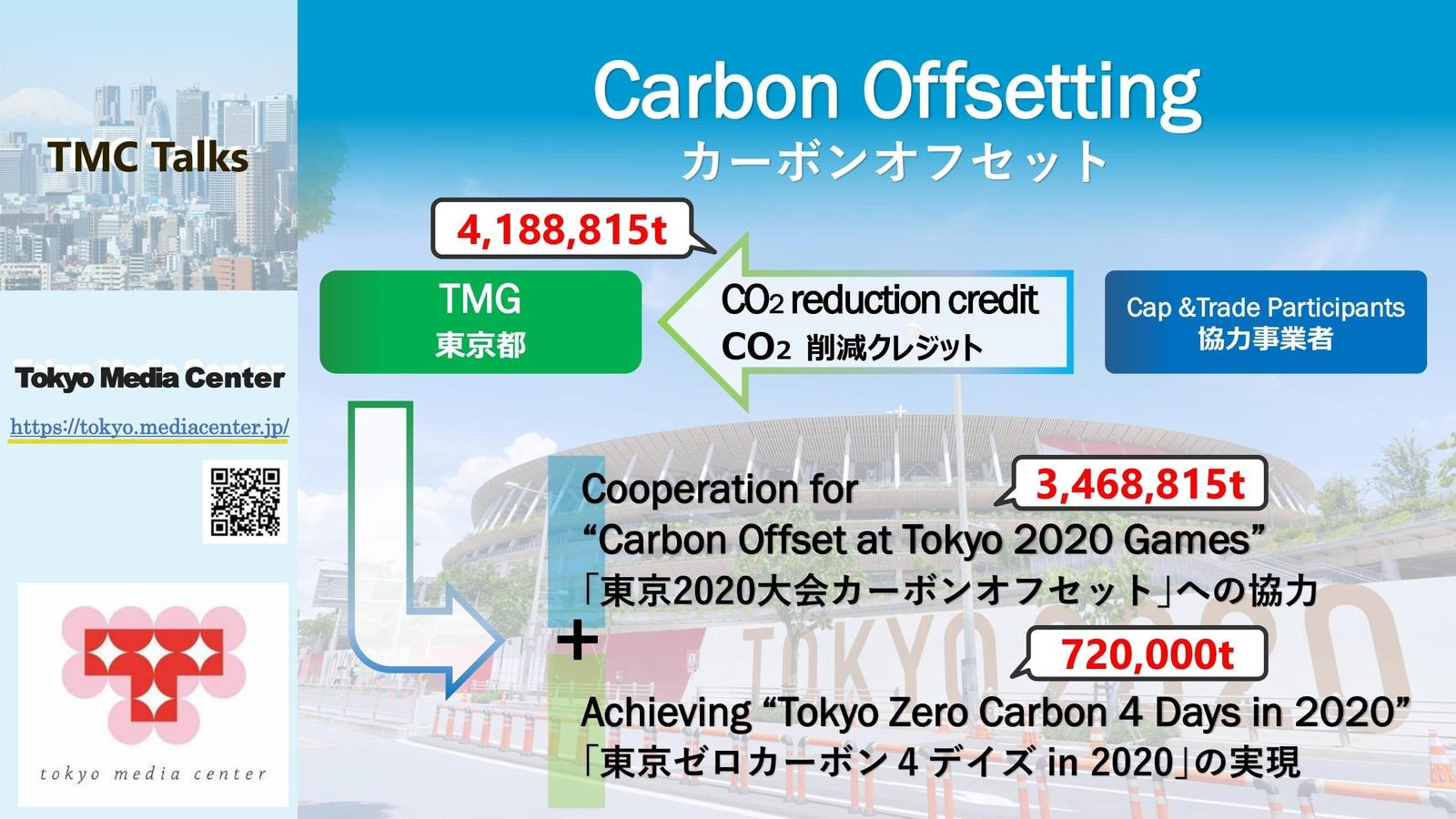 In Tokyo, emissions from the transportation sector account for 20 percent of the metropolitan total, 80 percent of which comes from automobiles. In order to reach our zero emission goals, it is necessary to promote transportation activities which do not release CO2 such as cycling, walking, and even decarbonizing automobiles themselves. Tokyo will accelerate the adoption of zero emission vehicles. We are actively promoting the conversion of Metropolitan-owned vehicles to Zero Emission Vehicles--or ZEVs--as well as the utilization of fuel cell buses by Toei buses. Fuel cell buses using hydrogen energy also make up some of the vehicles transporting Games-related media personnel.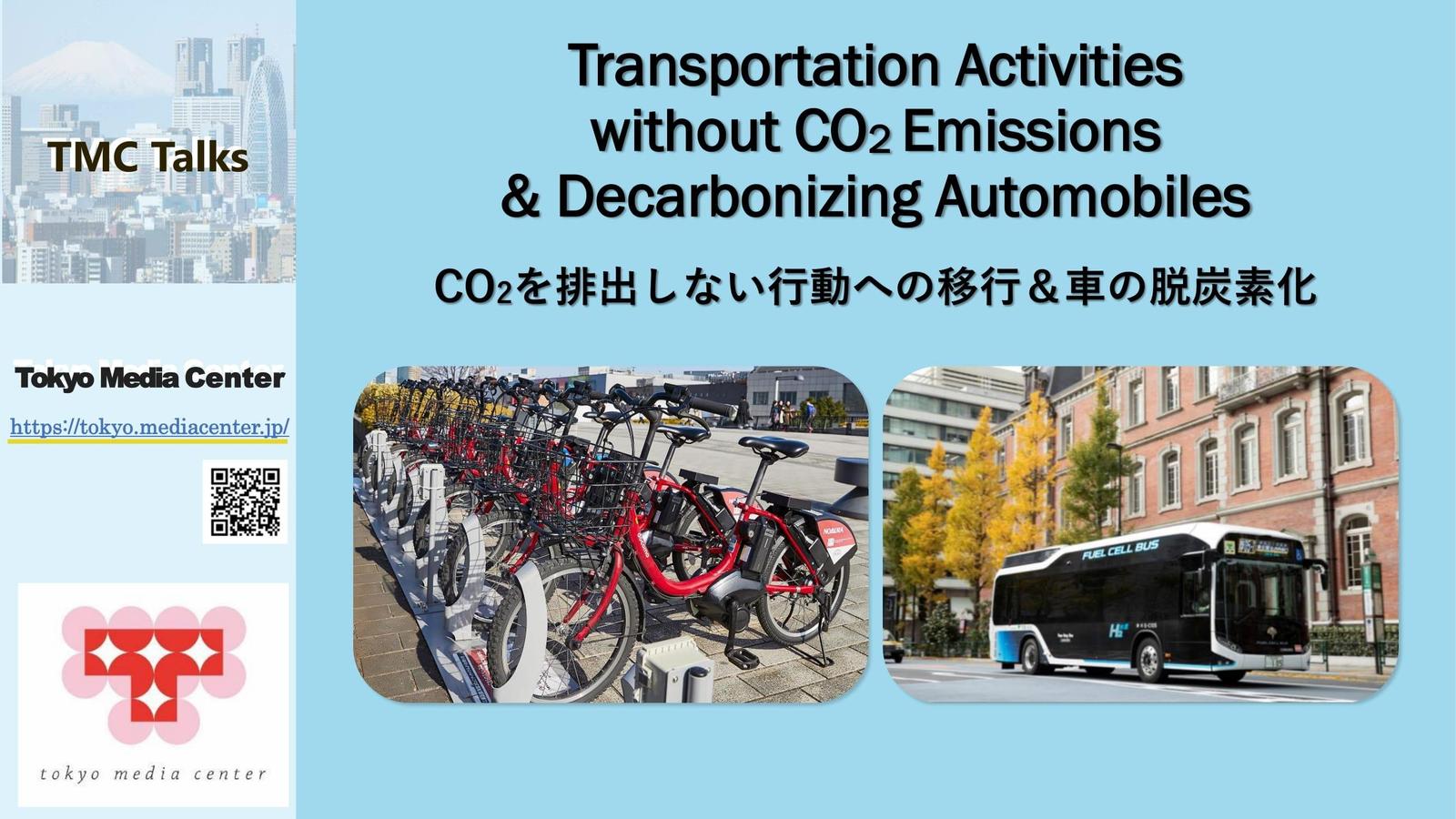 Tokyo has set a goal of making 100% of new cars sold in the city non-gasoline powered by 2030, as well as the same for new motorbikes by 2035. We have started subsidies for the introduction of such vehicles together with the national government. With these subsidies, the total cost of purchasing and maintaining an electric vehicle can be made lower than a gas-powered one. We will work towards the creation of a ZEV-centric society, including the development of infrastructure.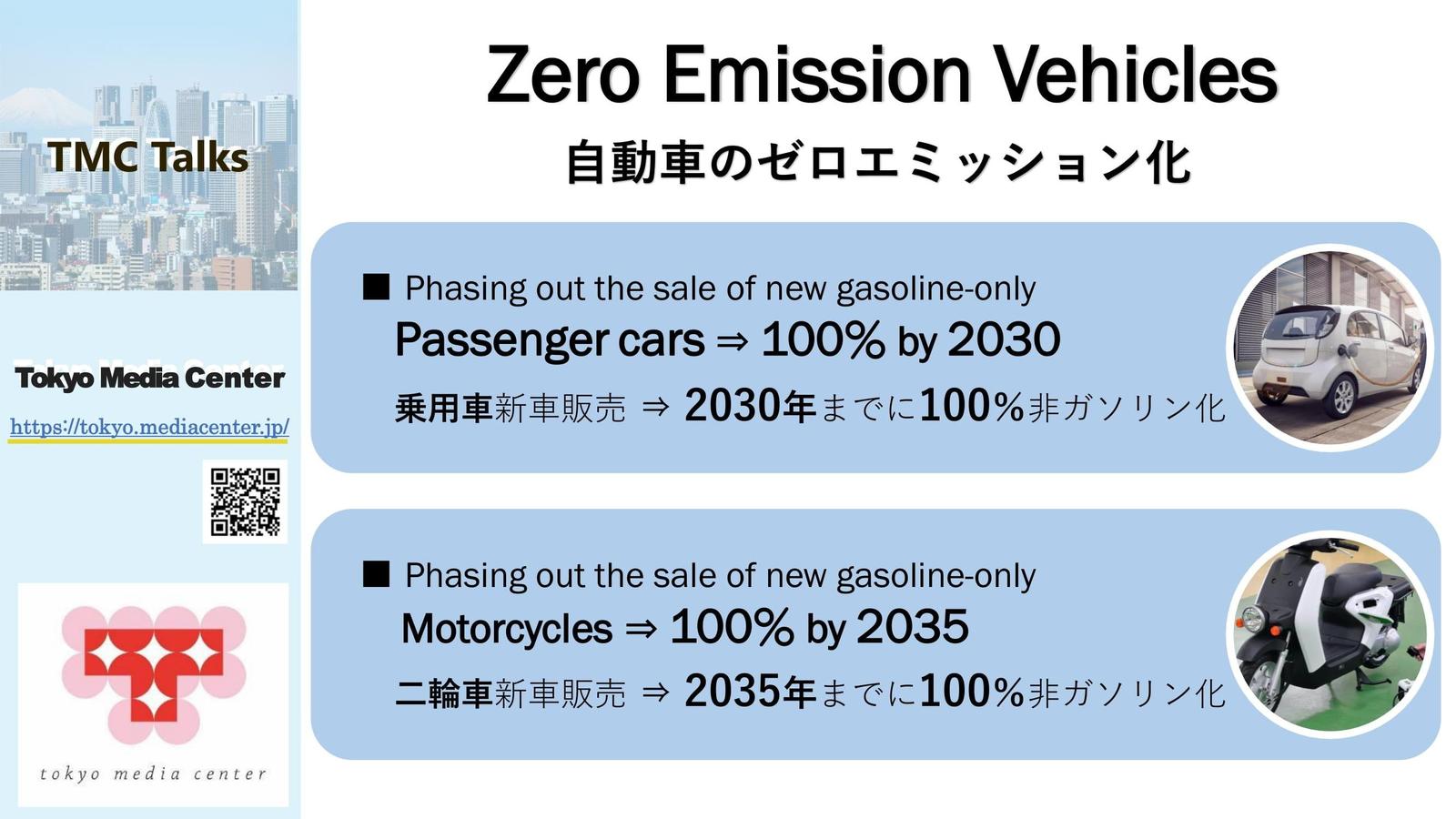 We will also support boosting green finance, which financially supports the enormous demand required for decarbonization. In 2017, Tokyo issued the first green bonds for local governments in Japan, which we used to improve solar heat-blocking and water-retaining pavements, mitigating the "heat island" effect. We also used such bonds for environmental measures for Games facilities. In 2019, together with the private sector, we created the "Tokyo ESG Fund", leading Japan's green finance sector. Recently, we announced the "Tokyo Green Finance Initiative ", or TGFI, which is a strategic initiative for the development of green finance in the Tokyo area. Through these initiatives, we will simultaneously advance the creation of Tokyo's environmentally-friendly urban and financial systems to improve people's livelihoods and achieve sustainable economic development. By doing this, we can improve people's lives and realize sustainable development of the economy.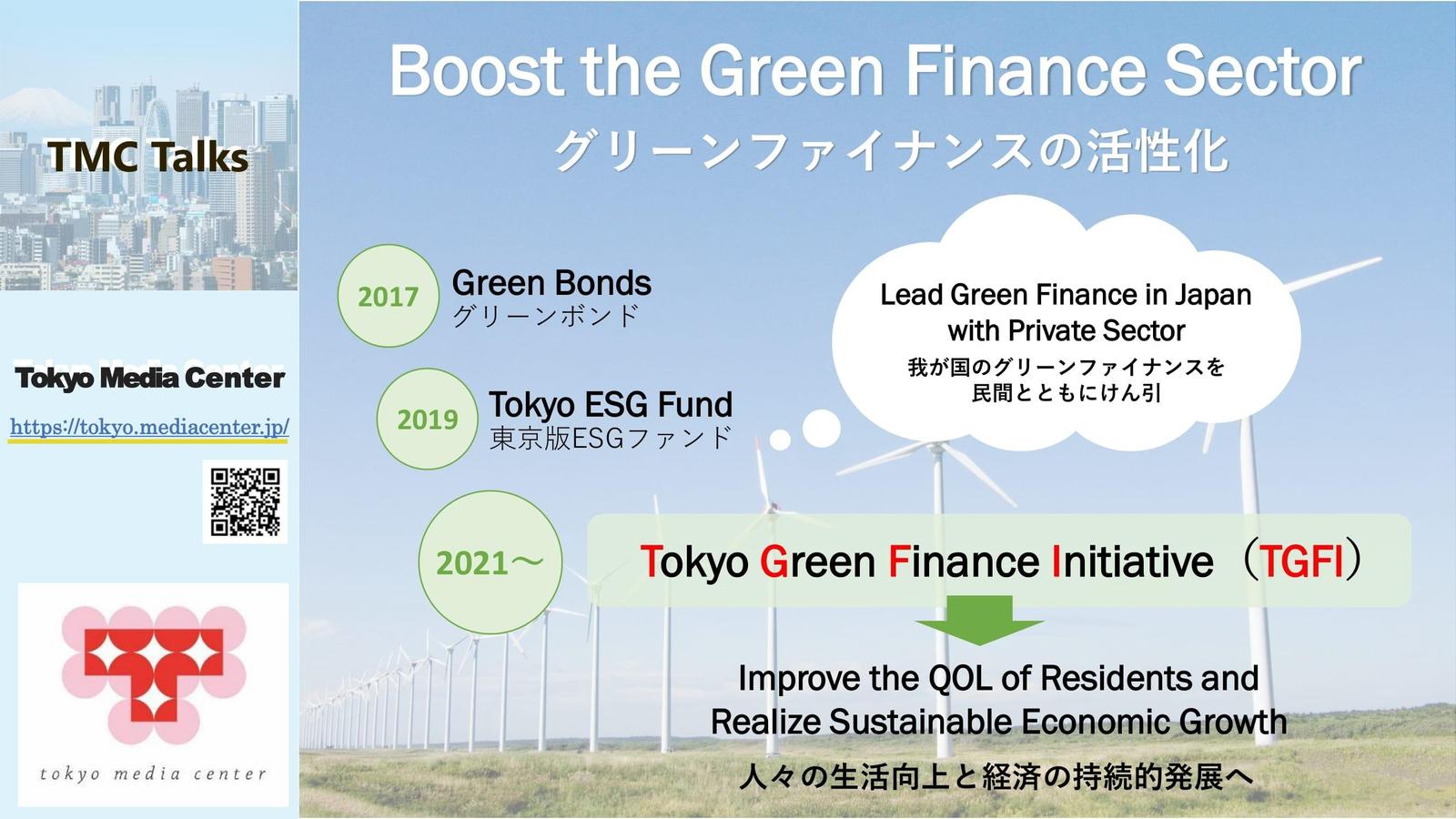 So far, I have introduced Tokyo's handling of the climate change crisis, including initiatives at the Tokyo 2020 Games. As we start to recover from the COVID-19 pandemic, we cannot return to the status quo. Rather, Tokyo will respond to the climate crisis while achieving a sustainable city.
On August 7, the day before the Games' Closing Ceremony, Tokyo will host the "Sustainable Recovery Tokyo Forum", or "Re StaRT" for short, as a starting point for embarking on Sustainable Recovery with the world. Mayor Hidalgo of Paris, the next host city of the Games, Mayor Garcetti of Los Angeles, the 2028 Games host city, and others are scheduled to attend. This conference will be streamed live so that it can be viewed by a global audience. Please access the page by scanning this QR code.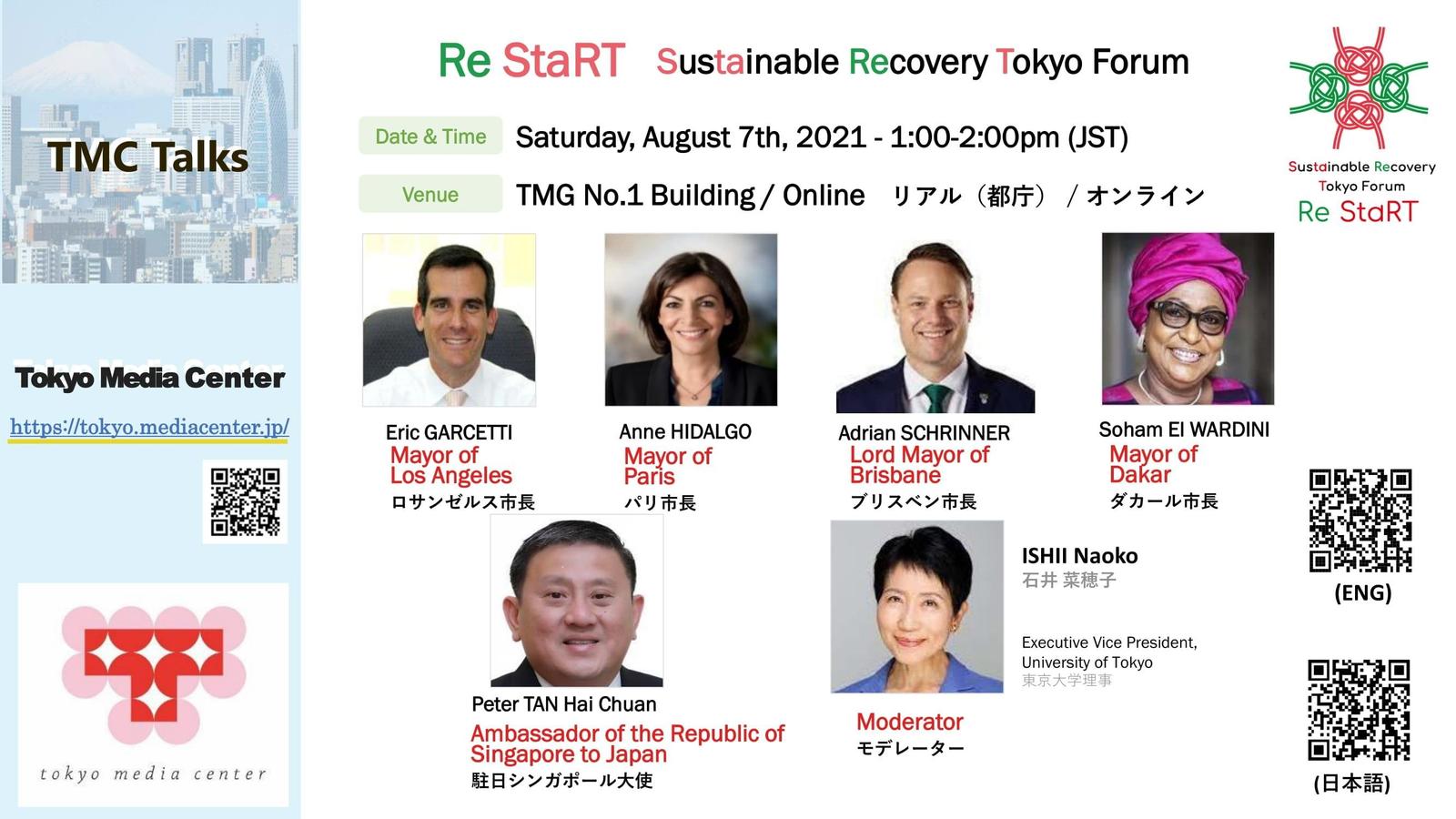 Following the Tokyo 2020 Games, COP26 will be held in Glasgow in the United Kingdom this coming November. We can no longer make postponements in the face of the coming climate change crisis. Let's act together to contribute to zero carbon emissions under the banner of "Time to Act."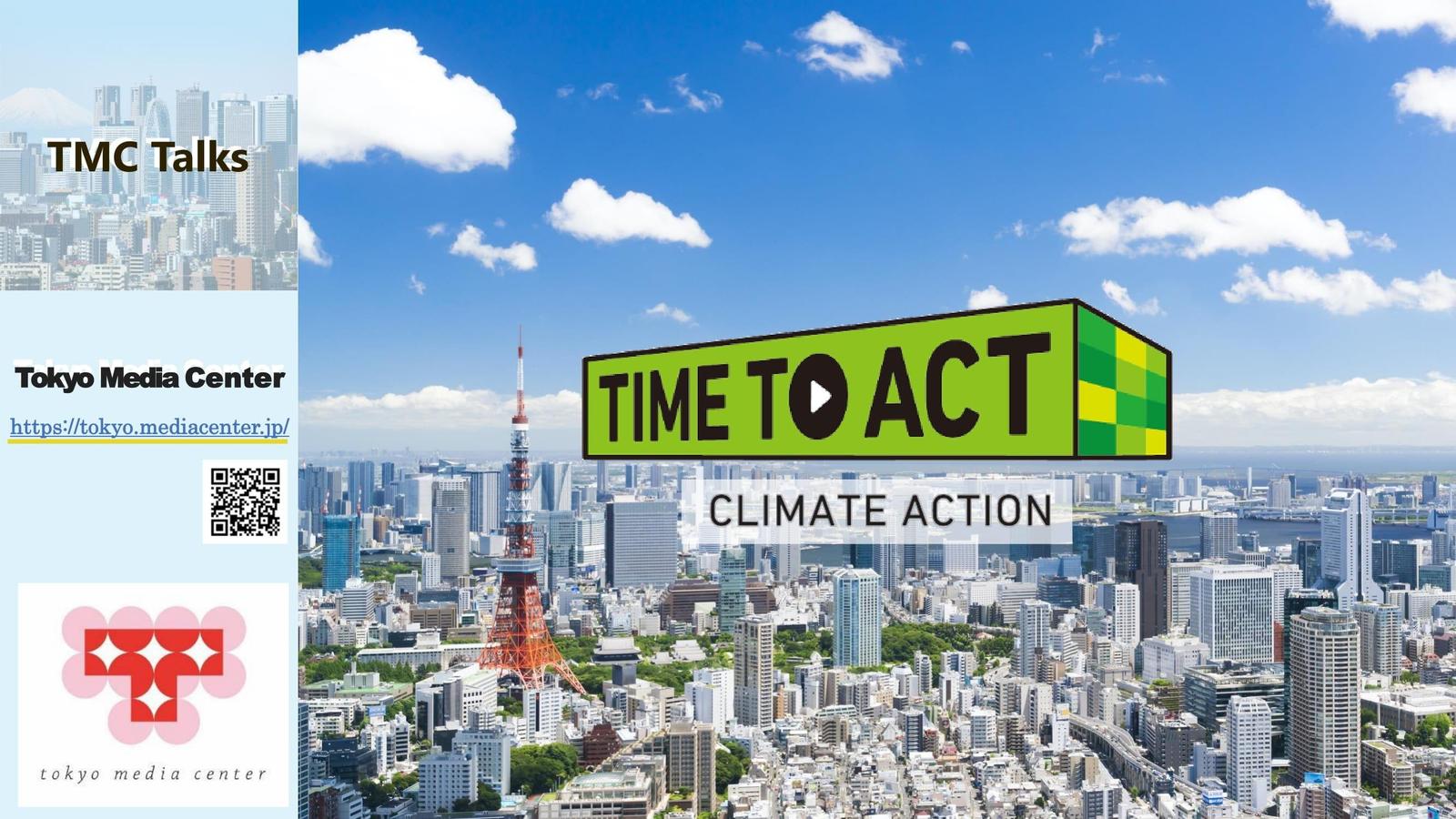 Thank you very much for your attention.
The wording in the article does not necessarily correspond to what was actually said.