Tokyo 2020 and Beyond - IMOTO Naoko | TMC Talks Vol.7
My name is IMOTO Naoko and allow me to introduce myself. I was a competitive swimmer since the 1990s. The first time that I joined the international competition was the 1990 Asian Games in Beijing. I was 14 years old then. Since then, I have spent about 10 years in competitive swimming. Finally I was selected as a member of the representative team for the Atlanta Olympic Games in 1996. Although I was not able to leave a good record as an individual, I took fourth place as a member of 800m freestyle relay.
I retired from competitive swimming in the qualifying rounds for the Sydney Olympics in 2000. Since then, I have taken a bit unique path in my career. I developed my career in a field of international cooperation and providing support for developing countries.

From 2003 up until January 2021, I have mainly engaged in the area of education support in emergencies such as natural disasters and conflicts in nine different countries. They are mainly developing countries such as Sierra Leone, Rwanda, Sri Lanka, Haiti, and Philippines suffeing from natural disaster. I have also supported people after the great earthquake hit the Tohoku area in Japan in 2011. I was served as a UNICEF education specialist in Mali where conflict was going on, and up until recently I worked in Greece, where there are many refugees.
Let me explain to you why I became involved in this kind of work is based on my experience as a competitive swimmer. When I was participating in international competitions for about 10 years, I saw that the swimmers who were participating in the same competitions and races were in a completely different environment in developing countries from mine. For example, the quality of their swimsuits was completely different, they didn't wear goggles, they didn't have jerseys, and when I met them at the Olympic village, I saw that they ate a lot of sweets at the cafeteria. At that time, I strongly felt that even though I was in a very blessed environment where I was able to compete in a truly wonderful environment, where nutrition was taken into consideration, and where I was provided with proper clothing and jerseys, while the athletes from developing countries who were competing in the same event were in a completely different environment. After separating from competitive swimming, I began to dream that I would like to work for people who were less advantageous compared with Japan.
While I was in Greece until January 2021, I unexpectedly became involved in the Olympic Games. That event was the torch handover ceremony in March 2020. The Japanese delegation had been preparing for this event for a long time, and I had been looking forward to the event that they would be coming to Greece to take over the torch. Actually, I had applied to participate in the torch relay in Greece, but I was not selected. However, the day before the handover ceremony, I received a call from the Japanese embassy staff in Greece. I was very surprised when the embassy asked me if I could take over the torch tomorrow. I hurriedly went to borrow a red jacket from a friend of mine, and was entrusted with the great task of passing the torch to Japan in the empty Panathenaic Stadium.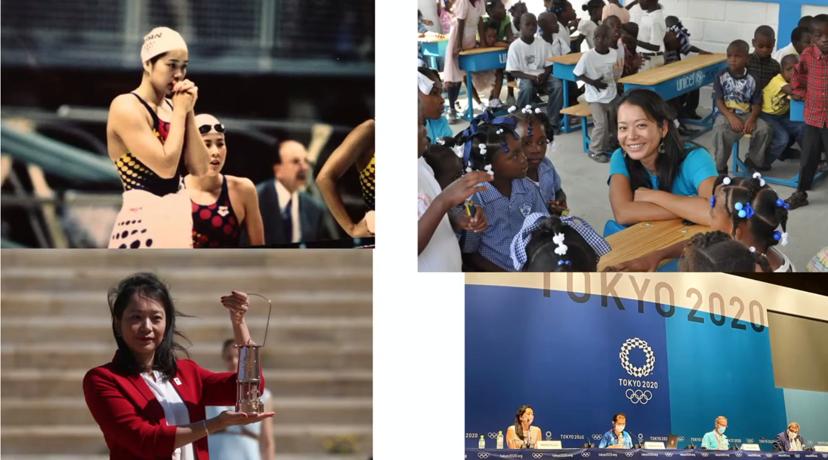 In January 2021, I finished my contract in Greece and returned to Japan, and just as I was thinking about taking a leave of absence from UNICEF and taking some time off, the former President of The Tokyo Organising Committee of the Olympic and Paralympic Games, Mr. Mori made a gender based statement, and I was appointed as an Advisor to the Gender Equality Promotion Team of the Organising Committee. I have been working as an Advisor from March 2021 to the present.

Thank you for your attention to listen to my introduction. Now, I would like to talk about the significance of this Olympics, what I feel is the significance, and the activities of this Gender Equality Promotion Team.
Due to the COVID-19 pandemic, holding the Tokyo 2020 Games at this stage, must have faced great challenges and difficulties. Today, the Games have come to a close, and I believe that the Games themselves were very meaningful. I think the tournament gave courage and hope to people not only in Japan but all over the world to face difficult situations, and we were especially impressed by the way the athletes crossed borders and praised each other in the sporting spirit.
I was focusing particularly on the athletes from developing countries, representatives of countries and regions currently under conflict, and refugee teams. From the sight of these people and athletes, I felt a tremendous strength (to look forward) no matter what difficult situation they are in. I also felt that the spirit of equality and friendship, such as the right to play sports equally in any country and the equal status of people, was very much symbolized in this wonderful event.
In my work in developing countries, I have been impressed by the value of sports. I have seen many situations where people and children have been healed, given courage, and given strength to overcome difficult situations, both for the people watching and for the people participating, despite the extremely harsh conditions. I believe that many people around the world have been encouraged through the Games.
One of the things that impressed me the most this time was the performance of the refugee athletes' team. One example in particular was the Iranian taekwondo fighter Kimia Alizadeh Zenozi, a former bronze medalist at the Rio Olympics. She fought very bravely and defeated the world champion. At the same time, I was reminded of the really difficult situation of human rights violations that the Iranian people are facing.
There is so much to talk about, but since I am here, I would like to talk about the efforts of the Gender Equality Promotion Team of the Organising Committee. The Gender Equality Promotion Team, which was established by President Hashimoto Seiko in March 2021, has been working under the team leadership of Sports Director Kotani Mikako. Originally, the IOC launched the Gender Equality Review Project in 2018, and the 25 recommendations that you see on the screen here were made.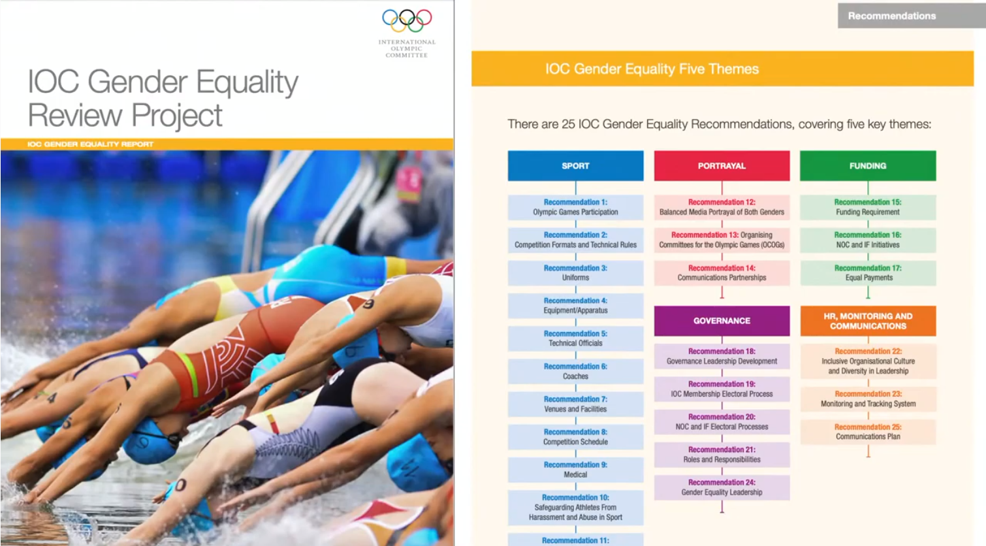 In line with these recommendations, the Tokyo 2020 Games have also been prepared to be run in a gender-equal manner.

It has been widely reported that the number of female athletes participating in the Games has reached a record 48%. In addition to this, it was recommended that, for example, "each participating country should send at least one male and one female athlete," and that the number of male and female athletes should be equal in all events.
Also, mixed gender competitions drew a lot of attention, and this time there were 18 competitions, compared to eight in the previous Games. For example, table tennis doubles, swimming races and triathlon relays, and Judo team competitions were also held with mixed genders. There were also events in archery and shooting.
The first Olympic Games were held in 1896 with zero female participation.

It has been a long history until today, and we are now getting closer to equality. There are not many opportunities for men and women to compete together on an equal footing or to see female athletes, so it is encouraging and empowering to see them in such a big event that is watched by so many people around the world.

I believe that the women empowerment in particular has a great impact on the world, and I am very happy that such efforts have been made.
In addition to the competitions, a new department specializing in female athletes has been established at the medical facility in the Olympic and Paralympic village. As for the media, gender representation guidelines have been announced. In addition, the media themselves were required to make efforts to increase the number of women in their ranks, and the taking of sexually explicit images was specified as a prohibited item. In addition to the media efforts, in terms of governance, Hashimoto Seiko became the President, 42% of the board members were women, and a Gender Equality Promotion Team was established. There were also some innovations in the staging. For example, it was recommended to have one male and one female flag bearer at the opening ceremony, and at the medal awarding ceremony, instead of only male officials awarding medals, both female and male officials were encouraged to participate in the awarding ceremony.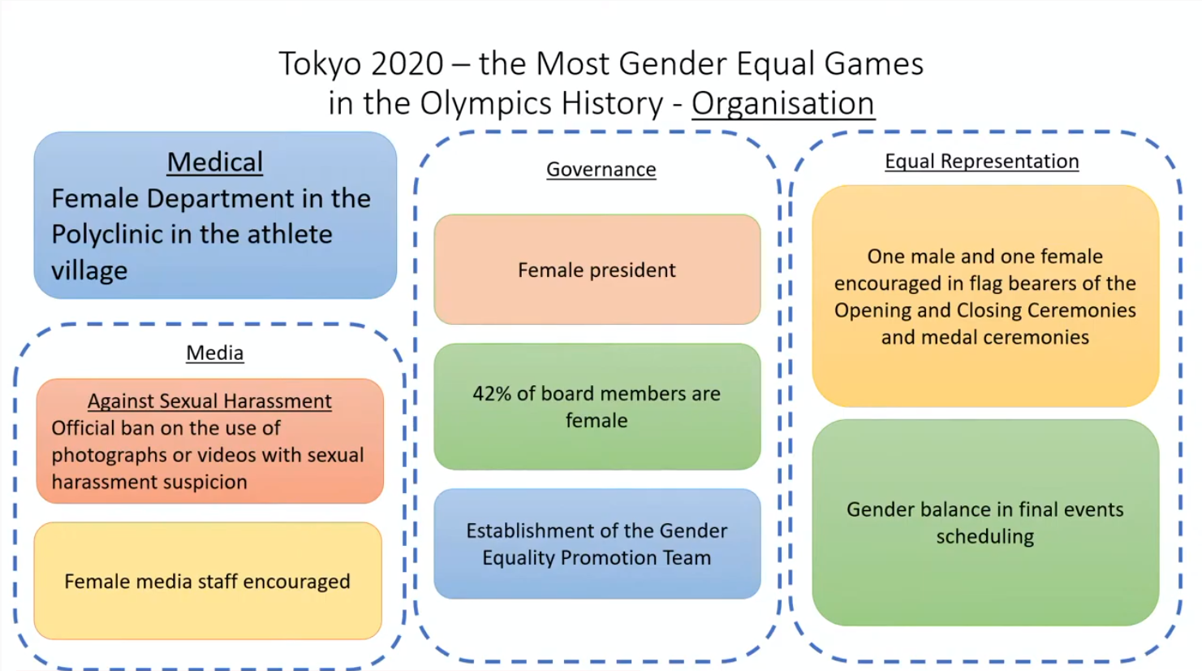 Finally, I would like to talk about the Gender Representation Guideline. The IOC created this Representation Guideline in 2018. It was updated before this Tokyo 2020 Games. Ms. Raita Kyoko, Director of the Organizing Committee, and I translated this Guideline for Gender Equality into Japanese and distributed them to journalists. We also posted them on the Organizing Committee's website, which has created great repercussions and been well accepted with great excitement.



I pointed out that there are too many things like "too beautiful" or "too handsome" in sports coverage outside of the Olympics, such as content that focuses on appearance and coverage of personal lives. These points were probably already thought by the majority of people, and I believe that this is what led to the response.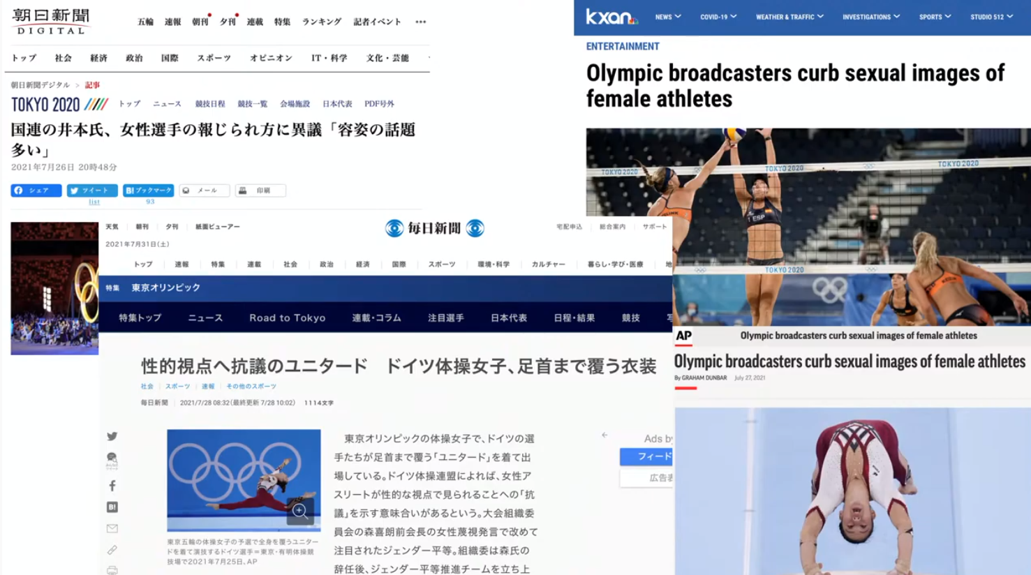 Especially when it comes to reporting on the appearance and personal lives of female athletes, we (in Japan) have been so familiar with these expressions that it was difficult to notice.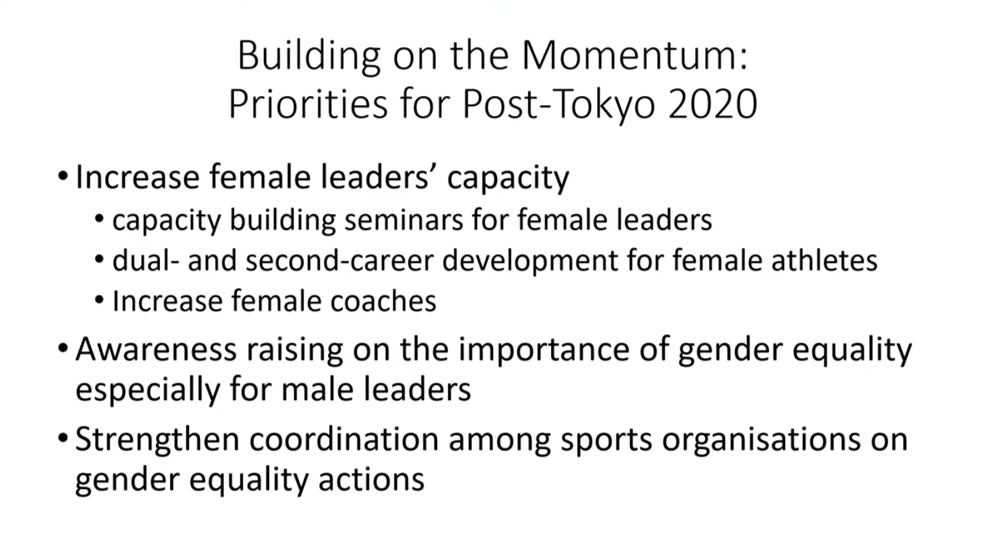 However, with all the talk of gender equality, I don't think it's fair for female athletes to be compared to male athletes. I feel that by only reporting on the appearance of female athletes, we are reproducing the stereotype of female femininity by not showing their origin of beauty, strength, and resilience that sports has to offer in nature. I feel that we are reproducing the original stereotype of femininity.
Therefore, I am convinced that sports can be a very important tool to break gender stereotypes, as gender equality is now a very important theme in Japanese society. To this end, I believe that by reporting on female athletes as they are, the image of such diverse women, as well as the image of cool and powerful women, will be well reflected. I am convinced that as the number of women and men who admire these women and men increases, we will be able to create a society where our inherent charms are recognized more and more.

I am very happy that these activities are being widely discussed in the wake of the Olympics.

This is the end of my speech. I would like to thank you very much for your attention.
IMOTO Naoko
Olympian
Some quotes have been paraphrased.