"Changing the Future of Cities through Wood" Part 2—Nikken Sekkei(Takuya Oba) × VUILD (Koki Akiyoshi and Tatsuya Inoue)
Utilizing wood and creating a sustainable society are closely related. Trees absorb CO2 in the atmosphere over the process of growth, so they continue to store carbon while they are used as wood. If factors like heavy rain and depletion of mountains, which occur throughout Japan, happen in tandem, it leads to more pronounced cases of threats like landslides and flooding. Urban areas are thus actively pursuing a shift towards the use of wood, and this has led to the emergence of a younger generation that is rethinking the relationship between cities and forests. We sat down with Takuya Oba of Nikken Sekkei's in-house venture, "Nikken Wood Lab," along with Koki Akiyoshi and Tatsuya Inoue of the architectural tech startup VUILD, to discuss the future of wood, architecture, and cities in Japan.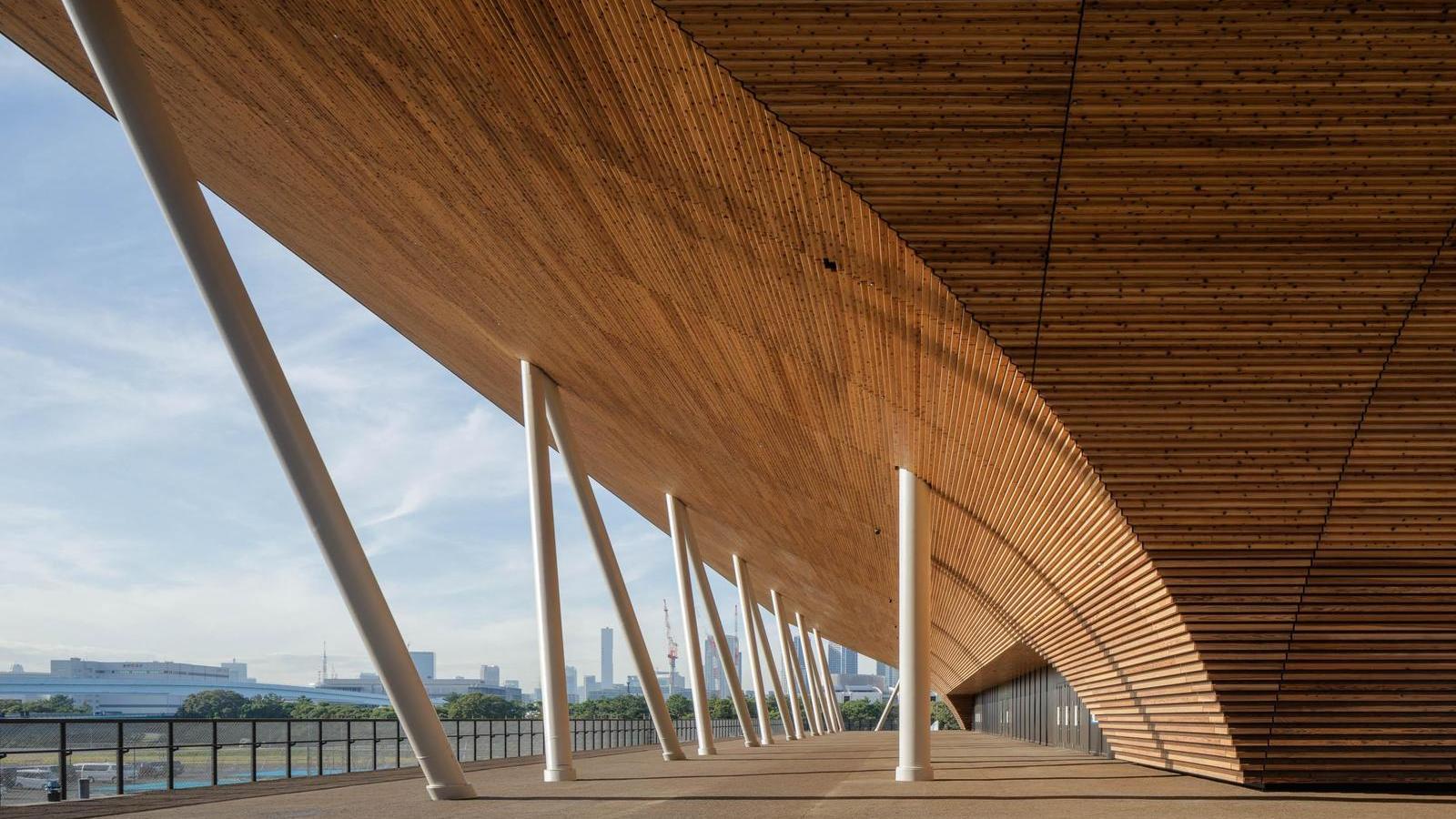 Developing the literacy to use Japanese timber
— Would you say that Japanese timber is best to use?
Inoue: We are still some ways from Japanese timber becoming the norm.
Oba: That would be ideal, but people need to develop an understanding of how to procure it better. The timber used in medium- and large-scale projects comes with many restrictions, such as strength, species and that it must be standardized timber. Moreover, we have to use vast quantities. Eschewing logging plans and just cutting down all the trees in a forest plot and making off with the wood won't do. Therefore, I believe our role within the large organization is researching and promoting methods that take into account the real conditions of the forest.
There are many restrictions on the timber used for medium- and large-scale projects, so it tends to be costly. For example, in order to create non-combustible wood (wood with flame retarding additives), you must take raw lumber costing 3,800 yen and treat it, which can drive the cost up to 1,000,000 yen per cubic meter, or greatly affect the yield (the proportion of timber obtained from one raw log).
Some of the wooden structures I've worked on have used verification methods (fire resistance verification) allowing for building without expensive wood. In addition, some projects have sought to ensure a stable supply of Japanese timber by planning how to procure it early in the design phase, ensuring that the cycle of the forest in mountainous regions supplying the wood would not be disrupted from the order through to delivery stages.
Inoue: With medium- and large-scale projects, you have to procure a large quantity of wood in a specific timeframe. If you misjudge how much timber can be supplied, it greatly impedes the project, and can disrupt the flow of things in the region supplying the timber.
Oba: Right, and that would in turn lead you to imported wood. So it requires changing the ordering method.
Akiyoshi: That is why we want to develop the infrastructure that helps architects and design firms use local timber. VUILD procures materials and machines them. If the design changes, we send our feedback to the builders as data. Even if the design changes, you would be able to see in real-time how the delivery date, logging plan, and costs change.
Timber and the future to come
Oba: Timber is said to have a positive impact on carbon fixation (the absorption of atmospheric/exhaust gas CO2 and its sequestration) in the move towards carbon-neutral processes. However, impregnating it with too many chemicals may cause industrial waste to increase post-demolition. So it's definitely a step forward that people are thinking about using wood, but now it's time for designers to really show their prowess and use it responsibly. Simply using wood without any concern is not good. Once the building is demolished some decades later, you can really get a sense of the skill of the designer by looking at the wood that was used.
Akiyoshi: It's enough to visit the mountainous regions even once to get a better understanding of conditions there, which should change the way people approach crafting. We'd like to provide more opportunities for people to see that with their own eyes. Our goal is providing open labs and giving people that entry point to begin exploring, however small, these issues over the course of working with wood.
Inoue: We'd like to serve as a platform that offers the information and connections people need when they are unsure of how to implement this.
Oba: I've now begun thinking about the traceability of wood as a material and the value therein, which is not something I had in mind when designing architecture with reinforced concrete or steel structures. I think having those discussions about the more social dimensions that exist before formally designing a building is important. I want to create a positive feedback loop where thinking about cities means thinking about forests, and vice versa.
Akiyoshi: With Generation Z and beyond, there will likely be a shift from pure capitalism to values more informed by things like communism and anarchism, so physicality and skills will change. The forestry sector moves in spans of 20-30 years, so the future looks bright to me.
Nikken Sekkei Nikken Wood Lab
Takuya Oba
VUILD
Koki Akiyoshi (CEO)
VUILD
Tatsuya Inoue (COO)
Text by Yuka Tsukano