A Step Towards Sustainable Recovery: Tokyo Will "Re StaRT" for a Better Future
In Tokyo, the "sustainable recovery" initiative aims not only at economic recovery while dealing with climate crisis, but also at achieving people's sustainable lifestyles. To advocate the realization of "sustainable recovery" to the world, the Tokyo Metropolitan Government held an international conference,
"Sustainable Recovery Tokyo Forum" (Re StaRT)
, on August 7, 2021. Professor Ishii Naoko, Director of the Global Commons Center and board member at the University of Tokyo, talks about the role that Tokyo and other cities should play and its significance.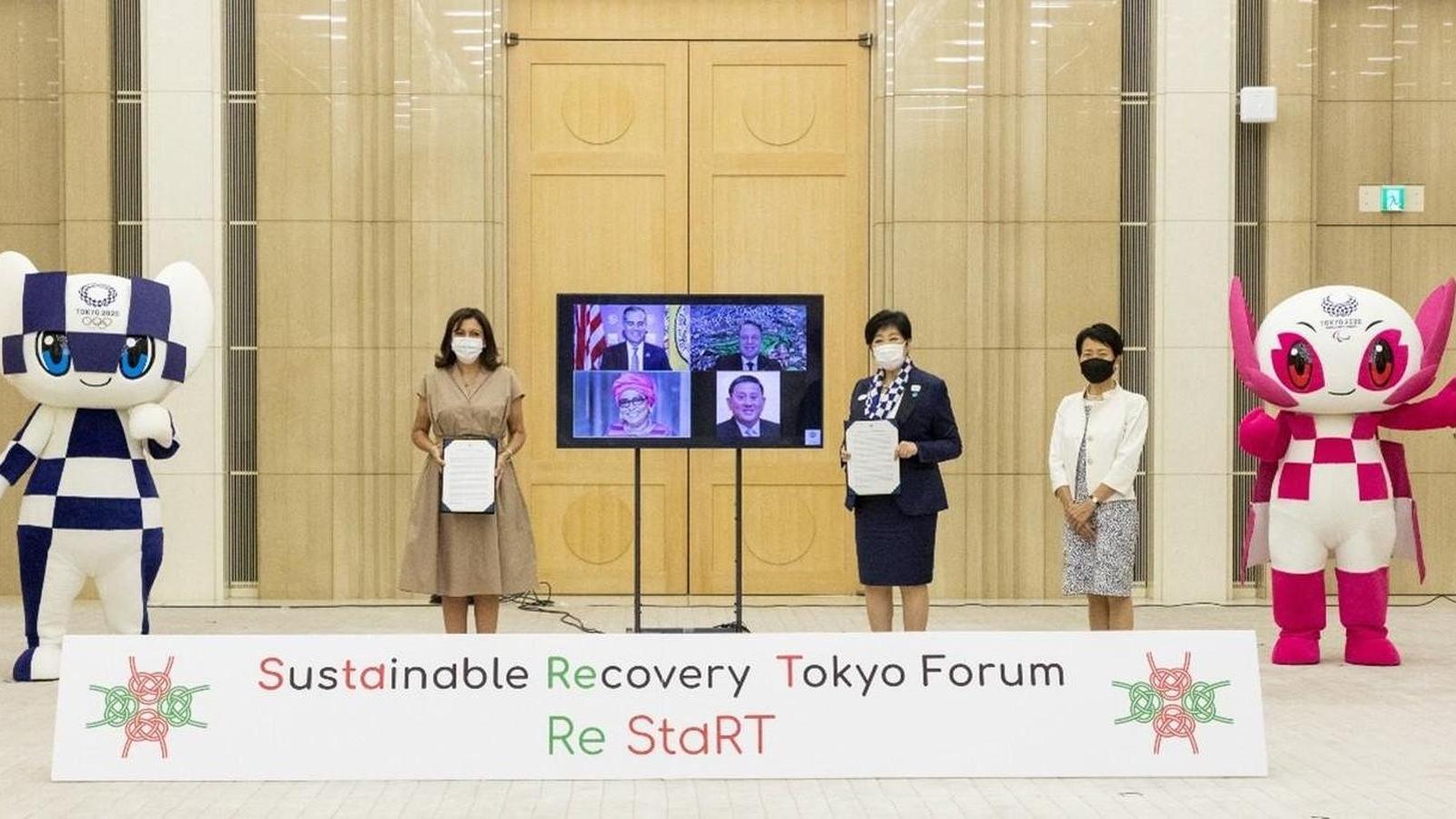 On August 7th as the Tokyo 2020 Olympics Games neared its end, Governor Koike hosted mayors from five continents with deep ties to the Olympic Games at the Sustainable Recovery Tokyo Forum "Re StaRT." The forum was attended by Mayors Anne Hidalgo of Paris, Eric Garcetti of Los Angeles, and Adrian Schrinner of Brisbane, whose cities will be hosting the 2024, 2028, and 2032 Games, respectively, as well as Mayor Soham El Wardini of Dakar and Peter Tan, Ambassador of Singapore to Japan. I was the moderator for this conference.
At a time when the residents of Tokyo and the people of Japan are facing difficulties in their everyday lives because of the COVID-19 pandemic, many of you may wonder why we would hold the Olympics, or even an international conference like this. Indeed, I had the same question when I was first invited to moderate this conference. However, the conclusion I eventually came to was that "this is precisely why we should do it."
If we were to ask people around the world what crises we are facing today, their answers would likely be climate change, COVID-19, and the divisions in our society. Many people may regard these as disparate problems and challenges so daunting that they are essentially irresolvable. However, Re StaRT is an opportunity for the Tokyo Metropolitan Government to take the initiative along with the mayors of other cities to send the powerful message that these global challenges boil down to a single cause and can be successfully overcome, but only if cities play a vital role in tackling them. At least, this is how I have come to understand the goal of this conference.
It is helpful for us to begin with a denser subject. How is it the case that climate change, COVID-19, and the divisions in our society are all part of the same problem? The recent acceleration of global warming can be attributed to the pattern of economic growth in our modern society. This economic growth which has gathered pace since the Industrial Revolution, and especially since the mid-twentieth century, is wreaking havoc on our global environment that has supported the development of our civilization. Geologists believe that we have entered the Anthropocene, an epoch where human activities have started to impact the Earth's ecosystems. Climate change, the loss of biodiversity, and the burden on our water and biogeochemical cycles are all evidence that our economic system has far exceeded the Earth's capacity to sustain it. The frequent outbreaks of zoonotic diseases, including COVID-19, are also partly attributable to human economic activities, especially food production, infrastructure development, and urban expansion, all of which have greatly threatened the stability of our ecosystems. Our modern economic system, which appears to be oblivious to the value of other forms of capital besides industrial and financial capital, has also exacerbated social inequality and the divisions in our society.
In all these ways, many of the global challenges we face today stem from the clash between our existing economic system and the global environment. The fundamental solution to this problem is to reform our modern economic system, but reforming our entire economic system is a major undertaking in which cities play an indispensable role. Cities are responsible for around 70% to 80% of all economic activities today, and the design of cities, including how we live and go about our daily lives, as well as our methods of production and consumption, has a massive impact on the global environment. As Mayor Garcetti of Los Angeles pointed out, cities often serve as the test site for various ideas. Tokyo has already introduced the Cap-and-Trade Program before emissions trading is implemented on a national level, and our ideas and practical tips have also inspired similar initiatives in Los Angeles and cities in Malaysia.
As can be seen from this example, there are two main reasons why I expect cities to continue playing an active role. Firstly, cities are capable of integrating various ideas and implementing them on the ground under the leadership of their respective mayors even ahead of the national or federal government. The local government's proximity to its residents also creates greater pressure and encourages the swift implementation of good ideas. Secondly, the leaders of cities are extremely proactive and eager to learn from one another. There are fewer politics and competition between them that may hinder collaborative efforts to reach solutions, factors that unfortunately come into play often during international negotiations.
Reasons such as those described above have allowed cities to actively collaborate and work with each other since the Paris Agreement. Their efforts have given rise to initiatives headlined by messages such as "Build back better" and "Green recovery" in response to the COVID-19 pandemic, with the cities involved also coming together to discuss their strategies.
However, the "sustainable recovery" proposed at Re StaRT represents an attempt to go even further than efforts in the past. Specifically, this ambitious project aims to not only achieve a "green" economy that is environmentally sustainable but also address the divisions in our society by creating an inclusive and diverse society in which every individual can shine.
There is no doubt that by hosting the Paralympics after the Olympics, and by holding a series of cultural events in conjunction with the Olympics and Paralympics, we have encouraged greater respect for the ideals of inclusiveness and diversity at least within the Japanese society. The presentations made by the mayors who attended Re StaRT also made clear how the leaders of the respective cities have already begun, in their own unique ways, to engage their residents and implement policies aimed at achieving both a green economy and a society that is healthier and more robust than one in which the current divisions exist. Mayor Hidalgo of Paris has committed to redesigning Paris in such a way that its residents can reach basic services in the city in just 15 minutes on a bicycle. Mayor Garcetti of Los Angeles has been working to achieve the "5 zero's" and 100% renewable energy, while Mayor Schrinner of Brisbane has been implementing new initiatives to transform urban attitudes and behavior. On the other hand, Mayor El Wardini of Dakar has been involved in various environmental and cultural programs aimed at strengthening local communities. Every mayor has been rolling out new initiatives in line with the needs of their city's residents so that every individual can become a change agent.
At the end of this conference, the participants adopted a joint declaration on "sustainable recovery" centered on the message that in order for us to combat the global challenges of climate change, COVID-19, and the divisions in our society, cities must play an active role as they are uniquely positioned to do so, and that there are leaders of cities who are ready to pick up the baton in this regard.
Ishii Naoko
Contribution: Ishii Naoko, Translation: Vincent Gan