Tokyo 2020 Paralympic Games and Our Efforts | TMC Talks Vol.8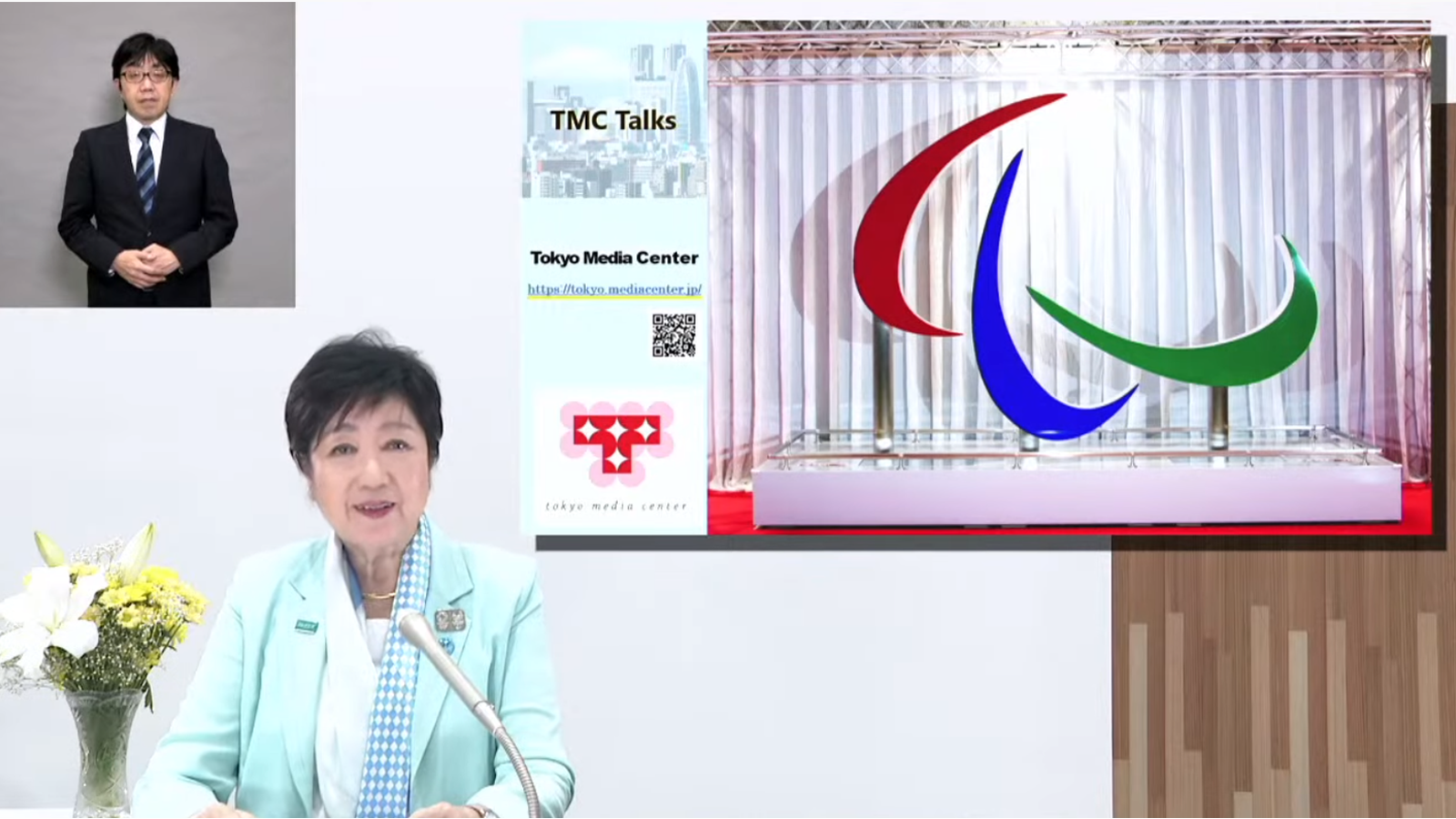 Yesterday, the opening ceremony of the Tokyo 2020 Paralympic Games at long last took place. We were finally able to reach this day, thanks to the support of many people. I would like to express my sincere gratitude to you all.
Today, I would like to talk about the significance of the Tokyo 2020 Paralympic Games and our efforts, especially regarding the legacies that will be left after the Games end.
The Paralympic Games were held here in Tokyo 57 years ago in 1964. It was an era when the culture of sports designed for people with impairments had not yet taken root in Japan. This was the first step in welcoming people with impairments to participate in sports.
And now, in 2021, Tokyo has become the first city in the world to host a second Summer Paralympic Games.
The Paralympics will feature 22 sports with 539 events, the largest in history. I feel that the limitless possibilities of the Paralympians will shine brightly and inspire everyone who is watching with the great courage needed to face the difficulties by the COVID-19 pandemic.
The vision of the Games is "Unity in Diversity". Based on this vision, I would like to convey the appeal of parasports to as many people as possible, remove barriers, and build a city full of diversity and inclusiveness. This will act as the major driving force for sustainable urban development and the "sustainable recovery" that Tokyo is working to achieve.
The Metropolitan Government has developed a Paralympic Games experience program called the "NO LIMITS CHALLENGE" in areas around Tokyo.
I have personally tried out all 22 of the official parasports and have come to realize not only the fun but also the depth of these competitions.
In addition, we have created "Team Beyond", a project to increase the number of parasports supporters. This team already has more than 1.35 million registered members, including individuals and companies.
Following the Games, we will further continue to develop these efforts to make parasports a popular pastime that everyone can enjoy and aim to make a city where such sports can be played anywhere in Tokyo.
A number of City Cast members—volunteers in Tokyo who assist with the Games—are involved in these Paralympics.
Many people are playing active roles, including meeting and sending off para-athletes to their destinations as well as assisting with guiding athletes at the airport, providing guidance at Tokyo Media Center, helping with online support for the Games and working to promote the appeal of Tokyo.
I firmly believe that forging these connections between people will further enhance the vitality of our city.
We aim to establish the spirit of volunteerism and mutual assistance as part of our city's culture, cultivated toward the Games, and create a society where people can better connect and support each other.
It is the mission of the Paralympic host city to remove physical barriers as well as barriers to human connections. Additionally, we are pursuing a universal design-style urban development throughout Tokyo.
We have prepared metropolitan competition venues for the Games with consideration for accessibility. We are promoting the elimination of stepped sidewalks, the installation of platform doors and elevators at train stations, and making accommodations barrier free. We are also working on multi-lingual assistance and a "barrier-free mindset". This new accessible Tokyo has made great strides both in soft developments, such as design and planning, and hard developments, such as equipment and facilities.
A barrier-free Tokyo can be further promoted by using innovative digital technologies. We will also continue to introduce mobility support measures such as autonomous driving and so-called "universal MaaS"—or Mobility as a Service—that can be used by anyone. These services will lead to a high quality, barrier free urban environment.
During the Tokyo 2020 Olympic Games, we utilized cutting-edge technology such as virtual reality to help children who have difficulty viewing the Games due to impairments or illnesses which prevent them from easily moving and provided them with the chance to enjoy the real thrill of the Games.
This is a theater which has been set up at a metropolitan special education school. With this, students could have a wonderful experience with the latest technology "as if they were participating at an Olympic venue".
I have great expectations that these technologies will be used to solve problems faced by people with illnesses and impairments, in order to realize an inclusive society.
I believe that the value of the Paralympics lies in their developing the concept of "diversity". The success of the Paralympics will be such values taking root in our society.
"Without the success of the Paralympics, the Tokyo 2020 Games as a whole cannot be considered a success." This is my unwavering belief, which I have expressed for sometime now.
We will give the highest priority to the safe, secure management of the Paralympics and, following up on the Olympics, we will lead the Paralympics to a successful conclusion and make these Games a great moment in our shared history.
With the Games as our launch platform, Tokyo will forge ahead and evolve into a sustainable city that has both "growth" and "maturity".
Tokyo will embody the game's vision of "Unity in Diversity", heading to the realization of a harmonious society.
Now, everyone, please enjoy the Paralympics. Let's show our excitement at the spirited competition where para-athletes will put their strength and skills to the test. I hope that these Games will remain in people's memories long after they are over.
Koike Yuriko
Some quotes have been paraphrased.