The message toward Tokyo 2020 Games from Ms. Yusra Mardini, Syrian refugee, Olympic swimmer and UNHCR Goodwill Ambassador
This article is a transcription of a video letter from Yusra Mardini, Goodwill Ambassador of UNHCR and a member of the Refugee Olympic Team at the Olympic Games Tokyo 2020 (Swimming), to Tokyo Media Center (TMC).
日本語で読む/Read in Japanese
Watch the full movie here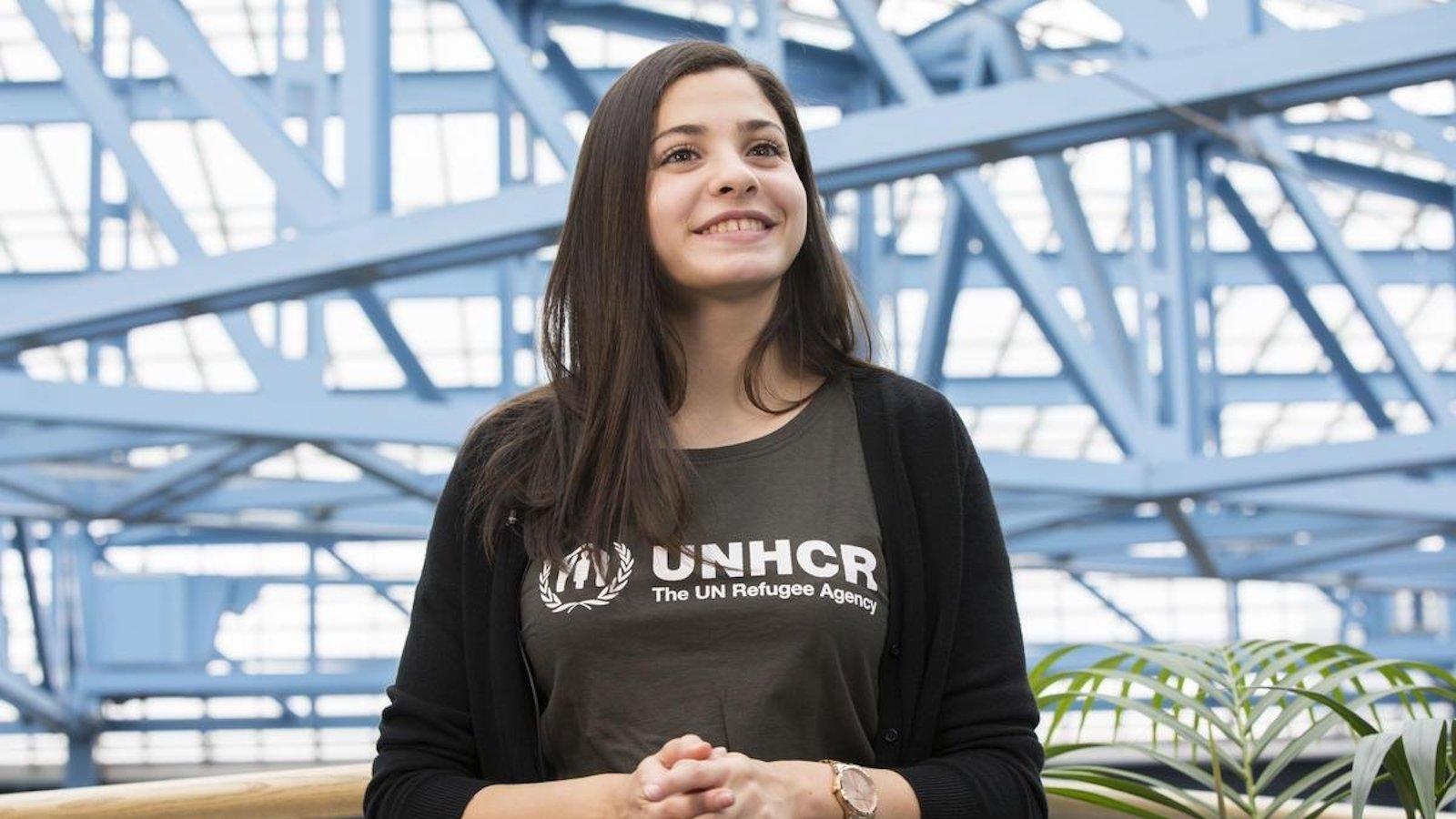 Hi, I am Yusra Mardini. I am 23 years old. I am an Olympic swimmer. I am a Goodwill Ambassador for UNHCR.
I competed twice at the Olympic Games, Rio 2016, and now again this summer at Tokyo 2020. To be a part of the first-ever refugee Olympic team and to be a part of it again, Tokyo 2020 meant a lot to me because I have been dreaming about competing at the Olympic Games since I was nine years old.
Also knowing that I am representing the Refugee Olympic team and representing 82 million displaced people around the world, I was hoping Rio and Tokyo to give the world, especially refugees, some hope. We hope that we could give a message of hope to everyone in the world by representing the Refugee Olympic team by being there dreaming again.
To me, the fact that Tokyo hosted the Olympic Games was something very special - I already was once in Tokyo in 2017 on a mission with UNHCR. People were so kind to me, and so I loved the city instantly. I went to Tokyo Tower once, it was amazing.
I went there in 2016 to start bringing awareness about refugees with UNHCR. I have had the honor to meet lots of people and to talk about refugees and so on.
I personally find it very impressive that Tokyo still hosted the Olympic Games this year. For us, athletes it was obviously a dream we had been working for every day for five years since Rio.
I found something that gives hope to the world. That means that we are united. That means that we can stand together.
Because when we were at the Olympic Games, I respected the rules. I was acting like the athlete I am. I think I am, and who is better disciplined than athletes around the world? This is exactly what happened - there were lots of rules and we respected them. We knew that this is a very special time to host the Olympic and the Paralympic Games.
I honestly want to thank Tokyo from the bottom of my heart; Japan as well, and the government for hosting the Olympic Games even though it was probably the biggest challenge that they could face right now.
Thank you so much, Japan. We loved the Olympic Games. The opening ceremony, the closing ceremony, everything about the game was very special, even though it was very hard to host the Olympic Games. Right now, the Paralympics are still happening. We have six members who are representing refugees all around the world. I want to let them know that we are cheering on them - some of them competed already - for example, Abbas was already in the finals. He qualified for the finals and I was so happy for him. We are here cheering on them at the Paralympics. I want them to know that they are a very huge inspiration to us.
My next point is that one of the most important things that we wanted to do at the Olympics and the Paralympics is to bring more awareness about refugees all around the world. We wanted Japan to know that they have a choice of understanding refugees or letting them in the country and integrating them. I think that lots of people in Japan do not know about refugees.
Here comes my job to let them know that we refugees did not leave our country because we wanted to do. It was not a choice. We left the country because of war.
I personally left the country because I was not safe. I was 17 years old, and I could not be safe anymore. My family could not be safe - there was a war for almost five years back then. That is why my sister and I decided to leave the country for a better future.
This is exactly what everyone thinks when you leave the country in a conflict. Because of conflict you get to the other country because you are thinking about your loved ones. You are thinking about your mom, your sister, your dad. You think about your friends. Obviously, you want all of them to be safe.
That is why I do the job that I do with UNHCR. I always go on a mission to bring more awareness about the topic of refugees. Again, we are very thankful that we could compete again at Tokyo 2020.
So, I started swimming when I was three years old.
I was very competitive when I was young and started to dream of the Olympic Games when I was only nine years old. My father was my coach and when I left the country and I arrived in Germany, I decided to continue swimming.
My goal was to compete at the Tokyo 2020 as my first Olympic Game, and then there was the creation of the first-ever refugee Olympic team, and I was super super lucky to be nominated for my first Olympics in Rio.
The Rio Olympic Games helped me a lot as an athlete to be integrated into the community, to feel less different about myself, because I met lots of people through sports - I felt like I can be included in society.
Also it was the moment where everything changed for me, because I was not very proud of being a refugee. Because the world somehow has this bad idea of refugees. "Oh, she is a refugee," "He is a refugee." "They do not really have that much to offer."
This is what the Olympic Games changed for me. The moment I entered the stadium with those 10 athletes that are representing their first-ever refugee Olympic team, I decided that the word "refugee," - I will take it, I will embrace it, and I will be proud of who I am. Because I went through a tough journey, I want to do something very very unique. And I am still here. I am still dreaming. I still continue to do what I love, which is swimming.
That is why I think sports is very important for refugees. They have access to, first of all, the necessities - education, and at the moment, hygiene and a safe place. After that comes sports. This is very important. They are normal; they need something in their life.
Sports for me was an escape sometimes.
I learned that once you are doing sports, you stop thinking about everything else and just concentrate on what you are doing right now - training. I think this is a very good way of helping, especially the younger generation to be included in the society, to feel like they belong.
Also competing at Tokyo 2020 again after the whole year of what happened with COVID, after everything that happened, was very special for us, athletes, and it was very emotional for us as well.
That is why I am very thankful that the Olympics happened in Japan. The Japanese people as I saw are very welcoming and I hope they are going to do the same with refugees, maybe take refugees in the future, because they need it more than ever, especially now.
Yusra Mardini