I Opened the Gateway to an Inclusive Society as a Volunteer with Disabilities at Tokyo 2020
While the Tokyo 2020 Games were held under difficult circumstances, a great number of inspiring moments and records came from them. This historic event was also a major step forward in achieving an inclusive society where people with and without disabilities can live together without any distinction.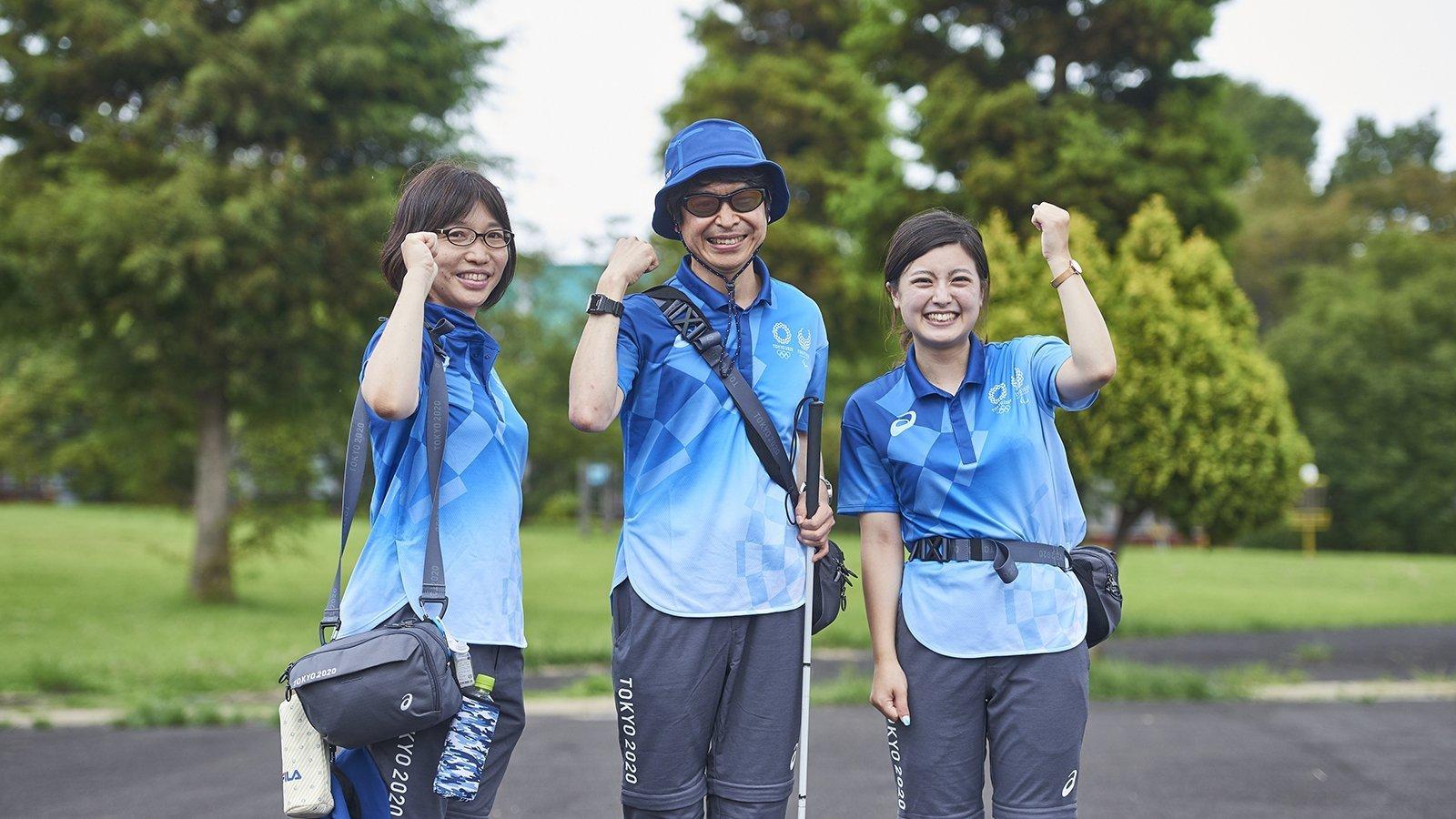 Many Volunteers Supported the Games Through the Pandemic
The Olympic and Paralympic Games Tokyo 2020 were held under the unprecedented global spread of COVID-19. As numerous heated matches played out, behind the scenes, athletes were supported by more than 76,000 volunteers, ranging in age from 19 to 91.
With "unity in diversity" as one of the visions for the Games, many people with disabilities also participated in the event as volunteers. One such volunteer was Kudo Shigeru, who teaches acupuncture, massage, and moxibustion therapy at the Special Needs Education School for the Visually Impaired, University of Tsukuba.
Kudo, who is visually impaired, was assigned to volunteer at the Paralympic swimming competition held at the Tokyo Aquatics Centre. He had three main tasks: raising a sign announcing the start of the races, disinfecting seats and handrails, and seeing the athletes off after the competition.
One task he was responsible for every match throughout the competition was holding up a "Quiet, Please" sign. Some athletes find it difficult to hear the sound signaling the start of the race or lose concentration if there is excessive background noise. For this reason, the act of holding up signs to urge staff and personnel in the venue to be quiet is vital to the competition.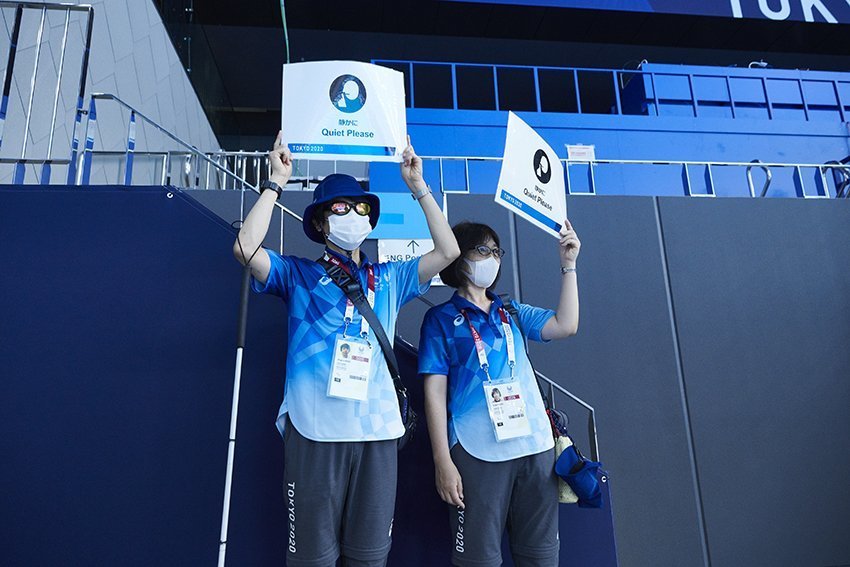 The Tokyo 2020 Games Brought Me New Friendships
These volunteer activities were carried out in teams of two or three, including able-bodied people. The team members changed at each new event, and while most were new to guiding and supporting people with disabilities, Kudo recalls fondly how people got used to the task right away and were courteous in helping.
The most memorable moment for him was when, on the last day of the competition, he received a message in Braille from a female member of the group that she had made by sticking round stickers onto a piece of card one by one. He was only on the same team as her for a single day, but after that, she taught herself Braille and gave him a message that said, "I treasure all the friends I've made along the way here. Thank you."
"The text was very accurate and followed Braille's subtle rules. I get messages written using a Braille embosser sometimes, but I hardly ever get handmade cards. It made me so happy how she put her heart and soul into making it after mastering the rules of Braille in just one day."
Kudo exchanged contact information with his fellow team members and smiled, saying how he is looking forward to keeping up with them in the future.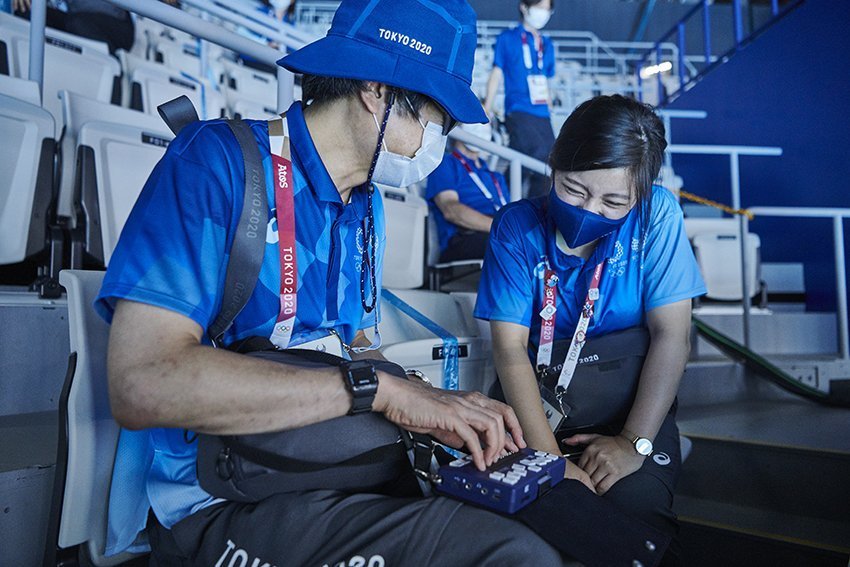 Working Together to Approach an Inclusive Society
Kudo says that through this volunteer work, he realized that communication is essential for achieving an inclusive society. He discovered this when he learned that many of the able-bodied volunteers felt that Kudo's disability was a big hurdle for them to overcome and struggled with how to approach him.
But the reality is that he is just blind, says Kudo, and apart from that he is no different from able-bodied people. That is why he tried to instill new knowledge and insights among the able-bodied volunteers he came in contact with, explaining how to guide a blind person such as himself properly. He is also proud of the fact that this will have helped change their notion that people with disabilities are difficult to deal with.
On the other hand, because people with disabilities are usually on the receiving end of support, they often assume that they will be an inconvenience if they join volunteer activities. Many students at the school where Kudo works tend to be reluctant to get involved due to such anxiety, and he confesses that he felt the same before joining the volunteer program.
However, after finishing his volunteer work at the Games, Kudo was approached by able-bodied volunteers who said, "Working with you was really meaningful to me," and "This was a valuable experience for me," which made him realize that people with disabilities have something to give to able-bodied people.
Kudo felt firsthand that if people have something to gain from one another by working together, then achieving an inclusive society should be easy. He has this to say of his future goals: "Alongside sharing my experiences with the students at school, I'm also going to participate in other volunteer activities so that more people can see what those of us with disabilities are really like. I want to act as a bridge between the disabled and able-bodied by doing so."
The Tokyo 2020 Games marked a definitive step towards an inclusive society. The legacy left by the competition will surely be passed down to the children who will lead the next generation.
Photo: courtesy of the Nippon Foundation Volunteer Support Center
Interview and writing by Abe Kimiko / Translated by Amitt