Barrier-Free Access Pushes Forward, Even for Tourism and Hotels: A Wheelchair User Discusses a Changing Tokyo
In the wake of the Tokyo 2020 Games, the city has evolved in many different ways. One of the most significant advances has been the development of barrier-free railways and other public transit systems. But is that enough to achieve an inclusive society? We asked Barry Joshua Grisdale, an electric-wheelchair user sharing information on accessibility in Japan, about barrier-free conditions in Tokyo.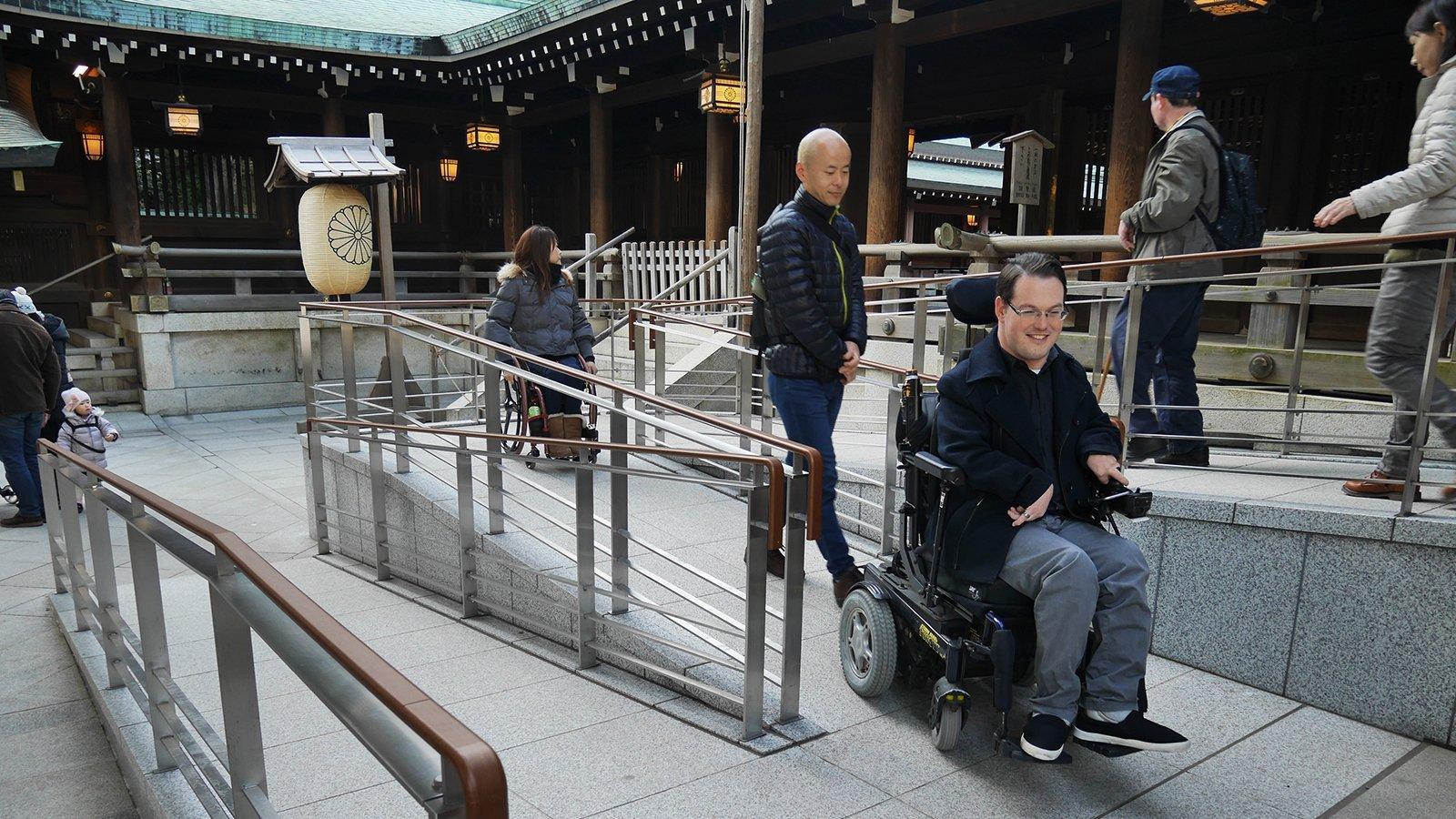 Wanting the World to Know that Japan is a Leading Barrier-Free Country
Barry Joshua Grisdale, originally from Canada, is disabled in all four limbs as a result of childhood cerebral palsy and uses an electric wheelchair on a daily basis. In high school, he became interested in Japan and came to the country for the first time in 2000.
Prior to that, he had the impression that Japan lagged behind in terms of barrier-free accessibility, so he was surprised to see that the country had actually made more progress than he had imagined. Every time he visited Japan thereafter, he was moved by the steady progress being made in barrier-free access and went on to become a naturalized citizen in 2016. He currently resides in Edogawa City and works for a social welfare service.
In addition to his regular public relations duties, he also shares information about barrier-free access in Japan on YouTube and through his website "Accessible Japan", a resource for foreign tourists with impairments. These activities embody his desire for "the world to know that Japan is a leading barrier-free country, so that people from all across the globe can visit with peace of mind."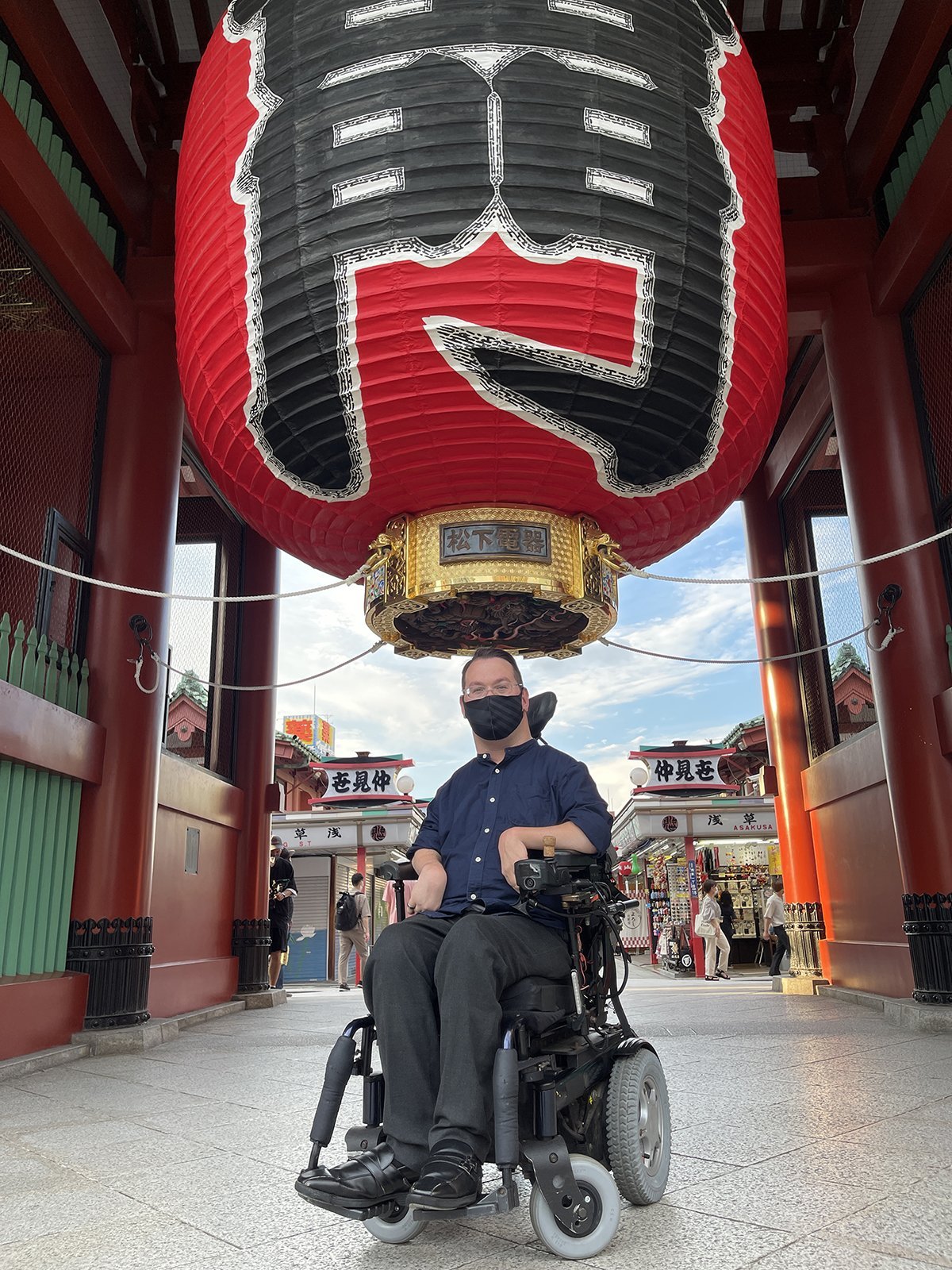 Improved Barrier-Free Access Even at Tourist Attractions and in the Hotel Industry
"Barrier-free access has progressed at a tremendous pace since 2013 when Tokyo was chosen as the host city for the Olympic and Paralympic Games," Grisdale recalls. Until then, he was under the impression that barrier-free access was an issue limited to those affected and local governments, but it has gradually permeated across society.
In addition to Japan making public transit systems barrier free, such as by eliminating the need to use steps at railway stations, "The availability and convenience of the country's accessible toilets is world class and something to be proud of," Grisdale says. That is because although there are wheelchair-accessible toilets in other countries, people are often required to register or ask a staff member in order to use them.
But in orderly Japan, people follow the rules for using the toilets, making them not only clean but easy to use even for ostomates. Another big advantage is that there is also no need to register or look up which stations are barrier free ahead of time.
"The Tokyo 2020 Games have even led to an increase in barrier-free accessibility at tourist attractions and in the hotel industry, which has encouraged wheelchair users to go out more," Grisdale says with a smile on his face.
It has often been pointed out that Japan has had little in the way of barrier-free accommodation. Because of this, the law was revised in 2019 to mandate that newly built or expanded hotels, inns, and other lodging facilities over 2,000 m2 with 50 or more guest rooms ensure that at least 1% of their rooms are adapted for wheelchair users.*
Barrier-Free Mindset Spread by the Tokyo 2020 Games
However, regardless of how much progress is made toward barrier-free railways and facilities, it will not be enough unless people's mental barriers are lowered as well. The biggest legacy of this year's event, Grisdale says, will be the intangible steps that were taken towards diversity and an inclusive society.
One of the most impressive changes was the way the media covered the Paralympics. Up until now they had been overshadowed by the Olympics, but this year's event put them in the spotlight, with live coverage of the competitions and reporting on the results seen by many. The media also featured full coverage of and interviews with Para athletes.
Even more touching was the fact that Grisdale himself was selected as torchbearer for Edogawa City.
"Getting nominated directly by the city made me feel that I'd been truly recognized as a citizen of Edogawa, regardless of my impairment or where I was born. It's something I'll never forget."
The Tokyo 2020 Games proved to be a great opportunity to promote a "barrier-free mindset." However, work still needs to be done on all kinds of measures to build a society accepting of diversity. The test of the true value of the Games' legacy starts now.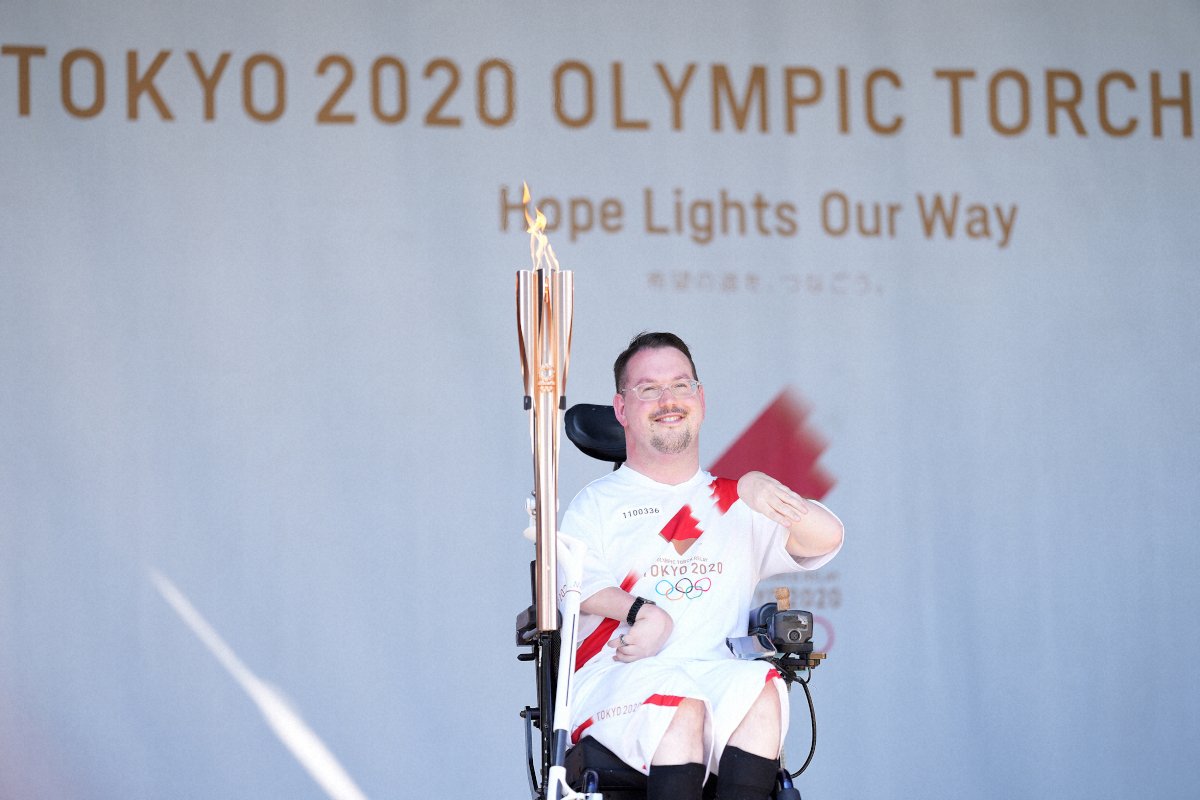 Barry Joshua Grisdale
* The Tokyo Metropolitan Government revised the Barrier-Free Building Ordinance to establish Japan's first barrier-free standards for general guest rooms in addition to those for wheelchair users.
Interview and writing by Abe Kimiko / Translated by Amitt