Restrooms Evolving Beyond Cleanliness and Comfort Through DX
One of the most surprising things for visitors to Japan is the toilets. The country's clean restroom culture is drawing more and more attention as the COVID-19 pandemic has raised global awareness of hygiene. This article takes a look at some of the recent evolutions taking place in the world of toilets.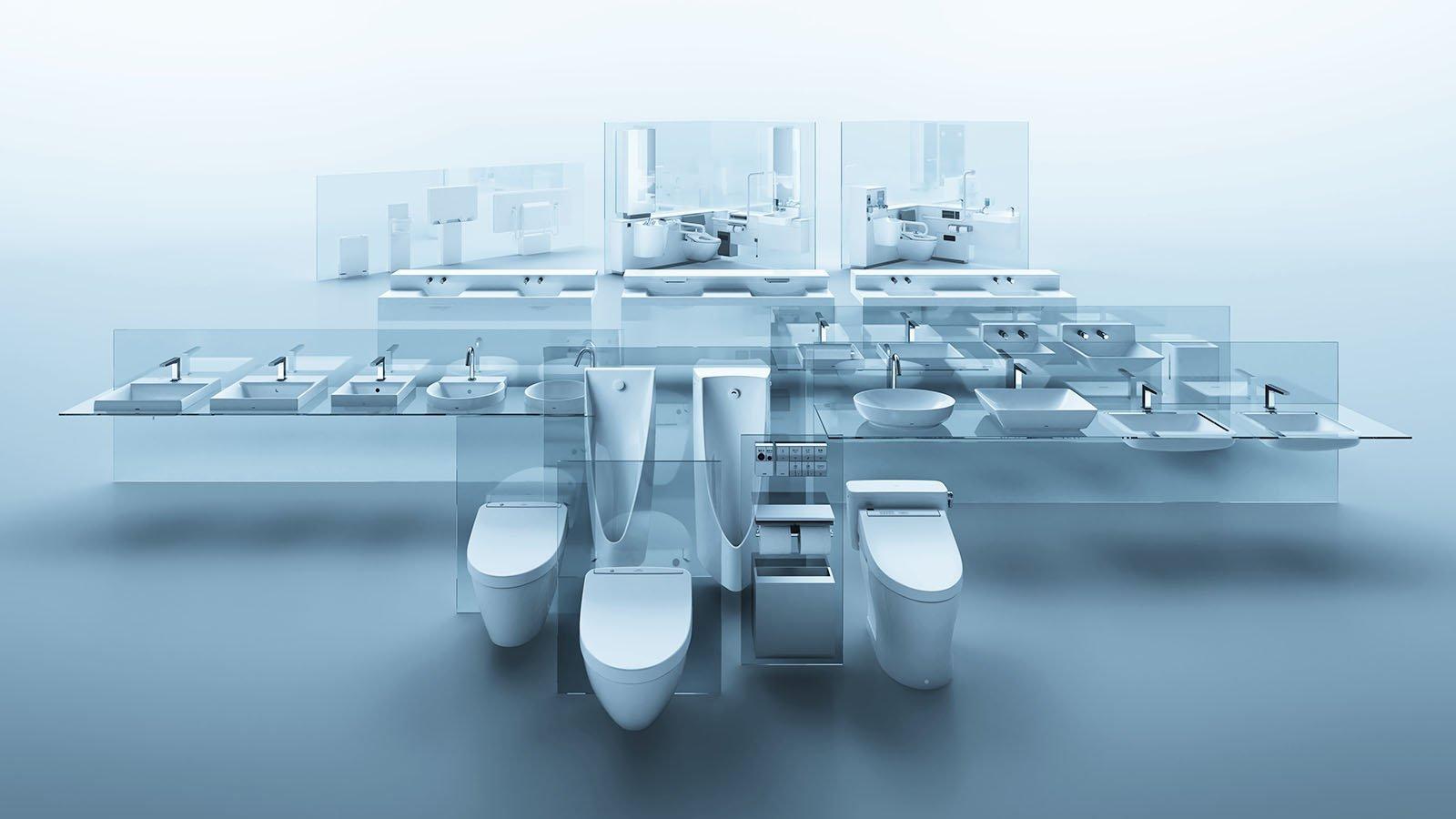 IoT Contributing to Easier-to-Use, More Hygienic Spaces for Public Restrooms
Japanese restrooms have gained prominence for their advanced toilet technologies, like automatic lids and bidet functionalities. In particular, demand for automatic touchless faucets is rising more than ever as handwashing has become increasingly important as a step to prevent COVID-19 infections.
Leading Japan's lavatory industry is TOTO LTD., a major toilet manufacturer, who have now introduced IoT technology to create easier-to-use, hygienic spaces for public restrooms. The system they have come up with is called the "Public Restroom Support System", designed to solve problems for both users and facility managers alike.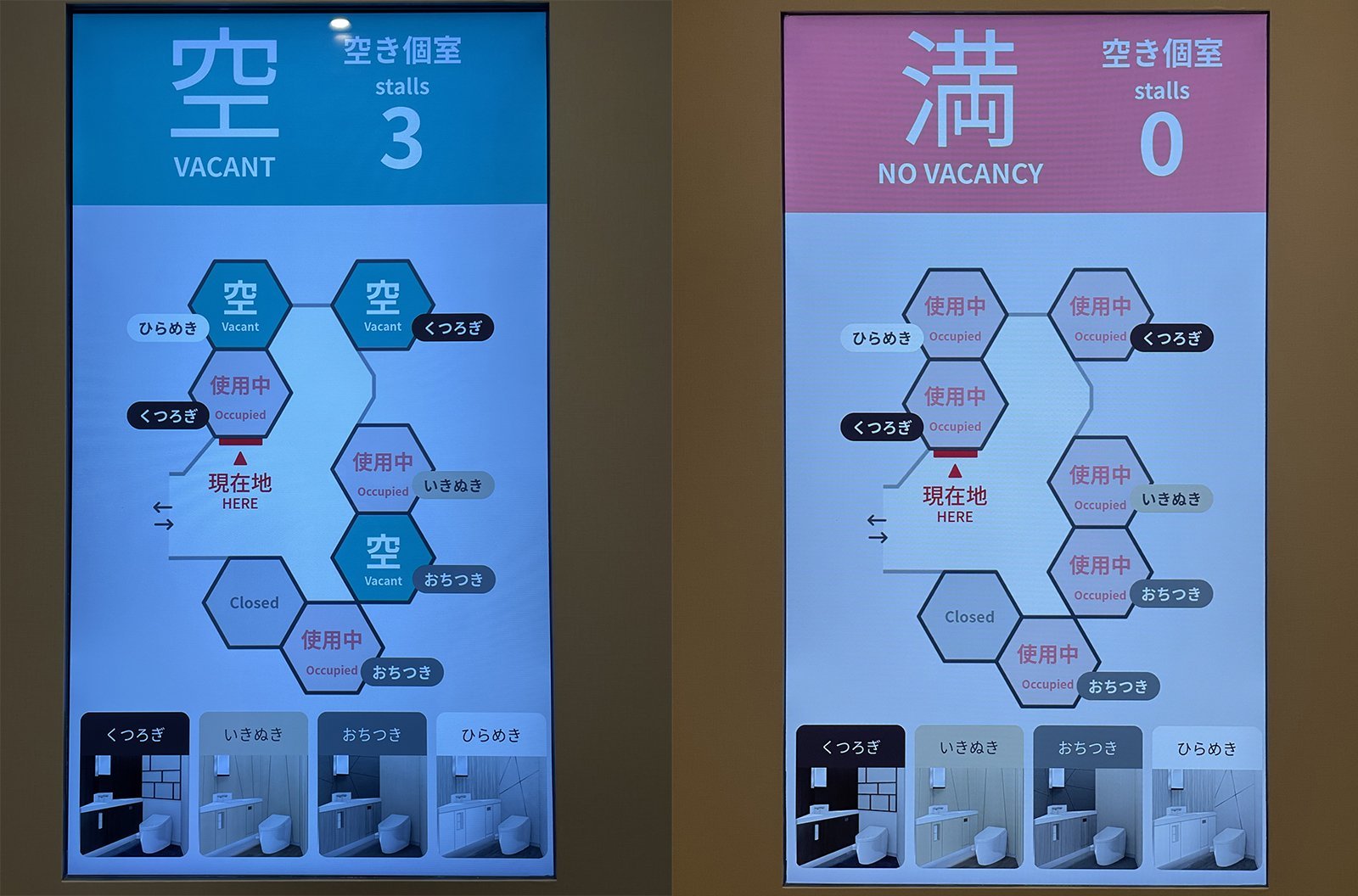 Users can check restroom availability using their smartphones or via displays, offering an effective way to avoid crowding and congestion during the pandemic. Meanwhile, facility managers can also check on equipment errors and supply stocks that may need replenishing on a PC or smartphone, making maintenance work more efficient.
The first implementation of the Public Restroom Facility Management Support System in Tokyo was at the "nagomuma restroom," built in July 2021 inside the TOKYO TORCH Tokiwabashi Tower located in front of Tokyo Station's Nihonbashi Exit. The advanced office restroom, created through a collaboration between TOTO and real estate developer Mitsubishi Estate Co., Ltd., is capable of refreshing both body and mind.
Development of the nagomuma restroom began in 2017 when Mitsubishi Estate approached TOTO wanting to think about the future of restrooms together. Over the course of four years, the two groups held numerous discussions and deliberations over how working styles and offices would change over the next 10 years.
"We've created a variety of mechanisms for office workers based on the assumption that the role of the restroom is not just to relieve yourself, but also to relax, refresh, and condition both body and mind. I think there's still a lot that restrooms can do," says Maruyama Tomomi of TOTO Project Sales Division in charge of the project.
Users of the restroom can select between stalls featuring four different styles of interior depending on their mood and preference. In addition to the distinctive hexagonal shape, the lights and sound effects were also designed to provide an enhanced relaxing atmosphere. These ingenuities have helped make the restroom not just a place to "do your business", but also a space for freshening up your mood and rejuvenating yourself.
Health Checks Just by Doing Your Business?
Japanese restrooms have long sought cleanliness and comfort, improved accessibility, and increased efficiency in facilities maintenance, and now digital innovation is about to take them to the next level. TOTO is working on developing a completely new restroom product called the "Wellness Toilet."
Yamashita Nariko, who works in public relations at TOTO, describes the company's vision for the toilet, saying, "The idea is that it'll monitor physical health indicators and provide recommendations based on your condition just by you sitting down and doing your business as usual, without the need for any special equipment."
They are currently in the midst of research geared towards commercialization, and expectations are mounting for a toilet with a high degree of integrated design and function.
In an age where people are expected to live to 100, how to best stay healthy is a major concern for everyone. While there are various aspects of health that individuals can manage in their daily lives, such as blood pressure, body temperature, and weight, the arrival of this innovative toilet taking a new approach to tackling health is now eagerly awaited.
Interview and writing by Hoshiba Chisato
Photos courtesy of TOTO LTD.
Translated by Amitt