Nicolai Bergmann's Cross-Cultural Communication Through Flowers
Flower artist Nicolai Bergmann leapt to fame with his flower box, a square floral arrangement filled with bright colors. We asked him what attracted him to Japan and what has been the driving force of his work over the last 20 years, while keeping his home base in Tokyo.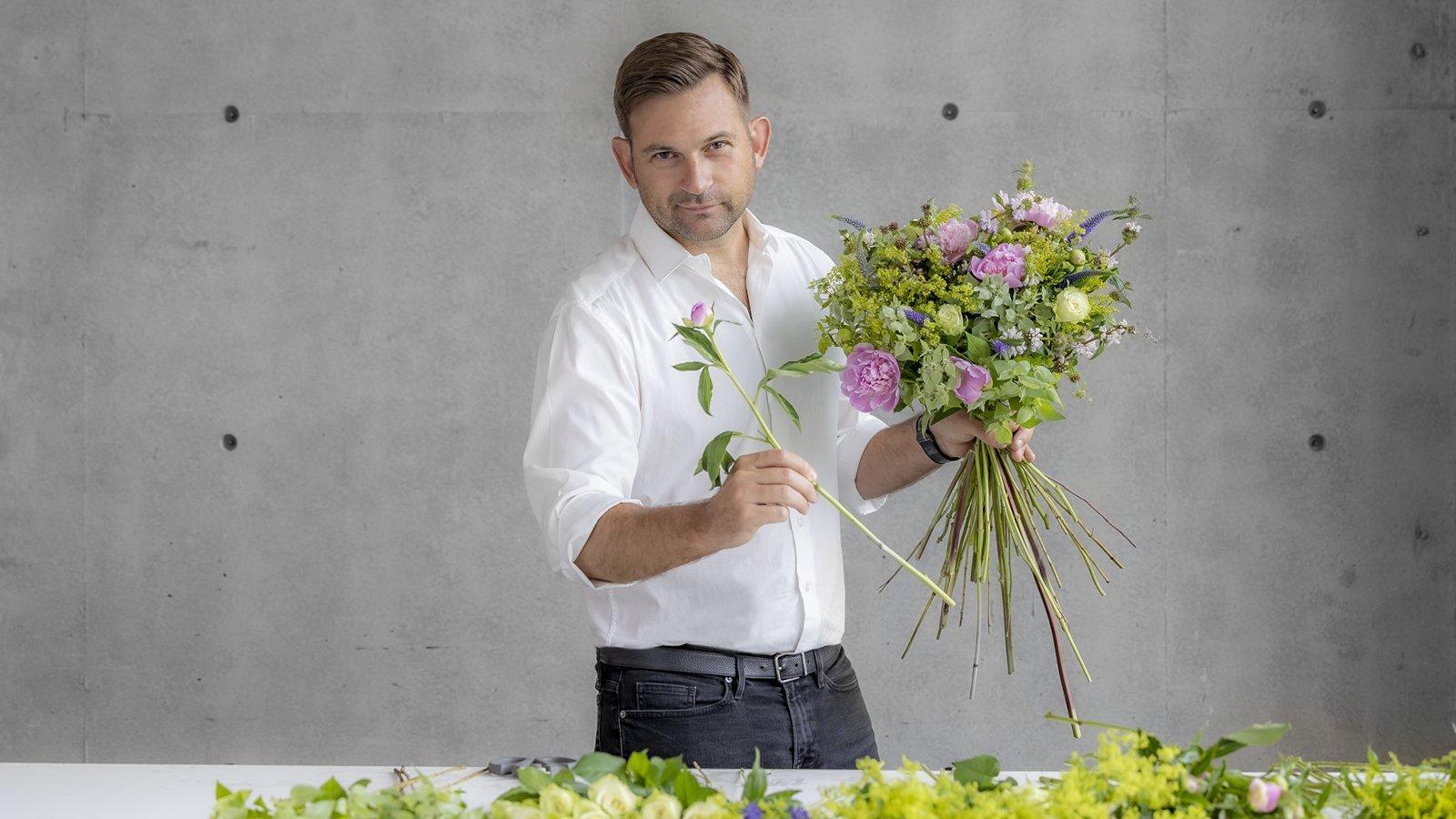 Communication that Starts with Flowers
Bergmann, originally from Copenhagen, Denmark recalls the time he first arrived in Japan from his home country in 1995 where everything he saw was impressive.
"I was really fascinated by the traditional culture, architecture, and crafts, like the shrines and temples, Shinto wedding ceremonies, and antique markets. I often went to a kimono shop in Omotesando when I first came to Japan, and I'd cut up old obi belts I bought to wrap around vases. I feel like the experiences I had at that time have become part of the DNA of my art-making."
Bergmann began his career as a floral artist in Japan in 1998. His flower box, first introduced in 2000, remains popular and can even be considered as a staple gift choice. "My work is based around the concept of communication through flowers. I try to arrange them in such a way that it can spark a conversation, and not end with someone saying, 'These flowers are nice.'"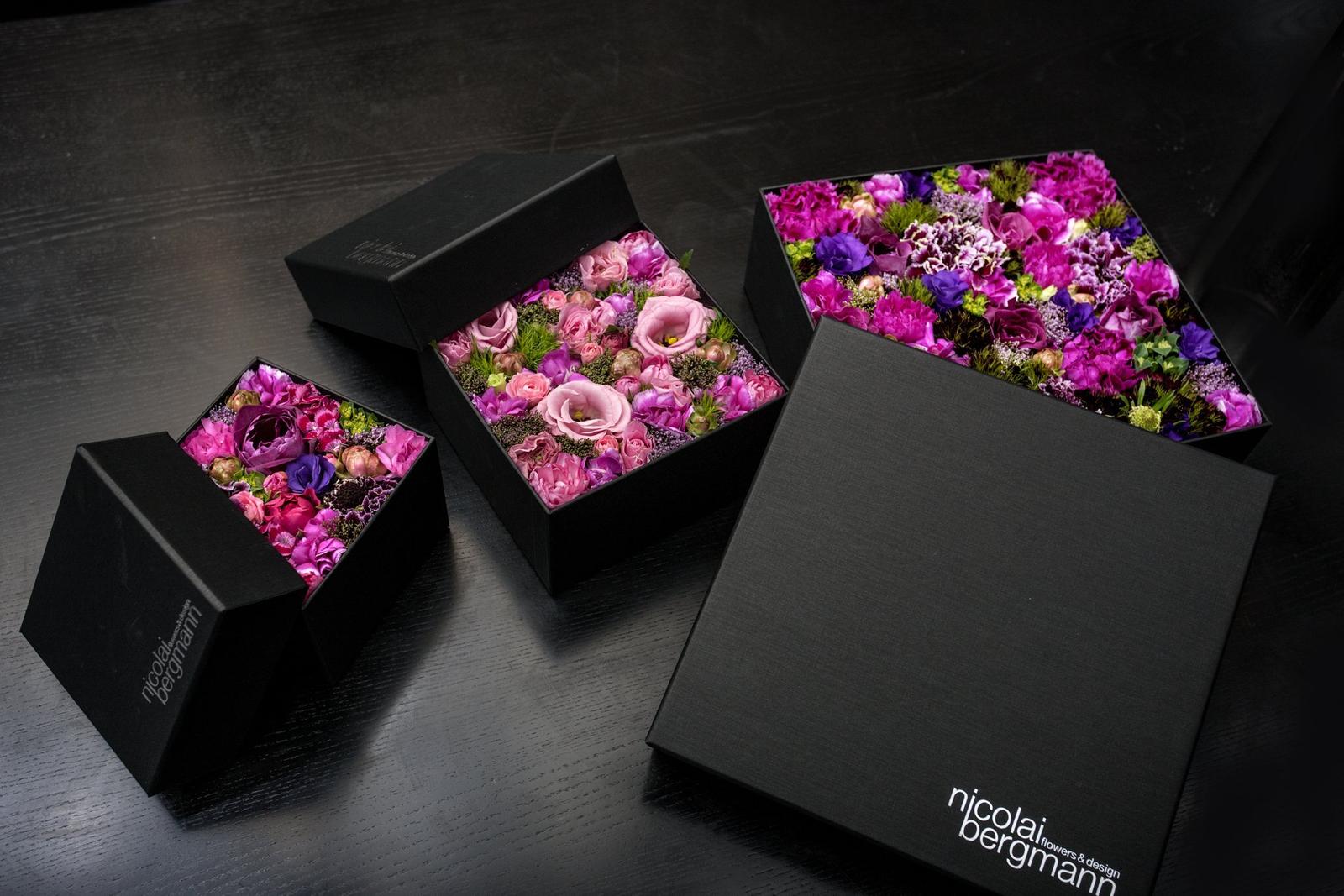 Rediscovering Japanese Culture Through Flowers
As he visited temples, shrines, and old town districts around Kyoto and other parts of the country, Bergmann's interest in Japanese culture eventually expanded to contemporary culture, such as the works of Ando Tadao and Kuma Kengo, and he came to meet people from various different fields through his profession. Then, in 2014, Bergmann experienced a major turning point in his career.
"I was given the opportunity to hold three exhibitions at Fukuoka's Dazaifu Tenmangu Shrine between 2014 and 2018. The floral installations were set up in a sacred place that's not normally open to the public, so it was a really nerve-wracking experience. I stayed overnight preparing for the event for 10 days together with more than 100 staff members."
Bergmann still remembers the words of the chief priest, who was very supportive of the exhibition: "We work to carry on the culture, but if we keep doing the same thing, it will disappear. That's why I always want to try something new."
In 2018, he dared to put together a bold installation where he wrapped a torii gate with pink fabric, which contributed to the huge success of the exhibition. "From there, I went on to do floral installations at Kiyomizudera Temple in Kyoto and Tsukubasan Shrine in Ibaraki. Through these works, I hope that visitors were able to see Japanese culture from a new perspective."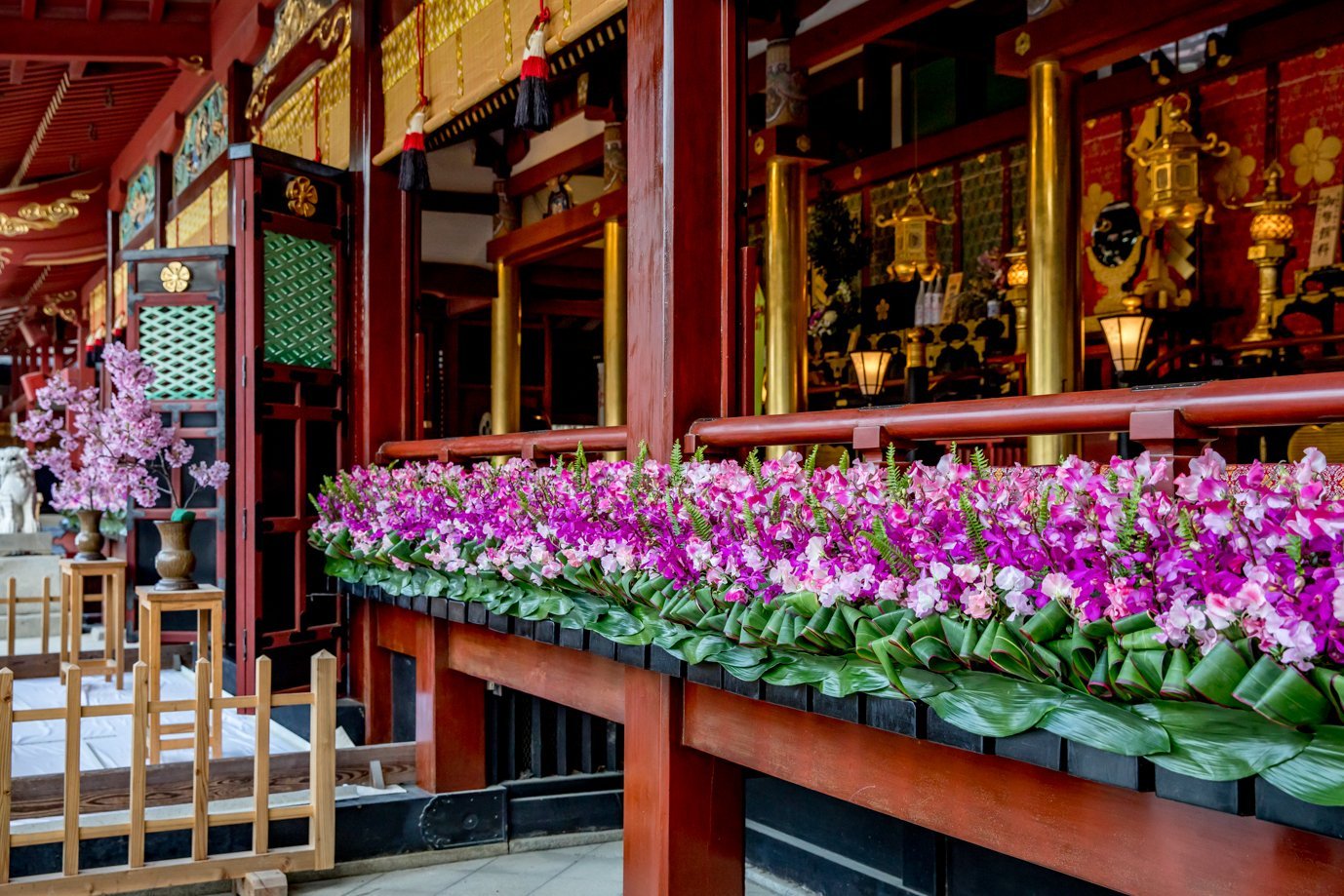 The Intrigue of Tokyo, where Tradition and Modernity Exist Side by Side
Having lived in Japan for a long time, Bergmann has come to think that Japanese people have a special sensitivity toward flowers.
"I feel that in Japan, flowers have been featured throughout history. There are lots of scenes in old paintings depicting people admiring nature and incorporating them into their lives. Many Japanese people attach great importance to the change of seasons as well. The festivities of Hanami (cherry blossom viewing), for example, could be considered a proud tradition that the Japanese have cultivated over many years."
Bergmann, whose flagship store is located in Tokyo's Minami Aoyama district, says he spends his time exploring the city by bike whenever possible.
"Tokyo is like a cluster of smaller cities. From Aoyama to Harajuku, Shibuya, and Ginza, the atmosphere of each area changes quite considerably, so I travel around according to my mood. When I show my friends from overseas around Tokyo, I introduce them to three key things: places with a sense of tradition, more modern spots, and food. For example, from a visit to Meijijingu Shrine you can head straight to Harajuku's Takeshita Street or Shibuya and also end up at a great food spot. Everyone's always extremely satisfied."
Although the pandemic is preventing people from traveling as much as they would like, there are surely many that hope to visit Japan once the situation improves, Bergmann says. "There are quite a number of foreigners who find Japan to be a special place, even among Asian countries. I want them to learn more about the cities of Tokyo and the wonderful cultures they possess."
Nicolai Bergmann
Interview and writing by Kubodera Junko
Photos courtesy of Nicolai Bergmann Flowers & Design
Translated by Amitt