By Alowing You and Your Partner to Share the "Experience" in Your Hands, this Marriage Ring Deepens Your Bond.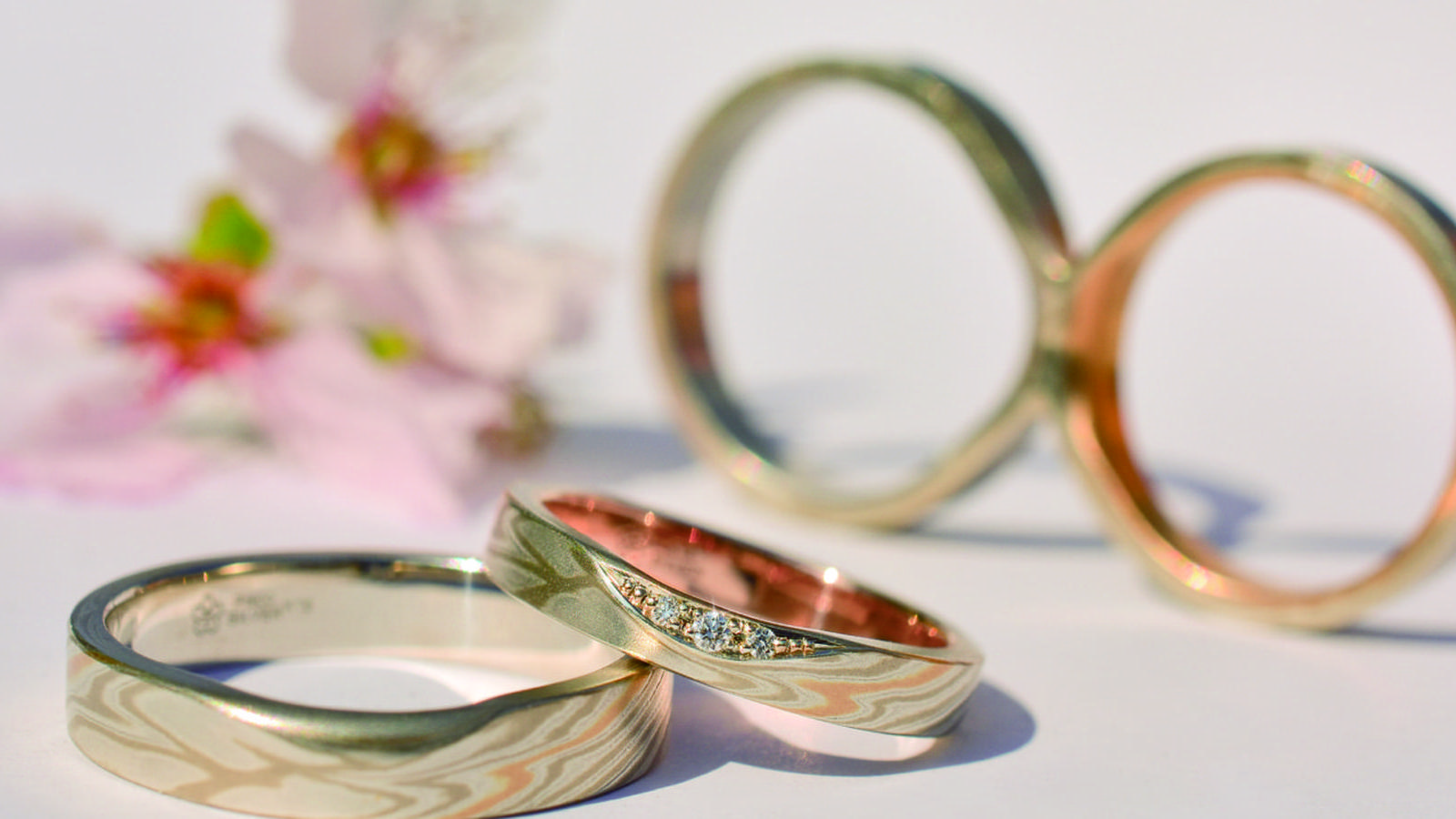 The pair of rings that are initially connected to each other is complete when the couple divides and shares them during the sharing ceremony. This romantic experience is part and parcel of Mokumeganeya's "Tsunagaru-katachi (linked shapes)" ring, one of our most popular wedding rings.
First developed for sword guard decorations in the early Edo period, "Mokume Gane" is a metal crafting technique unique to Japan. Mokumeganeya applies this technique of layering different-colored metals and creating beautiful wood grain patterns to make modern fine jewelry.

"Our wedding rings have always been forged and separated into a pair from a single Mokume Gane base, which gave couples a sense of connection and is popular for that reason. To deepen the bond between couples, we developed the 'Tsunagaru-katachi' rings," says the company CEO, Masaki Takahashi.

The ability to forge the rings so that a part of it is still connected is made possible by our intimate knowledge of Mokume Gane, enabling excellent workmanship. The Mokume Gane base is heated up so that they become soft, slowly separating from each other, but different metals have different melting points and do not soften at the same rate. "While it is difficult to interact and form the metals, it is also the most enjoyable thing about crafting," says Mr. Takahashi. After the couple divides the rings, the traces of the connection are retained with a smooth finish, reminding the couple of the connection every time they look at it.

One of the unique features of "Tsunagaru-katachi," which encourages users to participate in its production, is that it answers the needs of modern-day couples who derive value in experiences instead of just objects.

"First, the couple will choose the type of metal combinations and design at the store. Then, they will hold a sharing ceremony as a part of the ring manufacturing process. Finally, they will come and receive the final product. It appears that the multiple visits give the customers a sense of being involved in the process of making the product instead of just buying it, which they enjoy a lot."

Additionally, the same base metal used to make the wedding rings can also be forged into "one-of-a-kind jewelry" such as pendants and cuffs for the newlywed's parents or future children.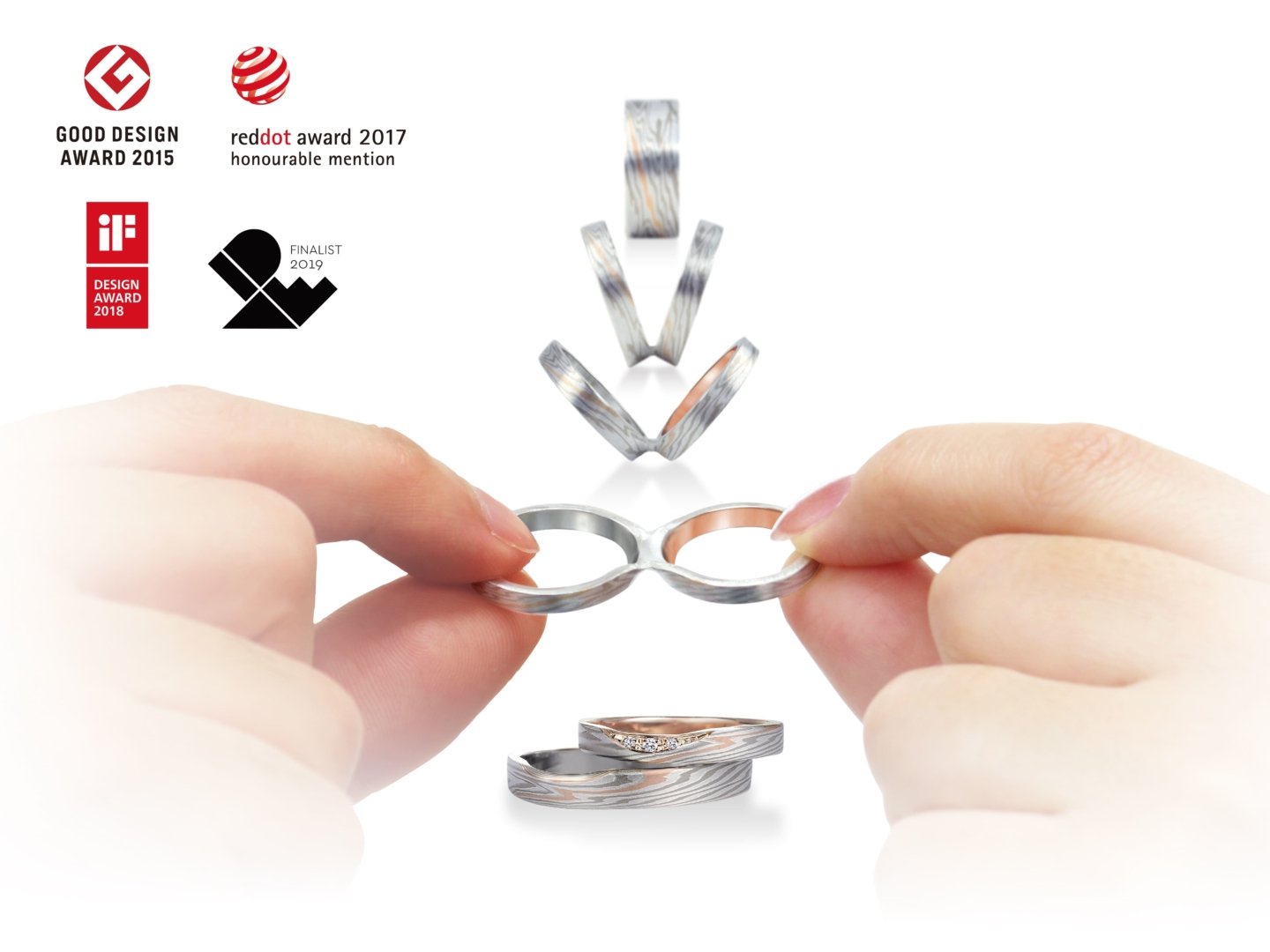 It has risen in popularity since it emerged in 2015, and almost all of our wedding ring orders now are for the "Tsunagaru-katachi." The fact that it has also won prestigious awards in Japan and abroad, such as the Good Design Award and Germany's Red Dot Design Award, proves that it is not only an excellent combination of traditional craftsmanship and modern design but also meets the need for rich "experiences" in this modern age.
As Mokumeganeya continues to pursue better techniques and designs, it also receives many requests to collaborate from experts in other fields. In November 2021, the company collaborated with Seiko Watch for the second time, releasing a watch model that uses a Mokume Gane design for the dial.
"We will continue to develop modern designs for various products and also actively pursue overseas expansion. We have also established online customer support for foreign customers. We will continue to promote our proud tradition as a Made in Tokyo jewelry brand."