Will Eco-Friendly Micromobility Change Urban Transportation!?
Consideration of the environment, the pursuit of the sharing economy, and the desire to improve mobility for those with limited transportation are all factors that are driving proof-of-concept testing and the introduction of micromobility into Japan. Tokyo is considered a leading city in the field, with numerous companies getting involved in the development of micromobility technology, including major automakers.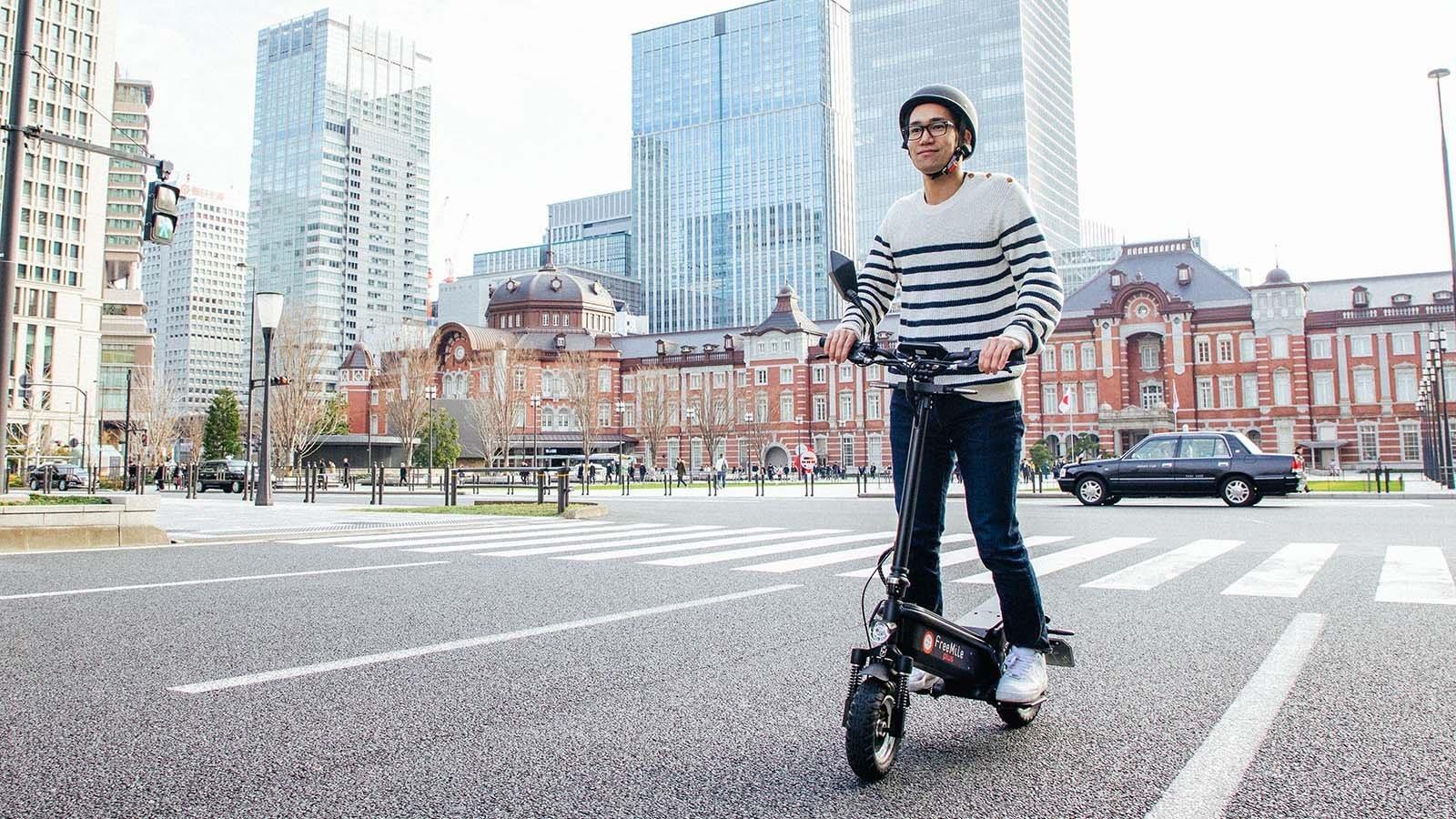 Post COVID-19: A Changing Mobility Landscape
In 2021, the Tokyo Metropolitan Government (TMG) formulated its "Future Tokyo: Tokyo's Long-Term Strategy" to serve as a new compass in carving out a bright future for the city. The cornerstone of the strategy is to improve quality of life for Tokyo residents through digital and advanced technologies, including a study into the expanded use of next-generation mobility.
Development of electric micromobility infrastructure is underway in the Toyosu area, which was selected as a progressive model for the Smart City Model Project by Japan's Ministry of Land, Infrastructure, Transport and Tourism (MLIT) in 2019. In addition, the TMG is collaborating with the city of Hachioji to conduct proof-of-concept testing for Mobility as a Service (MaaS)*, such as for electric bike sharing; the goal is to offer updated means of transportation that correspond with regional characteristics, issues, and needs.
Micromobility refers to transportation using vehicles that are more compact than automobiles, feature greater environmental performance, and seat one or two people. In September 2020, MLIT announced that it would partially revise the Enforcement Regulations of the Road Transport Vehicle Act and other laws in order to create an environment that would allow micromobility devices with a maximum speed of up to 60 km/h to travel freely on public roads. In response to these revisions, major Japanese automakers and startups have begun developing micromobility devices.
With its dense residential population, Tokyo is full of narrow alleyways that are difficult for cars to enter. Moreover, cars face traffic restrictions and may need to drive slowly in downtown areas with heavy foot traffic, hampering smooth travel. That is why light and nimble micromobility is attracting attention as a new means of daily transportation for short distances. Micromobility is expected to not only reduce CO2 emissions, but also alleviate parking-space shortages and traffic congestion in city centers.
Combined with the shift toward rethinking commuting options since the COVID-19 pandemic, there is a growing need for micromobility, with FreeMile Co., Ltd. seeing mounting demand for its electric micromobility device "Free Mile plus" as well. While it had previously only been available through the company's own e-commerce site, in-store sales began in December 2020 through 20 retail partners nationwide.
*Services that offer one-stop searching, reservation, and payment for a combination of public transit, car sharing, micromobility, and other transportation services to meet individual mobility needs.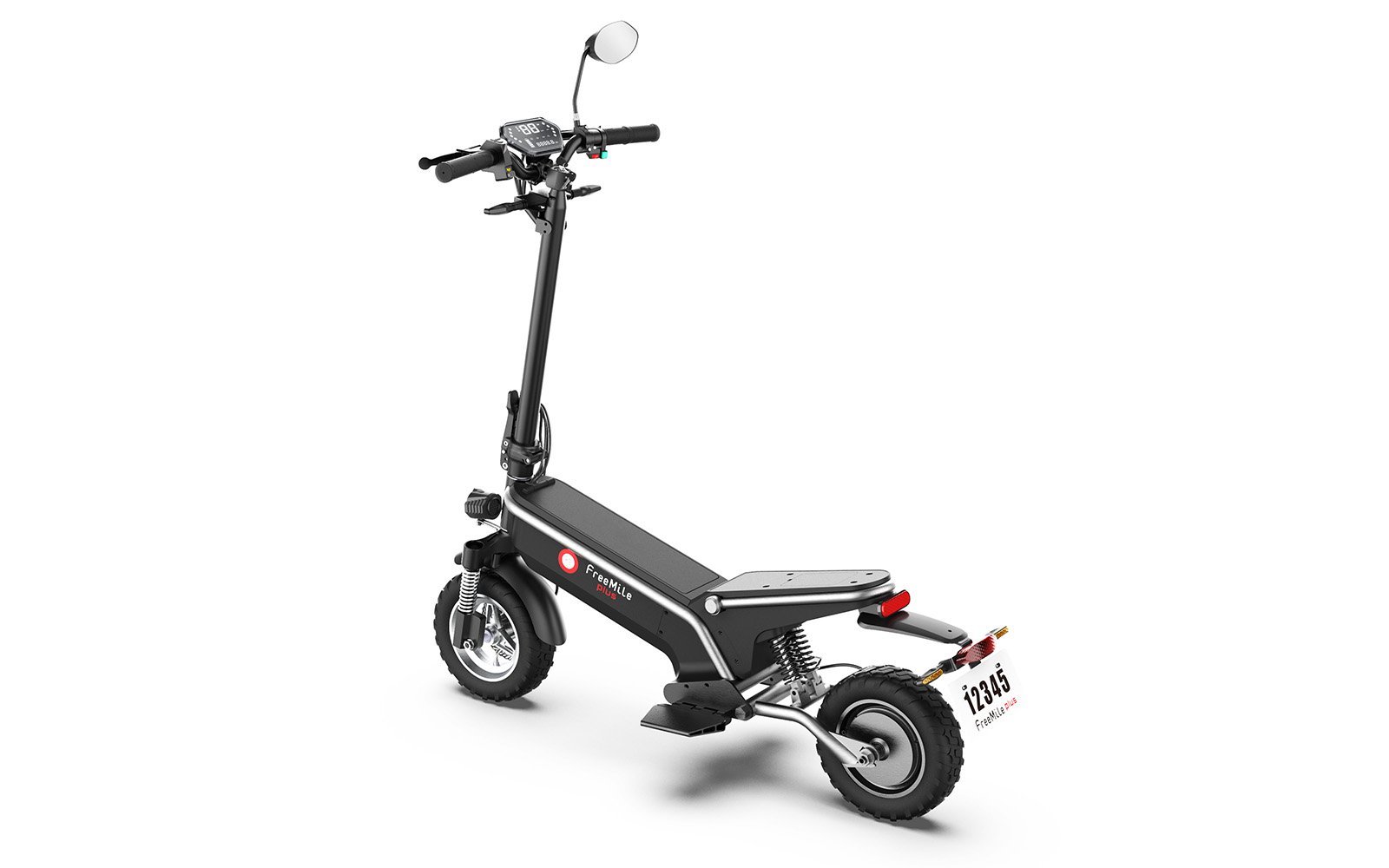 While the device visually resembles an electric kickboard, it is classified as a moped. It can be driven both from a standing position and whilst sitting down if using a seat attachment. Mitsumoto Akane, representative of FreeMile, the developer and marketer of the product, explains its features in the following way.
"It has larger tires than a standard electric kickboard, making it more stable on bumpy roads. At a max speed of 45 km/h, it's powerful and you're free to drive it even on public roads as long as you have a moped license plate. And since it's an all-electric vehicle, it doesn't produce any emissions, making it eco-friendly."
Seeing the City from a New Perspective
Mitsumoto founded the predecessor to FreeMile in July 2014 with a vision to "deliver exciting emotional value." In 2018, she launched her EV mobility business based around the concepts of "convenience," "innovation," and "next generation."
Free Mile plus is a mobility device that combines innovative design with a driving performance that is suited to Japan's public roads. It can even be folded for easy portability. The product has seen adoption by a variety of users, from those commuting two to three km to work, to those using it for outdoor leisure activities and camping.
In addition to the transportation aspect, Mitsumoto says that Free Mile plus also offers a "uniquely fun way of getting around."
"When I ride the Free Mile plus, I get a strange sense of adventure. Since you can take paths that bicycles and mopeds can't, it makes you feel like taking a bit of a different route from your usual one. In that sense, I think it's a form of mobility that offers extra value in addition to simple transportation."
Micromobility devices are expected to see use not only as a convenient mode transportation in the community, but also for tourism, parcel deliveries, and other business uses. As legislation progresses and micromobility becomes more widespread, it is sure to help improve traffic congestion and parking-space shortages in city centers.
Interview and writing by Sueyoshi Yoko
Photos courtesy of FreeMile Co., Ltd.
Translation by Amitt