The Untold Story Behind Aminishiki's Ceremonial Sumo Loincloth
It has already been three years since the former
sekiwake
-ranked sumo wrestler Aminishiki, the longest tenured
sekitori
top-division competitor, retired. His topknot-cutting ceremony,
*1
twice postponed due to the COVID-19 pandemic, will finally take place on May 29, 2022 at the Ryogoku Kokugikan national sumo stadium.There, his
kesho
-
mawashi
ceremonial sumo loincloth,
*2
created by embroidery artist Kobayashi Moko using traditional French
haute couture
techniques, will once again make its way into the ring. The rarely seen loincloth was unveiled for just two days in July 2019, the last year of Aminishiki's active career. Otherwise known as Ajigawa Ryuji, Aminishiki offers his thoughts on the upcoming topknot-cutting ceremony and the story behind the creation of this ornamental loincloth.
*1 A ceremony in which sumo wrestlers cut off their topknots upon retirement from active competition. Hairstyles were determined according to rank during the Edo period, but when the Dampatsurei "Cropped Hair" Edict was issued in 1871, allowing samurai to freely choose their own hairstyle, the topknot fell out of fashion among the wider population and became a symbol of sumo wrestling from there on.
*2 A luxuriously embroidered mawashi (loincloth) worn by rikishi sumo wrestlers in the juryo division or above during ring-entering ceremonies. Rikishi are sponsored by corporations and other organizations and are gifted these loincloths to celebrate promotions and victories. They also serve as a form of corporate advertising.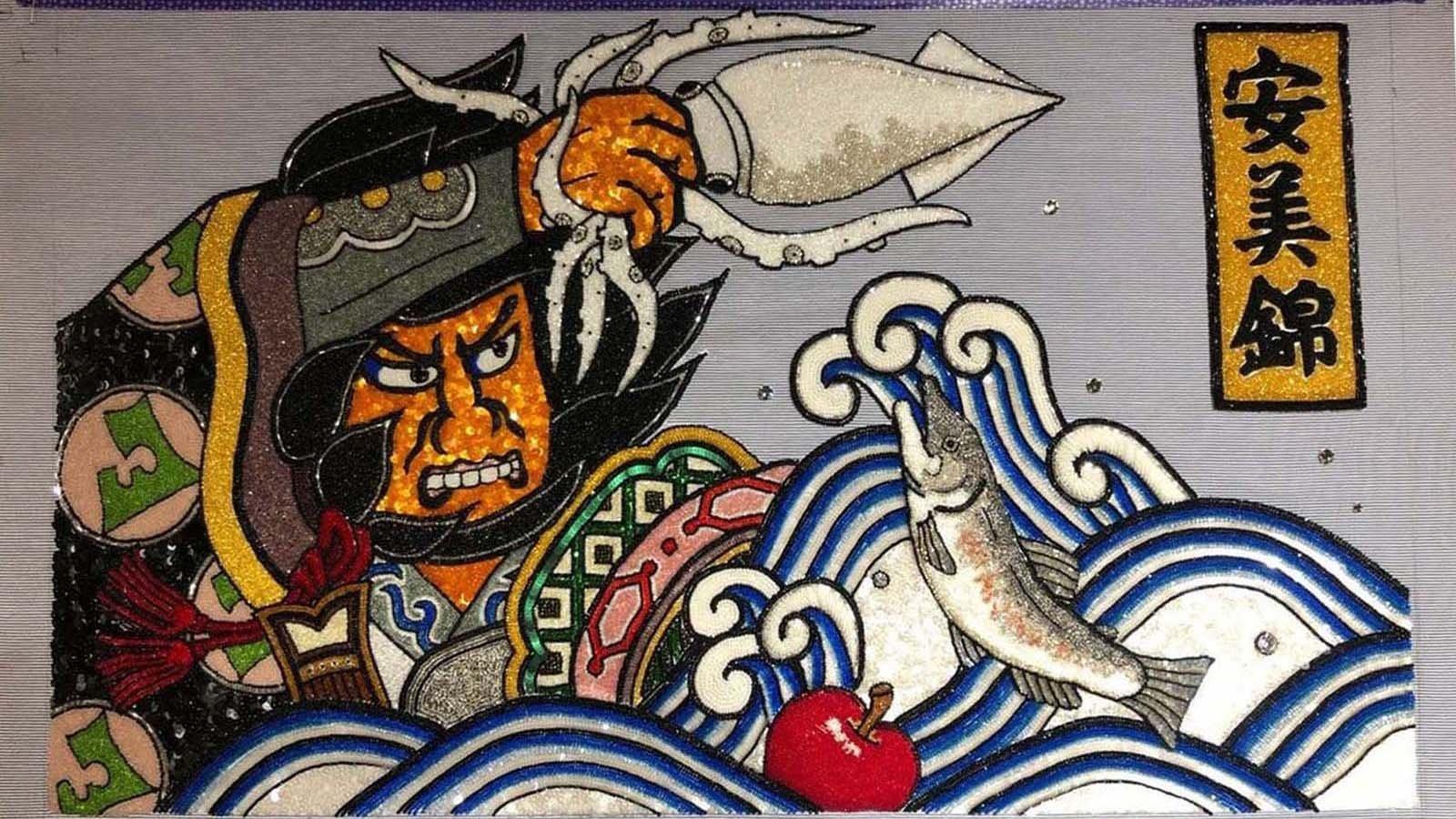 Ceremonial Loincloth to Make Its First Appearance in Three Years at the Topknot-Cutting Ceremony
Kobayashi: The time has finally come for the topknot-cutting ceremony. It's been postponed twice already, so I hope it'll go ahead without incident this time.
Ajigawa: You're right, I've been keeping my fans waiting for almost three years now. I really want to offer them peace of mind and an enjoyable time. I'd like to say thank you for all the support they've given me.
Kobayashi: I'm thrilled that everyone will get to see my haute couture loincloth again too, which has been a longtime dream of mine. I'd always said I wanted to make a ceremonial loincloth, but since it's such a traditional craft, I'd given up, thinking I wouldn't be able to do it. Someone who had heard my story acted as an intermediary on my behalf though, and helped my dream finally come true.
Ajigawa: I actually only wore that loincloth in the ring twice during my active career. On the first day of that tournament in July 2019, you came to see it unveiled, but I ended up getting injured on the second day and decided to retire from active competition. I'm thinking of putting it on display for all to see from now on, though.
Kobayashi: I was so glad to have you wear it, I was really ecstatic. Thank you so much.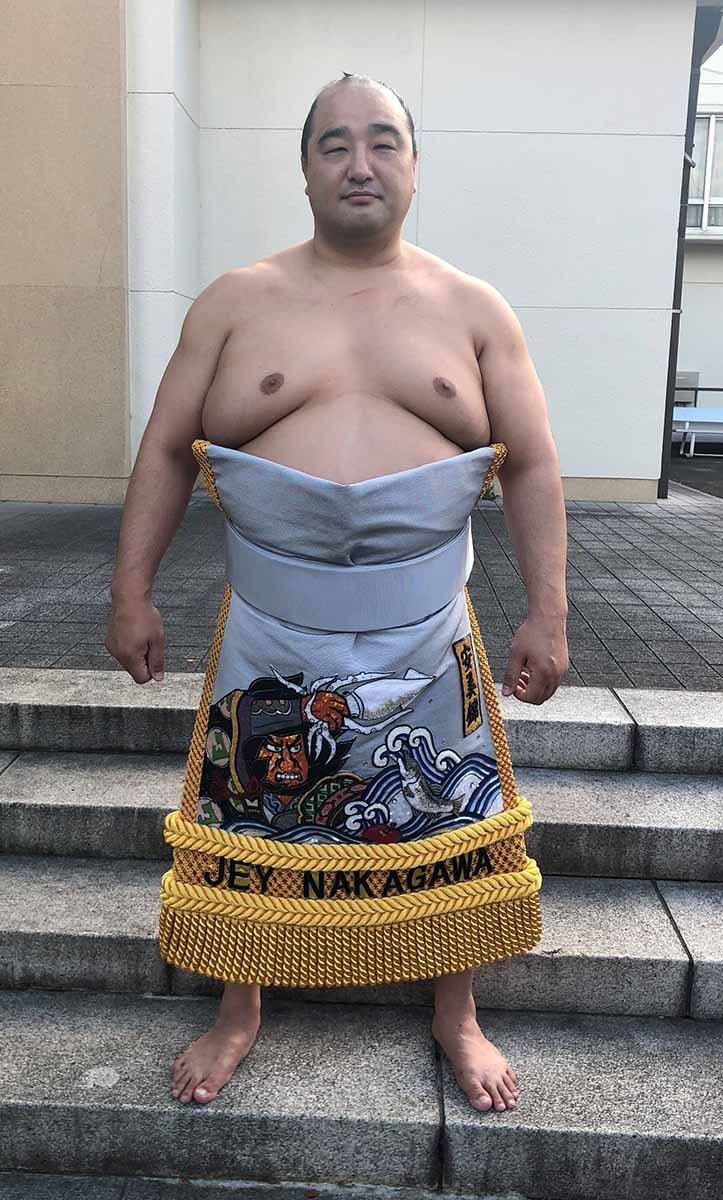 Freely Conceived Ideas for the Traditional Ceremonial Loincloth Craft
Editor: Ms. Kobayashi, how did you become interested in kesho-mawashi ceremonial loincloths?
Kobayashi: They've intrigued me ever since I was little. To me, they resembled paintings hanging down from the waists of these very large sumo wrestlers like those you would see hung on the walls of a gallery or art museum, circling the ring for everyone to see. The sight of it was mystifying and really left an impression on me. Once when I was embroidering, that scene suddenly popped into my head and I felt I really wanted to try my hand at it.
Ajigawa: I was going to decline at first. I'd actually had several people come talk to me about making ceremonial loincloths, but in the last few years of my thirties I wasn't sure how long I could continue competing for and I knew I might not have a chance to wear them, so I turned everyone down.
Kobayashi: This is the first time I'm hearing about this.
Ajigawa: But when Ms. Kobayashi told me it was her dream to make one, I thought, "Well, in that case . . ." Afterwards, though, a lot of my supporters asked me why I'd had one made even though I'd always turned down their offers. Once I explained it was because it was someone's dream, they were understanding.
Kobayashi: Wow, I didn't know that. Thank you. It was a truly wonderful experience for me as well.We gave shape to the ideas that came to us during our discussions freely, like incorporating how "Aminishiki" means "to decorate one's hometown with brocade," or using motifs reminiscent of Aomori Prefecture where he's from, or including squid and salmon, given that his parents worked in the fishing industry.
Ajigawa: I didn't have anything to say about the finer details, telling her to do it this way or that way (laughs).
Kobayashi: Yeah, you really didn't say anything (laughs). I asked all my staff members to join in, given that it was such a rare opportunity, and we finished it over a short and intensive period of just under two weeks. We split the embroidery into multiple parts and divided the work among us. For example, we made the portion for which I wanted to achieve a three-dimensional effect separately and layered it on top after, and since it would be too heavy if we made it with all glass beads, we mixed in sequins as well. If it had been too heavy and were to fall off, it would have been a disaster.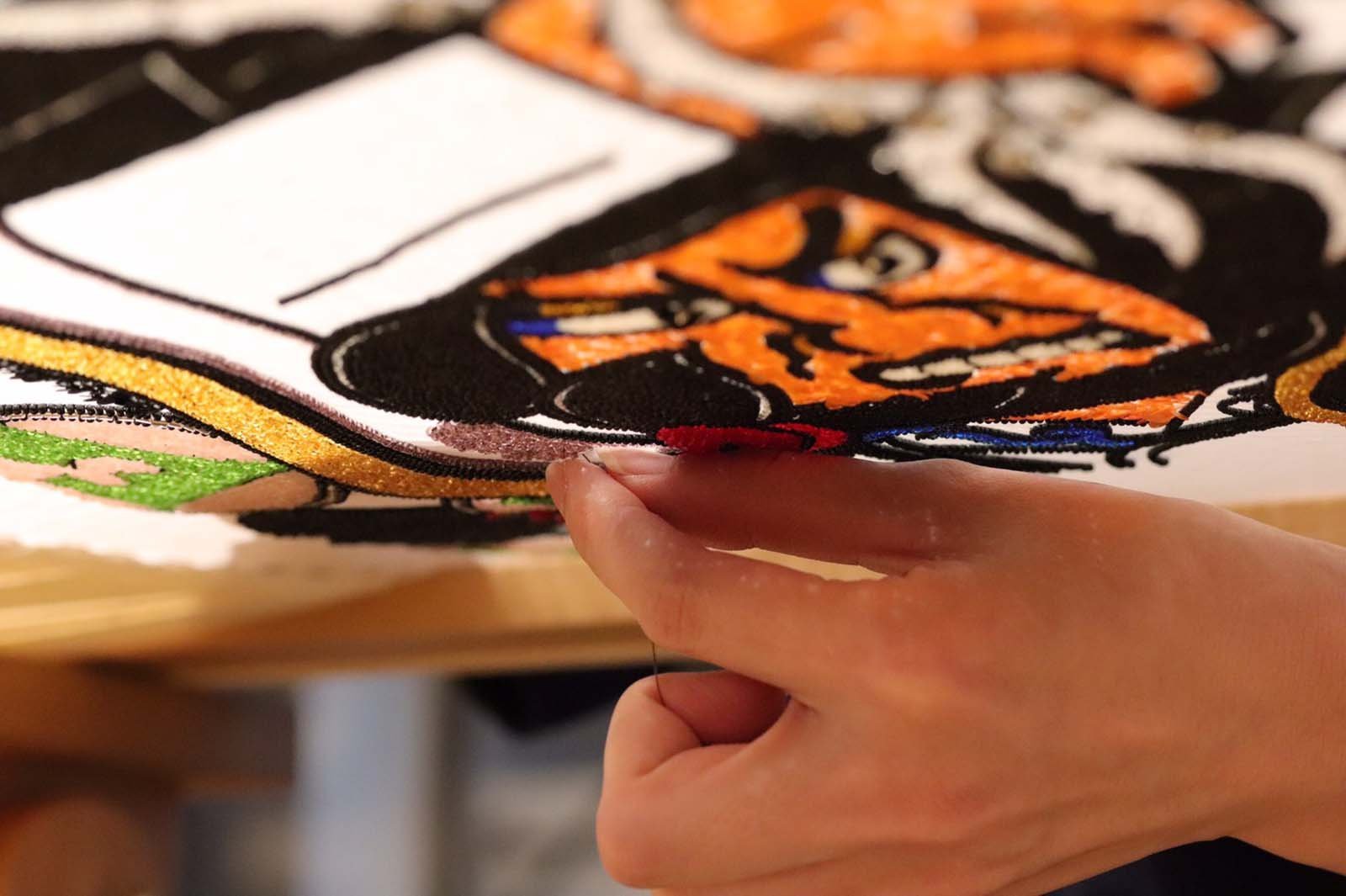 Ajigawa: So that's how it was made. All of the ceremonial loincloths are heavy to begin with, so it didn't bother me at all. It was comfortable to wear. By the way, what inspired you to start haute couture embroidery?
Discovering Haute Couture Embroidery
Kobayashi: I first came across it in 1999 at a leatherworking, featherworking, embroidery, and jewelry-making studio exhibition in Paris. I was still a student at the time, and I was blown away when I first saw embroideries from a studio called Lesage . It was hard to believe that such beautiful work was carried out by human hands. So I got a job, saved up money, and went to Paris to study embroidery techniques at Lesage. I worked in Paris for six years doing embroidery and came back to Japan in 2010. I've been making accessories, doing advertising and design work, and teaching embroidery classes for the past 11 years.
Editor: You currently have a studio in Tokyo. What's your impression of the city?
Kobayashi: Tokyo has a mixture of a lot of different things, from the ultra-modern to the traditional, and it's easily accepting of anything new. It also moves at a different pace. I'm from Kanagawa Prefecture, and if I'd started my embroidery business back in my hometown, I don't think it would have expanded so quickly.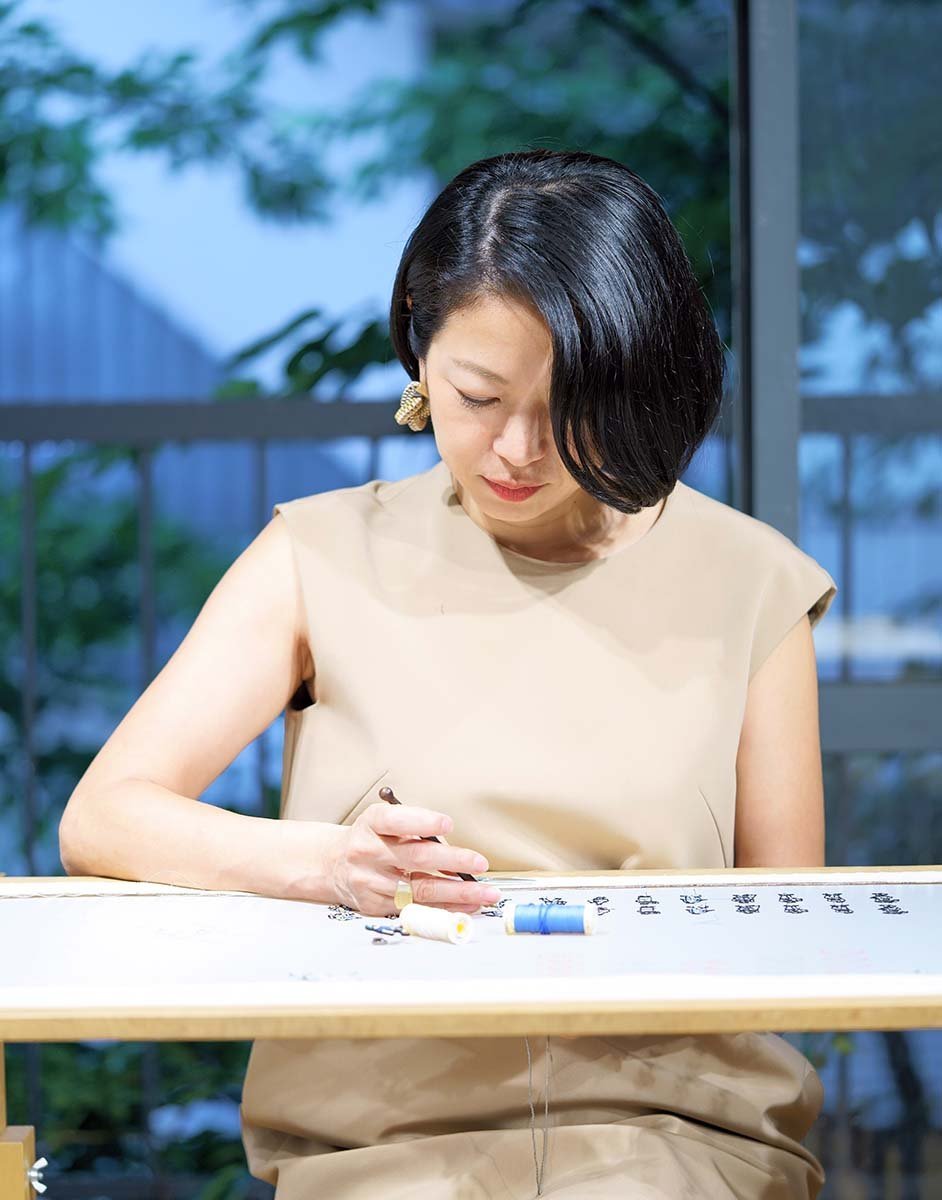 Tokyo, a Place of Connection
Editor: When did you come to Tokyo, Mr. Ajigawa?
Ajigawa: I was born in Aomori Prefecture, where sumo is really popular. I started learning it myself in third grade, and after I graduated from high school, I moved to Tokyo to join what's now the Isegahama stable. I remember being surprised at how bright Tokyo is even at night. And everything is so convenient.
Kobayashi: There's really nothing that's inconvenient, which is amazing. Sometimes I feel like it's almost too convenient.
Ajigawa: I've only recently started to really feel like I'm living in Tokyo. When I was actively competing, I would practice from dawn to dusk. Lately I've been going to see kabuki, visiting museums, and enjoying the city.
Editor: What are your plans moving forward?
Ajigawa: Eventually I'd like to go independent and start a new sumo stable in Ishijima in Koto City where I used to live. I've heard that the number of children taking up sumo has been on the decline recently, so I'd like to help train up promising apprentices and revitalize the sport.
Kobayashi: I'm looking forward to seeing your new sumo stable. I've recently been involved in some community development-type initiatives too in Shibuya's Nishihara shopping district where my studio is located. I think that if everyone were to have the mindset of valuing human connection and history, rather than just focusing on convenience, the future of Tokyo would change.
Ajigawa Ryuji
Born in 1978 in Fukaura Town, Nishitsugaru District, Aomori Prefecture. Also known as the former sekiwake-ranked sumo wrestler Aminishiki, he joined, what is now, the Isegahama stable in 1997. Ajigawa specialized in pushing with a migi-yotsu right-hand underarm grip and the dashi-nage technique of throwing his opponent out without close bodily contact. His achievements include: holding the highest rank of east sekiwake, winning sansho awards 12 times, and holding the sekitori ranking in one of the top two professional divisions for 117 tournaments (the highest number of all time). He currently teaches the next generation as toshiyori sumo elder Ajigawa. His topknot-cutting ceremony, which was postponed twice due to COVID-19, will be held on May 29 at Ryogoku Kokugikan.
Kobayashi Moko
Born in 1977 in Chigasaki City, Kanagawa Prefecture. She became fascinated with haute couture embroidery while a student at Bunka Fashion College, and after working for a clothing manufacturer moved to France in 2004. She went on to study at the haute couture embroidery studio Lesage in Paris where she received her diploma. She then continued working in Paris before returning to Japan in 2010 where she established her studio, "maison des perles ." She continues to work as an embroidery artist across a variety of fields, making embroidered accessories, creating embroidered ads and designs, and running embroidery classes.
Interview and writing by Kumano Yuka
Photos courtesy of Ajigawa Ryuji, maison des perles
Translation by Amitt