The Secret to This Tokyo Craft Cola's Great Taste? Traditional Japanese Medicine
Craft cola is booming, with businesses of all sizes, from small breweries to major manufacturers, entering the market in Japan. With a focus on "handmade artisanal products," Tokyo brand Iyoshi Cola has been attracting global attention as a pioneer of craft colas.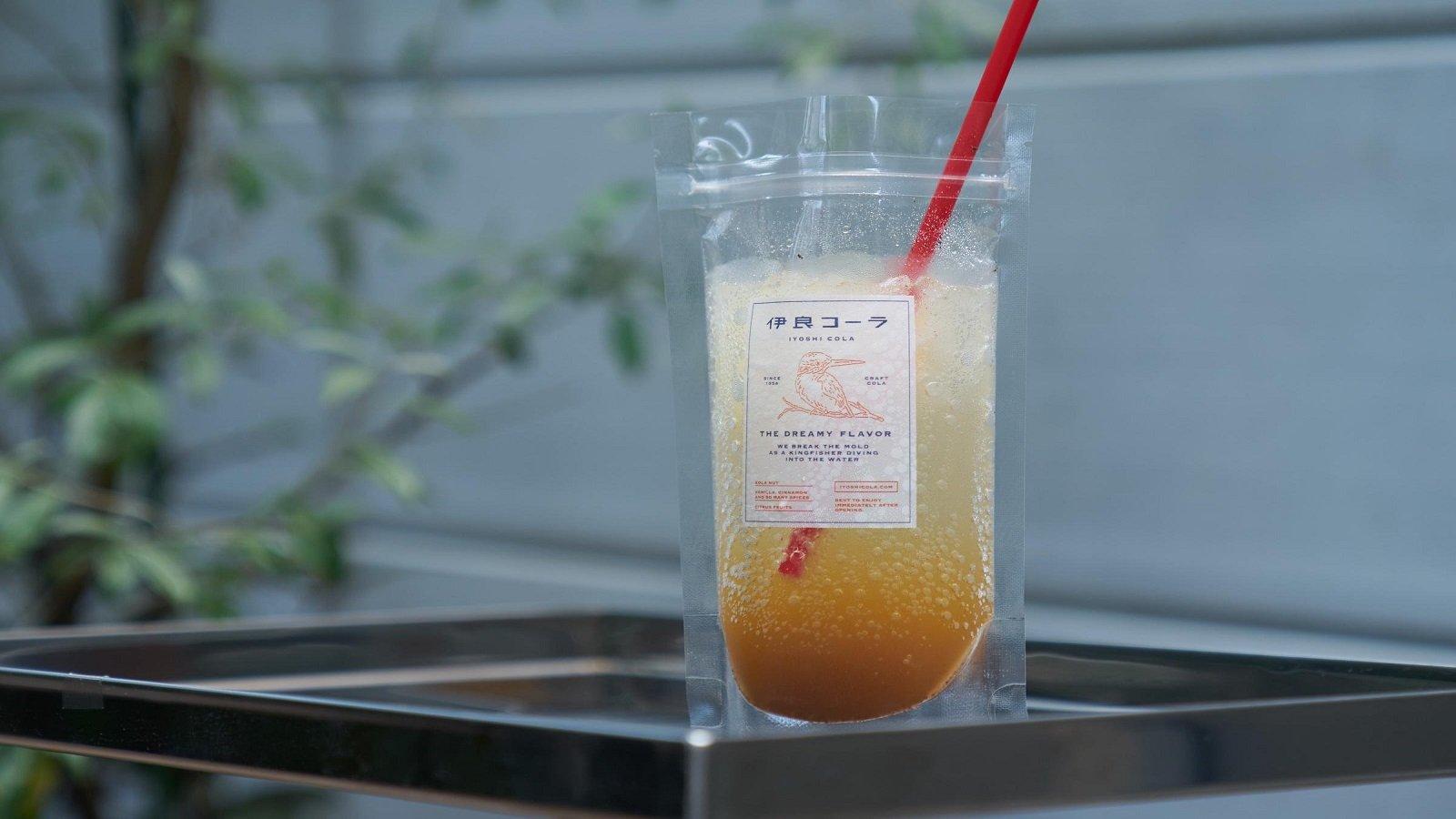 Sweet and Zesty Iyoshi Cola Winning Fans Across the Globe
Iyoshi Cola is an original craft cola developed by Kobayashi Kola. Founded in 2018, the brand's main location is found in Tokyo's Shimo-Ochiai district in Shinjuku City, with a roadside shop set up in Shibuya as well.
Attached to the factory where the cola is created, the flagship Shimo-Ochiai store looks like a research lab lined with tools and spices. The moment you enter the shop, the spices' sweet and fragrant aromas tickle your nose. Here, Iyoshi Cola is served in a pouch; when soda water is poured into the pouch over freshly made syrup it is ready to enjoy. The first sip leaves you pleasantly surprised at not just how refreshing the citrusy carbonated liquid tastes going down, but by the coffee and whisky-like aroma that lingers on the palate. It will completely transform your perception of what cola can be.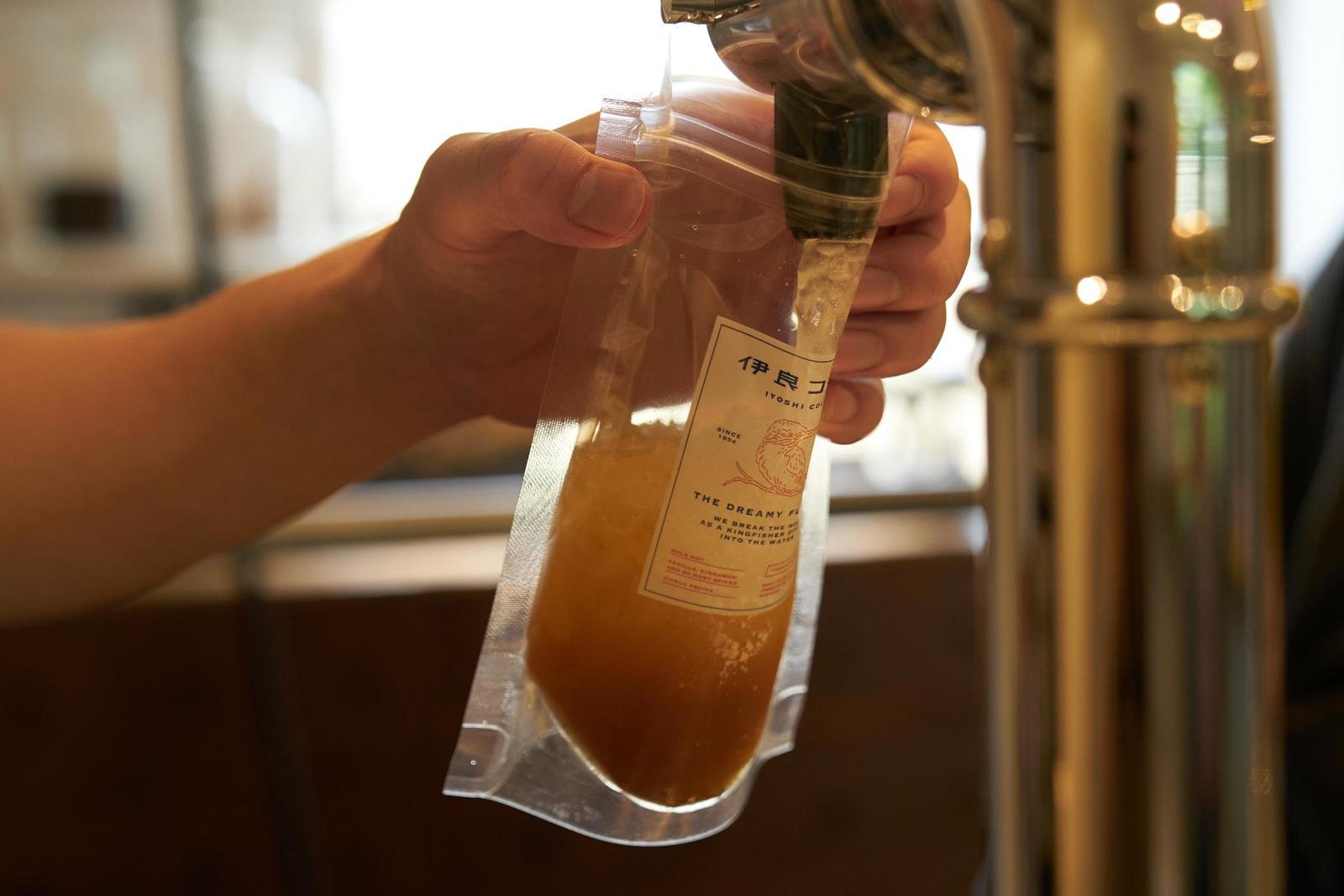 The clear pouch lets you see the soda bubbles burst and the grains of spices sink as you savor the flavor, aroma and all. This craft cola is a pure delicacy meant to be enjoyed using all five senses, and it is no wonder that there are enthusiasts who come all the way from overseas for this one-of-a-kind experience. Iyoshi Cola even sells its product wholesale to distributors in the UK and other countries.
Bringing His Grandfather's Wisdom to a 100-Year-Old Recipe
Iyoshi Cola's signature taste comes from "the mix of spices and the preparation process," Kobayashi says. Cola is a type of drink that was originally made using extract from the kola nut, the seed of kola trees native to West Africa. Many cola products nowadays, however, do not use kola nut extract. Iyoshi Cola is a blend of more than ten different types of spices and citrus fruits, including kola nuts, vanilla, cinnamon, cloves, nutmeg, and cardamom. So how did the recipe come about?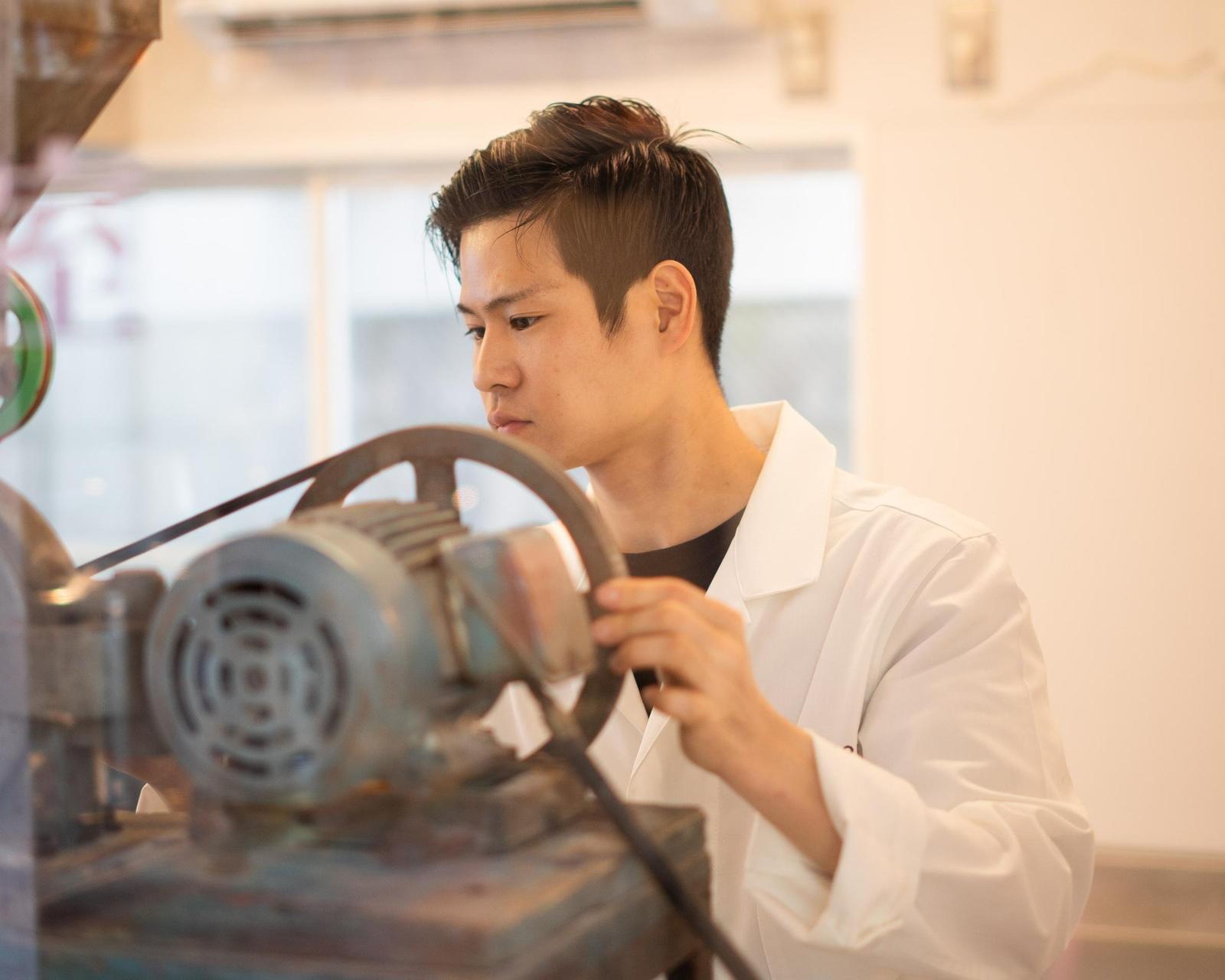 Kobayashi was traveling across the globe trying all kinds of different colas when he developed the dream of "creating the ultimate cola that would leave people speechless." He started making cola in the kitchen of his studio apartment based on a recipe that was over 100 years old.
While it was good, it was lacking the "wow" factor. After two and a half years without finding his definitive flavor, the final piece of the puzzle fell into place. Kobayashi's grandfather had run a traditional Japanese medicine factory, and when he was looking around at the tools and materials left behind, he realized he could apply his grandfather's wisdom to cola-making. After that epiphany, he changed up his production process, and the resulting flavor had his friends who tasted it asking how much he would sell it to them for. His signature taste was now complete.
Eastern Thought at Cola's Roots
"Dr. John S. Pemberton, the pharmacist who invented cola studied at a school of herbal medicine in the American South. Most people think of cola as a Western drink, but I think the ideas behind herbal medicine and Eastern thought are at the root of cola's taste," says Kobayashi. Dr. Pemberton's original aim was to create a medicinal drink that would invigorate people, and that brew became the prototype of the cola we know today.
Kobayashi also values the ideas behind traditional Japanese herbal medicine, which he grew familiar with watching and taking in the scents of his grandfather's work as a child. He named his brand "Iyoshi Cola" after his grandfather's traditional Japanese medicine factory, Iyoshi Yakko. He even inscribed 1954 on his cola's label, the year his grandfather's factory opened.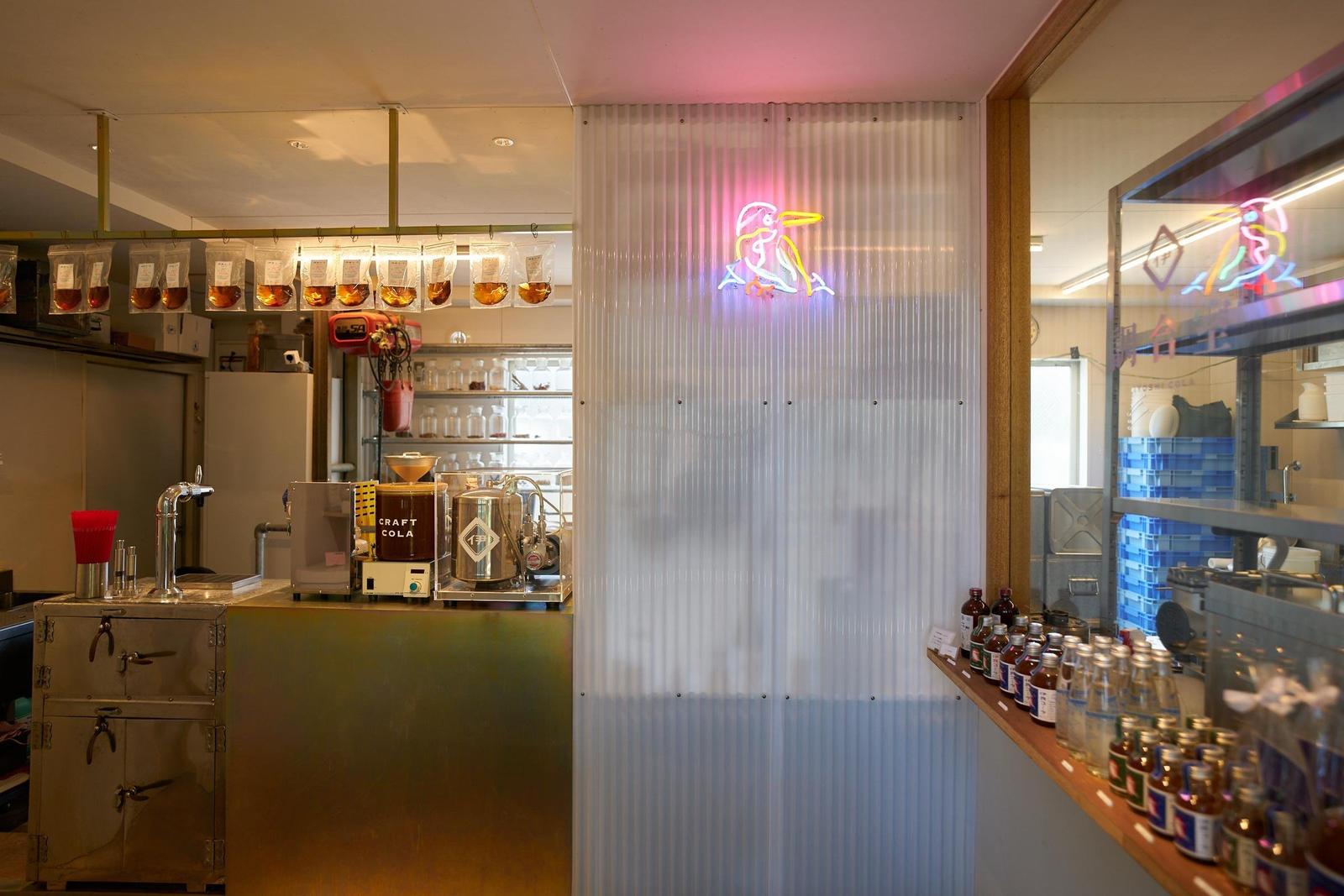 A Tokyo-Based Brand Representing the Flavors of Japan
While Kobayashi remains committed to making cola that is based in Eastern thought and medicine, he also has a keen desire to firmly establish Iyoshi Cola's Tokyo-based roots. "There aren't a lot of brands out there born and raised in Tokyo. I was able to perfect my craft cola by drawing on my grandfather's traditional Japanese medicine-formulation techniques from two generations ago. I'd like to keep this legacy going and leave behind a uniquely Tokyo-made drink for the next generation," Kobayashi says.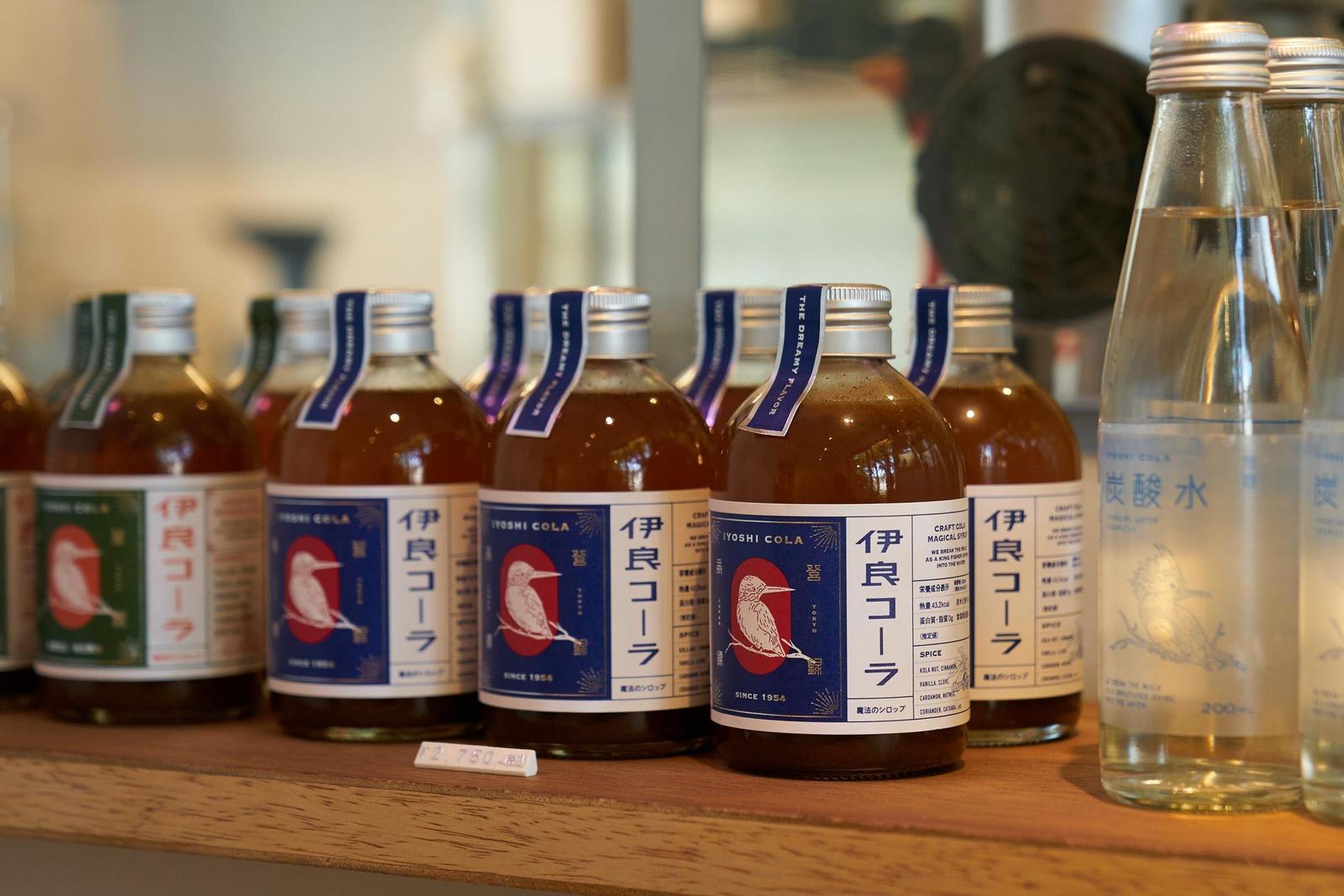 Kobayashi's dream is for his drinks to be loved and enjoyed by so many people around the world that Iyoshi becomes a household name alongside the likes of Coke and Pepsi. He is also trying his hand at making a new type of craft cola using Japanese ingredients under the banner "Drink Japan." His craft colas will act as a storyteller, sharing the flavors of Tokyo and Japan with the world.
Interview and Writing by Tauchi Shoko
Photos by Emori Yasuyuki
Translation by Amitt