Communicating the Charm of Taiko Drums Through Both Monozukuri* and Kotozukuri* Ways of Making Things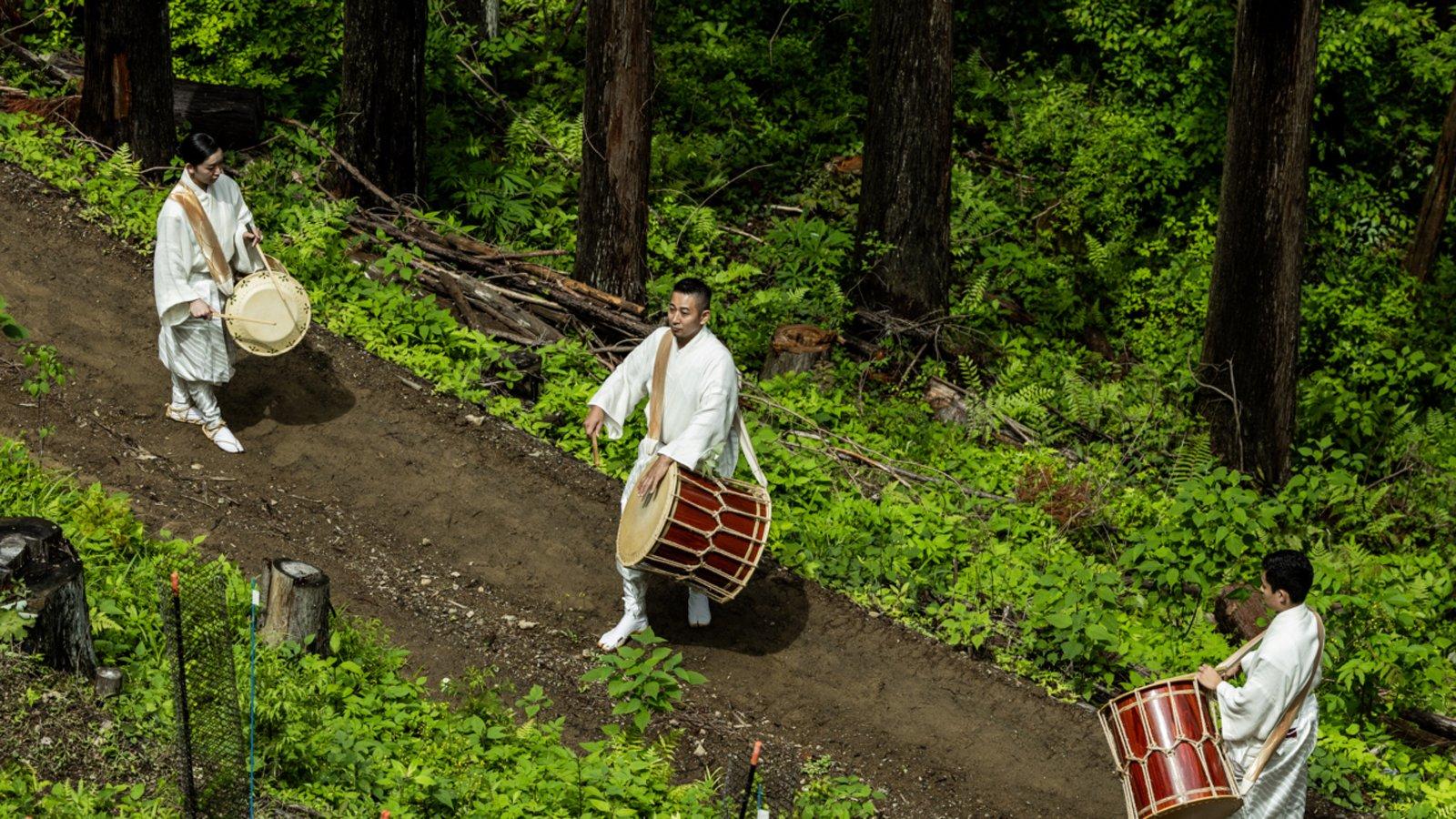 "In order to keep passing on the traditional Japanese culture of taiko drums, I believe it's not only important to carry out monozukuri*, but also kotozukuri*"
The president of the long-standing store Miyamoto Unosuke Shoten, Yoshihiko Yoshimoto, who works in manufacturing portable shrines, Noh theater, and gagaku instruments, states just this. The monozukuri and kotozukuri hybrid project, "Mori wo Tsukuru Taiko" (Lit. Taiko Drums that Create the Forest), gives tangible form to these thoughts. Going back to the roots of taiko drums, which were nurtured as Japanese people lived as one with nature, he uses the Japanese cedar of the forests of Hinohara Village, Tokyo Prefecture to create taiko drums. In May 2022, a concert was also held in that same forest.
The performance on the day began with seeing trees being cut down close by. Mr. Miyamoto comments, saying "A tree ends its life and turns into an instrument, it returns to where it began its life and plays a tune, thus creating a full cycle. I wanted people to enjoy a real-life experience". The participants listened to the deep divine sound of the trees of the forest calling to each other with each sound of the taiko drums. In addition to the concert, there were many events held while listening to stories about the forest, such as walking activities, spoon-making, and a workshop to play the taiko drums. This kind of multifaceted experience was organized with the hope of giving people the chance to get back in touch with the behaviors of nature and humans.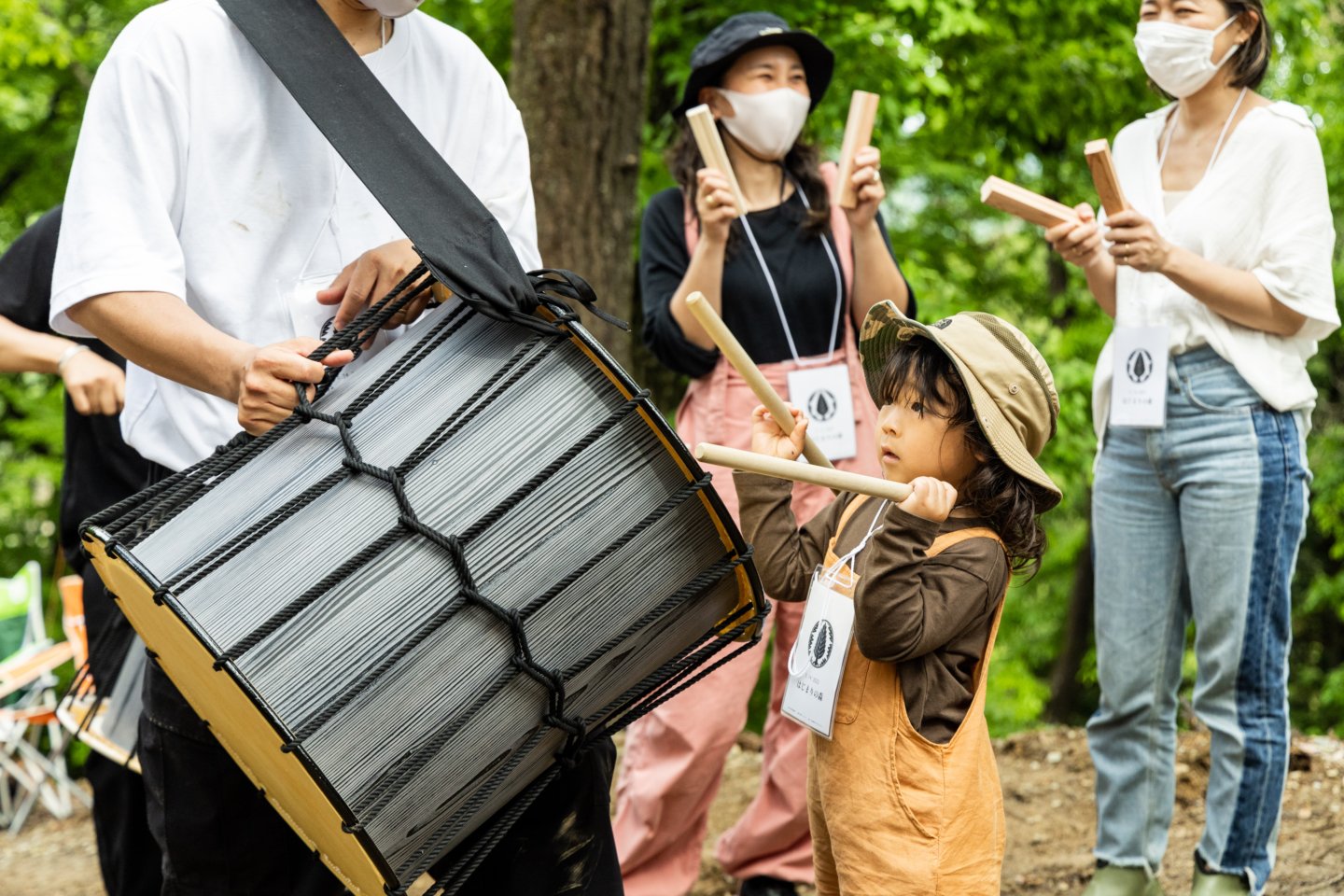 There are a variety of performances being held on a number of stages born from the idea that it is important to create a sense of yearning as part of kotozukuri. One of such events, Waraku Soden, is a project that features joint performances from performers who play a diverse range of Japanese instruments, such as Japanese taiko drums, shamisen, flute, and koto. In 2021, a cooperative event was held at Shibuya's Orchard Hall together with a long-standing costume store in Kyoto and was met with a favorable reception. It featured a combination of Japanese instruments, costumes, and contemporary dance. In September 2022, there will be a new event held at Asakusa Public Hall. "Taiko Drums that Create the Forest" will also be used a lot, with workshops set to open for the audience to participate in.
"At the Forest Concert, the sight of children freely enjoying the event left a strong impression. We would like to hold events for parents and children and plan more for the next generation to gain interest in this field. It would be great it we could organize things at city halls where everyone could participate, too. I would love to create events where the stage and audience are one and everyone can enjoy the performances, having traditional arts treated as something that is still living and interactive".
*Monozukuri refers to the act of creating with an emphasis on creating something better
*Kotozukuri refers to the act of creating with an emphasis of adding values and features with the demands of the customer in mind