A Tokyo-Based Regenerative Distillery Giving New Life to "Waste" in the Form of Gin
A new wave comes from the east of Tokyo. Natural wine and craft beer, once the hot new thing, have now become relatively commonplace. Nowadays, the darling of the Japanese alcohol industry is craft gin.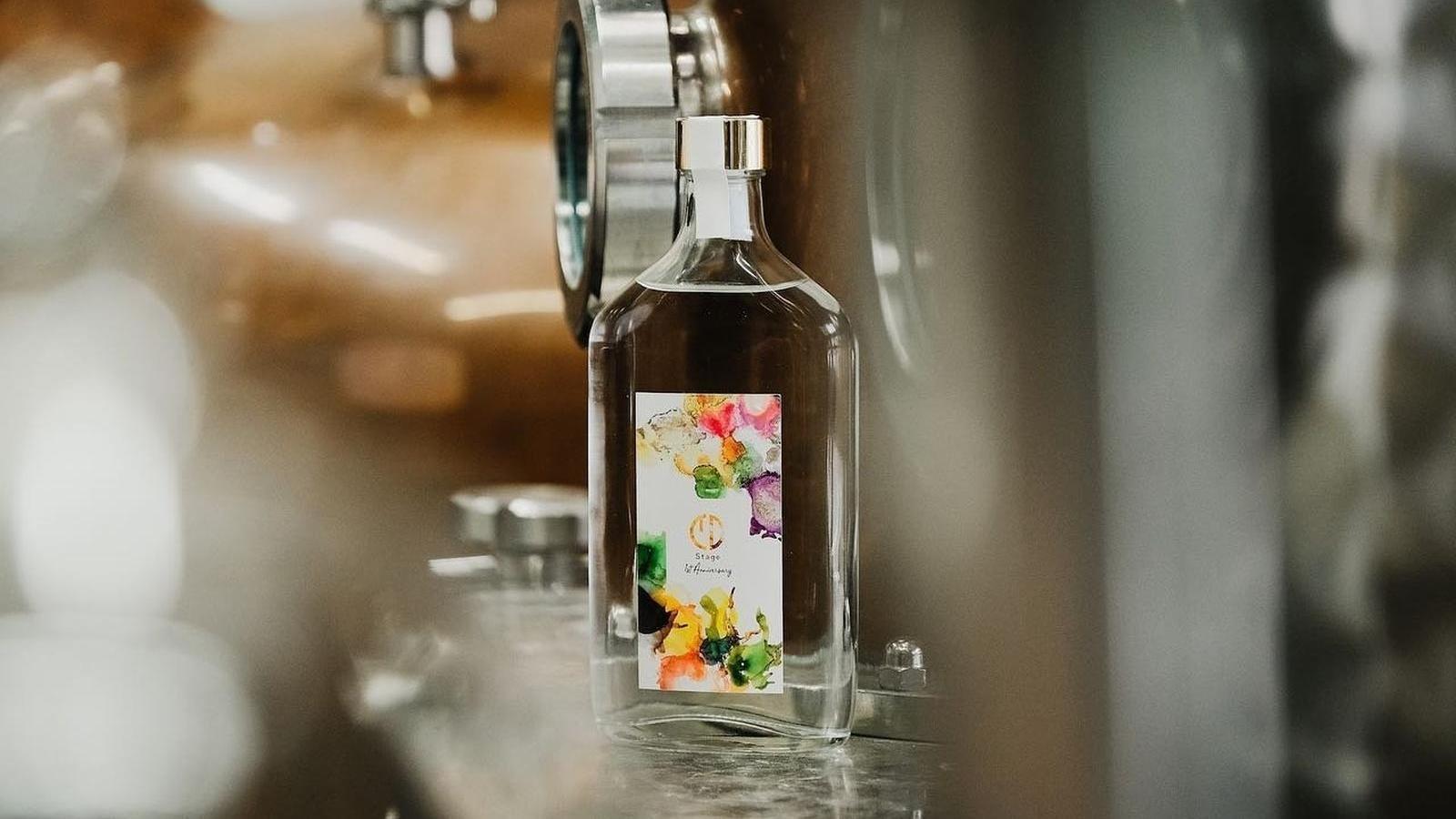 The Ethical Spirits & Co. was established in the midst of the COVID-19 pandemic in Kuramae. Producing craft gin made with ingredients that would otherwise be thrown out, they run a regenerative distillery. The town of Kuramae had until just recently been known mainly as a sanctuary for sumo wrestlers, famous for its Ryogoku Kokugikan Sumo Arena and chanko hot pot (a one-pot dish with large chunks of meat and fish, commonly eaten by sumo wrestlers). After all, the town even boasts an underground yakitori (grilled chicken skewers)  factory. Yet, nowadays, it is starting to look more like Brooklyn.
Before COVID hit, the Fujimaru Wine Shop—originally from Osaka—had set up shop in Tokyo's east side, in Kiyosumi-Shirakawa. And it was this same area that the most famous of the third-wave coffee brands, Blue Bottle Coffee, had chosen for their very first store in Japan.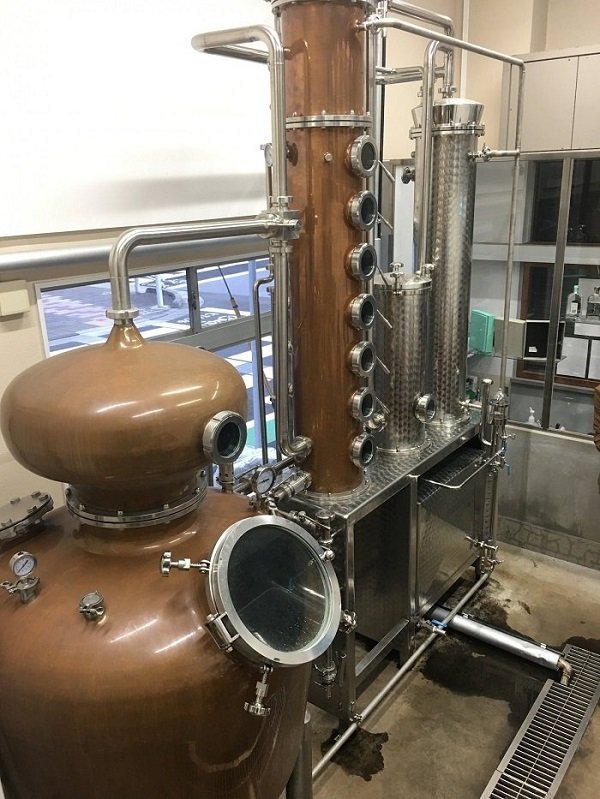 The company produces many types of Japanese craft gin that have been very well-received, not just in Japan but also abroad. Their gin is made from ingredients like sake kasu (sake lees), cacao bean husks, and beer that has been "wasted" due to COVID, that would otherwise be thrown out.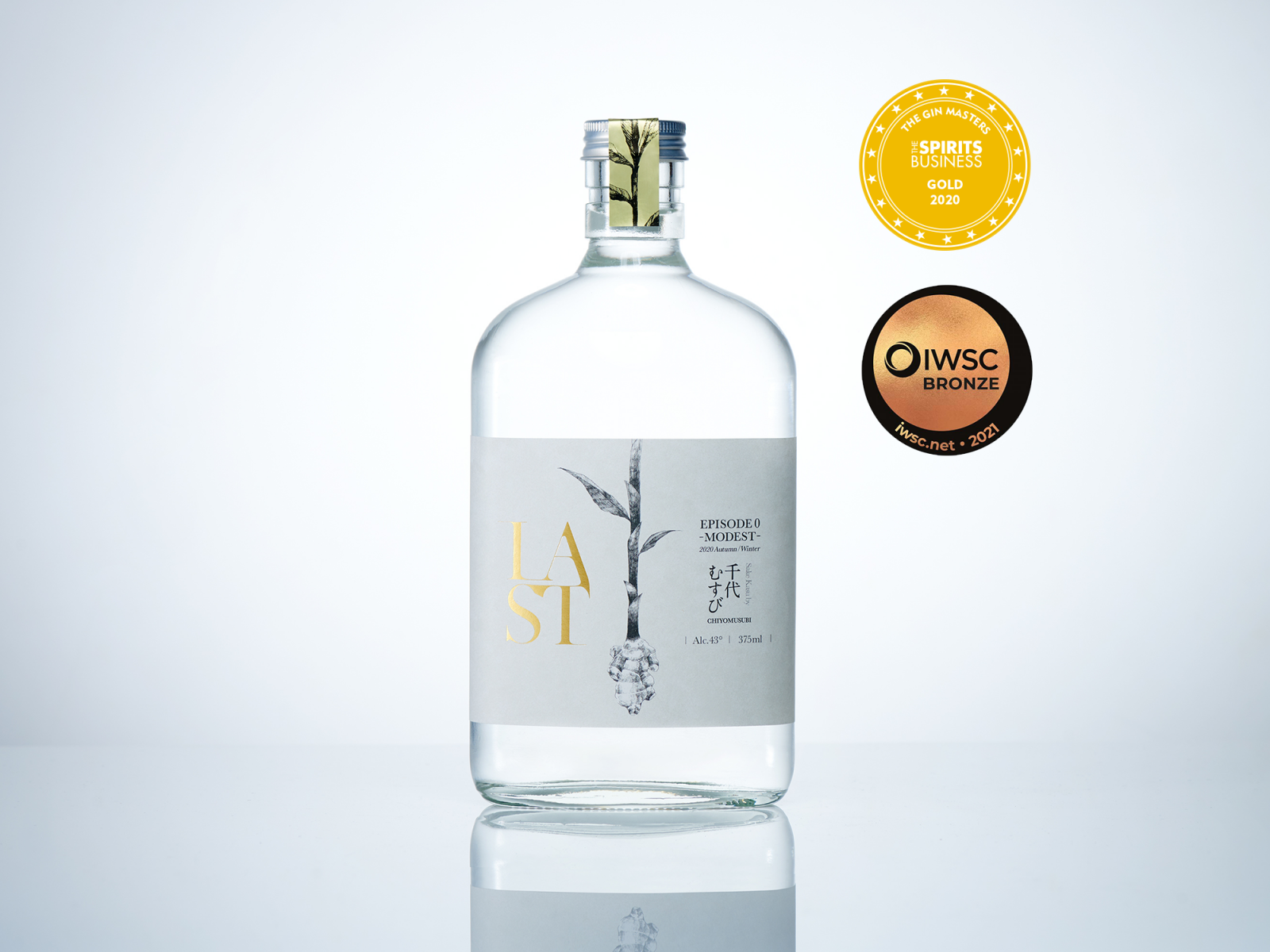 The Tokyo Riverside Distillery by The Ethical Spirits & Co. is located a three-minute walk away from Kuramae Station. The facility is comprised of a shop that sells their original craft gins, with the distillery itself located further beyond it.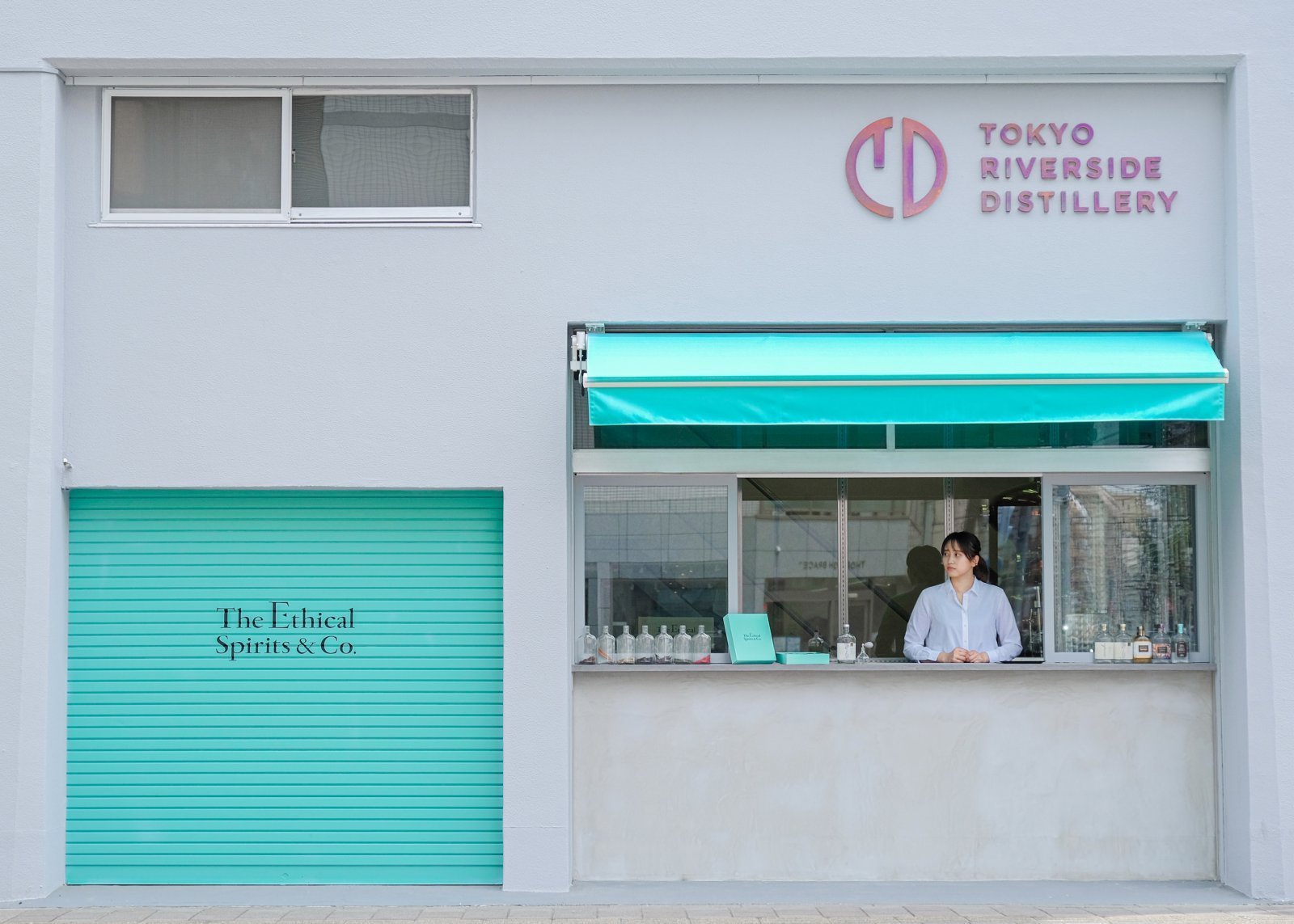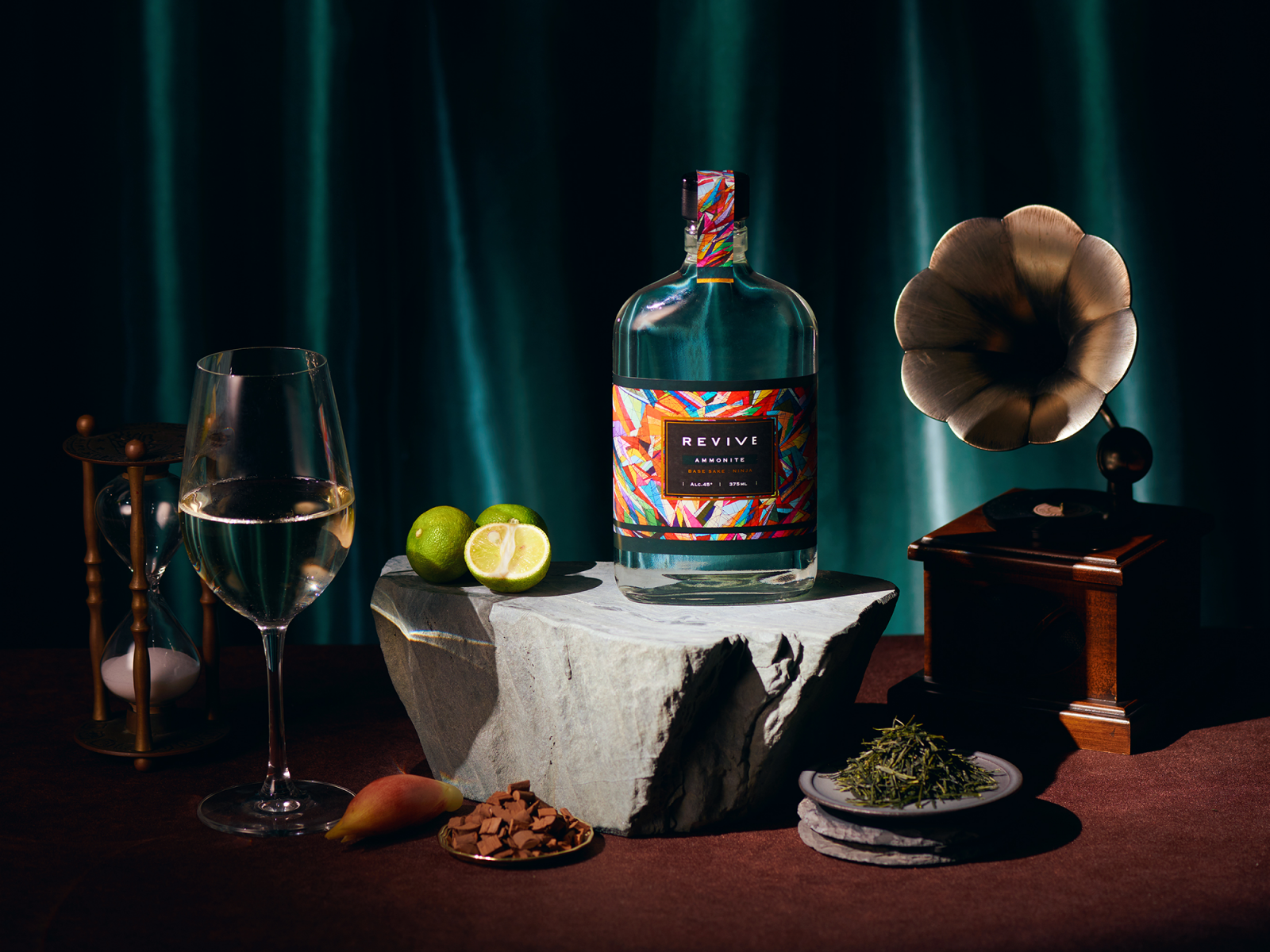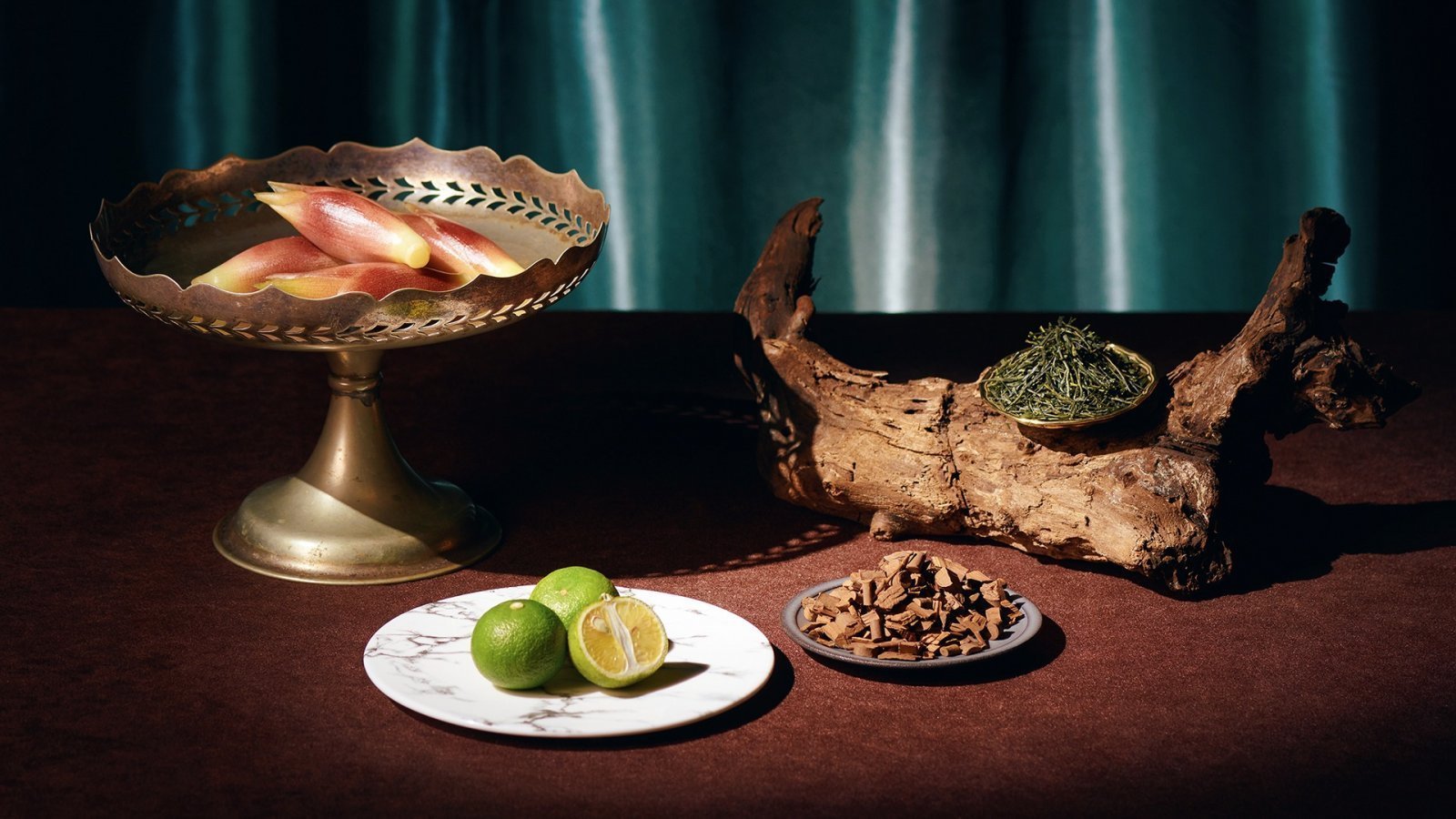 The company's journey in ethical craft gin began with "LAST." The gin is made with sake kasu from Chiyomusubi, a sake brewery in Tottori Prefecture that has been in business since the Keio Era (1865-1868). "LAST" is more than just a regenerative gin, however.
They are engaged in the world's very first recycling-based "ethical gin project." The process is as follows. In order to produce and sell their craft gin, the company re-distills the sake lees produced at the very end of the Japanese sake brewing process. The profit they make from this craft gin is used to provide the sake brewery with brewer's rice, which the brewery then uses to produce more Japanese sake.
The Ethical Spirits & Co. went on to try numerous different ingredients in their gin-making journey.
The relatively loose definition of gin gives distilleries a high level of freedom when compared to other spirits. The only requirements are that its aroma be based on juniper berries, and that the alcohol percentage when bottled be 37.5% or higher. Gin can also be made without the kind of fermentation period required for something like wine. This means that there is immense potential for the creation of new, high-quality gins—as long as people know what materials to select and the plants and herbs to add.
"REVIVE from NINJA" is a Japanese tea-style gin characterized by the sweet aroma of kobokucha tea. The distinct aromas of Japanese ginger, sudachi citrus, and sencha green tea are enveloped in chamomile and the sweet aroma of the kobokucha tea. The striking label was made in collaboration with Heralbony, a company that aims to produce new culture through welfare, under the catch phrase, "Let Out Your Exceptionality."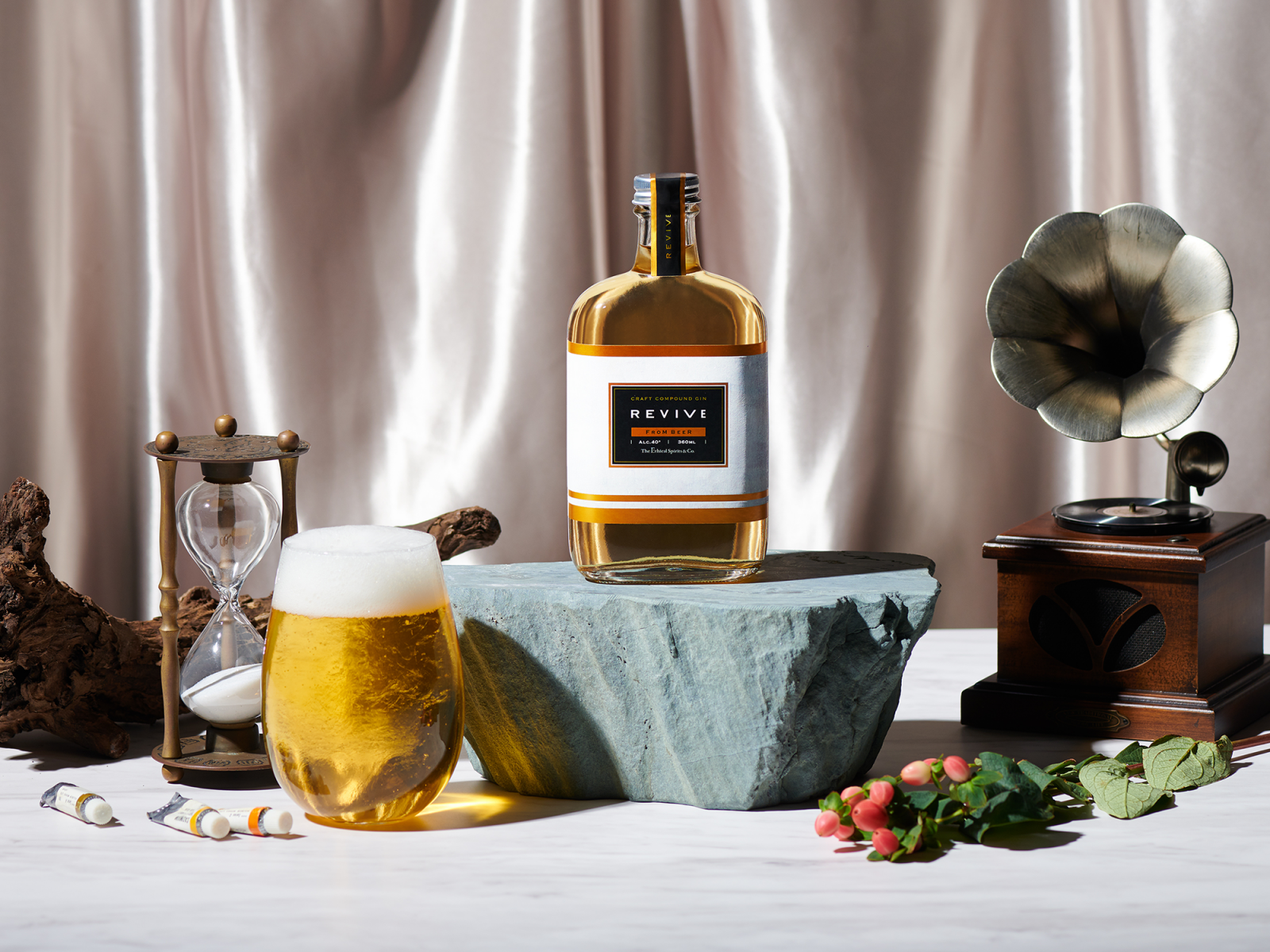 "REVIVE from BEER" is a craft gin made from beer that would otherwise have been thrown out in huge quantities during the COVID-19 pandemic. They distilled the Budweiser beer to produce the base of unblended gin, infused it with beech tree chips, and added beer. Throughout the process, they made sure to respect the manufacturing methods and background of the Budweiser beer itself. Afterwards, they added juniper berries, hops, and lemon peels before putting the mixture through another distillation, and the transformation was complete—the beer that had been so close to being thrown out finding new life as a craft gin.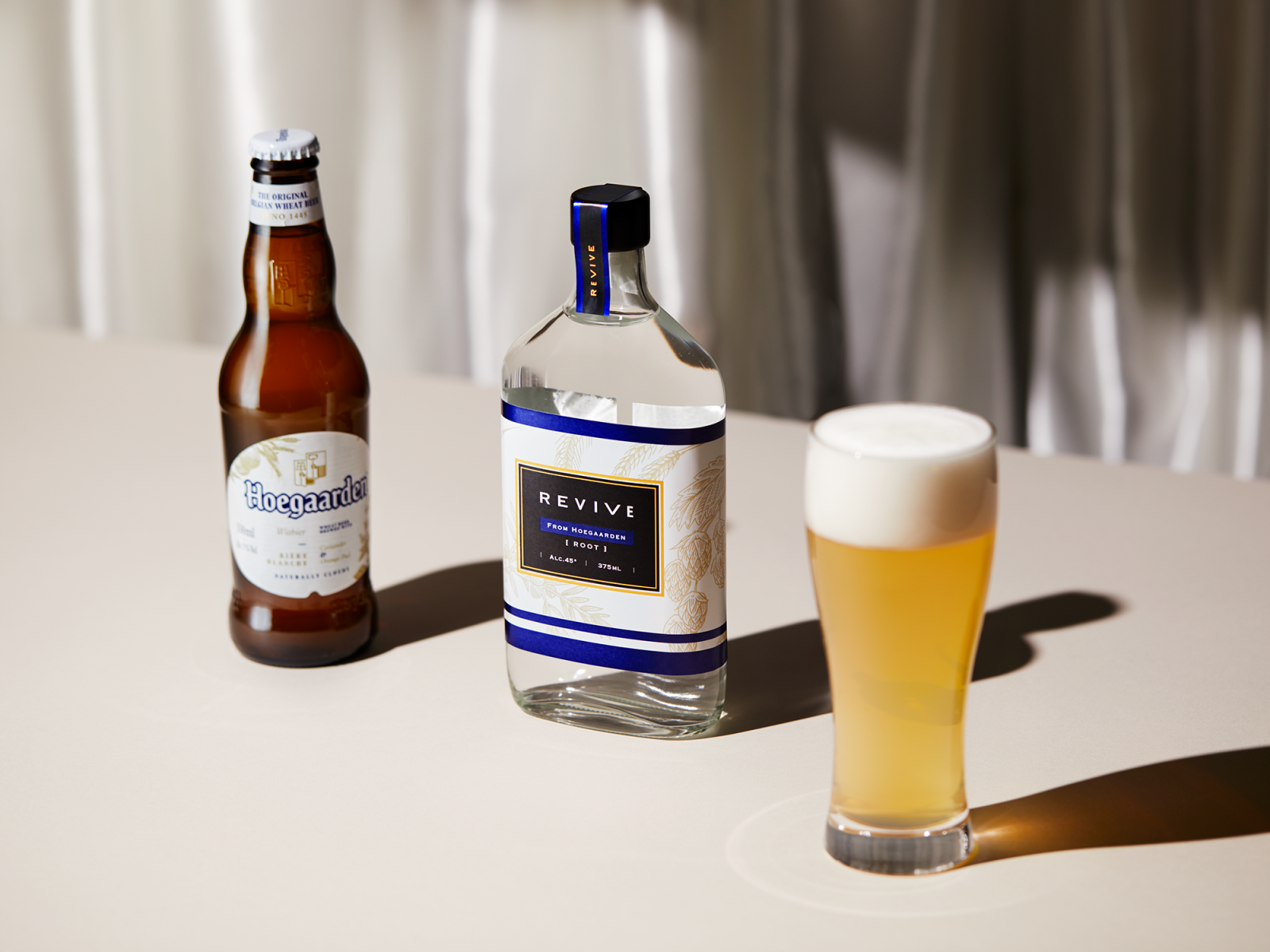 The recycling of Budweiser into craft gin netted the "REVIVE" series a surge of attention. The Ethical Spirits & Co. then announced two more types of craft gins—"REVIVE from Hoegaarden <Root>" and "REVIVE from IPA <Disrupt>." The former was to be made with Hoegaarden, the iconic white beer from Belgium, and the latter with a Chicago-based IPA that was one of the pioneers of American craft beer.
The approximately 60,000 liters of excess beer, which were at risk of being thrown out by the summer of 2021 due to COVID, were brought back to life in the form of over 15,000 bottles of craft gin.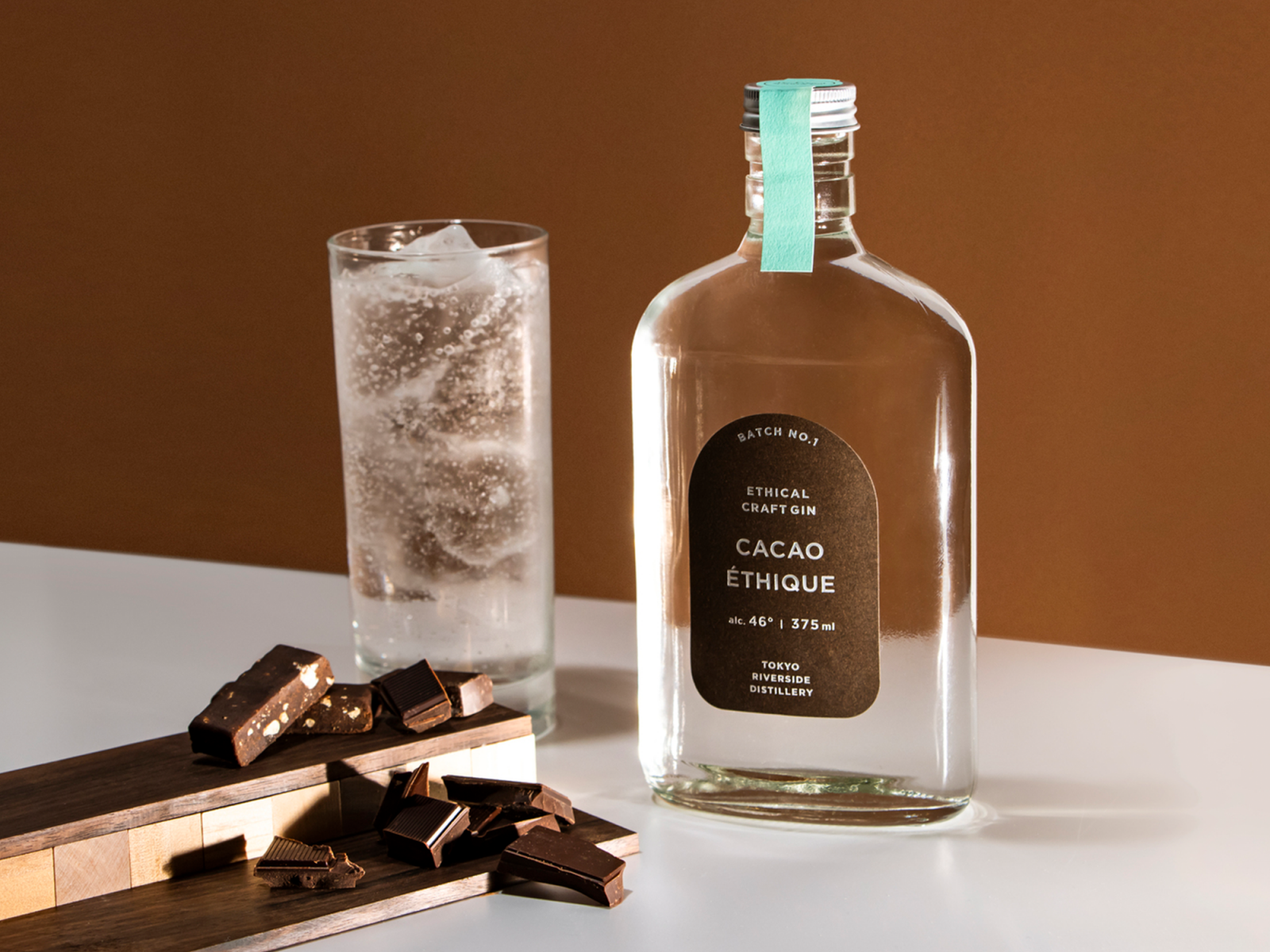 CACAO ÉTHIQUE is made with a base of "Hiraizumi Ginjo Kasutori Shochu," a locally brewed Akita Prefecture shochu made with sake lees, as well as cacao bean husks from the specialty cacao brand, Whosecacao. The cacao shells removed from these high-quality cacao beans in the chocolate-making process are distilled into the gin, giving it an exquisite cacao aroma.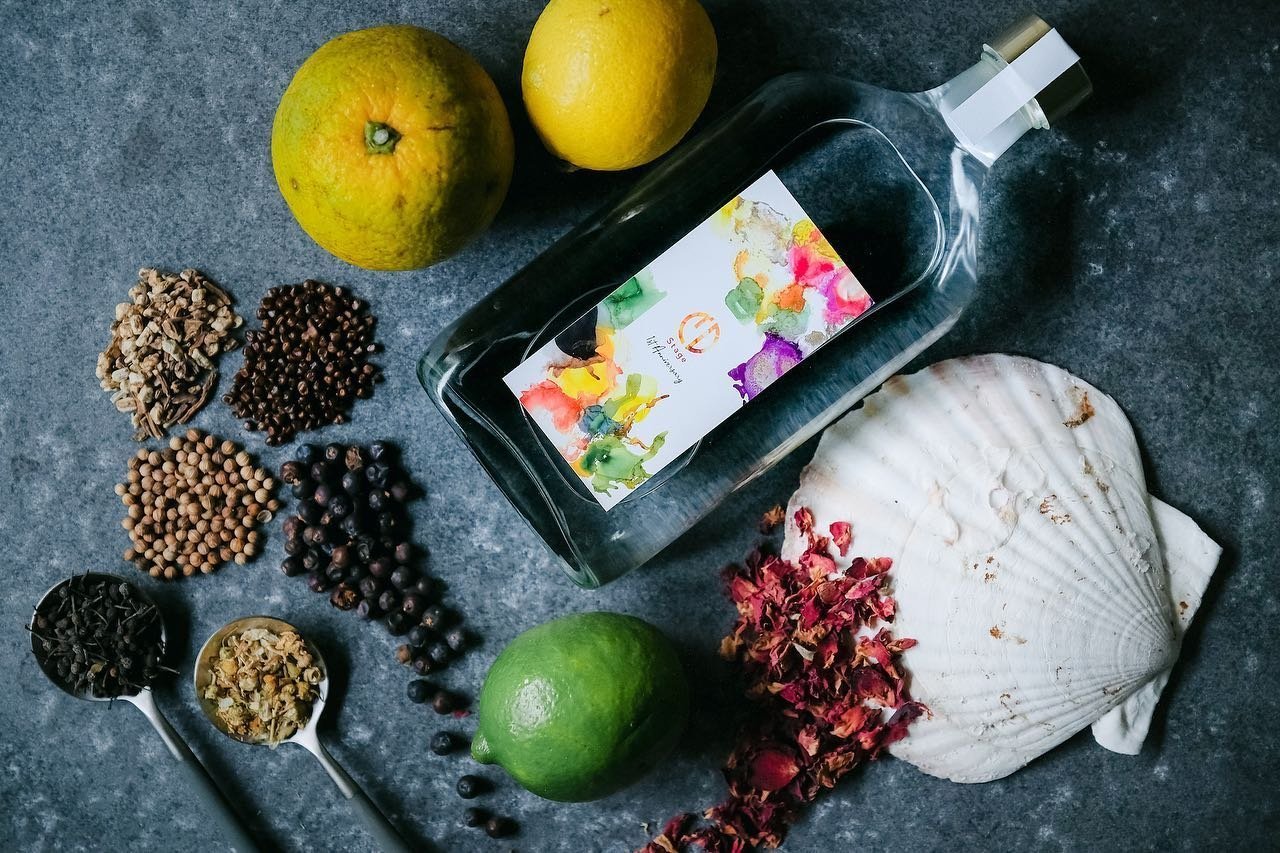 Following their foray into ingredients like sake lees, beer, and cacao husks, they released a special gin called "Stage GIN," to commemorate the one-year anniversary of their bistro, Stage by The Ethical Spirits & Co. The gin was only available at the second-floor bar & dining and stage areas of the bistro, which is located next to their distillery.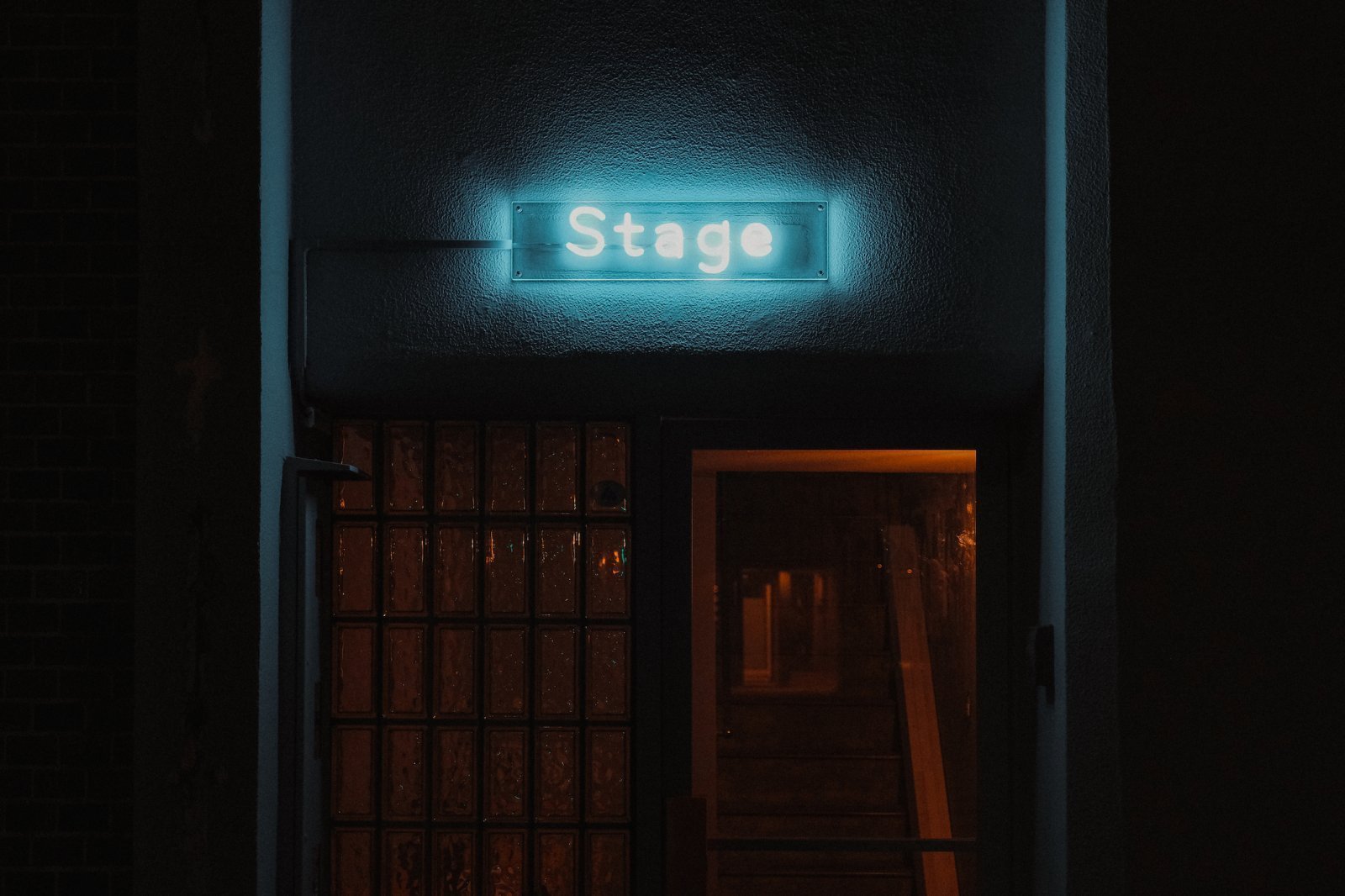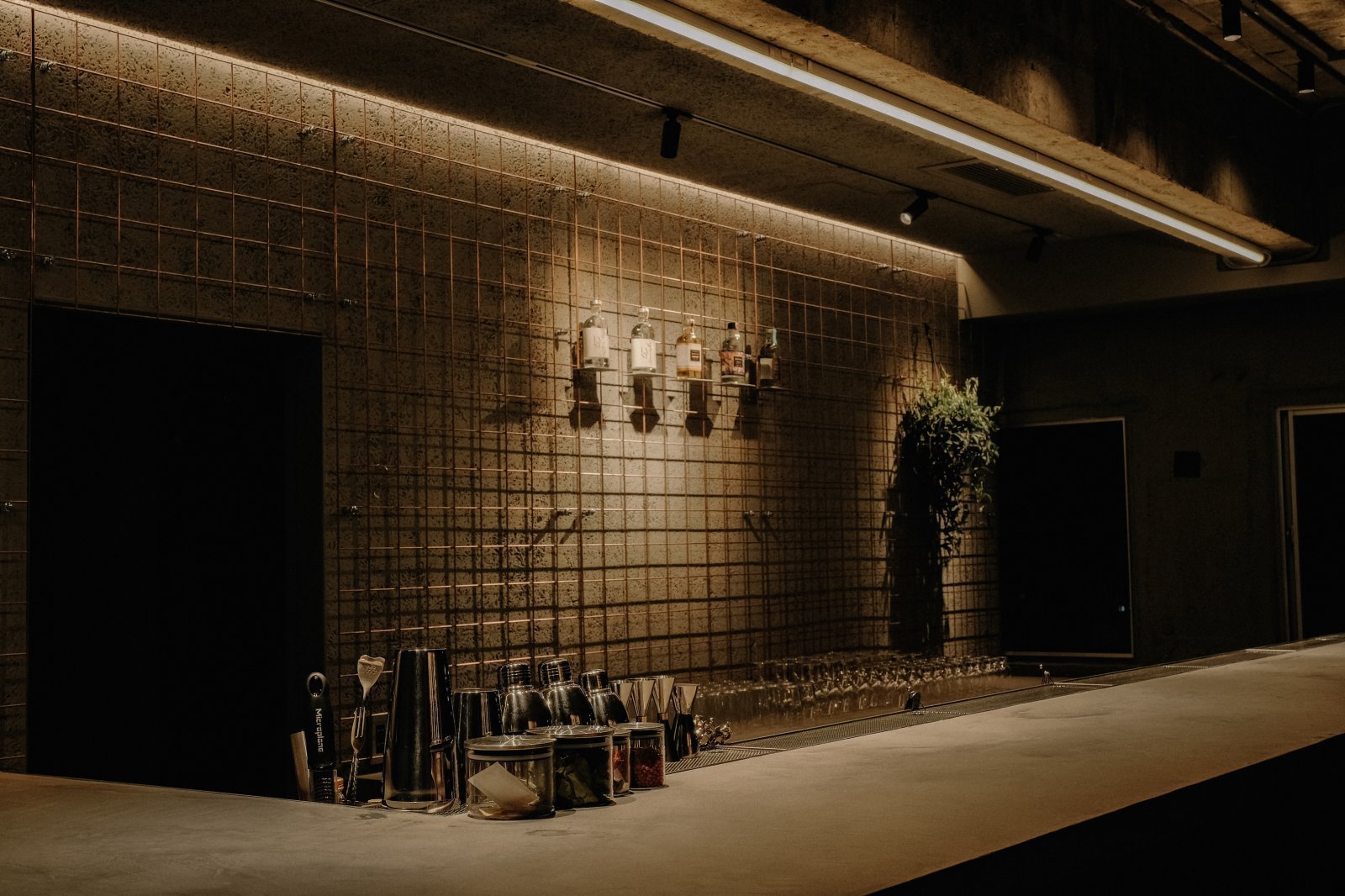 "Stage GIN" is the culmination of everything that the bartenders and chefs at Stage thought and felt in their everyday work as they spoke to customers about gin. In fact, the project had begun out of a wish—on the bistro's one-year anniversary—to make a gin that would be an expression of Stage itself.
In the course of developing the gin, they also sought advice from Yamaguchi Ayumu, who is in charge of the distilling process at the company. The final product was a new type of craft gin that was different from what people might expect from them—but in a good way.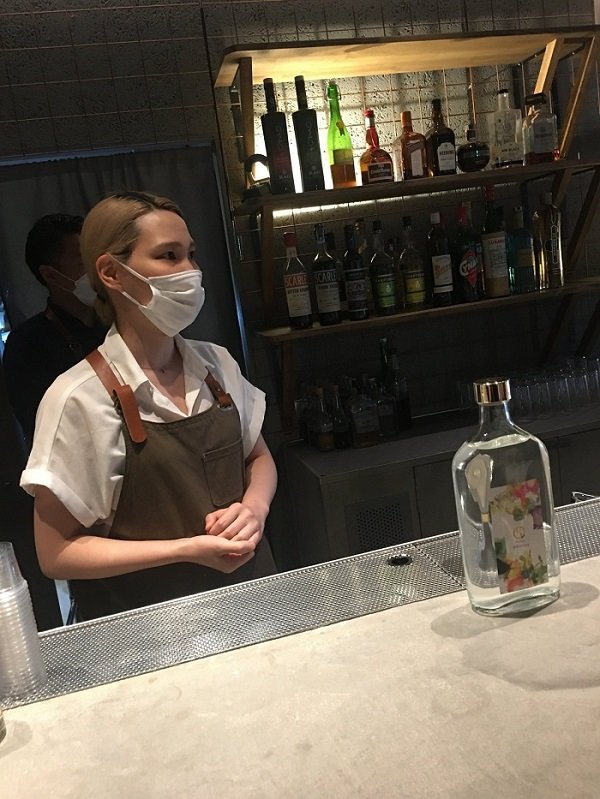 The gin that they had wanted to make was one that would complement meals, and that would go well in classic cocktails. This was an opinion shared by all of the bartenders and chefs who worked at Stage. The result was a gin in the London dry style that had not yet been seen in the realm of ethical spirits.
With its very dry and crisp flavor, the gin goes perfectly in cocktails like gin and tonics and martinis, and serves as an exquisite complement to a wide variety of dishes.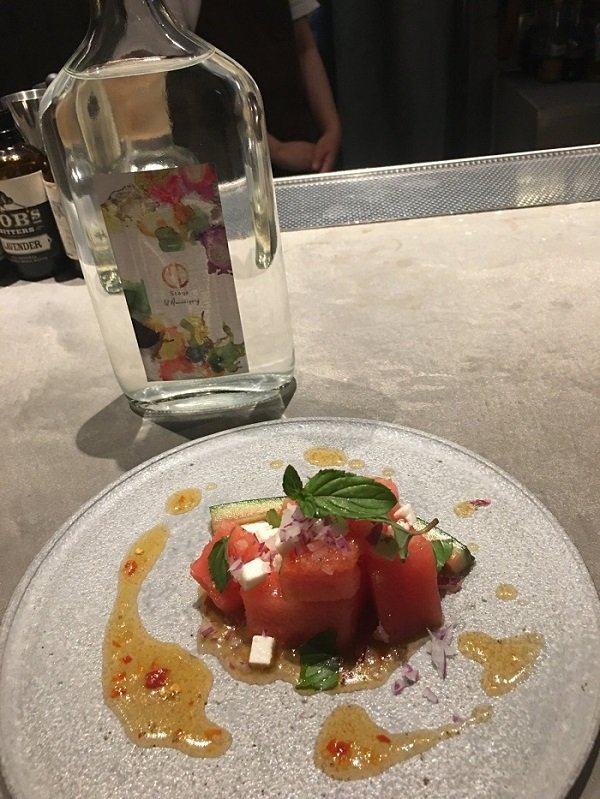 The gin is made with a base comprised of a neutral spirit from Ibaraki Prefecture and a kasutori shochu (shochu made with sake lees) by Amabuki Shuzo in Saga Prefecture. The plants and herbs used include juniper berries, Japan-grown Valencia oranges, lemons, and limes, and aromatic spices such as grains of paradise and angelica root.
The Valencia oranges used are from Zenbee Farm in Wakayama Prefecture that could not be shipped out due to cuts or bruising. This sort of superficial damage, of course, does not affect the flavor, which remains delicious. The lemon and lime peels are leftovers from Stage's regular operations. And then there are the shells from the "Swimming Scallops" brand of scallops by Yamakiichi Shoten, so called because they are so fresh people might expect them to start swimming. These shells, which are normally thrown out, are used in the gin as well.
The label, which was designed by the members of Stage themselves, was created as an alcohol ink painting, using the "head" alcohol that is produced during the distillation process. This head alcohol, which is not fit for consumption, is typically thrown out. Part of the residue from the distillation process is handed over to the Kuramae Coffee Project—a Kuramae upcycling project—where it is turned into compost.
The ethical system in place seems befitting of the bistro's one-year anniversary.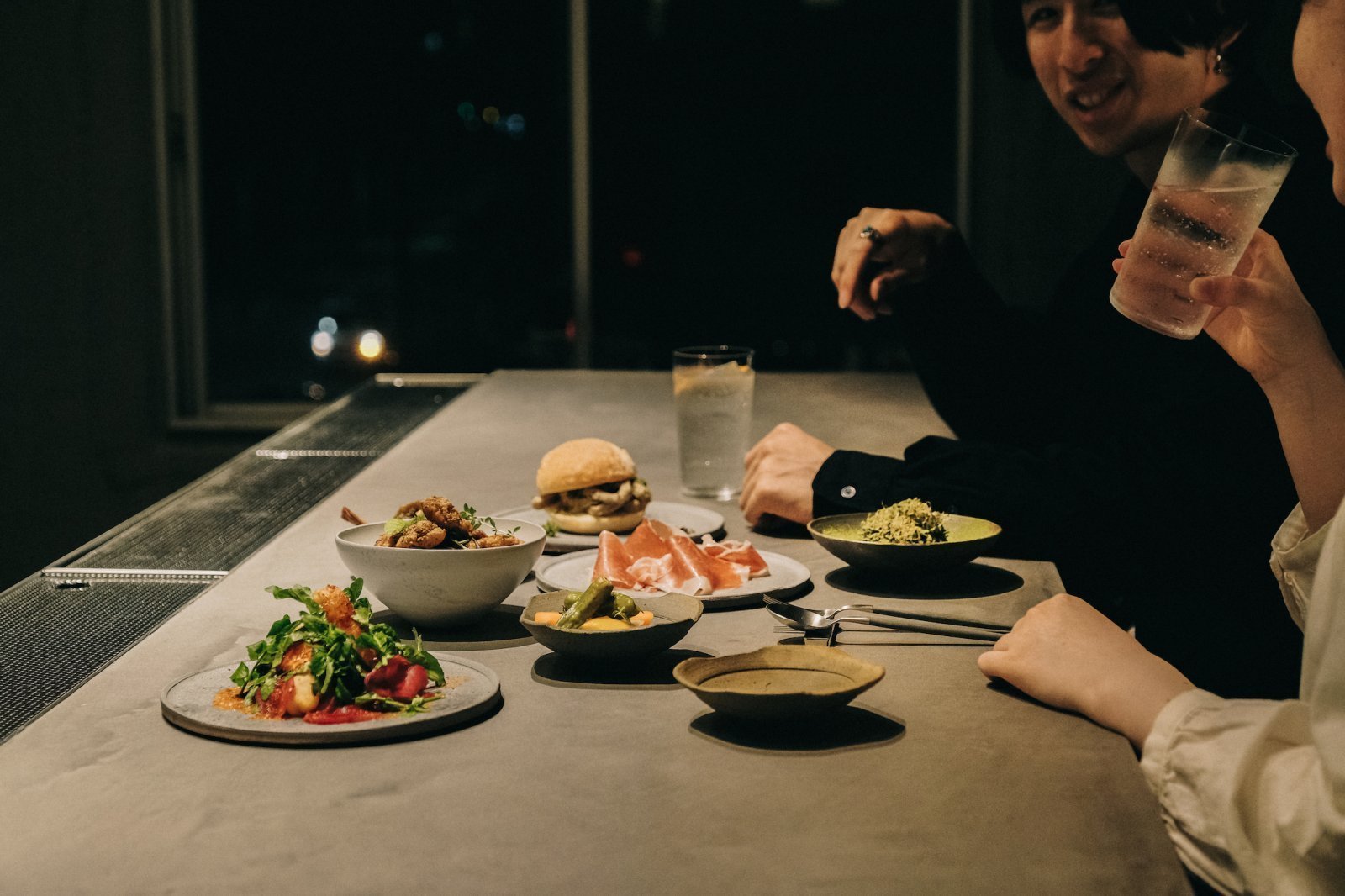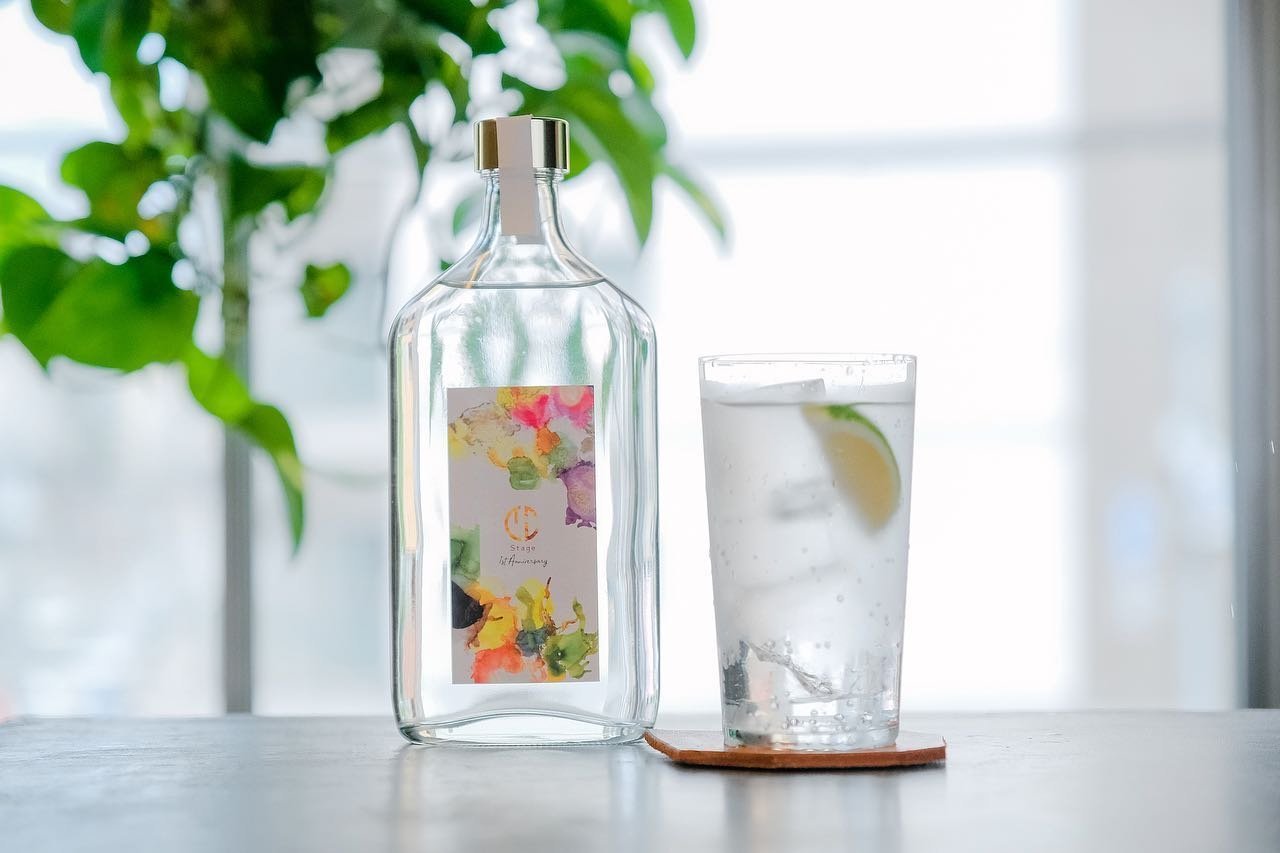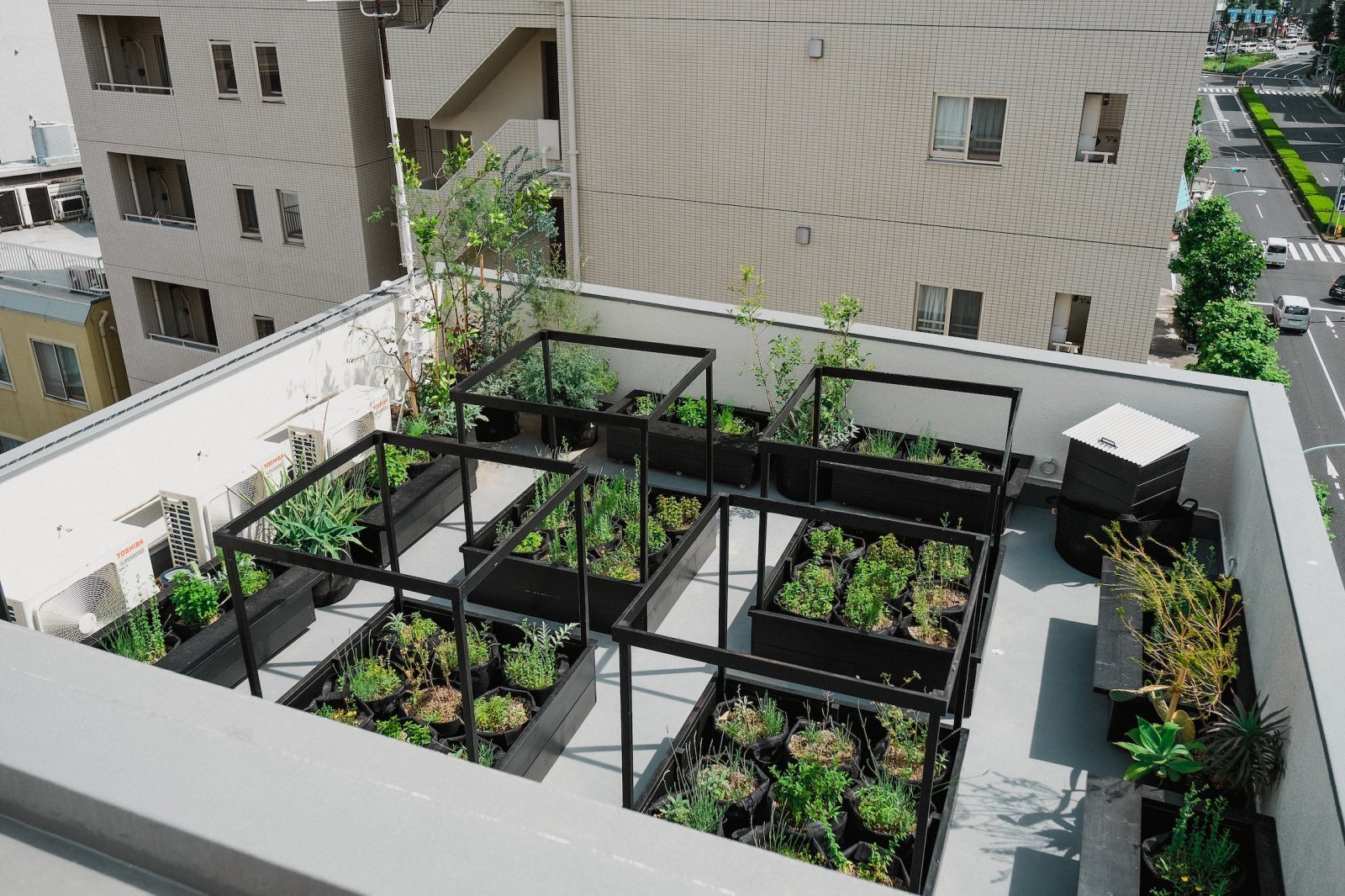 The town of Kuramae in east Tokyo is, now more than ever, growing into its own. And with more new businesses cropping up, including a new tachinomi stand (small standing bar) that specializes in spirits, the town is seeing an influx of visitors eager to explore the area. Kuramae has even proposed the "KURAMAE Model" of recycling, which involves upcycling resources from households, cafes, and more, in order to develop a sustainable recycling system throughout the city. For these reasons and more, all eyes are on Kuramae.
Interview and Writing by Mori Kazuki
Translation by Amitt
*This article was provided to
Pen Online
(published August 1, 2022).