Financing is Required to Believe in Their Business with Heat
Ms. Mizuho Suzuki of Jocy Co., Ltd. provides a flat-rate service for hair salons specializing in shampoo/styling and hair care. In raising funds to expand services, we look back on the importance of self-confidence in our business. We learned from the experience of the start-up fundraising.

Service that Allows Visitors to Easily go to a Beauty Parlor through a Café
We are developing MEZON, a flat-rate subscription service that specializes in shampoos, blows and hair care. We offer five flat-rate plans, including an unlimited service that allows customers to use more than 500 beauty salons we have partnered with anywhere in the country. Approximately two and a half years have passed since the service began, with more than 30,000 users. We want to provide new lifestyles that make it easier for many people to go to a beauty parlor and find a hairstyle that makes them feel better.
Before my startup, I was involved in new businesses and sales at an advertising-related company. At that time, I had to go to the beauty parlor to do shampoos and hair set (styling) before any important presentations or business talks. On average, I felt that I went to see him once a week. It was like a routine to get me to have a hair set, and to lead me to a self-confident self. This experience led to the creation of the current service.
The number of users has also increased steadily, so we raised funds the other day. Mentors received a lot of objective advice because the procurement period overlapped with APT Women's mentoring. I feel that fundraising has been successful thanks to our joint efforts to achieve our goals.
It's Important to have Confidence in Our Business.
This time, we raised funds to expand our "Series A" business. I've tried and made an error for about 10 months, so I think I've learned a lot about important points.
First of all, it is important to determine the focus of investor selection. I met more than 30 investors (venture capital and operating company investment departments) and focused most on empathizing with their business.
The second is to brush up procurement materials and presentations. I think how you show your business and figures will greatly change your impressions. Every time I met investors, I updated them on how to explain the business more easily and how to show the materials.
The third point is how to determine valuation. I think that many entrepreneurs are worried about how to determine their corporate value, but we have decided by retrospectively to what extent the funding required for their business and the percentage of their shares held through this procurement will be diluted.
Finally, I believe that more than these three points are important for entrepreneurs themselves to be confident about their own business.
Investors provide a variety of advice based on their own perspectives and experiences, but not necessarily positive. In particular, it is often difficult to gain sympathy for services targeting women, so should we revise our business strategy? What kind of business are I going to do for whom? It was time for me to gradually lose my confidence. At that time, I remembered that I founded my company with affection and enthusiasm for my services, and I felt that I was able to raise funds as a result by persevering with investors until I encountered someone who sympathizes with my business with confidence.
Above all, I am truly grateful for the support of investors and APT Women for mentoring. I had been unable to speak loudly until now, but I realized that there was a time for me to talk about my problems and move forward by helping others.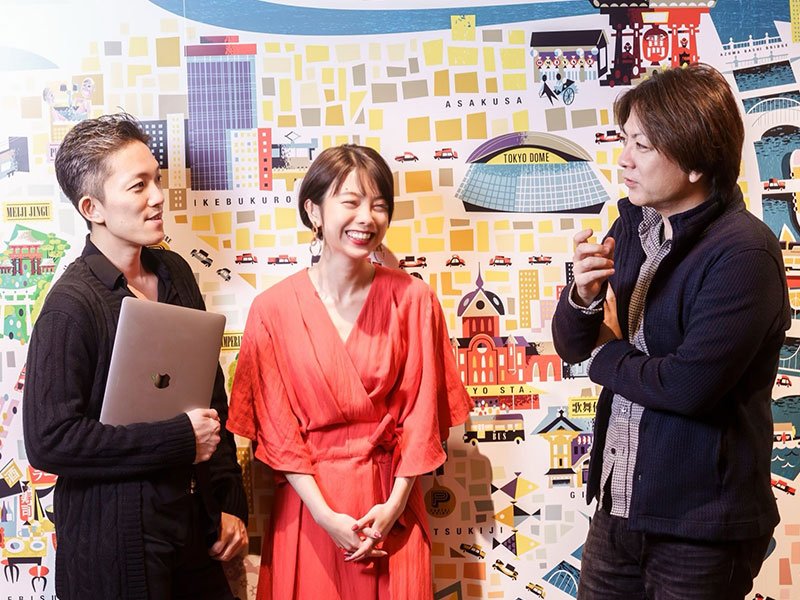 favorite
My relaxation method

We Want to Support Women Who Stand at the Crossroads.
Since my grandfather and father were the corporate managers, I wanted to start a business by age 29. Having seen the twists and turns of his family's family, he became interested in a corporate manager who has continued to grow through his life while adapting to the environment. He joined a real estate venture as a new graduate, and then worked in the CyberAgent Group in charge of new businesses and sales. We established our current company together with our supervisor at that time.
Many people in their late twenties and thirties stand at the juncture of their lives. In addition to work, there are also people who face life events such as marriage, childbirth, and child rearing. Under the slogan "Create My Life, Bet My Life," we want these people to be more confident about themselves, not to be constrained by other people's opinions and common sense, but to pioneer their lives on their own.
First, the most recent goal is to increase the number of affiliated beauty salons nationwide and spread a new lifestyle of going to beauty salons in a cafe-like manner.
Becoming beautiful hair is one way to gain self-confidence. Beyond that, what we want to do is not to provide beauty, but to provide confidence from all angles. I would be delighted if I could help as many women as possible live in their own way.
message Message of support to entrepreneurs
If you have enough heat to believe that you can spend your entire life in this business, I would like you to take the path of starting a business. But if you haven't met them yet, you might stop. When I start a business, I'm filled with work 24 hours a day, 365 days a year. If I don't have a strong desire, I'm worried about it. With my goal in APT Women, I saw the next step, and when I raised funds, I was able to feel comfortable. If there are people who are worrying about applying, I want them to take on the challenge!
Jocy,Inc.
CEO Mizuho Suzuki
This article was originally provided by
「APT Women」
*The "APT Women (Acceleration Program in Tokyo for Women)" is a program by the Tokyo Metropolitan Government to support female venture businesses.