Continually Discovering Tradition and New Value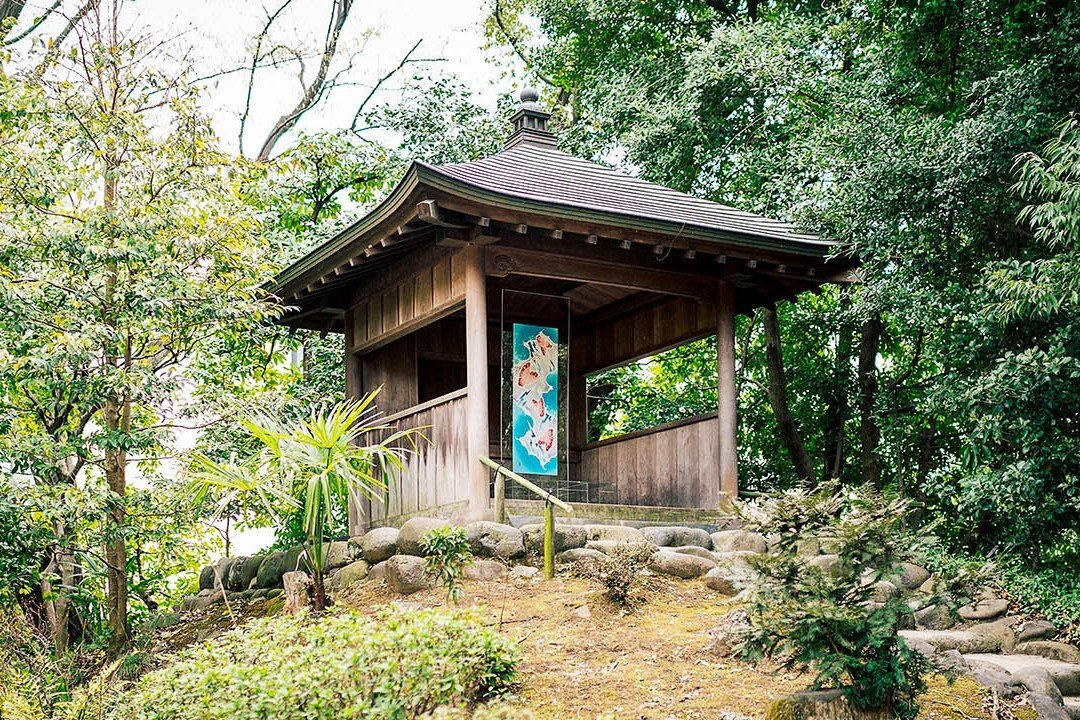 Marukyu Shoten was founded in 1899 as a wholesaler of products made using the "chusen" dyeing technique.
Chusen, which is used in yukata (light cotton kimonos worn in summer) and tenugui cotton towels, is a unique Japanese dyeing method which can be used to dye dozens of pieces of fabric at the same time. This technique is said to have already been in use as of the end of the Edo period.
Marukyu Shoten is believed to have served not only as a wholesaler that connected fabric shops, patterners, dyers, and other craftsmen, but also as a designer of its own patterns. However, few detailed records exist of the business it did in its early days. This is because those records were destroyed by fire in disasters such as the Great Kanto Earthquake of 1923.
The fifth masters of Marukyu Shoten, Misako Saito and Takashi Yamauchi, have drawn together the scattered scraps of the company's history based on remaining notes, a handful of dyeing samples from the 1940s and 1950s, a book of Marukyu Shoten designs they found in an antique bookstore, and the like.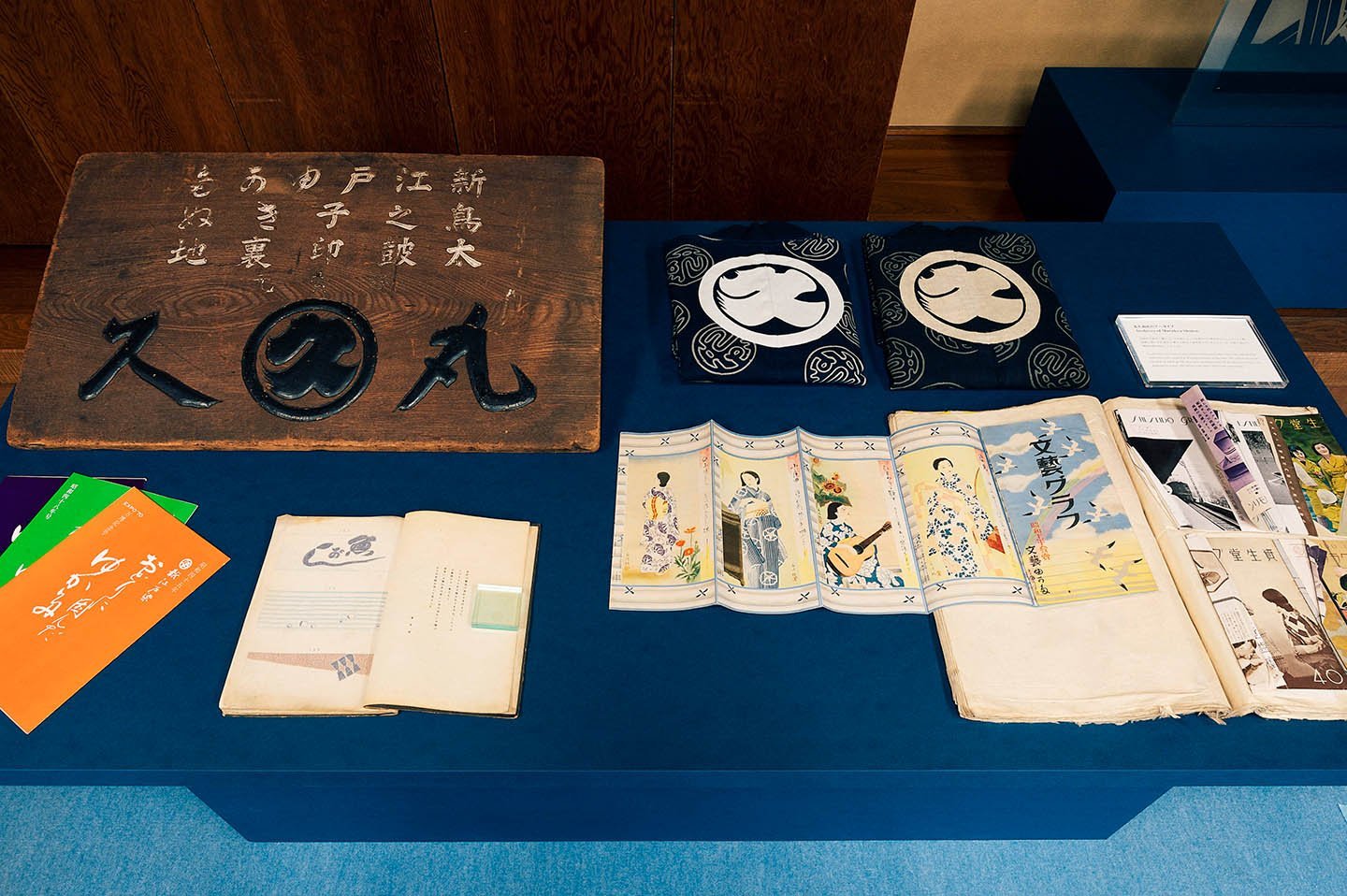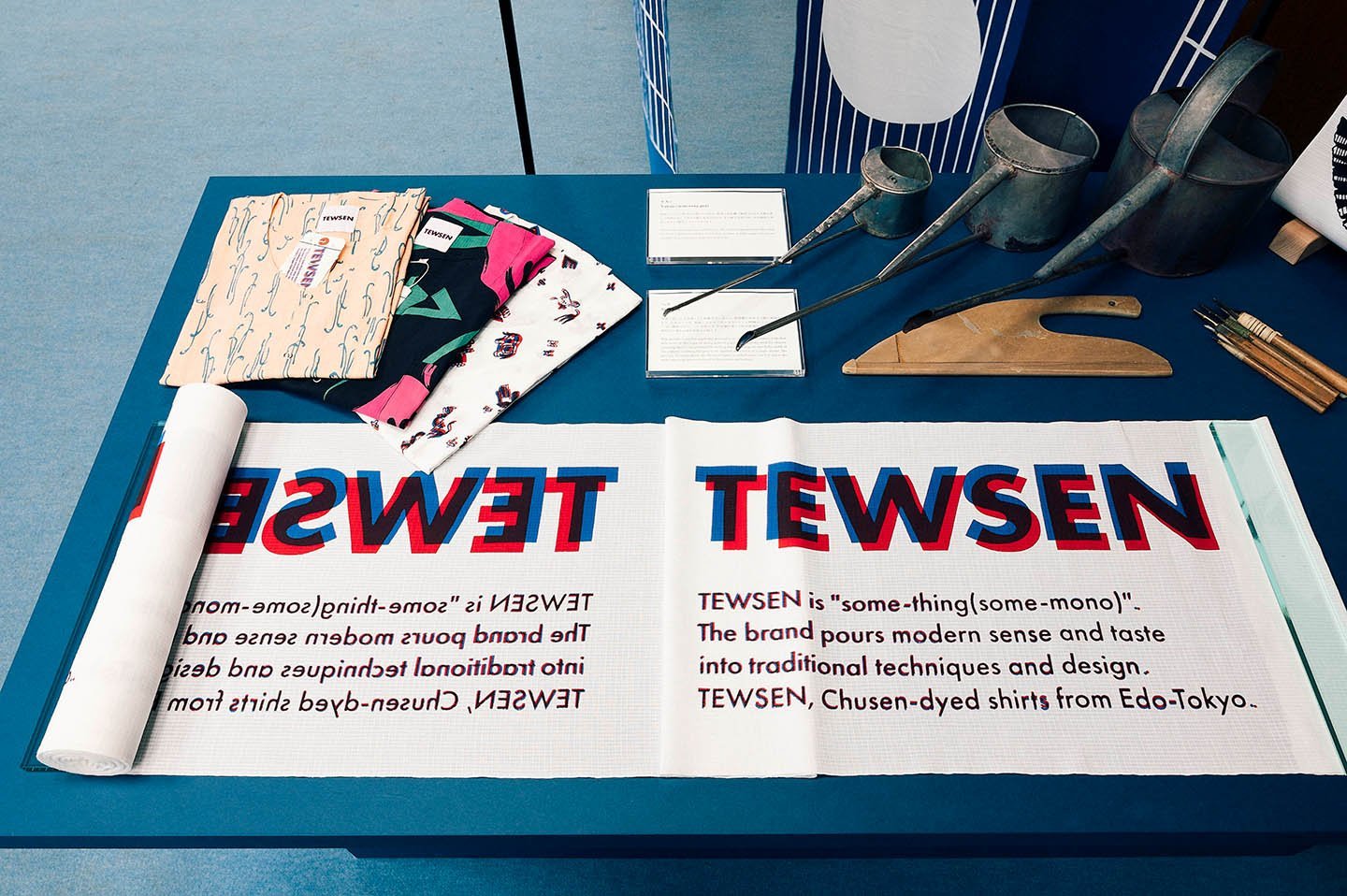 Saito and Yamauchi, both graduates of the Tokyo University of the Arts, have carried on the company's traditions, but they are also discovering new value in dyeing, as can be seen in their launch of the TEWSEN factory brand in 2022.
In dyeing, each stage of the process is performed by a specialized craftsperson.
Wazarashi fabric is evenly spooled out and an "itaba" (paste application) specialist applies resist paste, whose firmness is adjusted for each individual pattern. Just as its name implies, resist paste resists dye, so it is used for masking.
A vessel called a "yakan" is then used to pour dye over the fabric. This is the origin of the name "chusen," which literally means "pouring dye." One of the features of chusen, and one of the things that makes its results so appealing, is that multiple colors can be applied at the same time. A vacuum pump is used to ensure that the colors penetrate the fabric. Then the fabric is washed to remove the resist paste, and the fabric is dried and passed on to the finishing stage.
The completed products have the color bleeding, offsetting, and blurring that are iconic of hand-dyeing. They have been used to enliven Japan's traditional arts and festivals.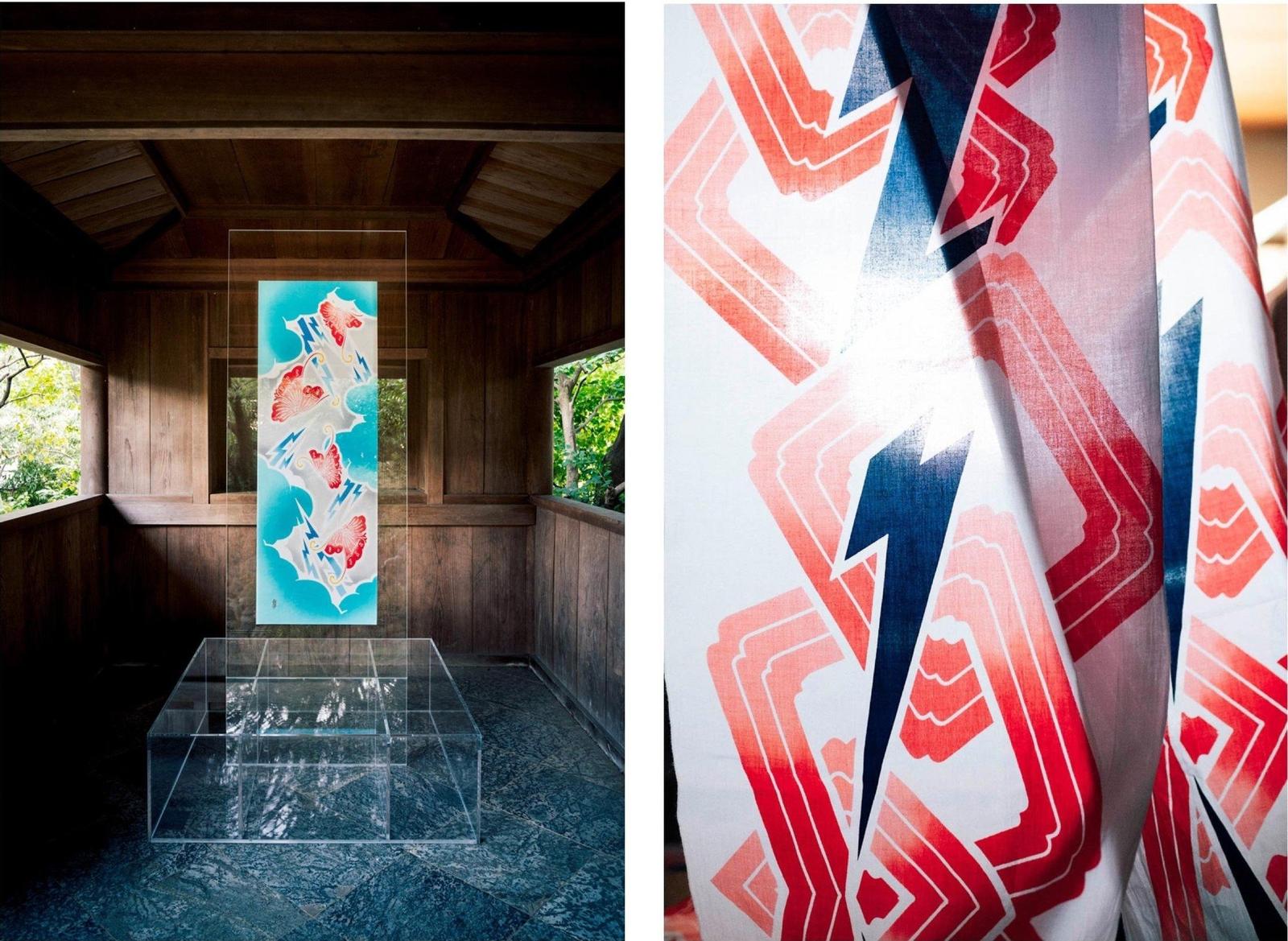 One of the patterns Noritaka Tatehana selected for the collaboration was the "Goro Butterfly" pattern inspired by "Ame no Goro" ("Goro in the Rain"), a nagauta musical piece used in Nihon-buyo, traditional Japanese dance. Tatehana added a thundercloud motif to complete the piece, which was placed in the Fujimi-do, on a low hill near the Karamon Gate. With the gentle spring breezes that stir up from time to time, it feels as if the butterflies are fluttering into the blue sky.
Another of the pieces featured a "Yoshiwara Kuzushi" pattern, which comes from the pleasure district of Yoshiwara, together with Tatehana's own motif of clouds and thunder. Looking back on the collaboration, Tatehana explains that the motif does not cut apart the elements of the design, but instead connects them and provides them with greater depth. It creates a piece with a sense of space that cannot be achieved in a painting.
"Chusen is usually used in articles intended for practical use, such as tenugui towels," explains Saito. "Using it as a part of a work of art intended for viewing was a first for us. It was a very novel experience. We hope to gather more insights and knowledge from Japan and overseas, like we have through the Edo Tokyo Kirari Project, to explore even more new chusen designs."
Yamauchi reflected, "Creating these collaborative pieces took more time and effort than ever for our craftspeople. They really took on the limits of what they could achieve. As a result, we were able to produce works that embodied the very essence of the sophistication of chusen dyeing. I truly feel that we have broadened the horizons of what can be achieved with chusen."
It's been roughly a decade since Saito decided to carry on her family business. Saito and Yamauchi have just begun their journey of taking on new challenges.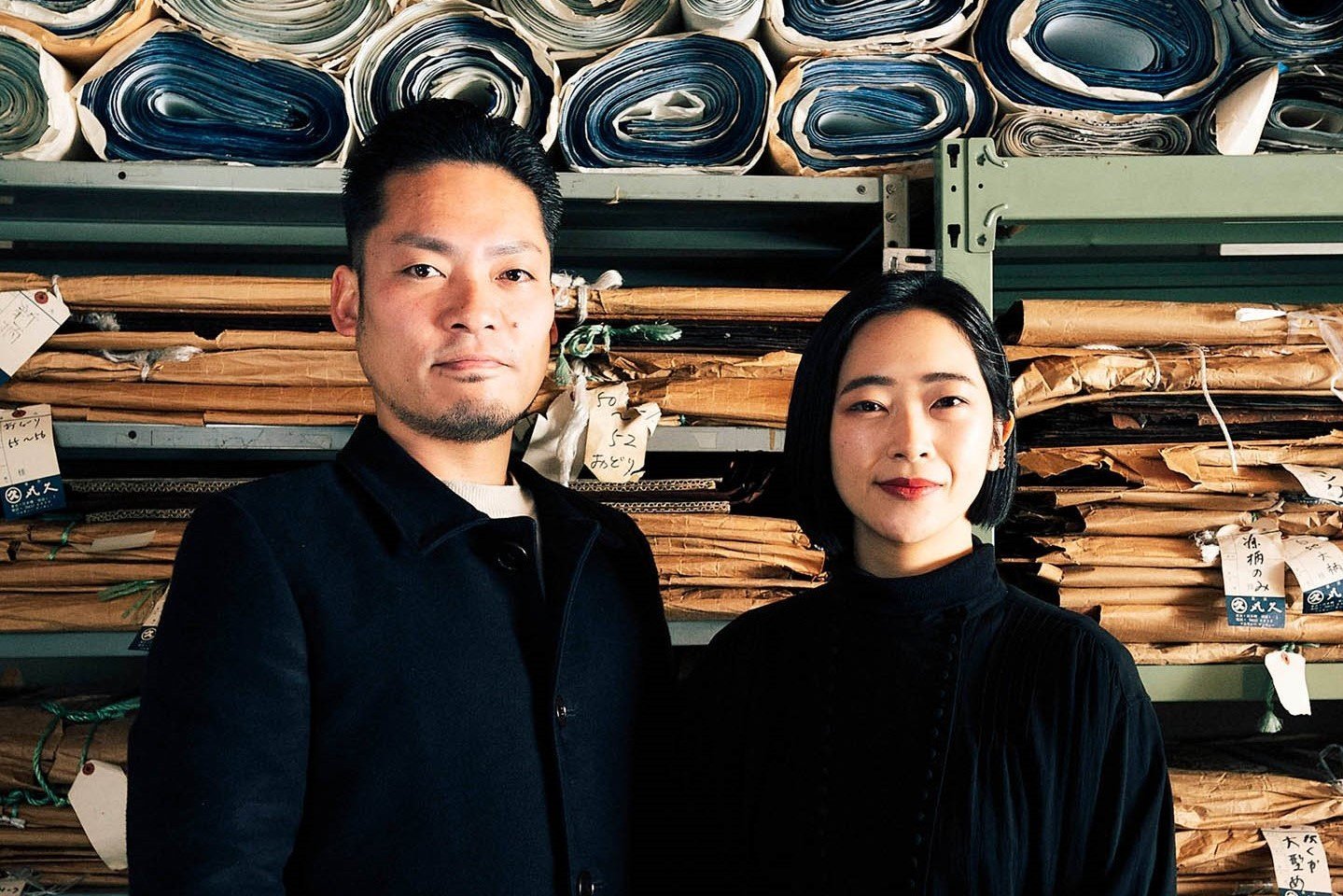 Photos by GION
*This article was originally published on
"EDO TOKYO KIRARI PROJECT"
(March 31, 2023). The collaborative works in the article were exhibited at The Edo Tokyo Rethink Exhibition held at Koishikawa Korakuen Gardens from March 11 to 15, 2023.