Tokyo's Craft Gin Made with Islands Spirits
Craft gin directly reflects the maker's chief passion and lets you enjoy various combinations of botanicals without limit. Toranomon Distillery was established in 2020 in Toranomon, Tokyo, when craft gin came to prominence as a new type of liquor. This long-anticipated craft gin from Tokyo, which is made using islands spirits as the base, has already acquired numerous fans. We spoke to distiller Teppei Ichiba about how he came to create gins and the charm of islands spirits.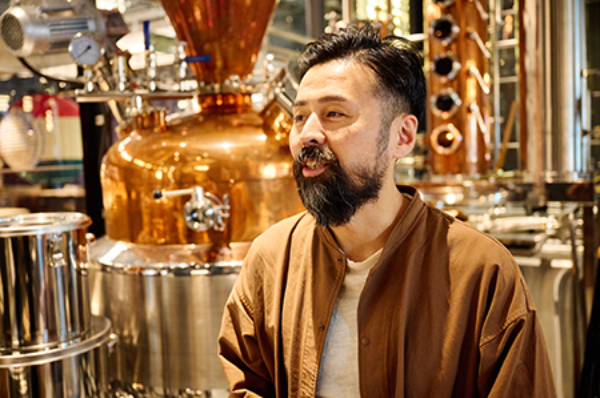 —
First, please tell us briefly about Toranomon Distillery.
Toranomon Distillery is a bar/izakaya with a gin distillery; the distillery opened in 2020 in Toranomon Yokocho, the restaurant and bar area of Toranomon Hills. With a view to the Tokyo Olympics, it was designed to resemble a corner plaza that features a gin distillery at the center where everyone — including tourists, office workers, people in the food service industry — can gather. Our concept is to discover Tokyo's local ingredients and disseminate them in the form of gin. We create gins with a commitment to using ingredients produced in Tokyo, from the base spirit to the water. Islands spirits are absolutely essential to our gin. We primarily produce two types of gin. Our classic gin, COMMON, is produced using Nasakeshima, a barley shochu made by Hachijo Kohatsu on Hajichojima. For our Seasonal Gin series, which is made with seasonal botanicals, we use Shimajiman Habushiura, a barley shochu made by Niijima Distillery on Niijima.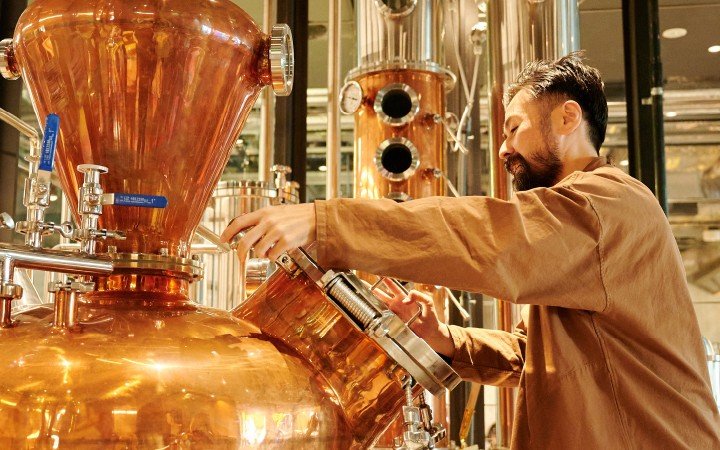 —
How did you learn about islands spirits?
When preparing the plans for Toranomon Distillery, I was put in charge of distilling gin, and I trained in making gin for several months at Tatsumi Distillery in Gujohachiman, Gifu Prefecture. The distillery's head, Mr. Shohei Tatsumi, has visited famous liquor makers in Japan and abroad, and he knows what delicious liquor is. It all started when he taught me that Tokyo also has excellent shochu. Embarrassingly, I had no idea that shochu was being produced in Tokyo until he told me so, even though I've lived in Tokyo for many years.
—
What was your first impression of islands spirits?
I think the first one I tried was either Nasakeshima from Hachijojima or Shimajiman from Niijima. It tasted completely different from Kyushu's authentic potato-based shochu, and the clean taste and aroma that come from barley koji were very striking. It made me imagine that if we were to use shochu as the base, it would blend harmoniously with the botanicals' aroma and produce an interesting gin. Before our distillery went into full operation, I went to Hachijojima to see Mr. Komiyama of Hachijo Kohatsu and asked if we could use his shochu to make gin; he readily consented. He also introduced me to Mr. Miyahara of Niijima Distillery, and that's how my friendships with islands spirits makers began.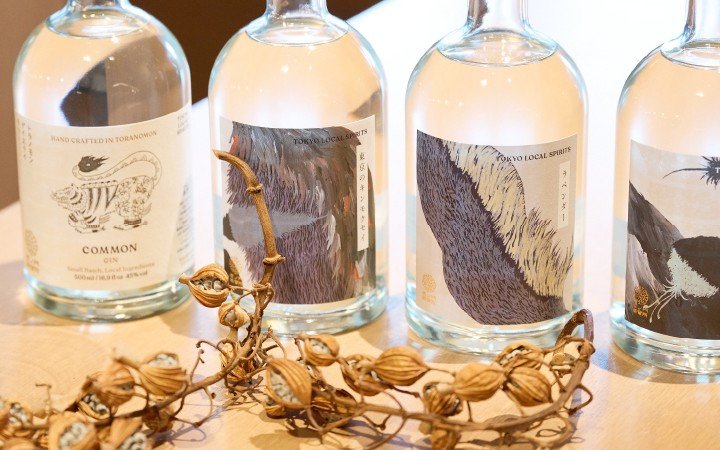 —
What was the response to the gin that you made using islands spirits?
First, we had two things to emphasize in terms of how the gin should taste, based on the premise that we would make the gin using ingredients local to Tokyo. One was that a single botanical aroma, say lavender or osmanthus, should be prominent. The other was to make a gin that goes down smoothly with a meal, like a lemon sour made with soda. Ultimately, islands spirits were the perfect base for making our gin. Discovering islands spirits gave birth to gins with a crystalline freshness and an accentuated aroma of the main botanicals unique to Toranomon Distillery.
—
What are your next plans for islands spirits?
For Seasonal Gin series we made a gin called Getto (shell ginger) & Passionfruit that used a special batch of Nasakeshima liqueur from Mr. Komiyama as the base spirit. The botanicals we selected — shell ginger and passionfruit — were also from Hachijojima. I'm very proud of it, and it has been well-received by customers. I'm pleased that customers are interested not only in islands spirits but also Hachijojima. I hope to keep conveying the charm of the islands spirits and the islands themselves through our gin.
Teppei Ichiba
While living in Portland, Oregon in the United States, Ichiba was influenced by craft brewing and small business culture. After that, he worked in the Business Development Department of WELCOME Co., Ltd. where he was involved in the planning and project manager of Toranomon Yokocho.
He received training under Shohei Tatsumi of Alchemiae Tatsumi Distillery in Gujo Hachiman, Gifu Prefecture, and began working as a distiller and business operator for Toranomon Distillery in 2020, which he was involved in as a planning and development project.
He has been working on COMMON gin based on Tokyo ingredients and a series of seasonal gins distilled from plants of the season.