WOTA's Challenge: Safeguarding Urban Self-sufficiency and Environment with an Autonomous, Decentralized Water Upcycling System
As an effort towards the Sustainable Development Goals (SDGs) of increasing water-use efficiency and easing water scarcity, a group of University of Tokyo graduates launched WOTA, a startup that tackles the problem with the power of technology.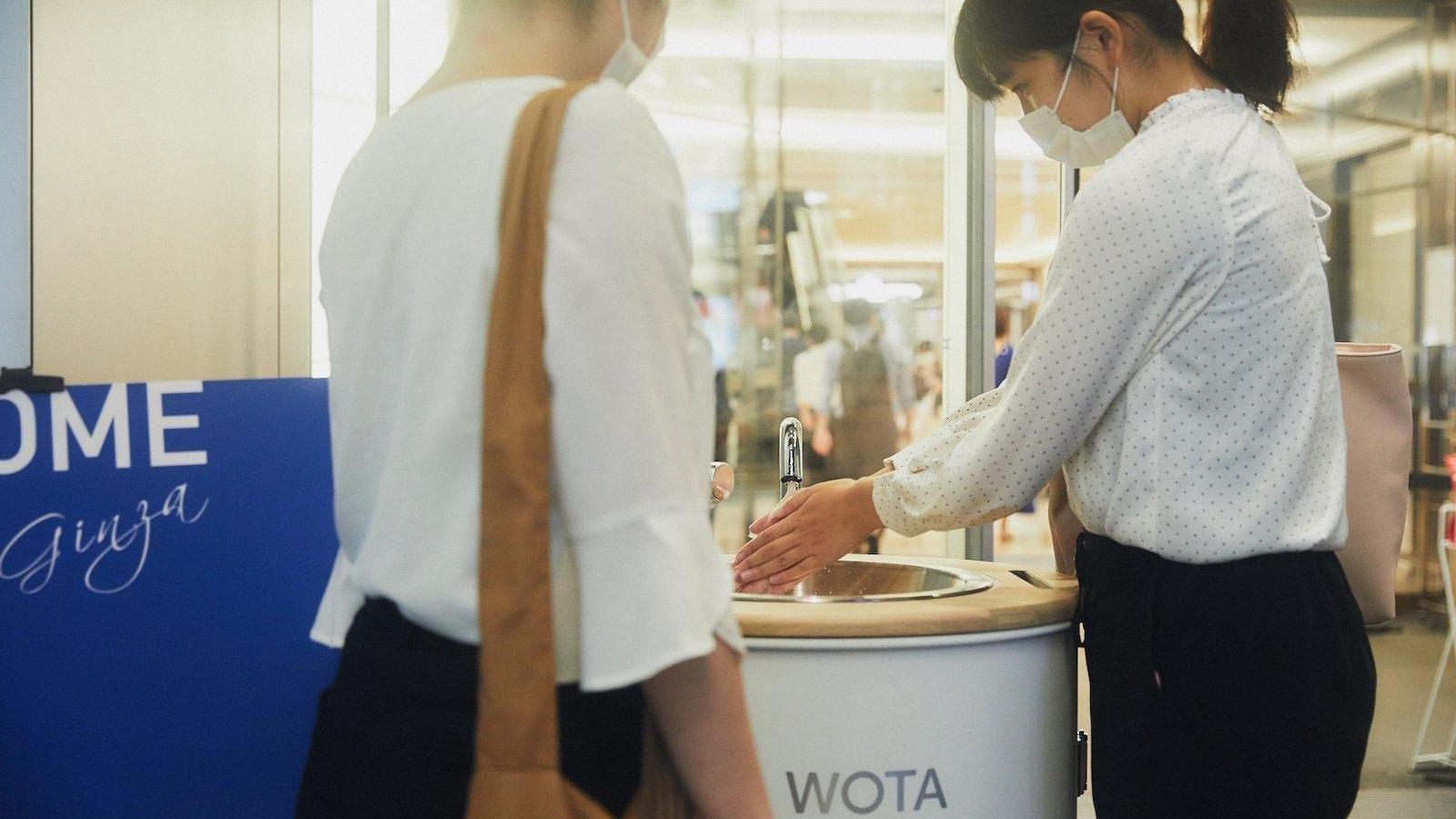 One of the biggest challenges we are facing today is water scarcity. According to the UN World Water Development Report 2015, it has been estimated that there will be a 40% shortage of necessary freshwater resources by 2030 as a result of factors such as population growth and climate change. WOTA, a start-up company affiliated with the University of Tokyo, was launched against this backdrop with the aim of developing a proprietary water treatment system to encourage people to use water in a manner that is sustainable for both mankind and the planet.
WOTA is a start-up launched in 2014 by a group of University of Tokyo graduates, including CTO Shohei Okudera, who majored in computer science. The company has been involved in the development of the Autonomous, Decentralized Water Upcycling System, based on the idea that successfully replicating the kind of water treatment and recycling system currently deployed in space stations on Earth in an affordable way might offer a democratic solution to water problems around the world.
To put it simply, the technology WOTA is developing enables autonomous control of water treatment, making it possible to implement a water treatment system about 1/100,000 the size of conventional large-scale water treatment facilities. The company's first product is the Autonomous, Decentralized Water Upcycling System "WOTA BOX," a portable water treatment plant that uses originally-developed water quality sensors and deep learning*1 to autonomously control and optimize the process of water treatment such that the same water can be recycled for use multiple times.
WOTA uses its proprietary water quality sensors to gather big data on water treatment, before harnessing deep learning to allow the AI (artificial intelligence) to learn various kinds of data related to water treatment. This method ensures that WOTA BOX is both extremely safe and highly efficient at purifying water. In fact, WOTA BOX can attain a water recycling rate of 98% which is over 50 times more efficient than conventional water-use.
*1 Deep learning:
Deep learning is a method that equips computers with superior learning abilities. It is one of the technologies that make up modern AI, and it has been utilized in various fields such as image recognition and multilingual translation services.

WOTA has been drawing on this technology to address water problems that arise during disasters. For instance, the company used its prototype water recycling system to provide bathing support to the areas impacted by the Kumamoto Earthquake in 2016 and the torrential rain that struck western Japan in 2018. These efforts ensured WOTA BOX's success as a commercial product, and it has since been used to supply clean showers to over 20,000 people at evacuation shelters as of March 2021.
Washing hands in places without a water supply system
In July 2020, a time when the COVID-19 pandemic has made washing hands ever more important, WOTA announced the release of WOSH, a hand-washing machine based on the principle of recycling water that can be installed even in places without a water supply. In addition to the deep learning algorithm and water sensors used in WOTA BOX, WOSH is also equipped with a three-stage filtration system and a UV antibacterial module that allow it to reuse and recycle used water at a level that complies with the drinking water quality guidelines stipulated by the WHO (World Health Organization). Although less than a year has passed since its release, WOSH has already been installed in more than 200 locations, including commercial facilities, public facilities, restaurants, and hospitals, most of which in Tokyo.
WOSH's idea to make washing hands more ubiquitous was recognized at the 5th iteration of "UPGRADE with TOKYO" held in 2020, a start-up pitch event organized by the Tokyo Metropolitan Government. It has also been featured in the "Next-Generation Offices Project" proposed by the Tokyo Metropolitan Government.
Transforming public attitudes towards water and the environment
"In addition to having improved the quality of life of many people, WOTA's Autonomous, Decentralized Water Upcycling System also encourages more environmentally friendly water-use," says Yosuke Maeda, CEO of WOTA.
"An autonomous decentralized water upcycling system allows us to significantly reduce the negative environmental impact we have on the natural water cycle made up of oceans, rivers, rain, etc., because we can build a system that treats household wastewater on the spot which then the water is immediately recycled and reused, in an environment where there is no water or sewage"
In large cities like Tokyo, the infrastructure for utilities such as water and electricity are often taken for granted. We have become accustomed to the fact that we can simply turn on the faucet any time if we need water, and the wastewater that we flush down the sewage pipes will be handled by someone. Not many people pay attention to the actual mechanism behind water treatment or its economic and environmental costs.
However, Maeda believes that he has seen a shift in environmental consciousness among users of WOTA BOX and WOSH.
"Users of WOTA BOX and WOSH have a better appreciation of the water treatment process through their engagement with the equipment. Moreover, the cost of using WOTA's water recycling system varies depending on the amount of contaminants present, and not just the volume of water used. In other words, the cost is affected by both the quantity and quality of the wastewater. This has prompted users to not only save water but also become more aware of the need to keep the water they are using as clean as possible."
The experience of having access to an abundance of clean water even in places that had previously suffered from water scarcity has led to a paradigm shift in the mindset of users.
"Offering users the first-hand experience of how good it feels to have access to clean water is a great way to get them interested in the technology and the concept of water recycling behind our products. This, in turn, allows them to realize how water is cleaned, and that such a system will enable the use of water with low environmental impact."
Safeguarding Tokyo's self-sufficiency and security
WOTA believes that its technology to decentralize water supply systems can bring greater self-sufficiency and security to large cities like Tokyo.
"Japan runs on large-scale, centralized water supply and sewage systems. In the event of an urban disaster, such as a major earthquake hitting the Tokyo area or localized torrential rain, a system failure in any one location may paralyze the entire system. On the other hand, an autonomous, decentralized water infrastructure allows the components of the system to be managed individually across many different small units. This ensures that residents can have the same level of access to water in normal times and during emergencies."
The technology behind recycling and reusing water can also improve sanitation standards. Maeda explains that while most cities seem to be well-equipped with water infrastructure, there are many cases where it is not possible to extend the water supply to certain spots due to sanitary reasons or because of the high cost of building and maintaining the system.
For instance, it would be ideal for people to be able to wash their hands at the entrance of stores and facilities as a COVID-19 safety precaution. However, there are still many spots even in public areas, such as train stations and parks, where people lack access to water due to the location of the water supply system. Even wet areas in buildings and homes must typically be concentrated in the same spot.
"We consider these limitations to water-use that exist even in our major cities to be a type of water problem. Having an autonomous, decentralized water infrastructure would instead allow hand-washing areas to be set up wherever and whenever they are needed, which will encourage people to cultivate the good habit of washing their hands more frequently. A decentralized water infrastructure also has the social benefit of maintaining the sanitation standards of developed cities."
This water recycling system developed in Tokyo is slowly but surely transforming the way people are thinking about water and the environment.
"UPGRADE with TOKYO" is a pitch event that was launched with the aim of making use of products and services developed by the private sector to tackle issues the metropolitan government faces. Each iteration of the event features a different theme on which start-up companies are invited to submit their ideas. Participants present their products and services during the pitch, and the start-ups that are, deemed, by the judging panel, to be contributing to tackling existing problems will be given the opportunity to participate in concrete negotiations for business collaboration. This event has been held a total of 10 times as of the end of May 2021.
Interviewed and written by Asuka Kawanabe, Translation: Vincent Gan