Creative Action Instead of Design Thinking|Amidst the COVID-19 Pandemic, We Work with Our Hands and Deliver the Finished Product in Experimental Ways.
Rhizomatiks has gained international acclaim for its innovative forms of expression, including collaborations with world-famous Bjork and with kyogen performer NOMURA Mansai, and provision of technical support for Perfume's live performances.
In the fall of 2019, Rhizomatiks performed Tokyo Tokyo FESTIVAL Special 13, "Light and Sound Installation 'Coded Field'", at Zojoji Temple. With the 2020 Olympics just around the corner, COVID-19 infections were spreading.
How did Rhizomatiks spend 2020? We asked MANABE Daito, one of the company founders, about that as well as his expectations regarding the future of art and technology.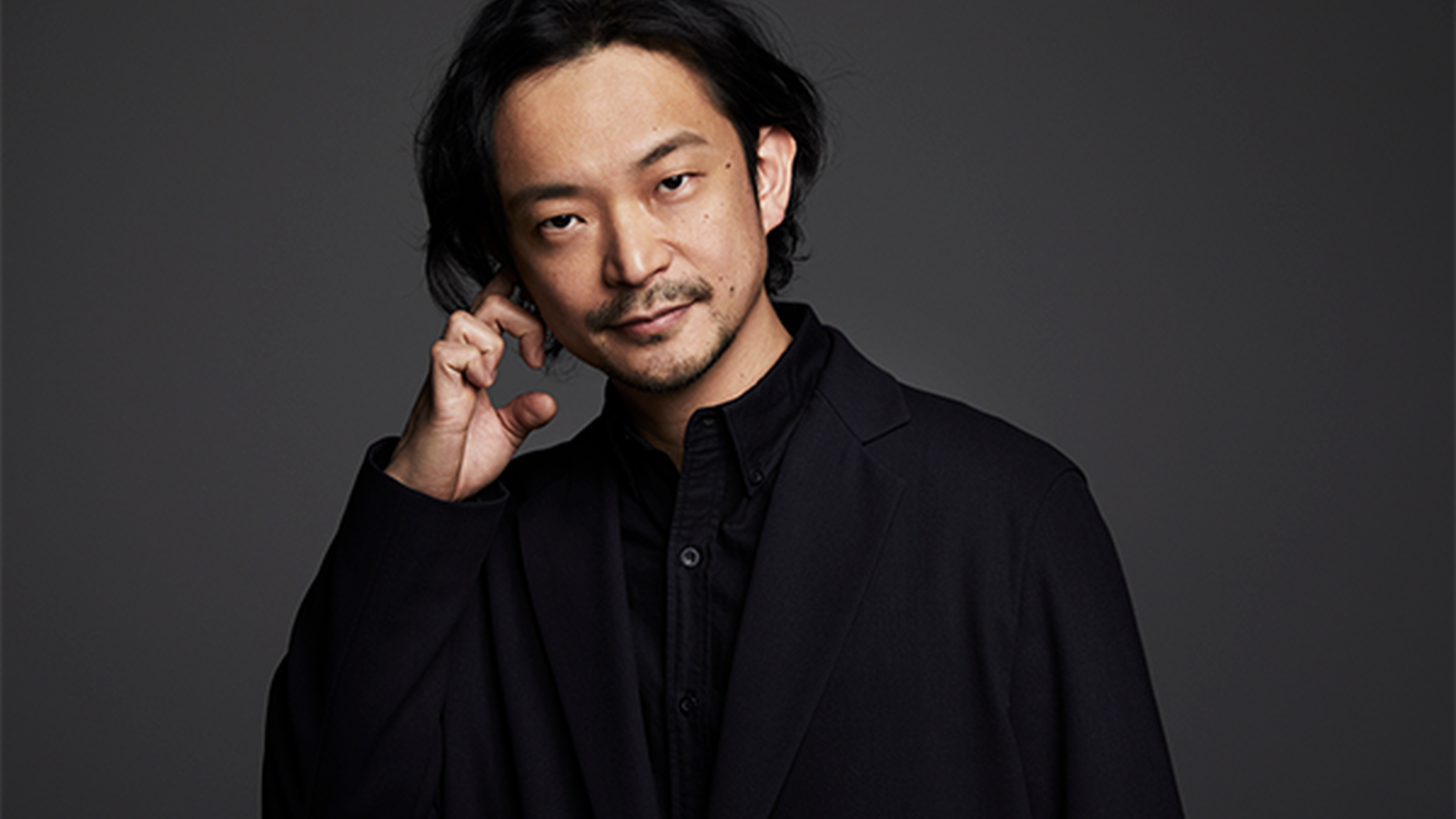 They Found Things They Could Do and Started Winging It.
―How has the COVID-19 pandemic impacted the activities of Rhizomatiks since early 2020?
We had several large projects last year, but they were all temporarily put on hold. No one knows how the situation will develop, so we need to be on standby and be ready to move at any time if something happens. We've been unable to do anything big for quite a long time...more than six months.
In the midst of all that, I ended up doing things like remote theater with a university classmate of mine, MURO Tsuyoshi, that I wouldn't have done under other circumstances.
―Since the early stages of the pandemic, you've been planning and presiding over an online event called Staying TOKYO.
I launched Staying TOKYO just before the state of emergency was declared. In March, nearly all projects from April onward had been cancelled or postponed. I thought it would be nearly impossible to perform as usual, and that the situation would probably not get better for some time.
That meant that live shows were impossible. We do a lot of on-site work, so when we were unable to go out and meet people and we wanted to send out information, we had to do it online.
Until then, we hadn't had our own streaming platform, but the folks at Twitch always came to our performances on the west coast of the US, and we'd been in contact with them. We had been asked by Twitch to do something interesting on their platform.
That's the point at which we decided to try something a bit experimental with our streaming. We just winged it at first, without knowing how long it would continue or what kind of response we would get.
―What kind of response did you get?
Back in April, I think creators were really trying to challenge themselves in various ways. Live performances became virtual, online broadcasts, and various ideas and experiments were being tried.
We were experimenting in the same way. Normally, public performances of our shows would have a pretty advanced level of completion, but now we were using streaming to show performances that were still in progress and to test prototype versions of our show. I was also working as a DJ and trying out new tools.
Really all of a sudden, there was no more entertainment content, and everything on TV was about the coronavirus, so I thought it would be nice to give encouragement to the people who watched us under those circumstances.
Instead of Just Meeting Demand, Create Something New.
―You also announced your Social Distancing Communication Platform, didn't you?
That's right. We started using Zoom to communicate, and I was also using Zoom to have drinks with people, but it was a bit different from having a casual drink together with many different people at a bar or club. I thought it would be nice to make a space like that, and I came up with the idea after talking with artist Kyle McDonald. Implementation was handled by the Flowplateaux production team.
Normally, it probably would have taken a long time to develop, but the first alpha version was created in about two weeks by utilizing the various tools that were available.
―The sense of distance is interesting.
At a bar or similar place, you talk to the people closest to you and can't hear the voices of people who are farther away. Even if there are 20 or 30 people, they will split up into several groups. I thought it would be nice to create that kind of situation. Our initial goal was to create something like a club or bar rather than something for business meetings or something like an office, but it's interesting to see how people are using it in ways that differ from what we originally imagined.
―How are people using it?
It's being used in open campus events at universities. I also work in the education field, and students don't have many ways to communicate with each other. While our platform was in development, I thought that it would be nice if they could use it at university too.
At Digital Hollywood University's open campus event, they took advantage of our platform's movement functionality in true-or-false quizzes, such as, "If you think this statement is true, move to the left." We didn't originally imagine that the platform would be used in such a way.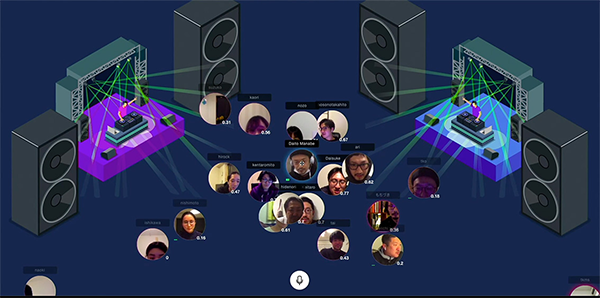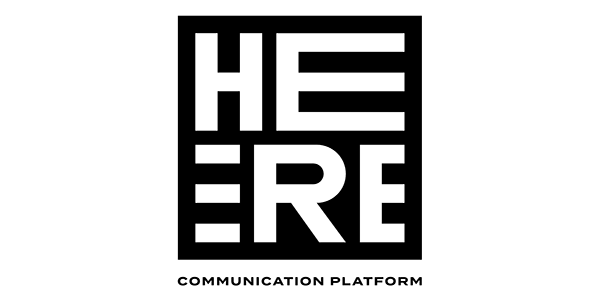 ―A year has passed since the pandemic began. Looking back at your activities under the pandemic's influence, what changes have you seen compared to before?
Rhizomatiks has been performing live since before the COVID-19 pandemic for events such as NHK's Kohaku Uta Gassen New Year's Eve television special and the Rio 2016 Flag Handover Ceremony to Tokyo 2020 using AR and other performance methods. That's why we were able to shift to online streaming quite quickly. I feel that what we were doing originally was becoming more and more commonplace, and not just something that we started because of COVID-19.
But demand was changing rapidly. Of course, we have worked hard in order to accommodate such demand and expectations, but I always think that we also need to try doing new things.
For example, we tried creating a telecommunication system using robots. We also created something that lets you remotely ride SPOT, a robot developed by Boston Dynamics, and use it for communication. We even developed a Zoom extension feature.
However, many of these efforts were experimental, and rather than taking the time to get everything perfect, we just started getting our hands dirty and released our finished prototypes for the world to see right away. I think rapid development turnaround has become more common.
―You also developed a tool called Fusion of Masks and Technology.
A Rhizomatiks engineer named HANAI Yuya came up with the idea and led its development. He expects that even when we return to live performances, we won't be able to scream or cheer loudly for a while. That phase will probably be the longest.
That's why we consider wearing masks to be an advantage. By attaching a device to the mask, we can do sound recognition based on analysis of each person's voice, breathing, and even whispers. That's the idea. In an entertainment setting where we can't speak loudly and have to avoid spraying saliva, this tool lets us substitute our voices with actions.
There's also a device created mainly by ISHIBASHI Motoi at Rhizomatiks that acts like an extension of your screen at home. It synchronizes with on-screen lighting devices right inside your home to create a live concert venue in the room. So that's another thing we made.
Of course, we did some simple "broadcasting" as well, but since we have quite a few hardware engineers, we've developed several new hardware devices instead of focusing solely on video and virtual performances. They're still prototypes and not ready for mass production yet, but we hope to be able to use them in some fashion.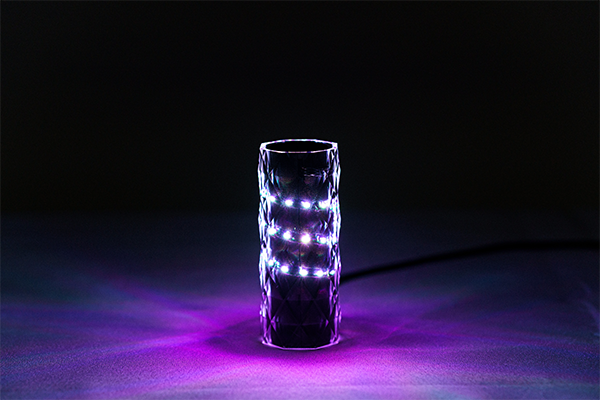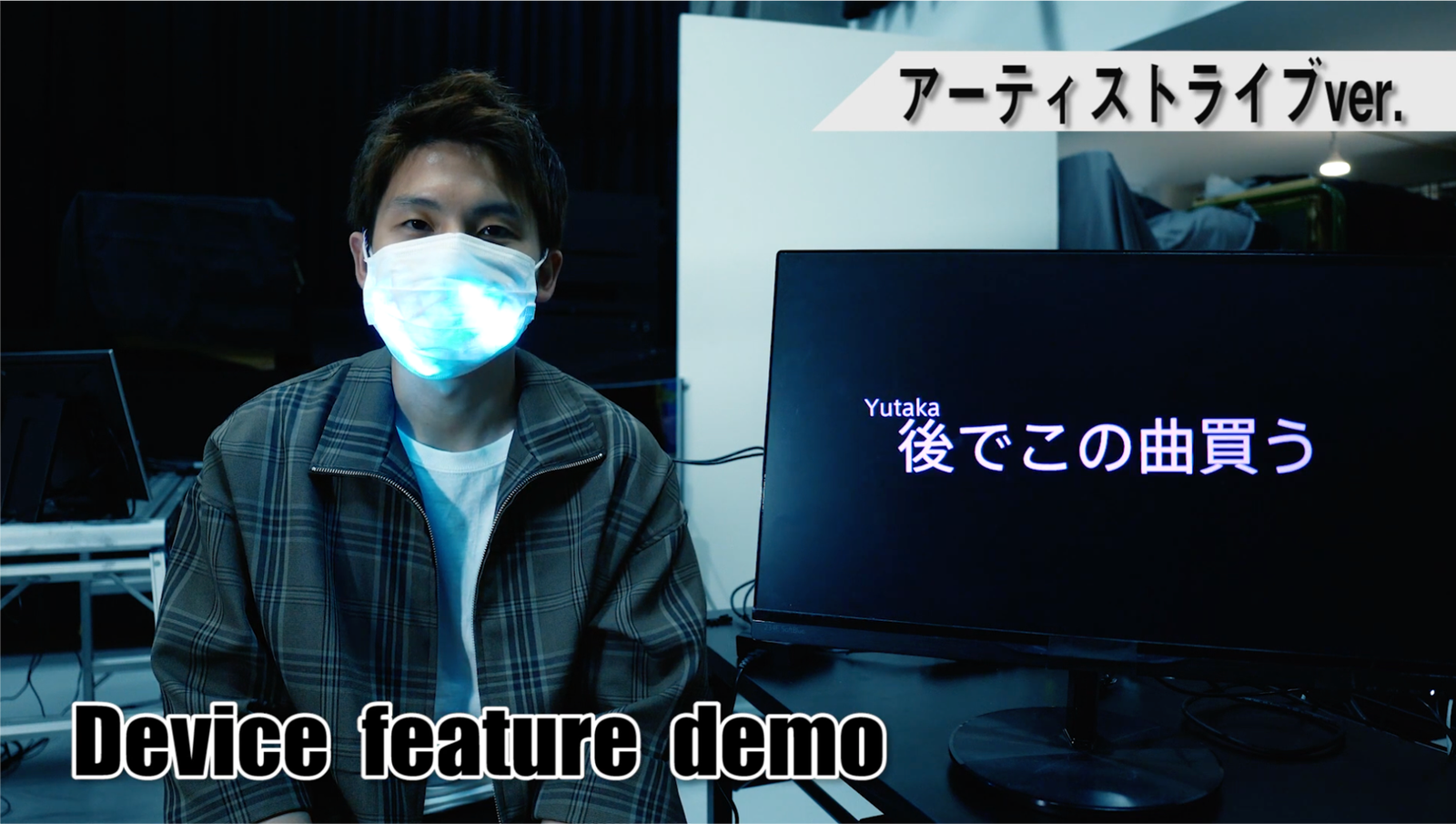 A Major Turning Point for the Art World
―In preparation for the next stage, at the end of January this year, Rhizomatiks Co., Ltd. underwent a reorganization and changed its name to Abstract Engine Co., Ltd. Please tell us about your own role in this change.
My role at Rhizomatiks was to come up with new things, to actually create them, and to deliver them to the world. I don't think that will change now that the company is called Abstract Engine.
This might sound a bit managerial, but we reorganized the company to make it easier for us to use research and development to drive our productions.
The future direction of Rhizomatiks will be determined by me and Ishibashi (the Rhizomatiks director), but since this genre is greatly impacted by technological advancements and the passage of time, we need to react with sensitivity to changes in the world regardless of our decisions. I think there's a lot that we can't control on our own.
―How do you think art and technology will change in the future?
Technology has been around for a long time as a necessity and a platform for everyday life. I feel that both are evolving day by day at a truly amazing speed.
For example, blockchain and cryptocurrencies such as Bitcoin are inherently mathematical and technological. In a world without centralized authentication, your identification is really just mathematics. There will probably be more and more things like that in the future.
In the art world, for example, value used to be attached to things by something authoritative, such as being shown at an art gallery somewhere or being submitted to an auction house. But now, there are different ways to add value. This could become a major turning point.
―In March of this year, your solo exhibition, rhizomatiks_multiplex, will be held at the Museum of Contemporary Art Tokyo. What are your thoughts on this project?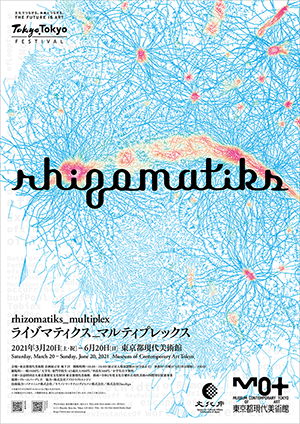 Since Rhizomatiks doesn't do many solo exhibitions, people might expect a compilation of our work, and the significance of this solo exhibition will be a bit different from an exhibition of a single work, so I'm considering what message the exhibition as a whole should have. I've never really done a project like this before, so it's a new endeavor.
I think this exhibition will present us with a variety of challenges. I hope to demonstrate a number of things through our works rather than through words.
―Lastly, what message do you have for us?
I don't have any particular message (laughs).... But we've got a variety of things happening, so I hope you check us out, both online and offline.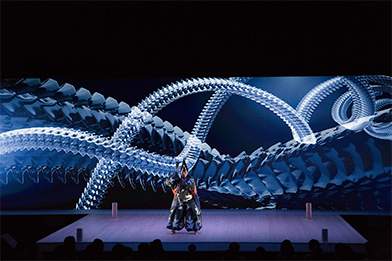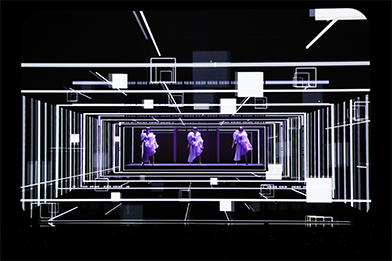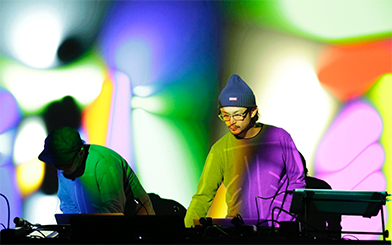 MANABE Daito
Tokyo-based artist, interaction designer, programmer, and DJ.
Manabe established Rhizomatiks in 2006. He creates works of art by combining familiar phenomena and materials that he reinterprets from different perspectives. He works in the fields of design, art, and entertainment, but instead of aiming for rich forms of expression, such as high resolution and extreme realism, he focuses on careful observation to discover and elucidate the essential potentialities inherent to the human body, data, programming, computers, and other phenomena, thus probing the interrelationships and boundaries between the analog and the digital, the real and the virtual.
Coverage and editing: KATO Mizuko