élab: Community-run Initiative in Taito City Puts Circular Economy into Action
Along the calm backstreets near Kuramae station in Tokyo's Taito City, a unique district whose streets are lined with numerous monozukuri (craftsperson) studios and stylish coffee stands, an innovative business enterprise is deeply engaged in the pursuit of creating a better world.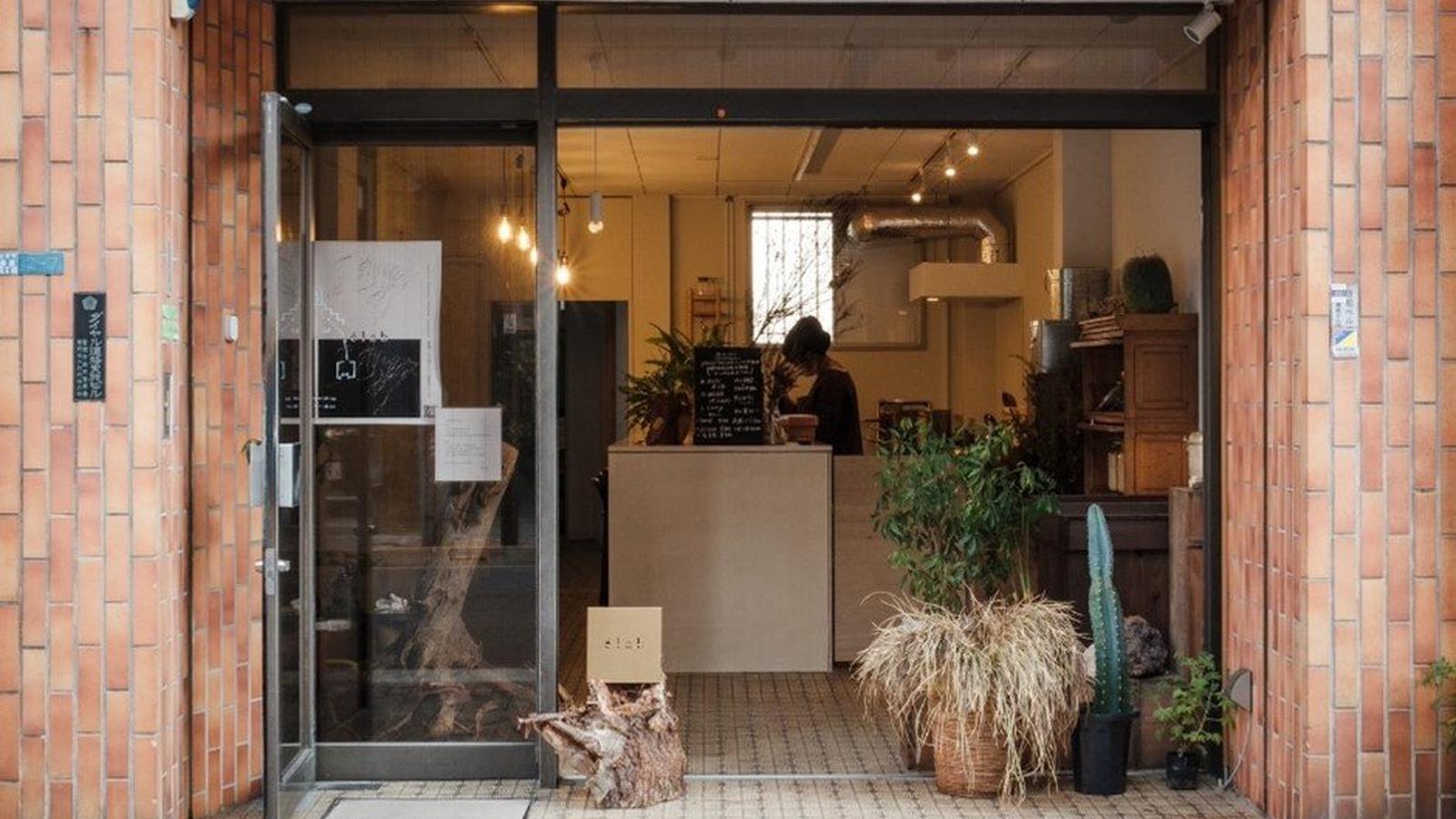 Led by a group of young community-minded professionals, élab—a two-pronged initiative comprising both kitchen and living laboratories—provides a space to learn about and actualize a circular economy. The concept of the circular economy takes the idea of the "3Rs" (reducing, reusing and recycling) a step further by finding new and creative uses for natural materials, as well as by ensuring that products are designed with durability and minimal environmental impact in mind to begin with—thereby going to the very root cause of waste.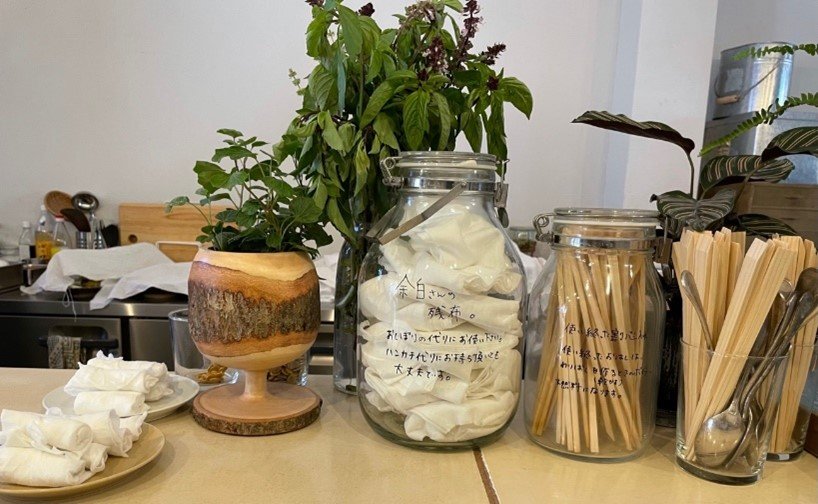 Circular economy initiatives have been sprouting up in numerous locales around the world, and élab is one of Tokyo's most forward-thinking. Fronting the space is its kitchen laboratory, which specializes in plant-based cuisine and is dedicated to researching and developing a local circular economy around the theme of food. Procuring an array of vegetables from Ome Farm and The Hasune Farm—which are both completely pesticide-free, and also located in Tokyo, thereby reducing food mileage—élab's talented cooks are constantly hard at work developing a slate of creative recipes.
Chef Aoyagi Yoko crafts course meals for weekend lunches and dinners at élab that encourage urban diners to have an intimate connection with growers through the food on their plate, thereby encouraging the understanding that they too are part of the cycle of circularity. At élab, all parts of the vegetable are fair game for consumption: you might be served the long tail of the daikon radish, for example, which can at first appear intimidating to those not used to eating it; but which, it soon becomes clear, is certainly just as delicious as the rest of the vegetable.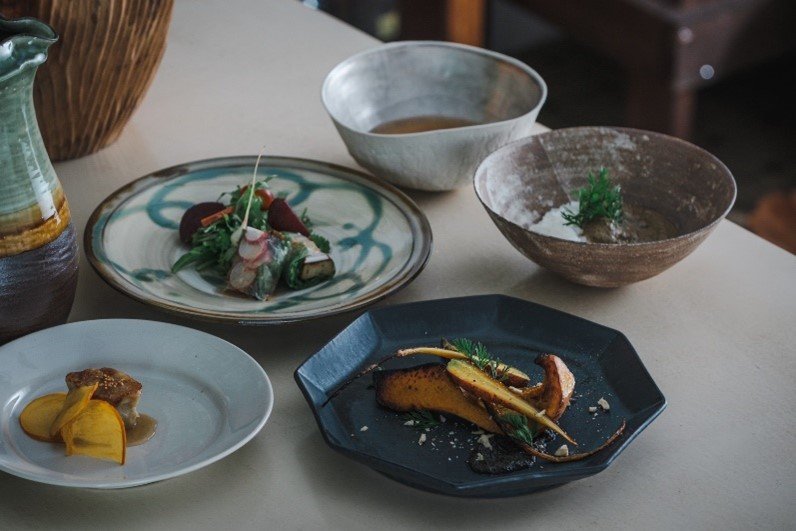 Aoyagi's meals also feature rotating seasonal themes around the connections between food and natural life cycles. In 2022, the spring theme was "silk", for which she collaborated with Yohaku—a sustainable clothing store located directly above élab—to introduce the concept of circularity within the context of both clothing and food. Such ideas were then deepened through the summer theme of kaitai (decomposition), wherein she encouraged consideration of how food sources arise from and then return to the earth. Visitors were provided with a menu listing the different stages of the dinner course meal—soup, salad, taco, slider, main, shime ("ending"), refreshment, dessert, and tea/coffee—next to which were listed the different life cycle stages of seed, flower, leaf, stalk, branch, fruit, bud, peel and root, along with dots for connecting the two categories.
"I wanted people to think about which of those points along the life cycle were included within which parts of the course meal," Aoyagi explains. "There were no right or wrong answers; I simply wanted to give people a chance to think about this idea of decomposition, and how it relates to food and to life more generally. And there were some pretty interesting conversations generated from this exercise."
Aoyagi added that the upcoming theme for autumn and winter is that of "soil".
"Soil is connected to so many things in life," she notes. "Of course, you find it in gardens; but also in restaurants—like the serving vessels and the countertop right here at élab. Soil is the starting point for so many things." 
In addition to weekend course meals, Aoyagi also offers weekday lunches with rotating options, including one recent chunky salad that was bursting with vibrant colors and flavors such as charred pumpkin, tender okra and nasubi (eggplant), several types of leaves including crisp mizuna (mustard greens), and several dollops of flavor accents in lieu of dressing: puréed, garlic-infused daizu (soybeans); gingered myoga; and a paste of tomato and ume (plum).   
Also starring in the salad were folds of konjac that were the softest I have ever tasted—the result of a recent experiment to create the root vegetable using filtered ash water rather than the standard calcium hydroxide.
"Konjac was traditionally made in Japan by steaming leaves from farms' leftover harvests, but the government outlawed this practice because the ash contains contaminants resulting from the use of farm pesticides," explains Ohyama Takako, élab's founder and director. 
"We decided to experiment with konjac creation by filtering water through ashes from irori (hearths)," Ohyama explains, "and we also plan to start using the ash water to boil the corn for the tortillas at our lunchtime taco bar, as is also traditionally practiced in Mexico."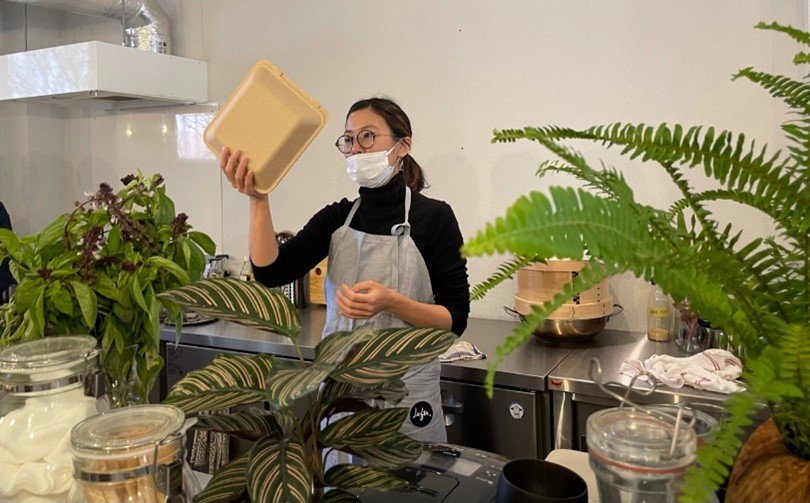 The taco bar is also overseen by chef Aoyagi, who serves up imaginative combinations such as Italian Corno di Toro chili peppers with okra, green mustard leaf, and homemade harissa; and buttnernut squash with epazote (a Mexican herb) accented with a sauce of green soybeans, garlic, cilantro, and jalapeno vinegar.
Aoyagi creates her tortillas using both masa harina (corn flour) and cacao husks from Dandelion Chocolate, which is one of the few chocolatiers worldwide specializing in creating chocolate from single origin cacao beans. Located just minutes' walk from élab, the collaboration between the two local businesses is a collaboration that puts élab's philosophy of the circular economy into practical action.
"We were trying to envision local community uses for the cacao husks from Dandelion Chocolate, and we came up with the idea to use them for our tacos, as well as for creating kōji (malted rice) and cacao miso," Ohyama explains. "This allowed us to produce entirely new materials from what would have instead just been thrown away as waste."
Ohyama also says that élab is putting "alternative menus" into action in order to reduce environmental impact. These include using soy instead of avocadoes to create guacamole, and kinako (soybean flour) instead of almond flour in the cakes and cookies created by the team's patisserie chef, Momoyo Morimoto, whose lineup of scrumptuous plant-based desserts stand inside a glass case at élab's entrance.
Offering Tokyo Consumers an Ethical, Heart-Warming Choice
"The name of our initiative, élab, is a creative word play combining the term 'laboratory' with the verb erabu ('to choose')—and this is precisely what we want people to experience," Ohyama notes. "We hope to give them options that go beyond those of mainstream consumerism."
élab's other initiative, its living laboratory, does just this. It houses a library with carefully selected titles representing élab's ethos, covering themes such as ethical companies and the philosophy of fermentation. A sewing machine is on hand as a "creative repair stand" for élab visitors to use (for a nominal fee) in order to repair their own clothing, and the space also hosts workshops on topics such as worm composting and traditional rice cooking methods.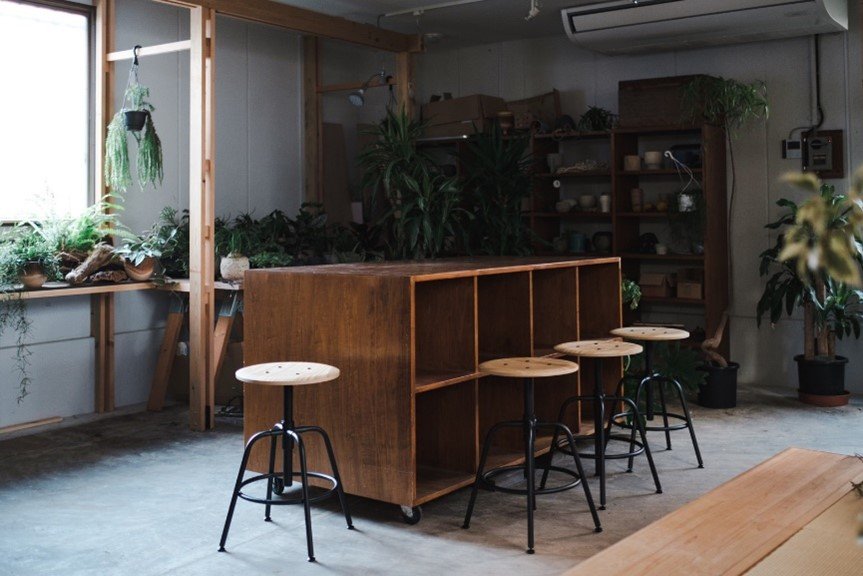 "Our goal is to continue actualizing local circularity within the food industry by creating and selling our original products, and holding pop-up events with local cafés," Ohyama notes. "We want élab to be more than just one singular business. Our vision is to continue acting as a true laboratory and resource center for the benefit of the entire community."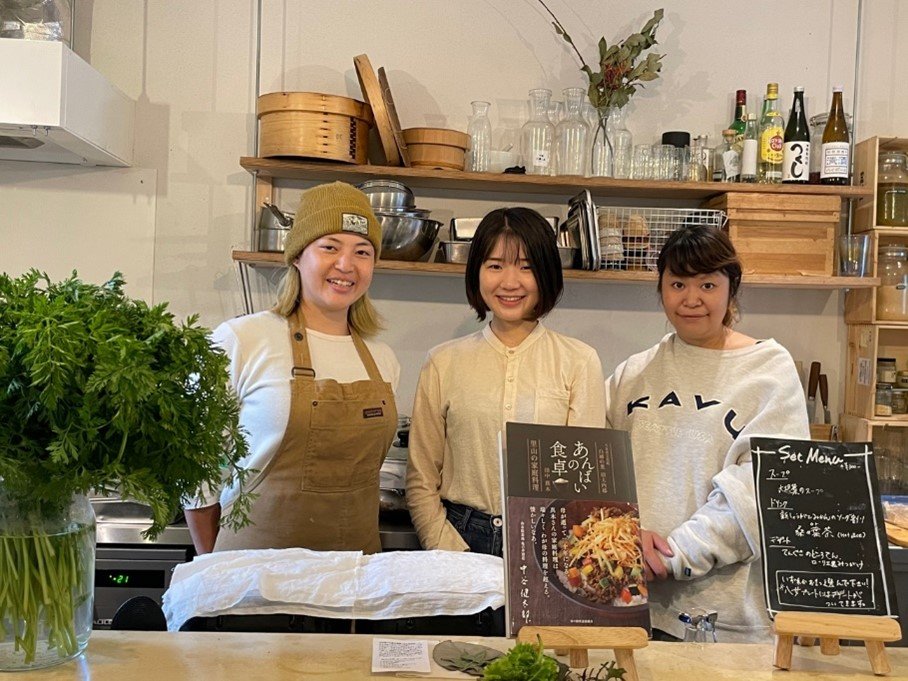 "As more companies commit to creating a more circular future, what Takako and her team have created is perhaps the best example of how small businesses have an advantage," notes Ono Keiko, a Tokyo resident and sustainability consultant who is of mixed heritage and has long lived overseas.
"élab doesn't feel so much like a shop as it does a center, since the business is interdependent by design on a local network," Ono continues. "It feels cosy because closeness is at the heart of this business. Being closer to where your food starts and where it ends. Being closer to the people that prepare it and purchase it. In a world where some our greatest challenges irrespective of GDP are centered on food security, loneliness and mental health, eating here is truly an investment in living healthier, happier lives."
Interview, writing and photos by Kimberly Hughes