Correspondents' Eye on Tokyo:
Tokyo Bird Walk—who Knew Japan's Capital Had Kingfishers, Buzzards and Terns?
Kenji Hall
[CONTRIBUTED ARTICLE]Journalist Kenji Hall finds an assortment of birds—kingfishers, wigeons, buzzards and shrikes—inhabiting Tokyo's parks, marshes, canals and streets.
The first time I saw a common kingfisher in the wild was at a former Japanese military ammunition dump. It was a frigid, gray December morning, and the spear-billed, blue-and-orange bird had alighted on a reed in a shallow pond surrounded by woods. The most pressing thing on this pint-sized piscivore's mind was probably breakfast—snagging something swimming by in the water below.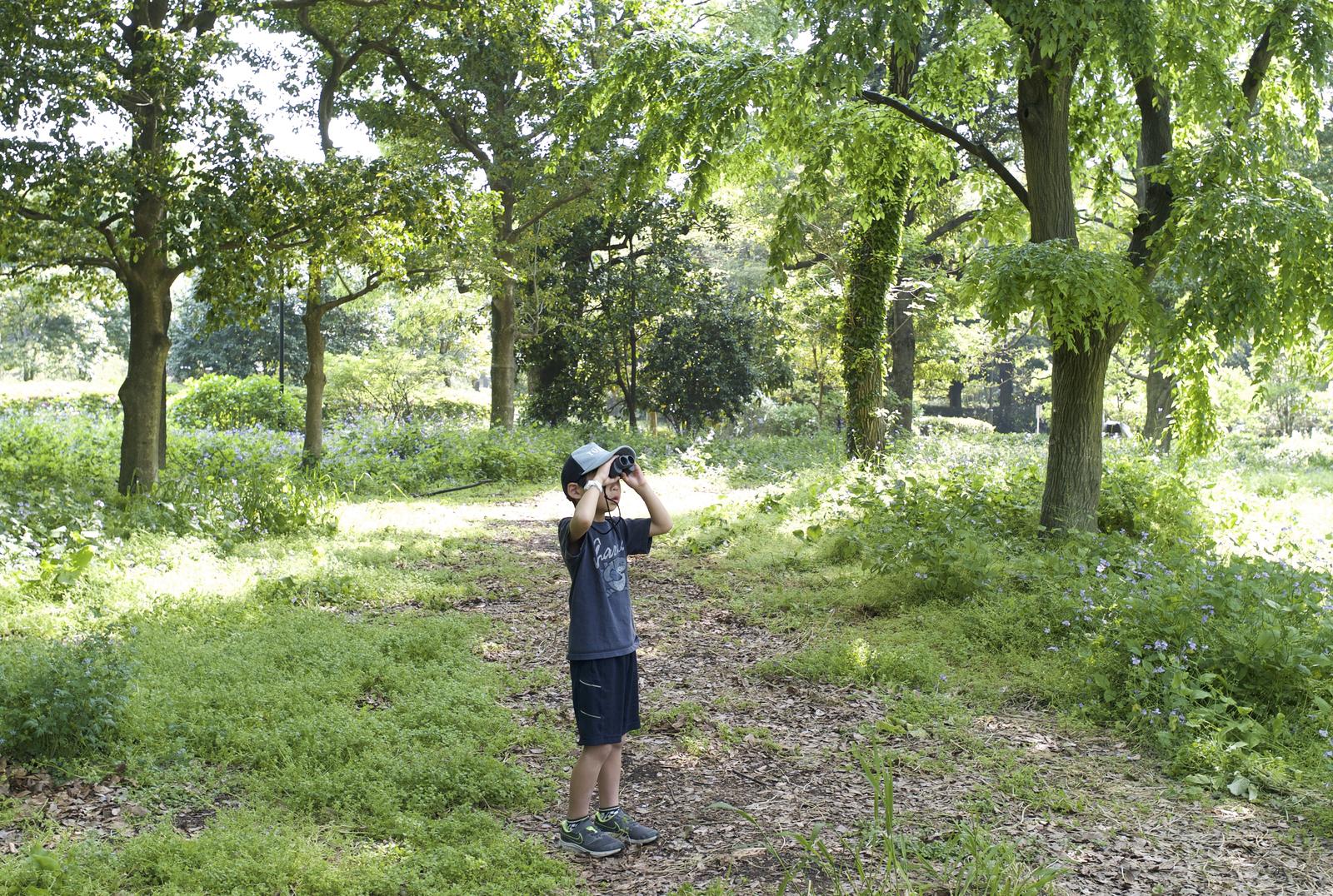 For my son and me, it was an exhilarating moment. This little bird had eluded us for months. We'd been to parks and waterways around Tokyo, hoping to see one. Sometimes, people would tell us that we'd just missed one; that only a moment ago it had been right there, plunging for fish from a low branch. We'd read all about the kingfisher's precision hunting and its ability to switch from monocular vision to binocular, when underwater. We knew that if we heard a kik-kik-kik, like a bicycle brake in need of oil, we would be close to finding one. When we finally did, we were in the center of the Japanese capital—at the Institute for Nature Study in Tokyo's Shirokanedai district, a 20-hectare (50-acre) forested patch bordered by the metropolitan expressway, offices, shops and homes.
A few years ago, if someone had told me that my son, wife and I would one day be traipsing around Tokyo in search of birds, I probably would have snorted in disbelief. Me, birdwatching? I don't think so.
An Unexpected Avian Paradise
For most of my life, I could confidently identify pigeons, sparrows, crows and seagulls. I knew what a duck looked like. Having been to the San Diego Zoo in the U.S. countless times as a kid, I was familiar with exotic species—flamingos, peafowl, shoebills, vultures, toucans, ostriches, penguins. Almost everything else got lumped into two categories: big bird or little bird.
These groupings were of no use to me when I moved to Tokyo two decades ago. There didn't seem to be many birds around. I saw pigeons pecking the ground, crows stealing garbage scraps, and sparrows dashing from curb to tree and back for no apparent reason. Once in a while, I'd glance up and find a snake-necked, long-legged specimen flapping by. Probably lost, I told myself. I was sure that this city was no avian paradise. Where would they even find enough greenery to do their bird things?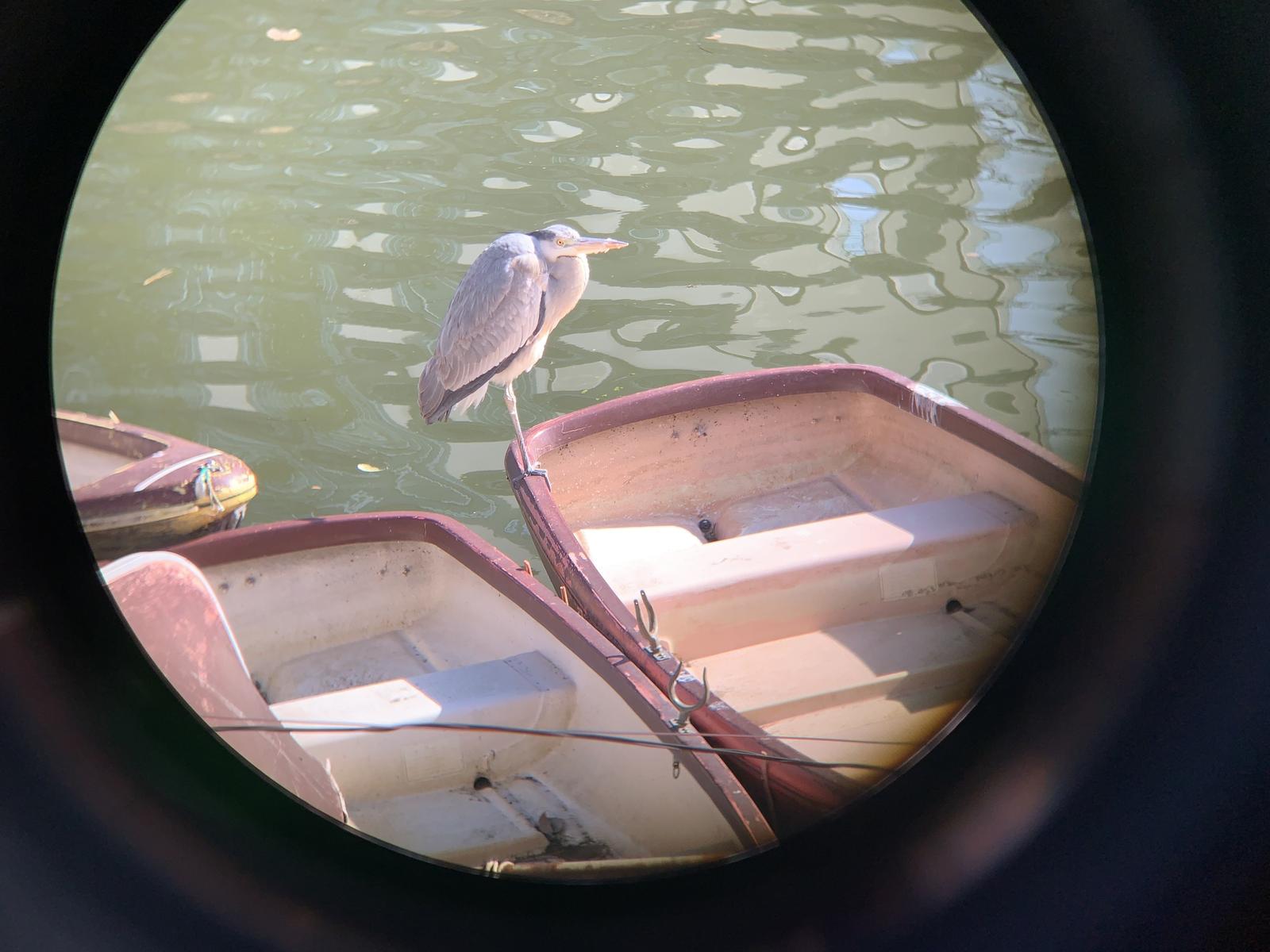 Anywhere, actually. I just hadn't been looking—or listening—for them. Once I did, they seemed to be everywhere. I've watched warbling white-eyes foraging in vines outside our window and diminutive Japanese tits giving their brood flying lessons along rooftops and telephone wires on our Tokyo backstreet. In springtime, I've stood with my son at the bus stop near our house to marvel at barn swallows—those aerial acrobats with forked tails that eat on the wing—wheeling in and out of an apartment block's parking garage, where they raise their young in nests of hardened mud. Once, while cycling home with my son from his aikido dojo, we came upon a Northern goshawk tearing apart a white-cheeked starling on the ledge of a two-story house. 
One of the more surprising habitats that I've discovered is only a short walk from our house: Sotobori canal—formerly, the outer moat of Edo Castle, built in the 1630s by the then-ruling shogun, Tokugawa Ieyasu. Sandwiched between a busy thoroughfare and railway tracks, this watery ribbon with a history of cyanobacteria blooms is a popular hangout for a motley cast of seasonal migrants and year-rounders. My son and I once counted 17 different species along the moat, all within a few hundred meters (yards).
In winter, hunched black-crowned night herons—looking every bit like Grandpa from the 1960s TV series The Munsters—sun themselves on the banks alongside Eurasian coots, Northern shovelers and spindly little egrets. Tufted ducks, so named because the black-and-white males have a cowlick-like crest, sleep afloat next to auburn-headed common pochards. Many come in the coldest months, from Russia, thousands of kilometers (miles) away. My favorites are the little grebes whose high-pitched trills in between dives remind me of laughter.
I was amazed by all of them. Yet any experienced birder might have told me that I had only encountered a fraction of what was out there. According to the Wild Bird Society of Japan, an estimated 600 bird species—including two dozen that are considered invasive—inhabit or pass through the archipelago. It's an impressive tally for a country that, while strung out over 2,000 kilometers (1,240 miles) north to south, covers an area smaller than the state of California. 
Insectivores, Avivores and Nectarivores in the Megacity
Tokyo's reputation is that of a megacity of skyscrapers and suburbs, home to 14 million people. But its nearly 2,200 square kilometers (850 square miles) of land also includes forests and mountains and more than a dozen islands, some up to 1,800 kilometers (1,100 miles) off the Pacific coast. Which explains why Tokyo has so many types of birds: city birds, woodland birds, meadow birds, marsh birds, shorebirds and seafaring birds. They're insectivores, avivores, nectarivores, herbivores, hypercarnivores, scavengers and, of course, piscivores. In many ways, they're not unlike us, with their own fussy preferences for food and living standards and varying levels of tolerance for noise and crowds.
Centuries ago, the city, known as Edo, had a more hospitable landscape for birds. Much of the region was rice paddies, marshes and grassy riverbanks. In the Tokugawa Shogunate's official history (Tokugawa Jikki), spanning the 16th to 19th centuries, greater white-fronted geese, Oriental storks and crested ibises—a clumsy bird with a bald red head and long, downward-curved beak, that was resuscitated in Japan after it was driven to extinction in the wild here in the 1980s—roamed the woods and wetlands here, according to Matsuda Michio's book, Birdwatching in Edo. Ukiyo-e woodblock painter Utagawa Hiroshige's 1857 print "Minowa, Kanasugi at Mikawashima" featuring red-crowned cranes is evidence that these large birds, now mostly found in Hokkaido, once frequented riverbanks here.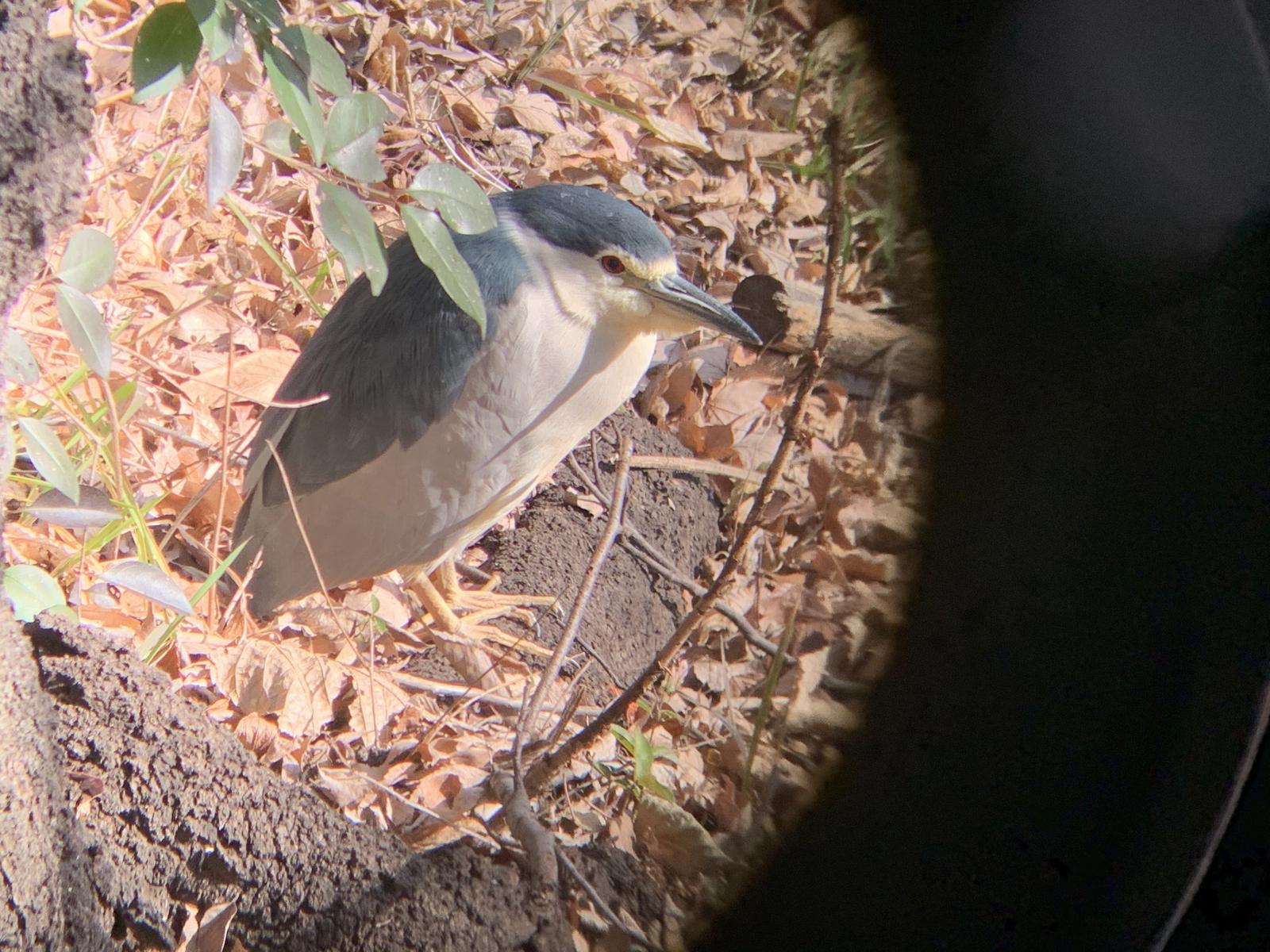 Often enough, wild birds ended up on the dinner menu, too. One of Japan's oldest surviving cookbooks, Ryōri Monogatari (A Tale of Food), published in 1643, describes preparations for 80 types of birds, including boiled swan, grilled lapwing, moorhen yakitori and salted duck offal, according to University of Tokyo professor Suga Yutaka's book Hawk Shogun and Crane Miso Soup. It was a time when the shogun regularly hunted cranes—183 between 1611 and 1790, records show—offering what was caught to the imperial family and serving any leftovers in soups and other dishes at feasts for daimyō lords.
For years, I was oblivious to any of this. It took a global pandemic and school closings to open my eyes to Tokyo's bird life. I started paying attention in early 2020, when authorities were urging people to stay at home and I was looking for an excuse to drag my primary-school-aged son to explore outside. We sent away for brochures from the Wild Bird Society of Japan, bought the Field Guide to the Birds of Japan, took online drawing classes led by John Muir Laws and David Allen Sibley and invested in a pair of binoculars. We had become bird nerds.
Tokyo's Top Birdwatching Spots
We soon discovered that Tokyo's parks and in-between spaces sustain more wildlife than we had imagined possible. Gray-faced buzzards soar above the Imperial Palace and azure-winged magpies frolick near railroad tracks. In the 70-hectare (173-acre) forest behind Meiji Jingu shrine, birdwatchers gather at the north pond hoping for a glimpse of red-flanked bluetails and mandarin ducks.
At the Institute for Nature Study, we have spotted snow-white great egrets, juvenile northern goshawks and green-headed mallards. In Inokashira Park, near Kichijoji Station, we have seen dusky thrushes in the grass; long-tailed tits and Japanese pygmy woodpeckers in the trees; and, from a pedal-powered swan boat, Eurasian wigeons in the pond. During summer trips to Tokyo Port Wild Bird Park, in Ota City, we've scanned the tidal flats for little ringed plovers and watched in awe as little terns—slender, masked marathoners that travel 6,000 kilometers (3,900 miles) to get here from Australia and New Zealand—hovered and dive-plunged for fish. (It's estimated that 200 bird species hunt and breed in the park's woods, grasslands and tidal flats.)
The place we've grown most fond of, though, is Kasai Rinkai Park's choruien (bird park), on Tokyo's eastern border with Chiba prefecture. Less than an hour by train from our house, the 27-hectare (67-acre) garbage dump-turned-refuge attracts some 120 bird species—from Eurasian jays to ospreys, bull-headed shrikes to whimbrels—and birdwatchers of all ages. One reason we go often: Yoshida Yuichi, the chatty resident wildlife expert whose sharp observations, bird-identification tips and generosity we have learned so much from. On weekends, he's there leading tours, clearing the ponds and marshes, and keeping the daily bird tally for the park's unofficial blog. A couple of years ago, we joined a work crew that Yoshida had organized to clear vegetation on the beach for nesting little terns, and were treated to the song of a hovering Eurasian skylark.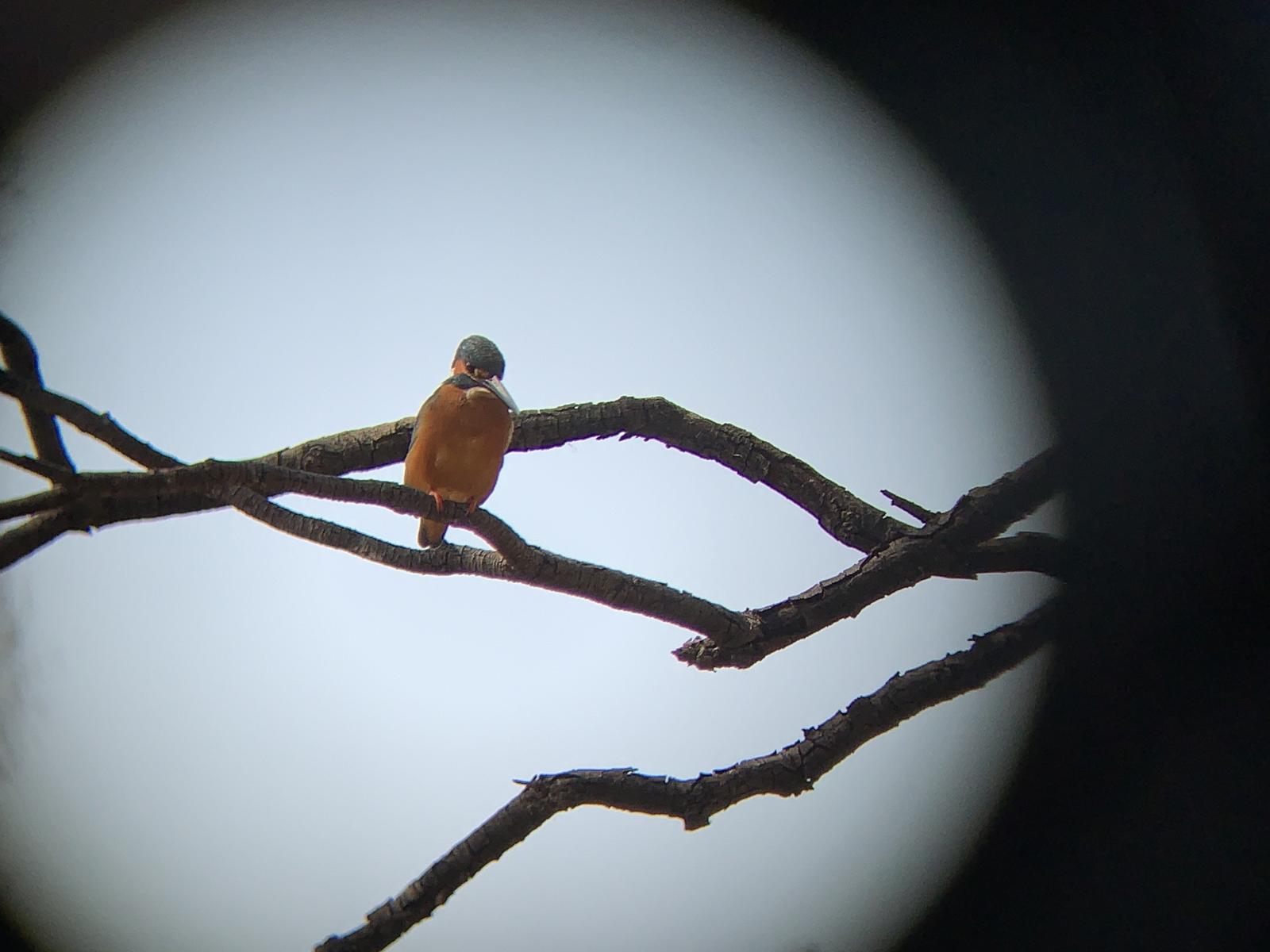 On a recent weekend morning, my wife, son and I went for a walk to Kitanomaru National Garden, a sliver of wilderness near the Imperial Palace. It was just after sunrise. A few runners loped by on the footpaths. Falcated teals swam in the pond, and at the water's edge two men dressed in heavy coats lugged around cameras with telephoto lenses. "Kingfisher," the taller one said, as we drew closer. "It comes every morning."
Moments later: a flash of electric blue in the sunlight. Through a pair of binoculars that we'd brought along, we took turns observing the kingfisher on the opposite bank as it swiveled and bobbed its head, scanning the water. The photographers snapped away. Minutes went by. In an instant, the bird darted into the pond, grabbed a fish and returned to its perch. Then, perhaps unnerved by the attention, it flew off. It was my sixth kingfisher sighting in Tokyo, and I was giddy—energized by the skill of this little hunting machine and by the fleeting nature of the moment. I was certain there would be more.
Photos: courtesy of Kenji Hall